Real Fix! Wifi Calling Notification Keeps Popping up iPad When Update to iPadOS 16.1
by Sophie Green Updated on 2022-09-30 / Update for iPadOS
Recently, Apple has released an update for iPadOS. Anyone that needs to have a share of the distinctive experience iPad offers and won't want to resist upgrading to iPadOS 16.1. Also, the new layout for Apple News+ stories can get you anticipating for iPadOS 16 on your iPad.
Honestly, there are several great reasons to enroll one's iOS device for iPadOS 16. If you've enrolled your iPad for the Apple's latest operating system, you're likely to be disturbed with the Wifi calling message keeps popping up. Perhaps those unhappy experiences from your friends are discouraging you to have a try for iPadOS 16, you may need to have a second thought.
If you're struggling with question - how do I turn off Wifi calling on my iPad?, you're not alone in the game. Are you wondering how to go about those solutions? Below are 7 best Ways to Fix Wifi Calling Messages Popping Up on your iPad , we've got you covered. Please read further!
Way 1. A Forced Restart on iPad
Of course, a forced restart can work if Wi-Fi calling alert keeps popping up on iPad . You don't need to consult a technician before you can overcome this challenge. A force restart is enough. Yea, force restart and that's all.
Here is a simple procedure to follow :
First of all, press and release the "Volume Up" button.
Then, press and release the "Volume Down" button.
Subsequently, press and hold the "Top" button until the Apple logo appears on the screen.
Once there logo appears, you've achieved success.
Perhaps your iPad has a home button, follow the instruction below :
Press and hold both the "Home" button and the "Top" button at the same time until you see the Apple logo on the screen.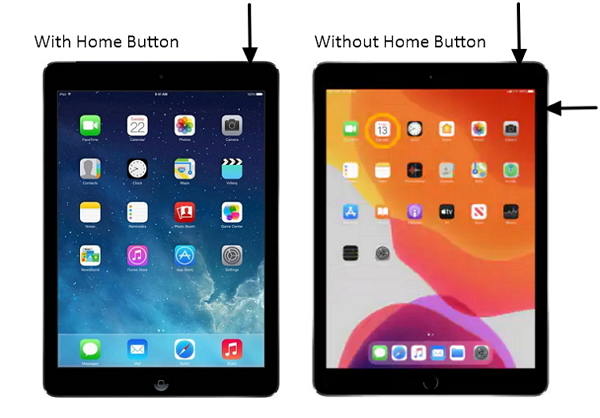 Way 2. Switch on and off Airplane Mode
This issue is similar to what happens in the medical world. Sometimes, an issue can persist after taking a prescription. Anyway ,it's normal. Rather than giving up on the challenge, it's much better to take another approach to resolve the Wifi calling setup message keeps popping up. In this regard, you can try turning off your tablet wireless device to reset the network settings.
It's simple to achieve. Just follow the process highlighted below :
Firstly, open the Control Center.
Then tap this icon "airplane".

Tap it again to switch on the airplane mode.

Fig2. -turn on or off airplane mode
Once you can follow that procedure, that iPad Wifi calling notification should stop. Another way to achieve this objective is by:
Go to Settings > Airplane Mode.
Tap the slider simultaneously to turn it on and off.
Does the popping issue still persist? Don't get discouraged ! Keep trying ! Here are further solutions for you.
Way 3. Turn off and on Cellular Data
Tactics to turn off Wifi calling notification on iPad entails this idea also. Cellular Data can also be a cause of this issue. While your tablet is receiving signals for your service provider, it can also be in update mode secretly. And thus, the reason for this challenge.
You can do yourself a favor by turning off and on your cellular data. Below is a quick step to get it done :
1. From your iPad Home screen, navigate to Settings > Cellular Data.

2. Tap the Cellular Data switch to turn on or off.

Fig3. -turn on or off cellular data iPad
Way 4. Check Wi-Fi Calling Setting
If you need a solution to turn off Wifi calling notification iPad, you need to try this option. As you know, Wi-Fi calling permits you to make phone calls on your iPad even when there is no cellular connectivity.The notification can be a signal that there is a network on your tablet. So, you need to check if Wi-Fi Calling is still active. If it's active, you should consider turning it off!
How to disable Wi-Fi calling on iPad:
Head over to Settings > FaceTime.

From there, head into Wi-Fi Calling and disable this feature.

Fig4. -turn on or off cellular data iPad
Way 5. Reset Network Settings to Disable iPad Wi-Fi Calling Notification
Also, Wifi calling message which keeps popping up on iPad is annoying. Since you love to get rid of it, try resetting your network settings. This is a quick solution to effectively disable your iPad Wi-Fi calling notification. You will be at rest when you take the following actions :
From a Home screen, navigate Settings  > General > Reset.
Tap Reset Network Settings.
Enter your passcode.

To confirm, tap Reset.

Fig5. -reset networking settings iPad
Way 6. Factory Reset iPad to Fix Wi-Fi Calling Messages Keeps on Popping Up
At this stage, a factory reset is advisable. Yea, it's necessary. When you do this, you will restore your iPad to its default setting. Perhaps you might have activated some settings unknowingly. But when you opt for factory reset, you're likely to have this issue fixed. Follow these steps to do so :
Firstly, go to Settings > General > Reset.
Then select Erase All Content and Settings.
After typing in your passcode (if you've set one), you'll get a warning box, with the option to Erase iPad in red. Tap this.
You'll need to enter your Apple ID password to confirm the action.

Finally, the device will be wiped and go back to the initial setup screen you saw when you first used the device.

Fig6. -reset iPad
Way 7. Fix iPadOS with ReiBoot to Stop Wi-Fi Calling Messages Keeps Popping Up
Still can't fix this issue? Maybe you need to fix iPadOS 16.1 with Tenorshare ReiBoot. It is the world number one tool to recover iOS devices from any error. With just a click, you can fix many iOS related issues such as won't turn on, stuck on Apple logo and more. Anytime you need to fix Wifi calling alert popping up issue on iPad ,just fall back on this professional iOS repairing tool. Also, it secures your data during the recovery process. You won't experience any data loss.
Don't miss the opportunity ReiBoot offers those who need to Stop Wi-Fi Calling Messages to Keep Popping Up. Are you interested in using it right away?
Here are the basic steps you need to follow :
Download and if launch the ReiBoot succeessfully, please connect your iPad to Mac or PC. And select "Repairing Operating System " from the main interface.

Fig7. -main interface

After you have connected to computer without any problem, please Click "Fix Now" to download firmware. It takes a while to finish no less than 3 minutes.

Fig7. -download firmware

Now after the software automatically downloads firmware package, repair process initiates, and you can view progress bar.

Fig8. -repairing process

Repair is successfully done. Now check out your iPad and you can experience a refreshment of new iPad.

Fig8. -successful repair
Conclusion
The phone technology world is challenging. Considering what it offers us, there is no choice than to keep evolving with its update. Instead of being troubled with the updates, it's better to figure out sustainable solutions to bugs accompanying the iPadOS update. Using Tenorshare ReiBoot is a better way to fix all iOS-related issue. Also, it saves a lot of several stress of finding a solution to your phone issue. Sincerely, it's a necessary application to own on your iPad. Don't hesitate to get it today!