iPad Mini 6 Has Jelly Scrolling? How to Fix?
by Jenefey Aaron Updated on 2021-10-08 / Update for iPad
Hello there, I'm having a serious concern regarding my iPad Mini 6 screen. I have lately noticed that there is a jelly scrolling effect on one side of the screen. It feels like the screen scrolls at a different rate than the other parts creating a wobbly effect which is quite noticeable when you're using the portrait mode. "
Although nothing is alarming about the jelly scrolling thing, it can happen either due to your hardware or software. However, you can try some ways to remove the wiggle effect. But first, let's explore why it happens.
Part 1: What Does Jelly Scrolling Mean on iPad Mini 6?
The issue first happened when many users started pointing out something strange on the screen while scrolling. The issue then got the name "Jelly Scroll," It mostly occurs when the iPad's screen is in portrait mode.
1.1 What is "Jelly Scrolling" Effect?
The term "Jelly Scrolling" refers to the glitch in the vertical screen scrolling inside an iPad Mini 6. When a person scrolls through text-based content like documents or a web page, each line inside the document appears tilted down. Each text line is leaned towards the left of the screen as you pass by it. This effect creates a weird eye illusion where one side of your screen responds faster than the other when you scroll through the page.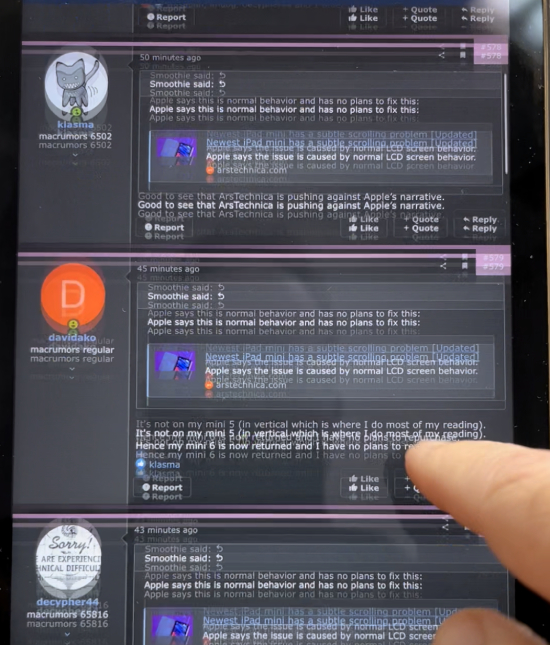 The magnitude of this wobble effect is different for different users. Many claim to be affected by it to a variable degree, while some didn't even notice a glitch. Some users went the extra mile and deliberately stared at every text-based document to see the effect, which resulted in dizziness and eye strain. 
1.2 Why Would "Jelly Scrolling" Appear?
However, it is unclear as to why this jelly effect is happening. It could be a hardware issue that could have only affected certain batches of iPad Mini. If there is a software issue, then Apple would already be on the verge of fixing it.
1.3 What's the Newest Reply from Appple?
Apple replied to this issue, saying that it is 'normal behavior' and people will not get a replacement device from Apple for such a meager issue. They also claim that not all of their iPads are having this issue, so if the iPad mini 6 owners want to return or replace the device, then they can claim for it within 14 days of the purchase date, so it may be possible for them to exchange you with an iPad having no or minor jelly effect.
Apple has also announced a software fix for this issue. Let's see what happens after the fix.
Part 2: Can I Fix iPad Mini 6 Jelly Scrolling on iPad Mini 6?
Before fixing the issue, we must first consult with professionals about its severity. Many Apple experts claim that it is caused by how your screen refreshes on the iPad Mini 6. The screen refreshing happens from one side to the other instead of all together, which causes a ripple-like effect.
They also speculate that the direction your iPad's screen is scanning is related to the controller board's placement which is primarily responsible for the display. It could be the reason why the jelly scroll only happens in portrait mode.
The iPad mini has its controller hoard located vertically on the left-hand side. On the other hand, the iPad Air has its controller board located on the top, which doesn't cause any issue. In simple words, your iPad mini display is refreshing the screen horizontally when you hold it vertically, which is causing all the fuss. 
Please don't fix the hardware, as it can worsen the iPad Mini. You can wait for the software patch fix that might help in reducing the wobble.
Part 3: Should I Buy iPad Mini 6 Now?
It would be best to wait until Apple officially announces to eradicate this issue from their latest iPad batches. Until then, you can wait or order other iPad versions that have no similar issue.
Extra Knowledge: How to Fix iPad/iPhone Touch Screen Not Working After iOS Update?
There is an easy fix for your iPad/iPhone touch screen not working after the iOS update. This fix is called the Tenorshare ReiBoot fix, and we can use it to fix the screen issue.
First of all, download the ReiBoot app on PC and run it. Then connect your iPad with it and select the option "Start".

And pick "Standard Repair" to initiate your iOS recovery. You have to confirm the repair too, which will not wipe out your data on your iPhone.

ReiBoot will then ask you to download the latest firmware package to your PC. Download it on PC on available space. Remember the place you saved it. You can also import an already downloaded firmware.

Once the firmware is downloaded, proceed to "Start Standard Repair" and load the firmware. Wait till ReiBoot repairs your PC. Once it is done, ReiBoot will fix iOS and restart your iPad.
FAQs about Display Refresh on iPhone/iPad
1. What is the Variable Refresh Rate on the New iPhone 13?
It helps smoother animations, scrolling and saves the battery.
2. Why Is My Phone Screen Flickering iPhone?
It might be due to a software crash. You can restart to fix it.
3. How Do I Get Rid of Ghost Touch on My iPhone?
Clean the screen, update iOS, force restart, take off the protector or recover your iPhone.
Conclusion
The Jelly scrolling in an iPad Mini 6 is serious, but you can use the above methods to fix this issue. In case your iOS screen is not working don't worry ReiBoot is the perfect solution for you. It is easy to use and works for all the devices.