[Must-Try] Fix iOS 17 Journal App Not Showing/Missing
by Jenefey Aaron Updated on 2023-09-19 / Update for iOS 17
When Apple launched the news about iOS 17 earlier this year, everyone loved one of the new features that were the new Journal App. But users are wondering why iOS 17 Journal app is not showing on their iPhone or iPad. Most users are updating their iOS to get the Journal app. However, it is not available. This post dives into all the details and information about the Journal app. Get ready to find out which device and update supports the Journal app and how to get it. Also, learn how to fix the Journal app not showing on iOS 17.
Part 1: Is the Journal App Not Available on iOS 17
If you have an iOS device, you should've heard about all the new features Apple will introduce in the new iOS 17. When Apple officially announced the iOS 17 update, users got a brief introduction to all the new features and upcoming apps. Although there are updates for messaging, calling, and sharing, Apple also talked about the new stand-by mode and the Journal App, which users are yet to see in any of the updates.
If you think the iOS 17 Journal app missing from your device, then don't worry, as Apple did not release the app yet. Only the iOS 17 version is available, and it doesn't support the Journal app. You will also not get the Journal app with the first public iOS 17 update in September. Users might have to wait for one or two more updates to get the Journal app.
Part 2: What Devices Are Supported by Journal App in iOS 17
For those who think the iOS 17 journal app not showing after update is because their device doesn't support it, that is not correct. Journal app is an official app from Apple that will come with the future updates of iOS 17. As long as your device supports the iOS 17 version, you will get the Journal app. If you are still worried, here is a list of all iOS devices eligible for the new iOS 17 update.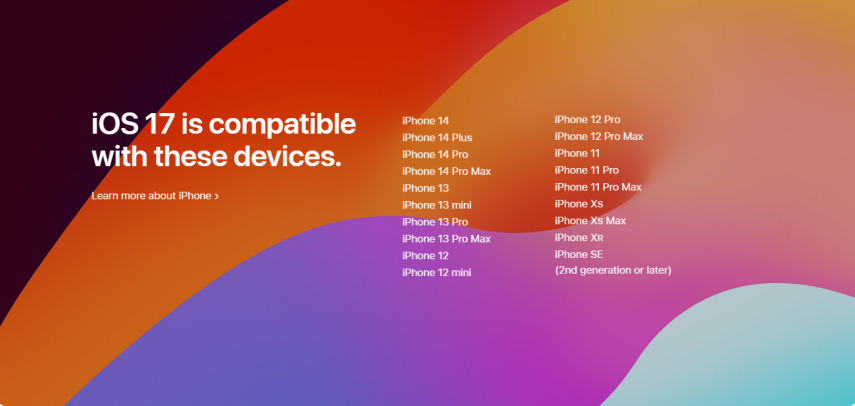 Part 3: How Do I Get the Journal App on iOS 17?
The Journal app is a stock app on iOS 17. You don't have to download or install it from App Store or other third-party resources. If your device doesn't have the Journal app after the iOS 17 update, it means that Apple has not yet released the app. Apple says that the app will be available later this year. So, when Apple releases the stable version of iOS 17 in the future, update your device to get the journal app.
Part 4: How to Fix iOS 17 Bugs on iPhone without Data Loss
Fixing the iOS 17 Journal App not showing is not an option right now as Apple hasn't released the app yet. However, if there are other features that are not working after the iOS 17 update due to bugs or software-related issues, you can easily fix those with Tenorshare ReiBoot.
It is a one-stop solution for 150+ iOS issues, including device bugs, update problems, screen stuck, iPhone errors, and the rest. With Tenorshare ReiBoot, you can fix any problem in your iOS device with one click except broken hardware. Follow these steps to fix your iPhone or iPad within minutes.
Download and install ReiBoot on your PC. Run it and connect your iPhone to your computer. Once the device gets recognized, click "Start".

On the next page, select the "Standard Repair" tab and read the note below to avoid any repairing process failure. Next, click on the "Standard Repair" button.

Click on the "Download" button to download the latest firmware package for your device. It is a 5GB firmware package, so it will take some time.

Now click on the "Start Standard Repair" button and wait for the process to complete.

Once the repair is complete, you can click "Done" to end the repair.
Bonus Tip: iOS 17 Journal App vs. Day One
The Journal app is Apple's first step into the digital journaling platform. Many users are hoping that the app comes out early, so they compare the iOS 17 Journal app vs. Day One. Being one of the best journaling apps, Day One has lots of features that stand in the way of users switching to the stock Journal app on iPhone. Here is a simple comparison between these apps to help you figure out which one is better.
| Journal App | Day One |
| --- | --- |
| It is a stock app with all features available for free. | A third-party app with a free and premium version. The free version provides limited entries and features. |
| Only available for iOS. | It has cross-platform support for the web, android, and iOS. |
| It provides suggestions for journal entries based on on-device machine learning. | Day One provides not only suggestions but also attractive templates to use as a journal. |
| It has end-to-end encryption for privacy. | Day One is also end-to-end encrypted. |
| The journal app is a streamlined app based on scrapbooking and journaling. | It enables users to share journals and join a vibrant journaling community. |
Conclusion
Let's conclude our guide on how to fix iOS 17 Journal app not showing issues. The app is not out yet, so even if you update to the latest iOS 17 version, you will not see the new Journal app. However, Apple has announced that the app with come later this year, so all you can do is wait for the official release. If there are facing other issues related to bugs, app crashing, or screen stuck after updates to iOS 17, use Tenorshare ReiBoot to fix those with one click.
Fix iPhone Stuck and Update Issues without Data Loss