SanDisk RescuePro Reviews and the Best RescuePro Alternative
by Anna Sherry Updated on 2020-09-29 / Update for Data Recovery
SanDisk is a popular brand in the digital world which offers several useful storage solutions, the most popular ones being the external memory cards and pen drives. If any file on the memory card or the pen drive is corrupted, you may want to recover it. This is also true in the case when you have accidentally deleted or lost an important file stored in the memory card which you wish you could recover.
Well, this is possible with the help of SanDisk RescuePro. The formatted, corrupted, deleted or lost files from a SanDisk memory card can be easily retrieved with the help of SanDisk RescuePro. This article gives you a clear picture of what this software is and how useful it is to recover any file. In the end, we will also give details about the best alternative for this software.
Part 1. What Is SanDisk RescuePRO?
SanDisk RescuePro is a software which has been designed by LC Technologsy specifically to recover the lost or deleted files from SanDisk memory card. This software comes in two different versions: RescuePro Deluxe and RescuePro Standard.
Here we will mainly talk about the standard version of the software. This software is capable of recovering several types of file formats which includes videos, images, music, and so much more. The standard version of this software supports a card capability upto 64 GB.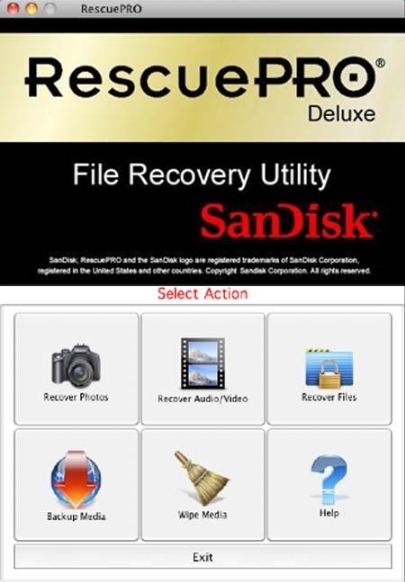 Part 2. Top Features of SanDisk RescuePRO?
SanDisk RescuePro has the following features which make it one of the most commonly used recovery software for the SanDisk storage devices.
Recovers documents, images, videos of standard definition, mail, music and everything else.
This software features the highly innovative algorithms for media recovery and offers a preview of the recoverable data including the video and MPEG audio files.
The user interface is pretty graphical and can be easily navigated.
Features secure media wiping which can be used for the deletion of data permanently on digital media.
Also features an imaging utility which allows the creation of media images for recovering it at a later time.
Part 3. Reviews of SanDisk RescuePRO?
We tested the SanDisk RescuePro and found the following pros and cons of using this software.
Pros:
Can be used for the recovery of several types of RAW formats of images.
Can be used to backup a SanDisk card and even wipe it.
Compatible with both the Windows as well as Mac systems
Cons:
It is very expensive when compared to the other alternatives available.
Does not support recovery from RAIDs and hard drives.
For a novice user, it takes a few tries before being able to use this software properly.
Part 4. The Best SanDisk RescuePro Alternative: UltData – Windows/Mac
Although SanDisk RescuePro is a well-known name in the digital world and offers several attractive features. It does have several drawbacks which are mentioned in the earlier sections. If you wish to overcome these shortcomings of SanDisk RescuePro, you can turn to Tenorshare 4DDiG for Windows Data Recovery tool for recovering the lost or deleted files. Featuring powerful recovery capabilities, this tool is highly recommended for this purpose. Here are a few features of this software.
Recover many types of files including photos, videos, music, documents and other 550+ files.
Any form of corrupted, formatted, deleted or lost files can be recovered using simple steps.
The files from any external removable disks like memory card, pen drive and even hard drive can easily be recovered.
This software is highly reliable and 100% secure.
High recovery rate.
Easy to use. Recover data with only 3 steps.
Here are the steps to use Any Data Recovery for recovering lost or deleted files from storage.
Step 1 Download, install and launch the program, and select a location on the system where you want to look for the files and click on "Scan".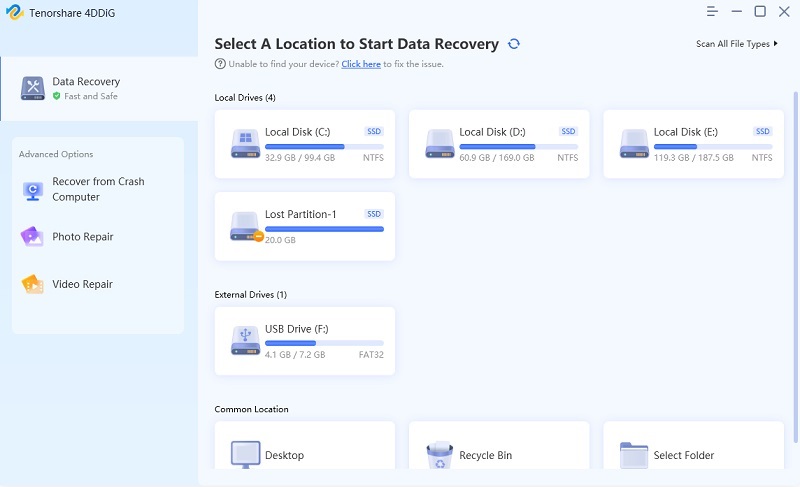 Step 2 Once the results are displayed on the screen, click on the files which you want to recover and then click on "Recover".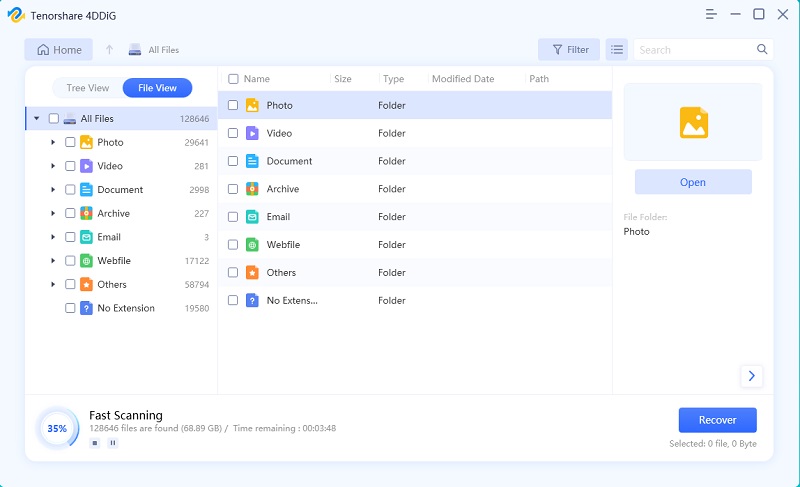 Step 3 Select the location where you want to save the recovered files and click on "OK".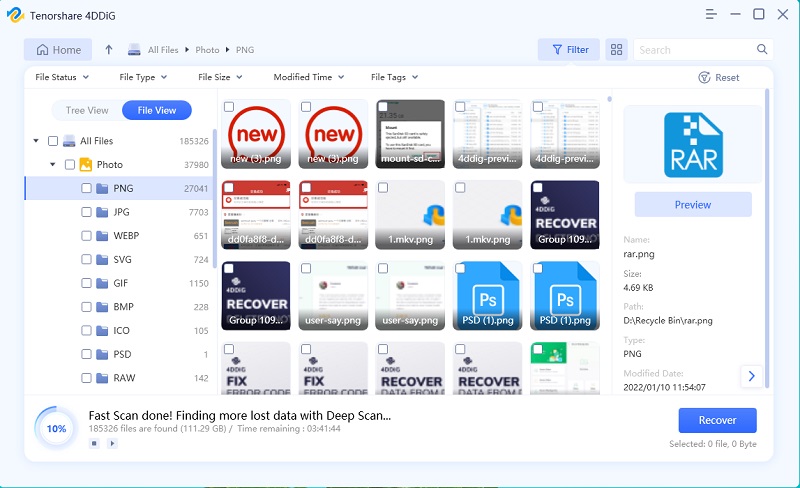 With just three simple steps, you can recover the files easily using Tenorshare UltData Any Data Recovery.
Summary
So you have a clear idea about SanDisk RescuePro: the top features, pros and cons. You can decide whether to use it or not. And Tenorshare 4DDiG for Windows Data Recovery is highly recommended if you are looking for the best SanDisk RescuePro alternative.