All About EaseUS Mobisaver and Best Alternative
by Anna Sherry Updated on 2020-03-19 / Update for Alternative
Searching for lost data is not unnatural, even though we are the reason that the file got deleted still we expect to find a way to recover those files. This is the job for EaseUS data recovery. It is a very capable data recovery software that can even recover deleted files on your iOS. But a question asked by many users; is it the best data recovery software for iOS? Or are there better options? This article is all about finding the answer to those questions. The software that challenges EaseUS MobiSaver with its phenomenal performance is Tenorshare UltData. Let's find out which one is better.
1. Advantages of Easeus MobiSaver
There are quite a few advantages of using EaseUS MobiSaver. It is quite an established recovery software with lots of excellent features. Here are a few of its advantageous features:
This is a paid software but a free version is also available.
The free version is capable of restoring lost files from the latest version of iOS.
The user gets a preview of the recoverable file before hitting the Recover button.
You can also choose to view only the deleted items.
There are a few advantages of using EaseUS iPhone, there are a lot of recovery tools available on the internet but only a few are capable of providing such useful features.
2. Disadvantages of Easeus MobiSaver
Anyone would realize from the above features that EaseUS MobiSaver iOS is a very capable and useful recovery tool, but it also comes with its certain flaws. Here are a few drawbacks of this reputed recovery tool.
If you want to recover some heavy files, like Photos, Videos, Camera Roll etc. from older iPhone models then you will have to purchase the Pro version of the software.
Although, this program supports various types of data there are few apps and game files that can't be recovered by MobiSaver.
The free version of the program is only capable of recovering files from the latest version of iOS, if you are using an older version of iOS then you will have to purchase the Pro version.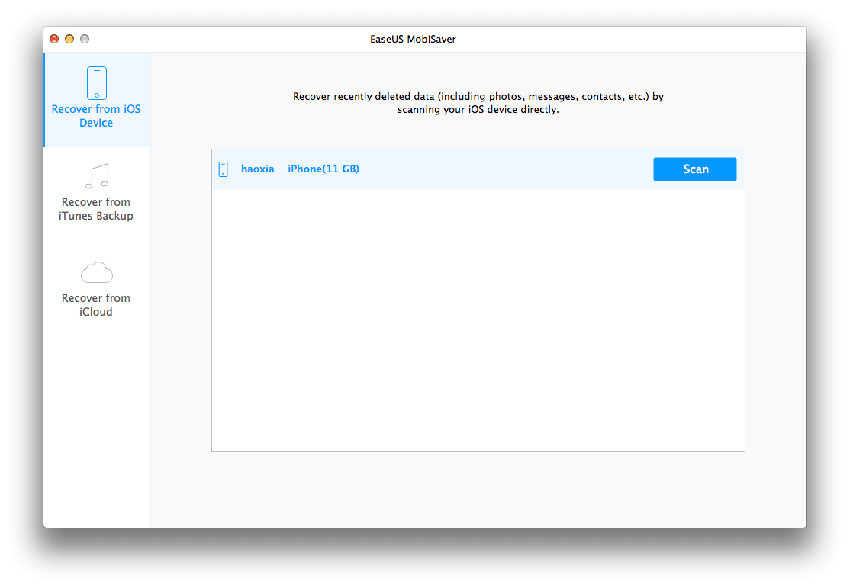 3. The Best Alternative for Easeus MobiSaver: Tenorshare UltData - iOS Data Recovery
The above issues and the fact that you have to purchase the Pro version if you want to do anything with the software; somewhat takes away the effectiveness of the tool. Not every user is willing to spend a good sum of money for recovery and there are other effective tools available that are willing to provide their services for free of cost.
So, the best alternative to Easeus MobiSaver is surely Tenorshare UltData. UltData is developed by Tenorshare, an independent company focused on designing capable recovery tools for its users. UltData is capable of recovering data from iOS devices directly, you can also recover data from iTunes and the iCloud backup files. You can also expect a preview of the recoverable file before confirming the recovery but above all, this is the first recovery tool that can recover file from highly encrypted iCloud backup and that too selectively. It has 3 Modes; the first mode is capable of restoring data directly from iOS, the second mode focuses on restoring files from iTunes backup and the third mode is all about recovering data from iCloud backup.
3.1 Comparing UltData with Easeus MobiSaver
Supported Apps and Data Types
Tenorshare UltData
Free Trial Free Trial
Easeus MobiSaver
Contacts, Calendar, Reminder
SMS
iMessage and WhatsApp Message
Call History, Safari Bookmarks
Photos and Videos
Voice memos and Voice Mail
App Documents, App Photos, App Videos
3.2. How to Recover Data from the iPhone using UltData
After taking a good look at the comparison between two recovery tools, you got the idea why Tenorshare UltData - iOS Data Recovery is considered the better one but that's not all. Along with UltData's user-friendly interface comes an extremely simple operating procedure, which attracts many users.
Here, take a look at the steps for data recovery with UltData:
Step 1 First, download and install UltData from its dedicated website on your computer.
Step 2 Connect the iPhone to the computer and launch the program; the default mode is "Recover from iOS Device", select it.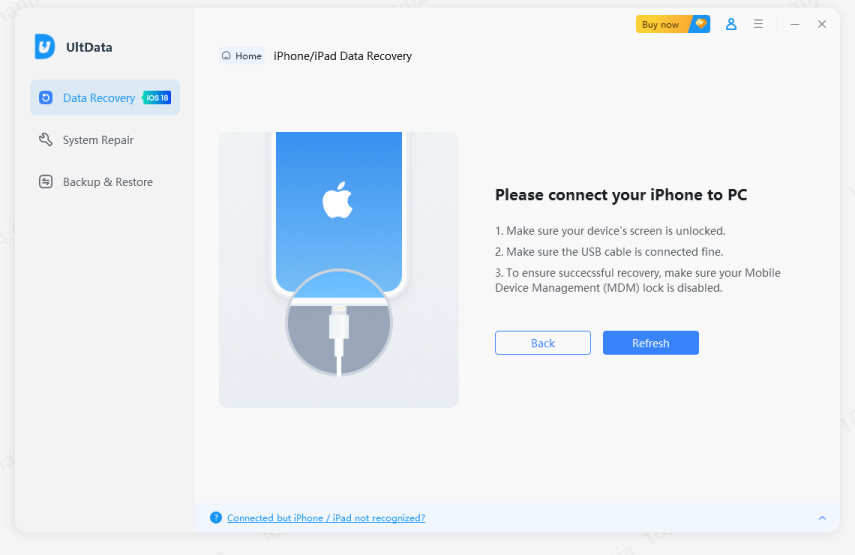 Step 3 The iOS device will be detected automatically, then choose the type of data you want and the program will scan for the lost data. If you want a more powerful scan, then click on "Start Scan".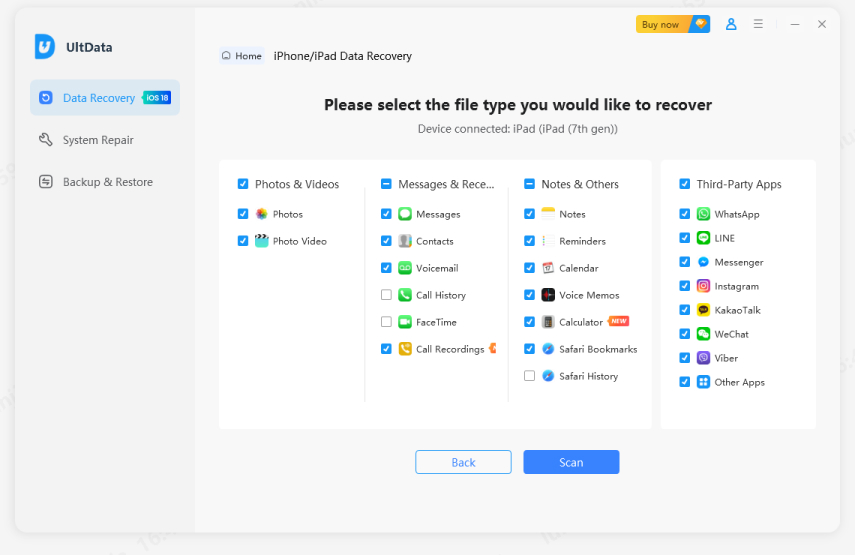 Step 4 All the files will be listed according to their category, you can also select "Choose All" or "Only display the deleted items".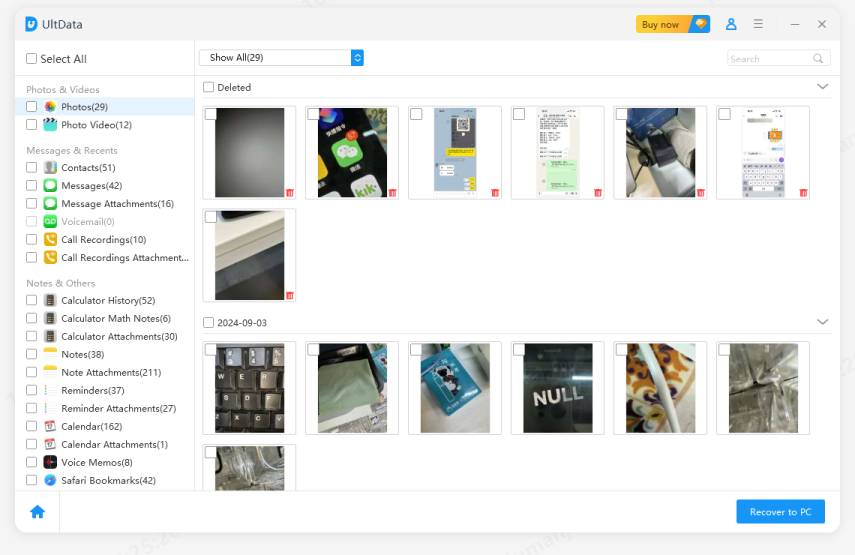 Step 4 Choosing the latter one will save you some time. After selecting the files you need you to need to click on "Recover".
The lost files will get restored on your device in a matter of minutes. You can also specify the destination folder and the format of the recovered file.
3.3. Why You Choose Tenorshare UltData
Tenorshare UltData - iOS Data Recovery has some of the most attractive and useful features that make us love it even more. They are:
Tenorshare UltData is capable of recovering files from the iOS device, directly.
You can restore files from any backup files but selectively.
You can get a preview of iTunes backup data before restoring it.
Same goes for the iCloud backup file as well.
The interface is user-friendly.
Even the operational procedure is very simple.
It will consume only a few minutes of your time to recover those files.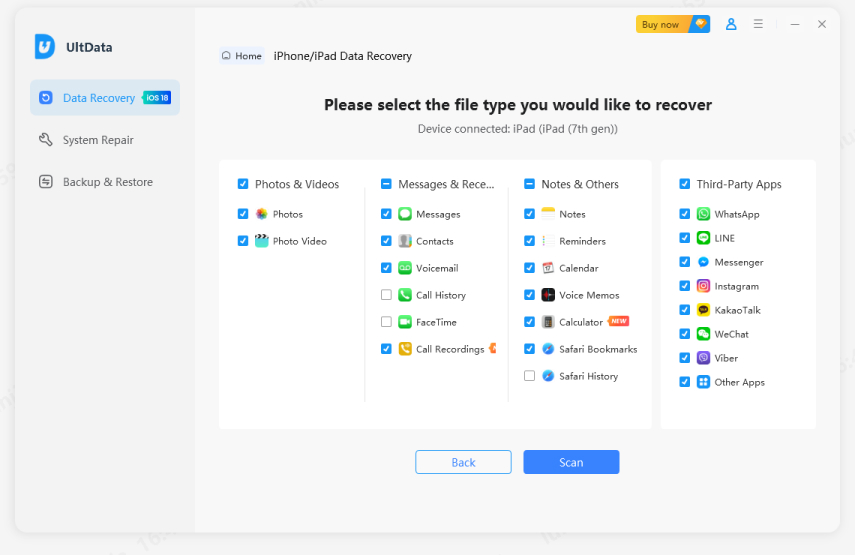 These are all the featuresthat make Tenorshare UltData so desirable to its users.
Conclusion
So, EaseUS MobiSaver is definitely a useful and capable program and it has many followers but Tenorshare UltData is just better. UltData provides better service, better utilities and far greater performance than the said recovery tool, and then provides it without charging the users any money. So, considering everything, Tenorshare UltData is a much better option when it comes to iOS data recovery. Highly recommended!