Best SD Card Encryption Software for 2020
by Anna Sherry Updated on 2019-09-18 / Update for Windows Care
Today SD cards have been widely used for storing data as mobile tool. They almost become a small database recording yourself. In order to avoid data leaking and losing, how to encrypt SD cards has been trendy among digital products users. No matter what you're using camera or Android phone, keep SD cards safe will always be your consideration. We introduce you some SD card encryption software.
Part 1: Do You Know SD Card Encryption?
Some of you once tried SD card encryption for keeping data secret. But some others may not be familiar with that concept. Do you have any deep insight of SD card encryption? This encryption technology gives advanced safe protection to SD card, other device are not allowed to access. In comparison with password-protection, encryption is not easily be bricked.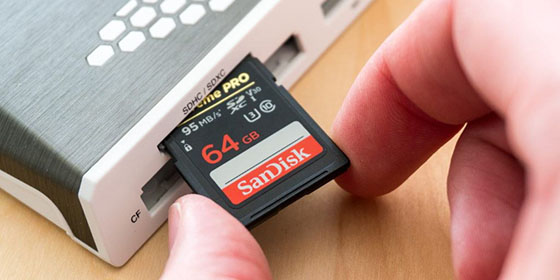 Someone feel it is kind of troublesome to encrypt. So why you still want to do SD card encryption thing?This usually depends on how important your documents, files, videos and other data are. To prevent others prying eyes, this sounds a good way to avoid such thing happening.
Part 2: How Do I Encrypt My SD Card ?
"I have some micro SD cards and an external hard drive that I would like to password protect and/or encrypt, but I have no idea how to go about this."Usually, when you start to encrypt SD card, it's going to be a tough job if you know nothing about it. And thus, how to password protect SD card Windows? We offer you two solutions to solve that on Windows, easy and efficient.
Option 1: How Does Password Protect SD Card Windows 10?
This way applies to Pro and above version of Windows 10, if you're using that kind of operating system. BitLocker is exactly the built-in tool to encrypt SD cards with passcode protection.
Step1: Plug in your SD card, wait PC to recognize and Click This PC
Step2: Right click on the SD card > Turn on BitLocker
Step3: A prompt pops up and reminds you to unlock drive with two options. We usually recommend "Use a password to unlock the drive". If you have a smart card, choose "Use my smart card to unlock the drive" for this task. Enter a strong string of password to protect phone.
Step4: Then you will be alerted to select the way to back up passcode.
Step5: Next, choose how much of drive to encrypt. Encrypt used SD card space only or Encrypt the whole SD card. Usually, select the latter.
Step6: Click Next to start encrypting.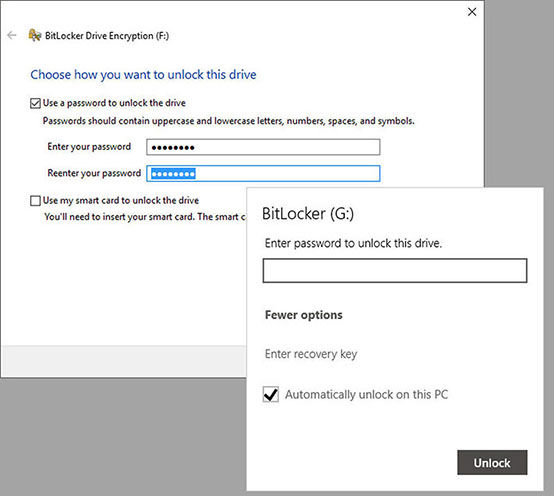 Option 2: How Do I Encrypt My SD Card with SD Card Encryption Software?
What if you're having a Windows8/7/Vista? Consider using some softwares. There are so many softwares in the market and how do you choose one? We prepare you top 3 SD card encryption software for better solving encryption issue.
Top 1. USB Security
USB Security is a strong compatible software applied to Windows 10/8/7/Vista/2012/2008/2003/XP. It is designed for securing your confidential data and prevent them from leaking and breaching. Just simple 3 steps with password protection. Apart from SD card, it is also memory card encryption software if you do have this card. Other USB storage devices like USB flash drive, thumb drive, pen drive, memory stick are all supported.
Pros:
User Friendly.
Installed in USB drive and no installation again.
Password hint in case users forget.

Cons:

This software will corrupt if accident damage occurs to USB drive.

Top 2. GiliSoft USB Encryption

GiliSoft USB Encryption is another powerful SD card encryption software Windows. It woks on all kinds of external storage devices and protect any data with advanced encryption technology. No worry about privacy leaking even if you lost it. You're able to decide how much of your drive to encrypt. That means there are two parts showing, one is encrypted, another one is public.

Pros:

Easy to use even if you're inexperienced.
Apply 256-bits AES to encrypt your SD card.
Visible interface of encrypted space.

Cons:

Unable to exactly check accurate encrypted part.

Top 3. Free Password Protect SD Memory Card

As its name puts it, a totally free encryption software applied to Windows, Free Password Protect SD Memory Card is available to any users. This software supports all memory card brands in the market such as SanDisk, Kingston, KingMax, Sony and so on. If you happen to have microSD, this is your trustworthy microSD card encryption software. Besides, SD Card, MicroSD, SDHC, CF (Compact Flash) Card, xD Picture Card and Memory Stick are supported. Only 2 steps to realize data on SD card encryption.

Pros:

Simple and no complicated technical jargon interface.
Free to any users.
Lock with hidden.

Cons:

Only supports SD memory card types.
Bonus Tip: How to Recover Lost Data From SD Card with Windows Software?
when you're using SD card as external storage, there is occasionally something wrong with it. The worst thing you worry about ends up losing data. Sometimes, you just plug SD card reader in computer, but virus attacks from nowhere. Or you delete some files, documents and photos carelessly. How to fix these problems to recover lost data from SD card? Maybe trying Windows software Tenorshare 4DDiG for Windows Data Recovery from Tenorshare is never a bad idea. It helps you to find lost data back from SD card. No matter what kind of types data, photos, videos, music, PDF... all can be restored quickly. Also, it supports to recover data from PC, HDD/SDD, digital camera and media player.
Step 1Select any location
After lunching 4DDiG for Windows Data Recovery, you will see drives are shown below and just select one to restore data.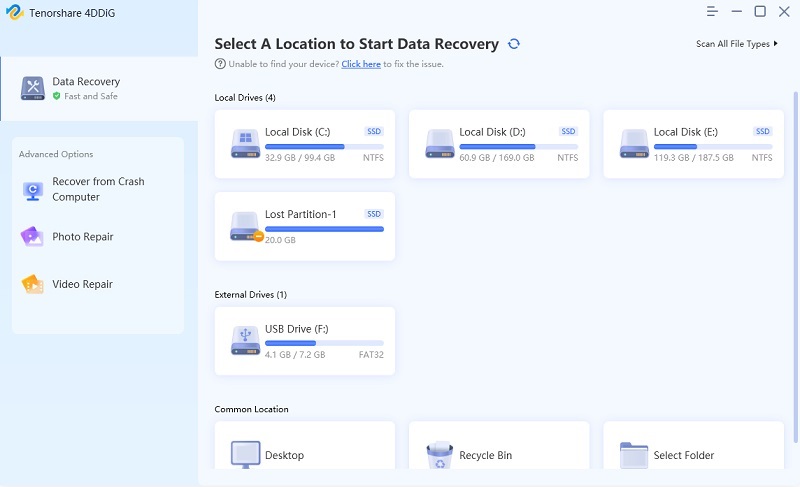 Step 2 Start to scan location and preview files
It takes a while to scan the location you choose right now. All files are exhibited below: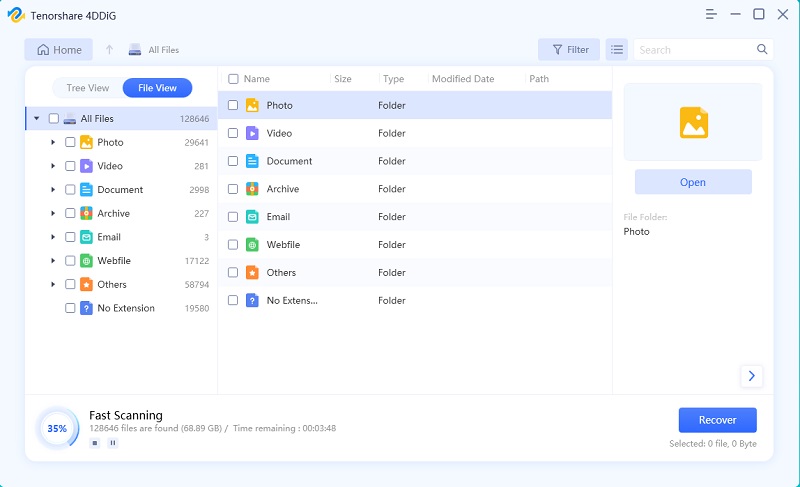 Enter preview mode through window icon at the bottom right corner.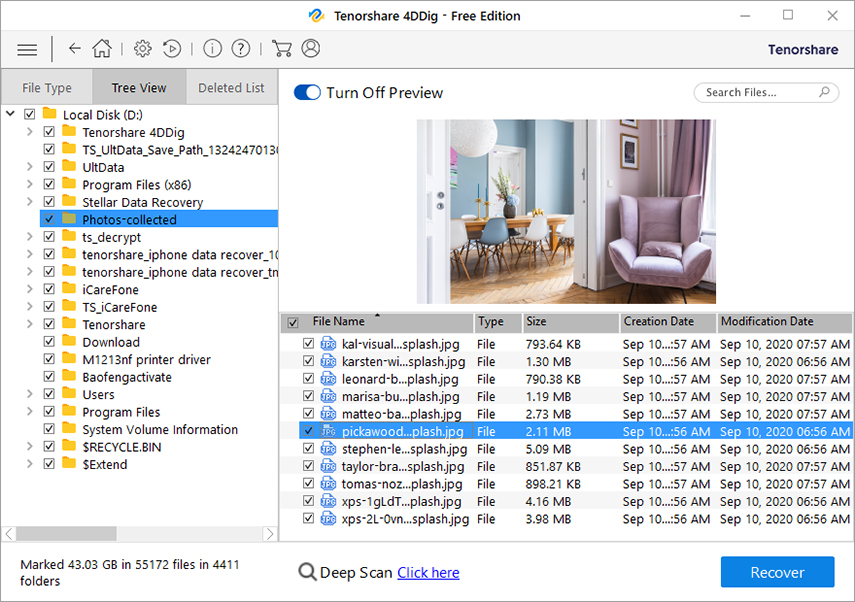 Click Preview to check out detailed information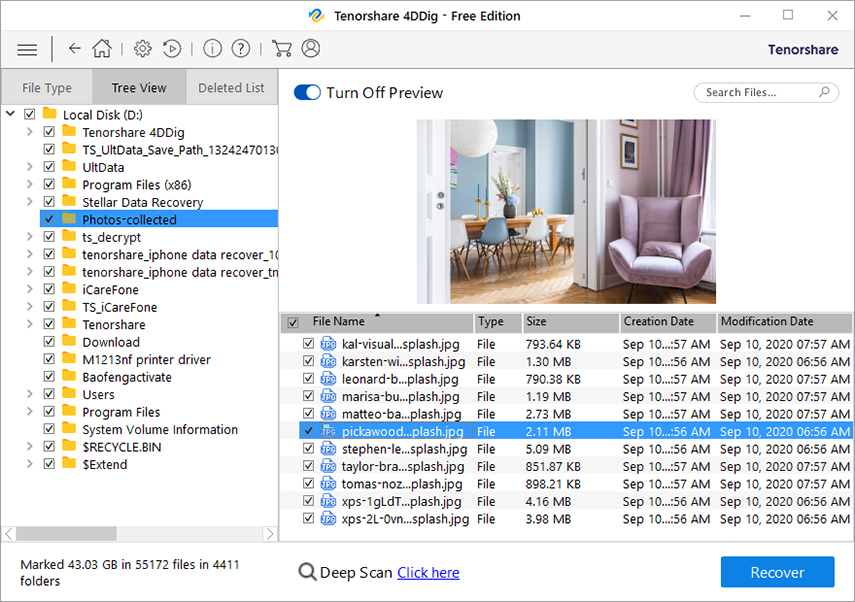 Step 3 Click Recover to restore files now.
After you decide which one to recover, just pick them and start to recover. Remember not to save recovered files to partition where you once lost, or you will lost it forever.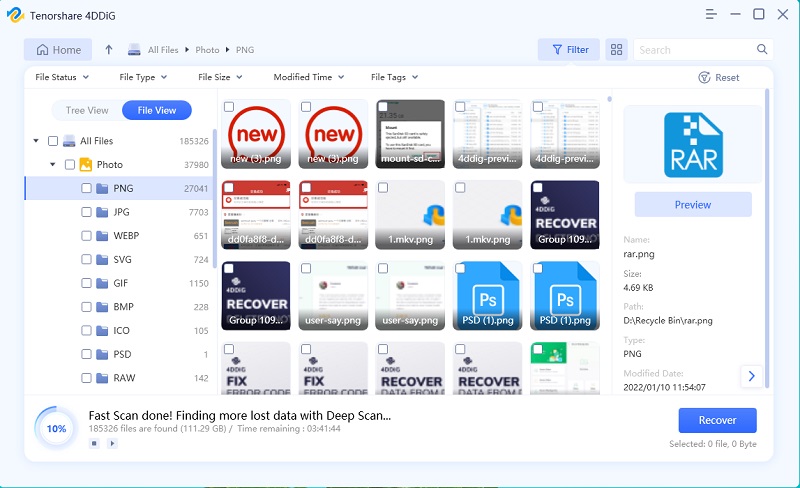 Conclusion
Are you still puzzled at how to encrypt SD card? We believe that you're going to benefit a lot from this guide. If you are owning a Windows 10 computer, just use BitLocker to encrypt; If not, please consider about SD card encryption software. They are really very useful handy tool for you to figure it out. As you use SD card again and again, accidents are unexpectedly waiting there. The most headache is probably data loss. At this time, try Tenorshare 4DDiG for Windows Data Recovery, a powerful software to recover lost data. If you want to accurately restore SD card on Android phone, just take Tenorshare UltData - Android Data Recovery into consideration.