How to Undisable an iPad? 3 Ways to Do it!
If you get locked out of your iPad or if the device was stolen and someone tried to hack their way into the device, it will get locked or rendered completely disabled. This is actually a protection mechanism designed to protect your valuable data. But what if it was not stolen and you just entered the wrong code several times and got locked out of your own device, then how to undisable an iPad? Actually, in these situations, it would be best to connect your device to iTunes and get it fixed but there are also other options available which may be even better than iTunes. Those exceptional apps and the procedure to use them are elaborated below.
Way 1: How to Enable a Disabled iPad with 4uKey
There are a lot of reasons that could render your iPad disabled. In this troubling situation most users think that if they could just connect the device to iTunes, it would solve their problem. This particular solution has been used for decades. If iPad is disabled connect to iTunes, but now there are better solutions. The third-party tool called Tenorshare 4uKey can help you easily restore your device back to normal by unlocking your iPad in minutes. If you want to know how to enable iPad without iTunes then just follow the steps below.
Step 1: First of all, you have to download and install the Tenorshare 4uKey on your computer (PC/Mac).
Step 2: Now, run it on your device.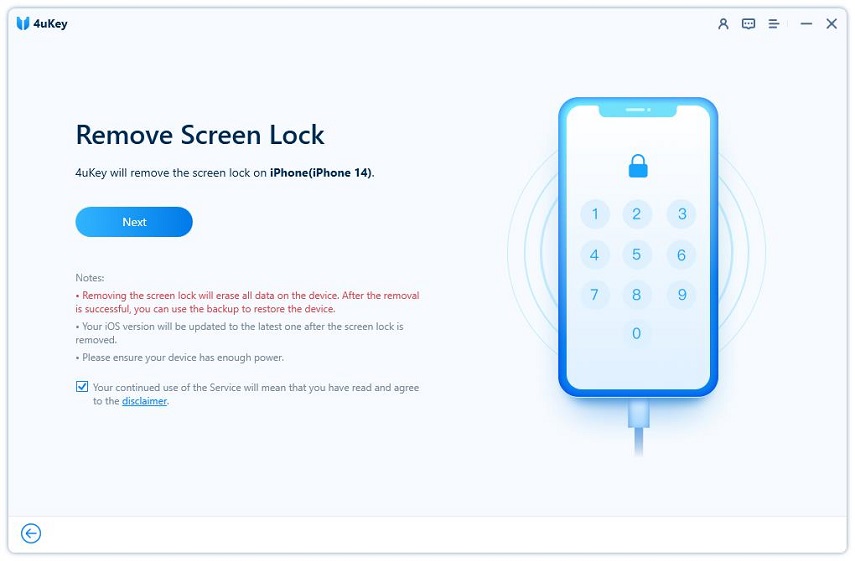 Step 3: Next, you need to connect your iPad/iPad pro/Air/Mini to your computer using a USB cable.
Step 4: The program will detect the iPad automatically then click "Start" on the main interface.
Step 5: Choose a destination for the firmware package and then click on "Download".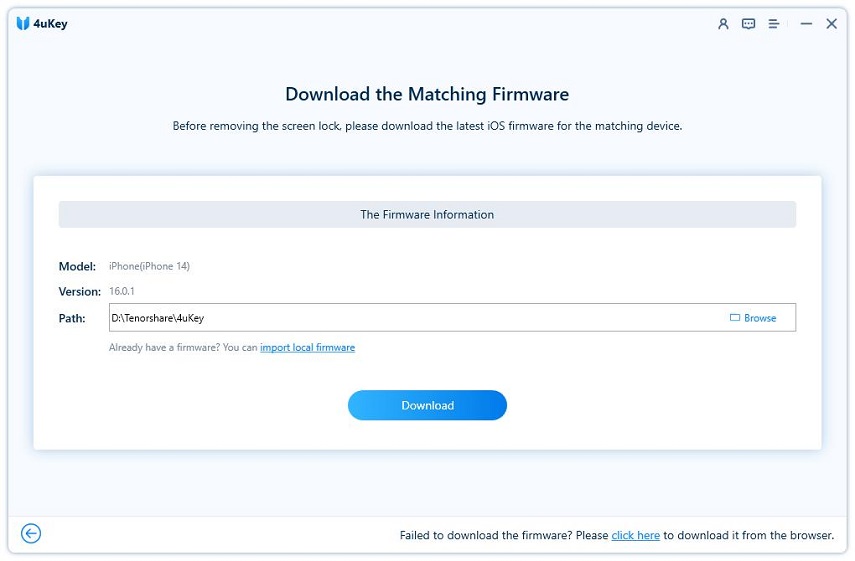 Step 6: After the firmware has been downloaded to your computer, you have to click on "Unlock Now" to fix your iPad.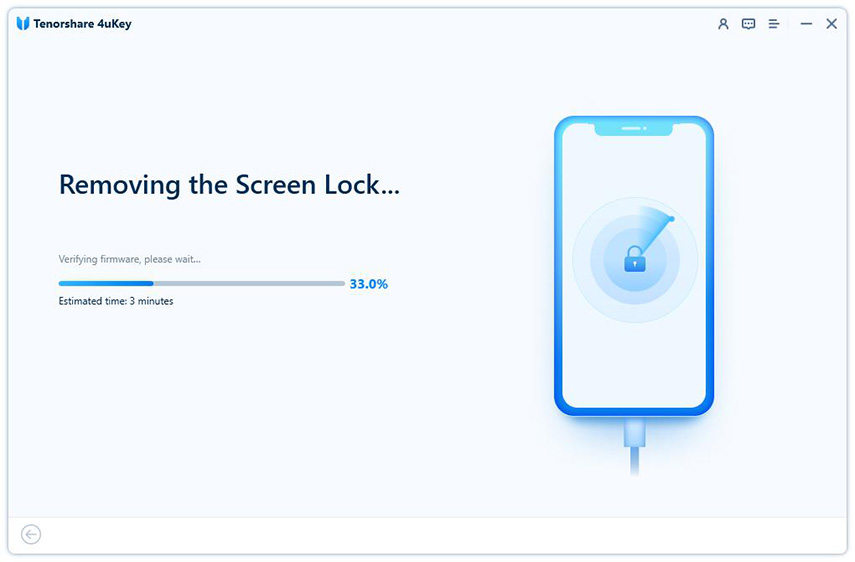 It will restore your iPad to its previous condition.After the iPad is fixed, you can restore it from iCloud or iTunes backup if you have any. The Tenorshare 4uKey tool has gained a lot of followers because of its efficiency. This particular tool has proven very useful for unlocking iOS devices.
Way 2: How to Undisable an iPad with iTunes Restore
Connecting your iOS device to iTunes is the oldest and the most go-to option when your iPad has been disabled. Many of you may know this solution but actually, do you know how do you enable a disabled iPad using iTunes? Don't worry, follow the steps below:
If iTunes Recognizes iPad:
Step 1: After connecting iPad to your computer using a USB cable, go to the iPad icon on the top.
Step 2: Go to Summary and click on "Restore iPad" option.
Step 3: Now, it will ask you to turn off Find My iP ad feature if you have it enabled. So, disable it and proceed with the same.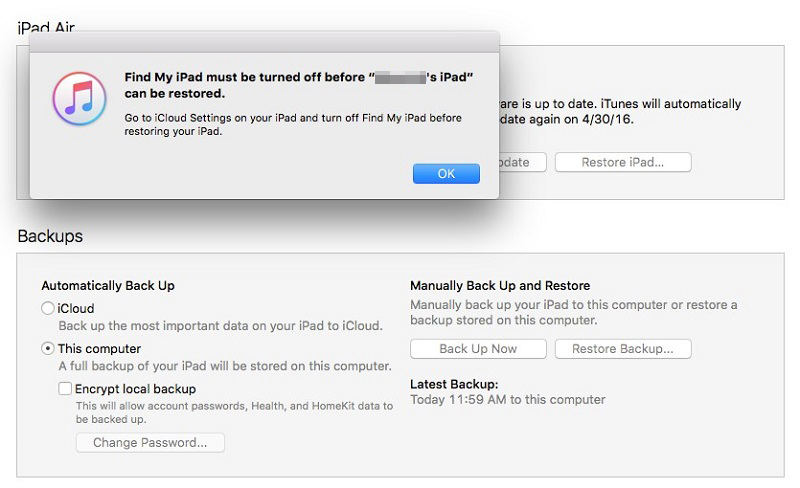 Step 4: If Find My iPad is disabled, iTunes will verify if you want to restore iPad to its factory settings and all your data will be deleted.
Step 5: Tap "Restore and Update" and iTunes will download the software and restore the iPad to its factory settings now.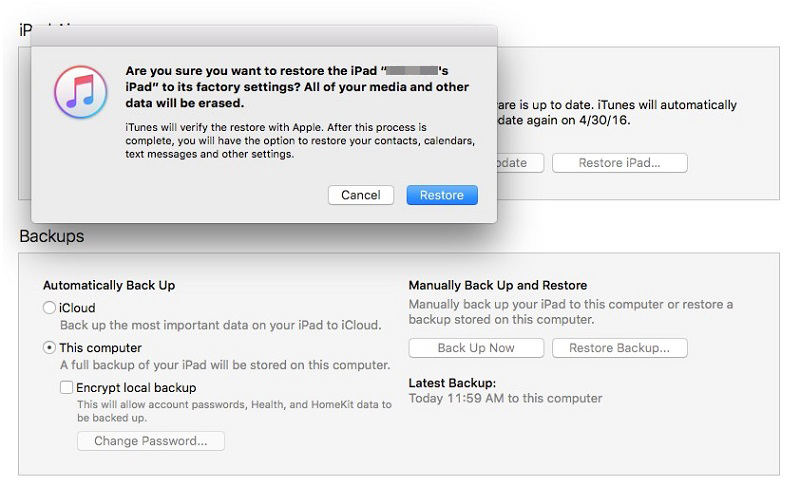 If iTunes Can't Recognize iPad:
In this case, if iTunes can't connect to your iPad, you will have to put your iPad into recovery mode.
Step 1: Run iTunes.
Step 3: Tap and hold the Home button on your iPad and leave when you see the Apple logo.
Step 4: Now, plug-in your iPad to your computer using a USB cable.
Step 5: This will put your iPad into recovery mode and this message will pop-up:"There is a problem with iPad 'iPad' that requires it to be updated or restored"

Step 6: Simply click Restore and iTunes will verify if you want to send your iPad to factory settings and wipe out all the data and settings.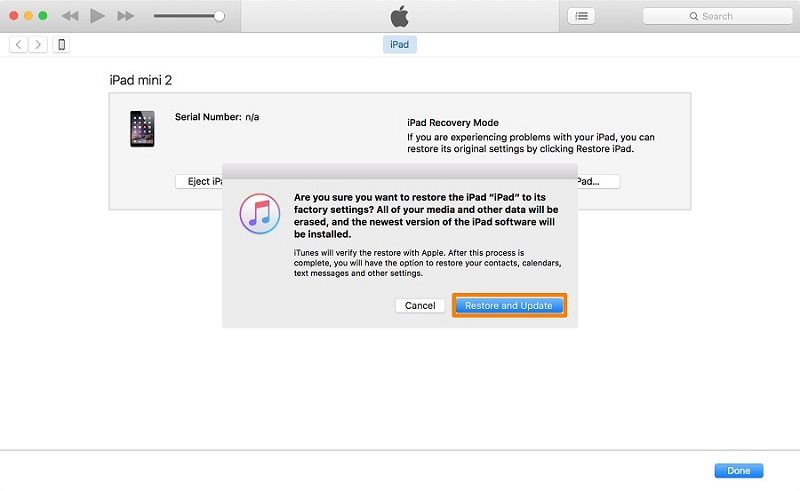 Step 7: Tap "Restore and Update" to restore now.
That's it! The procedure will take some time to finish. Then wait for your iPad to get restored, it will take more or less half an hour. This is actually a decade old procedure that hasn't changed ever since.
Way 3: How to Fix a Disabled iPad with Find My iPhone
Well, if you have disabled your iPad permanently then your only option is to reset the device which will erase all of its data and settings completely. This may actually look like a drawback but it was designed for the safety of your device. The Find my iPad is one of the safest ways to get back your device through the iCloud app. Using this app you will be able to remotely erase the device if it was stolen. Buthow to fix a disabled iPad using Find My iPhone? Here's how you can:
Step 1: Open your computer and run a browser.
Step 2: Type www.icloud.comon the browser.
Step 3: Now, enter your iCloud account using your Apple ID.
Step 4: Then click on Find My iPhone.
Step 5: Select your iPad from the list of devices.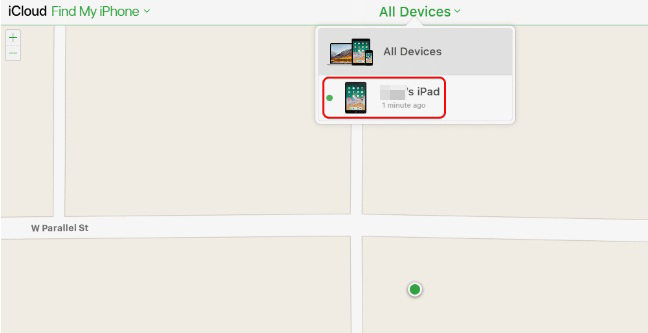 Step 6: Then click on Erase iPad.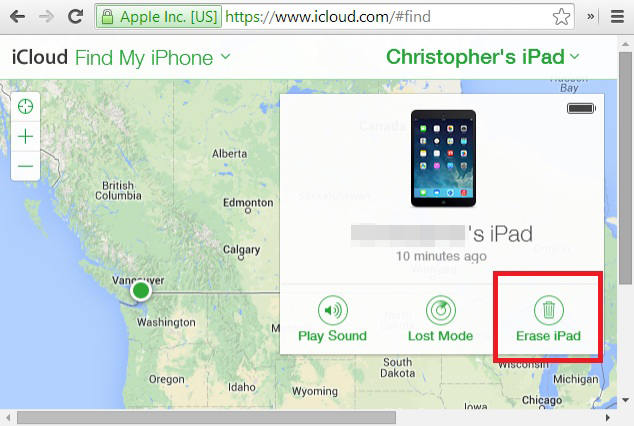 After this, your iPad will be reset completely and all the data will be eliminated. Now, you must restore the iPad from a previously saved backup file using iCloud.
Conclusion
Although this is a very common problem and most of the users face a similar situation at least once in their life, it is very unfortunate that a large number of users actually have no idea what to do in this regard. The most common thing is asking how to enable a disabled iPad, all over the internet. But that won't be the situation anymore as this article will tell you about all the simple yet effective ways to fix your iPad after it has been rendered disabled. The third-party tool Tenorshare 4uKey seems to be the most effective option as it is easy to use and the overall process is hassle-free and less complicated than the other two methods. Go for it!