5 Best Ways to Transfer Videos from Android to Android
by Jenefey Aaron Updated on 2020-07-15 / Update for Transfer Video
Dropping data from Android to Android is not very difficult, unlike in iOS. Android is an open platform, so the users don't have to face any troublesome barriers when they need to transfer files. Unfortunately, as there are many methods and options to choose from, many Android users still have queries about how to transfer videos from Android to Android and most importantly what method to choose. So, to calm their curiosity a few effective modes of data transfer are elaborated in details in this article. Follow them carefully, and transfer videos with ease.
Way 1: How to Transfer Videos from Android to Android by Drag and Drop
One of the most popular Operating Systems in the world: Android is an open platform. As a user, you can easily connect and access the memory of your mobile through your computer. So, mostly it is not very difficult to transfer video between Android phones. So, if your goal is to find out how to transfer videos from Android to Android, you can simply go for Drag and Drop method. Follow the instructions below:
1. First, connect two of your Android devices and your computer with 2 USB cables.
2. A few moments later your computer will recognize the Android devices.
3. After that go to "My Computer", you will find that both your devices are detected as a "Portable Device"
4. Now, if you enter a "Portable Device" icon, you will reach the internal storage of that Android device.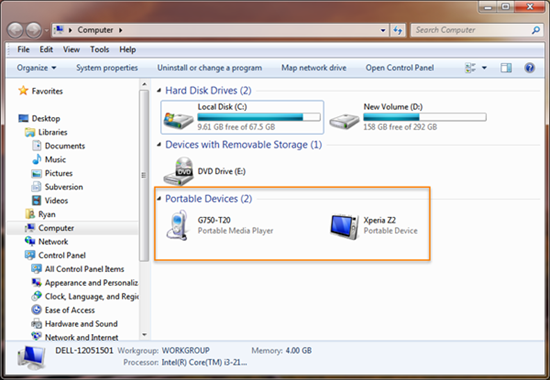 5. Now, in the internal storage, it is very obvious that all of your videos will be stored in the "Video" folder.
6. Now, open the "Video" folder of both devices then select the videos you want to send to the other device. After that just Drag and Drop them on the other device's "Video" folder.
Finally, your favorite videos have been transferred to the other target Android device. So, as was instructed before, it is not very difficult to transfer data from one Android device to another; especially if you are using "Drop and Drag" method to complete your task.
Way 2: How to Transfer Videos from Android to Android with Google Backup
The method mentioned earlier is a very old and conventional technique. These days there are a lot of other easy and fuss-free methods available to satisfy your needs. The Google Backup method is one of those new techniques, where you can transfer videos from Android to Android efficiently with the help of Wi-Fi. So, if your goal is to transfer videos from phone to phone with Google Backup, the steps are mentioned below:
1. The very first step you need to make is to log-in to your Google account with your Android phone.
2. Then go to the Settings and look for Backup and Reset mode.
3. Now, you need to make sure that the Backup data option and Automatic restore option are both turned on your Google account.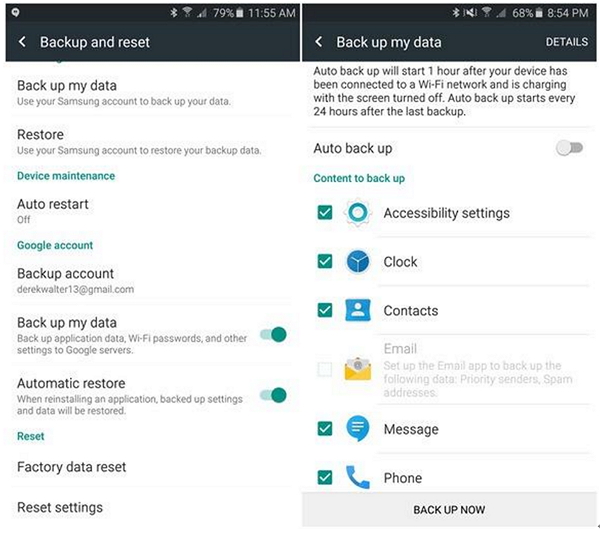 4. Google will definitely remember your password so, you do not have to enter every time you log-in.
5. After you completed these tasks Google will sync with the Android devices in question and you can use it to transfer data among the devices.
Advantages
The best part of Google Backup is its remote accessibility.
You can also access your files from any device of your choice.

Disadvantages

It consumes a large amount of data storage
You will always need to connect to the Internet to access your backup files
The data downloading speed is very slow
Way 3: How to Send Videos from Android to Android with Bluetooth
Bluetooth makes it possible for two devices to stay connected wirelessly and transfer data. It has been a very old yet effective feature among devices. Nowadays, the feature is updated with better connectivity options and upgraded hardware to help matters and thus, it is widely used by people all over the globe. The data includes various music files, videos, photos etc. As the app does not use the Wi-Fi network both of the devices need to in a close proximity during the data transfer. The tutorial on how to send videos from Android to Android with Bluetooth is mentioned below:
1. First of all to send files using Bluetooth you have to make a connection between the devices.
2. So, turn on the Bluetooth on both of the Android devices.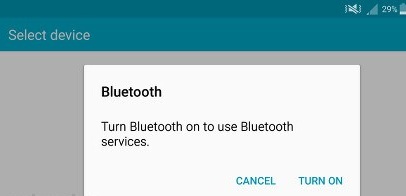 3. Now, put the receiver device in the "Discover Mode".
4. Now, the sender device will know of its presence and will send a notification wanting to establish a connection.
5. After the connection is established, you are ready to transfer any kind of files from one device to another.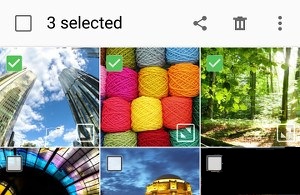 In this case, choose videos from your gallery or camera roll and share it with Bluetooth.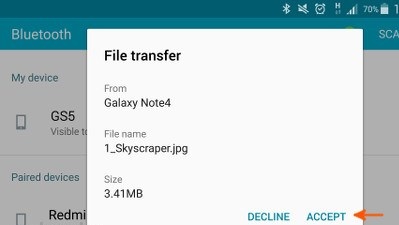 Unfortunately, the Bluetooth app won't be able to transfer any large files, if you attempt it then the data will be compressed and it will compromise the quality of the file.
Advantage
Bluetooth is very popular and as the time goes by the feature is gaining more and more users.
The simplicity of the app proved to be a strength, which made it so popular
It is a free
Even without a Wi-Fi connection, you can transfer data to your friends
Disadvantage
Bluetooth devours too much battery of your device.
The transfer speed is very slow.
Not very effective when it comes to transferring large bytes of data
Way 4: How to Transfer Photos and Videos from Android to Android Using Shareit
How to transfer videos from phone to phone is a very big question nowadays. If you are confused you can look at SHAREit. It is a very popular Android app which is able to transfer big files from one Android device to another, very fast. At the first glance, it may look similar to Bluetooth but it is way different. Unlike Bluetooth, SHAREit is able to transfer big files in a more secure way with a speed of more or less 20mbps. Actually, the app uses the Wi-Fi network to create a secure connection. Here's how to send photos and videos with Shareit:
1. First, you need to know that in order to use the app, you have to download and install the app on both Android devices.
2. First press "Send" on the Android device which contains the files.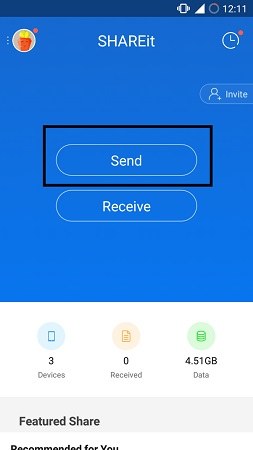 3. On your Android device, select the files you want to send and then tap "Next".
4. Now, you will come to a new screen which looks like a radar.
5. Now on the receiving device tap "Receive".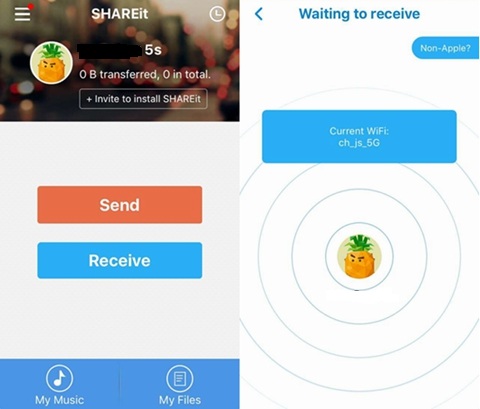 6. After that their Android devices will be visible on your radar in a few moments.
7. This is it; tap on the device to select and data will start flowing through at an amazing speed.
Also, there is no limit to the size of data you can send. When talking about SHAREit, the app mainly provides flexibility to the users. It is the main reason why the app has gained more than half a billion followers within such a short time.
Advantages
It can transfer large files between two devices
The lightning-fast transfer speed has made the app so popular
The interface of the app is user-friendly
Transfer any type of data
Disadvantages
SHAREit app is not suitable for devices with low RAM.
There are still a few bugs in the app.
Connectivity issues here and there
Way 5: How to Transfer Videos from Phone to Phone via WhatsApp
WhatsApp is very useful when it comes to sending photos or videos from one Android device to another. Initially, the app was introduced to the users as a messaging app but it turned out to be another excellent data transfer medium. So, a viable answer to your question "How to transfer photos and videos from Android to Android" could be WhatsApp. The steps are very easy, and they are mentioned below:
1. Open WhatsApp on your Android device.
2. Find and choose your other device from contacts. Now, find and tap on the attachment button on the top.
3. Choose the videos you want to send.
4. Now, tap "Send" to complete the process.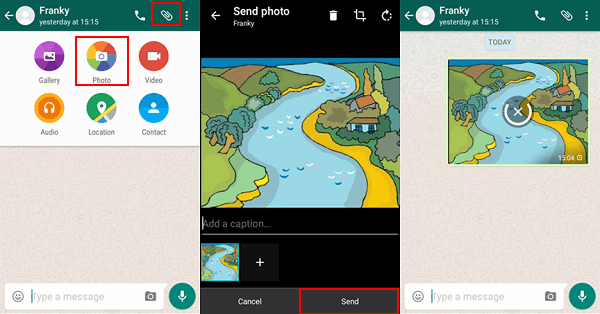 Data transfer with WhatsApp is easy and simple, and which is why it has attracted many followers. You can send any number of files but you can only send a maximum of 16MB per file size. Anything more than that and the app will not allow it.
Advantages
WhatsApp is a free app.
It is available on various platforms like iOS, Windows and Android and iOS
The interface is very simple.
You can send any type of data like photos, videos, contacts, locations etc.
Transfer any number of files selectively or in bulk.
Disadvantages
Internet is a must when using WhatsApp, without it the app is useless.
File size restrictions.
As far as the article goes, all of these apps are very effective to transfer videos between Android phones such as Sony, Nokia or One Plus, Samsung, Motorola etc. These are tried and tested and works effectively. Follow them step by step and you will get the job done with ease.
In case you want an iOS data transfer tool, look nowhere else other than Tenorshare Phone to Phone Transfer software. It is by far the right app for the right job. It is a multi-platform app; it can transfer data from iOS to iOS easily and at lightning speeds. You can easily clone an iPhone X/8/7/6/5/SE and send that data to another iPhone or iPad. And this versatility makes it the best data transfer tool for iOS devices. Highly recommended!