Top 10 Android Parental Control Apps Updated
by Anna Sherry Updated on 2021-12-30 / Update for Mobile Tracker
Technological advancements in all aspects are happening widely. Even the very youngest member of the family loves to enjoy playing games and using other apps. It is prominent to keep a check on the online activities of children to help them maintain the right path. There is always a cause for precaution and it is extremely essential. It is the sole responsibility of the parents to ensure that their kids are using the gadgets in the correct way. This is why several applications are being released in the market to protect the well-being of your child.
These are parental control apps which can be installed and activated in the child's Android device. This will give you complete access to the activities the child does. Most Android parental control apps will have standard features like monitoring the calls, Internet usage and text messages. So having an Android parental control app becomes very essential in today's world. There are many more apps that have amazing features like geo-fencing, blocking of certain applications and also tracking their movement through GPS. This article will lead you to the best Android parental control app and where to get it. There are more interesting things that you will explore and choose the best one for your kid.
Part 1: List of the Top 10 Android Parental Control Apps
1. Spyera
Spyera is the most recommended parent control Android app available for you. Also, it is a popular app trusted by many parents. It has a user-friendly interface allowing to track calls, emails, web history, text messages, photos and videos. Allows you to monitor all social media activities or applications!
You can also monitor the number of hours spent by your child on the gadget. This application allows you to listen to the surroundings too when you enable the microphone. Certain apps that you reckon are inappropriate can be blocked with Spyera.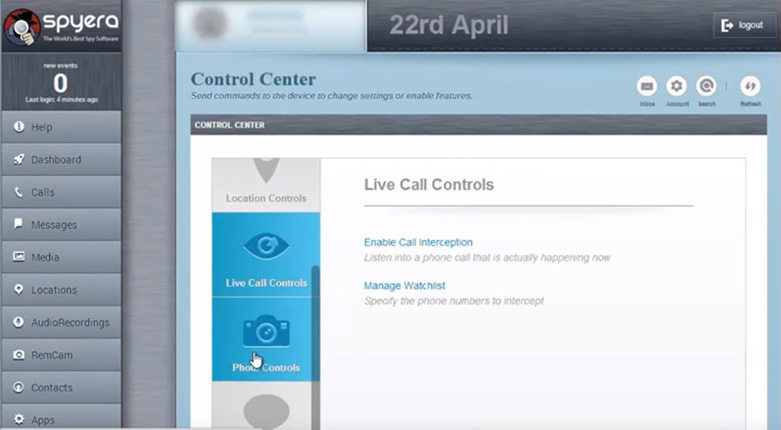 Pros:
User-friendly and effective
Listen and record live calls
Allows key stroking of messages typed with Android key-logger
Record calls via messaging apps like Line, Facebook, WhatsApp
Access to over 16 messaging applications
Hidden remote control available
Cons:
Review: Has the best live recording feature. Really like it!
Has many features that are absent in most parental control apps.
Product Link: http://spyera.com/#tenor
Rating: 4.6/5
2. Highster Mobile
Highster Mobile is the next most famous Android parental control app used by parents. You can easily track the location of the device within minutes. There is an invisible mode which allows tracking the activities of your child without their knowledge.
There are a number of messaging apps like Facebook and Skype for which you can have control.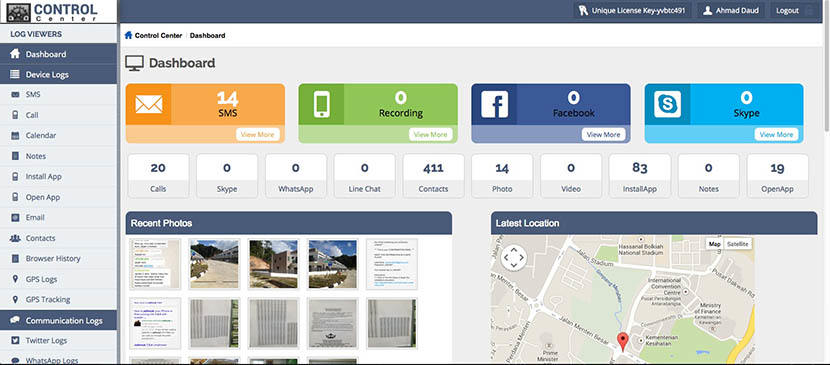 Pros:
Allows remote monitoring
Keeps a track on the installed apps and used apps
GPS tracking available
Compatible on iOS devices
Allows call recording
Cons:
Review: Although, it has not got a good interface, the app uses advanced options. Recommended!
Product Link: http://highstermobile.com
Rating: 4/5
3. TheTruthSpy
Fast tracking of devices is the major plus point of this parental control Android app. This allows you to access the web history, call history, contacts, app usage history and more. All these can be spied remotely and is simple to use. You can start using the app as quickly as possible.
There is a standard and a premium version of the application available.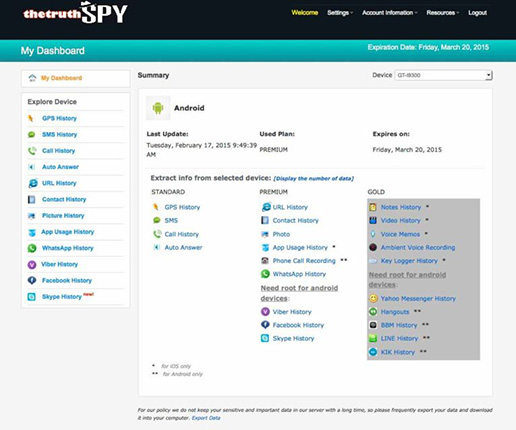 Pros:
Call recording can be done
Access to popular messaging applications
Can be used for both Android and iOS devices
Cons:
Video history is not applicable for Android
Key logger is not available for Android devices
Review: Call recording feature doesn't work really well. Overall, good app and effective too!
Product Link: http://thetruthspy.com
Rating: 4.5/5
4. FreeAndroidSpy
This is a wonderful Android parental control app that is available for free. You get many benefits like tracking images, video files, installed apps and others. There is also a GPS tracking system along with it. This is a remote parental control app too.
It has all the essential features required for keeping your child on the right path.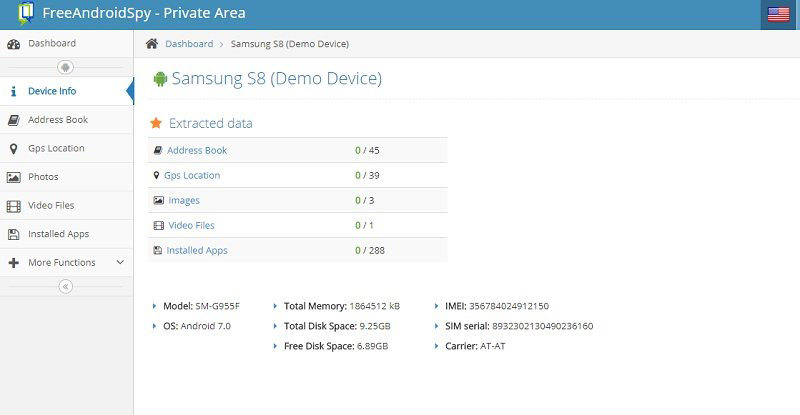 Pros:
Free Android parental control app
Allows location tracking
Free of cost
Cons:
Does not have advanced features
Review: It is very easy to use and install. I like this app very much.
Product Link: http://www.freeandroidspy.com
Rating: 4.5/5
5. mSpy Android Parental Control
mSpy is an exceptional Android parental control app available. The app installs very quickly and provides the user with an easy manual for tracking purposes. The benefits provided by this app are plenty. It allows you to check on the messages or calls remotely, have access to all the messaging applications installed on your child's device.
You get to use the very popular Geo-fencing technique. This will remind you if your child is entering a space that is termed as restricted by you. Thus, ensuring the complete safety of your child from danger!

Pros:
Allows real-time GPS tracking
Tracks all the saved data and installed apps
Geo-fencing available
Suitable for iOS also
Affordable
Cons:
A user needs time to understand the app
Review: Sound recording feature is not available in the newer versions. Otherwise, it is the best app according to me.
Product Link: mSpy
Rating: 4/5
6. Spyzie
The dashboard provided by Spyzie is a great plus point. This allows you to monitor all the activities of your child regularly. It can give you the details of the target phone remotely and precisely. You can have an eye on the call logs, web history, saved files like videos, pictures and more. Blocking of websites or apps is also possible.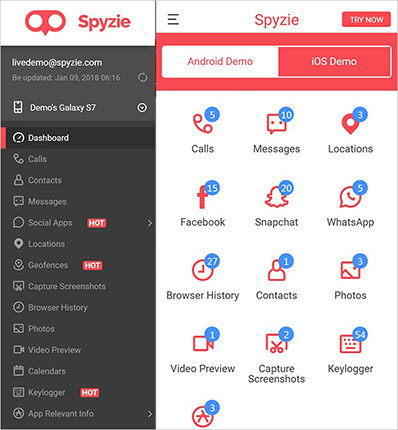 Pros:
Availability of real-time GPS tracking
Bookmarks, notes and contacts can also be checked
Compatible on Android and iOS
Key logger is available
Geo-fencing is applicable
Cons:
Demo differs from the original
Review: This parental control app supports a lot of data types, yet the support system is not helpful.
Product Link: http://www.spyzie.com
Rating: 3.5/5
7. Kaspersky Safe Kids
Kaspersky is well known for Antivirus software. Its parental control app is not any less. While it is compatible with any OS, the Safe Kids app is also very easy to use. There are a number of benefits like tracking and blocking.
This is one of the safest apps in regards to the parental control app.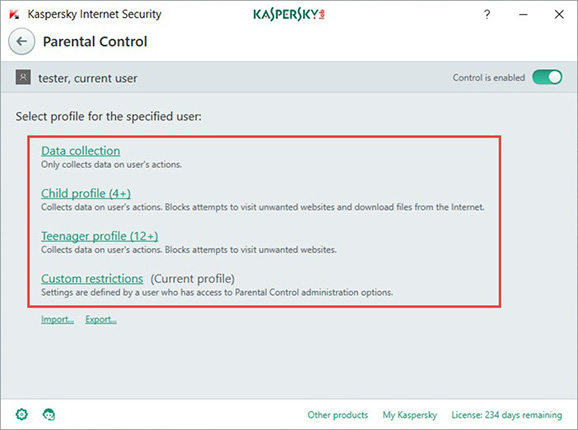 Pros:
Allows blocking of the undesired websites
Real-time GPS tracking available
Check the number of hours spent on an app
Automatically restricts the website you have blocked for the user
Cons:
Does not have many features
Review: A safe and reliable app for tracking the children's online interaction and activities. I use it and I am satisfied!
Product Link: http://www.kaspersky.co.in/safe-kids
Rating: 3.9/5
8. Norton Family Parent Control
The interface of Norton Family Parent Control is one of the finest ones available. It supports many devices and therefore has an advantage of securing the whole family. You can track all the calls, texts and also monitor the time spent by your child.
A unique feature in this Android parental control app is that you can set up alerts for certain keywords when they are searched on the Internet.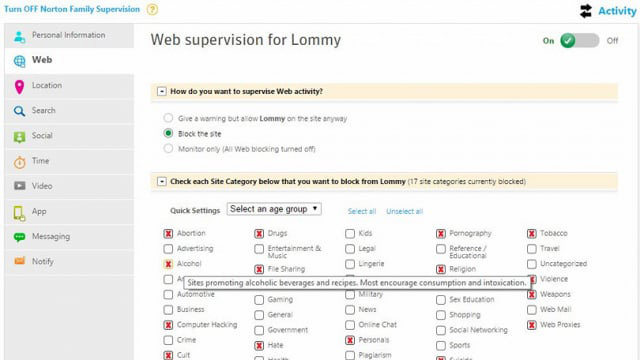 Pros:
Location tracking
Search keyword alerting
Supervision of time spent
User-friendly
Cons:
Lacks a few important features
Review: This one of the best Android parental control apps for me but it lacks some features which can make this app really good. I hope they update it next time. I recommend this app.
Product Link: http://family.norton.com
Rating: 4.5/5
9. Qustodio
This has a very user-friendly interface that helps you to understand all the recent activities of your child. The app offers a pie chart, comparison charts and statistics of the child.
You are allowed to block an app or website from being accessed by your child too. All this can be done remotely. This kind of the app ensures total security for your child.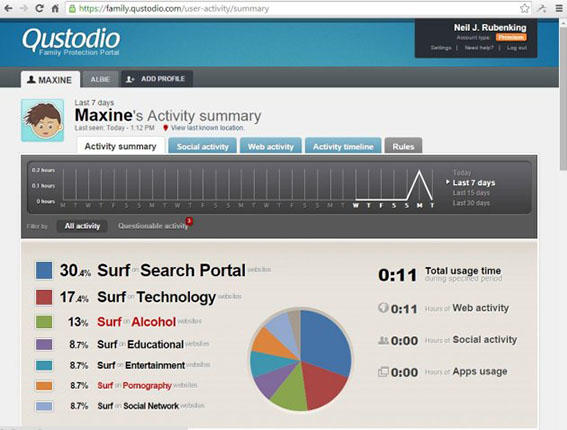 Pros:
User-friendly
Easy to segregate unwanted websites and block them
Provides statistics for the week
Quickly analyses the activities of the target mobile
Affordable price
Panic button available
Cons:
Statistics are not necessary always
Review: I am using it for a while now and I must say this is the most trustworthy parental control app ever. Though experienced some problems here and there!
Product Link: http://www.qustodio.com/en/
Rating: 3.5/5
10. Flexispy
Call recording, tracking of calls, SMS, WhatsApp calls and texts and more is possible. Flexispy has a good interface that can be understood by parents. You can easily start using the app after installation. This also has a dashboard option that will allow you to monitor the child's activities remotely.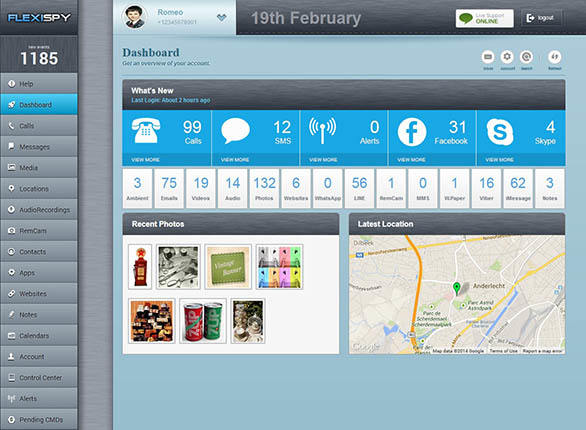 Pros:
Rooting or jail-breaking is not necessary
Calls can be recorded instantly
Access all types of media files
Cons:
Geo-fencing is not possible
Review: Usability of the app is not very efficient but does the work well!
Product Link: http://www.flexispy.com
Rating: 3.7/5
These are the top parental control Android apps that can be used for the protection of your children. Most of the apps as we have seen are giving benefits of tracking services. Other than that, setting the time on Internet and application usage has to be implemented to ensure the digital well-being of your children.
An ideal Android parental control app should allow instant call recordings and keylogging. This is because many crime cases happen along calls or texts only. It is the duty of the parents to make sure that their children are using gadgets in a protective way. So, these monitoring apps should function remotely. Blocking some websites and apps is essential so that your children view only the things according to their age.
Every parental control Android app will have its own features. On a concluding note, Spyera is the best Android parental control app because it covers most of the features. It has great reliability and user-friendly interface that makes the app highly recommended.
Part 2: How to Unlock your Android Phone without any Passcode
Tenorshare 4uKey for Android is a one-stop destination for all your issues in both Android and Apple. They have developed different kinds for applications for recovery and repair of devices. The 4uKey for Android (Android Unlocker) is one such application that can unlock your Android Phone without using any passcode. This is efficient in unlocking a phone that has PIN, password, Google account, pattern or even a fingerprint lock. Tenorshare 4uKey for Android does this very quickly and it is also a simple process. This is useful when you have forgotten your passcode. Here is a detailed guide that will allow you to unlock any Android device.
Step 1 Download the Tenorshare 4uKey for Android software on your computer.
Step 2 Connect your Android device that you like to unlock with your computer device with a USB cable. This program will install the driver automatically when it is run.
Step 3 After connection, click the button "Remove Screen Lock" on the software interface.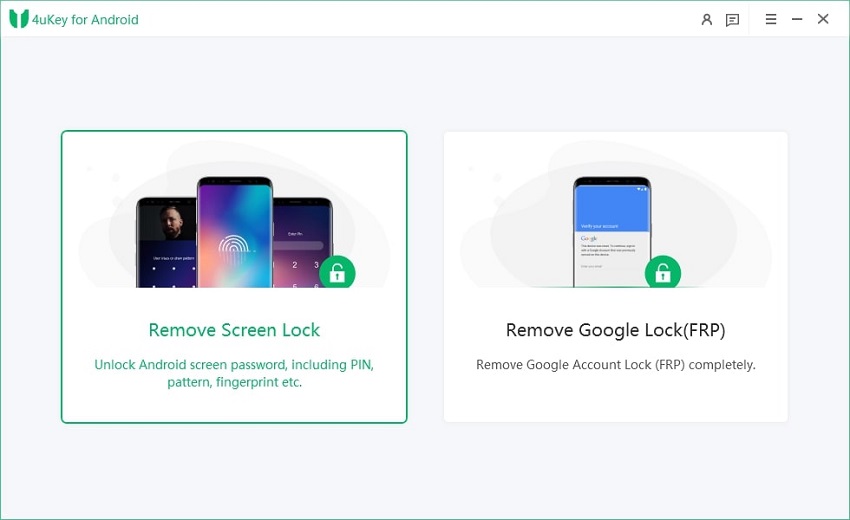 Step 4 Click on "Start", as this process will remove all the data from your Android Phone for security reasons. You need to select "Yes" to proceed with the process.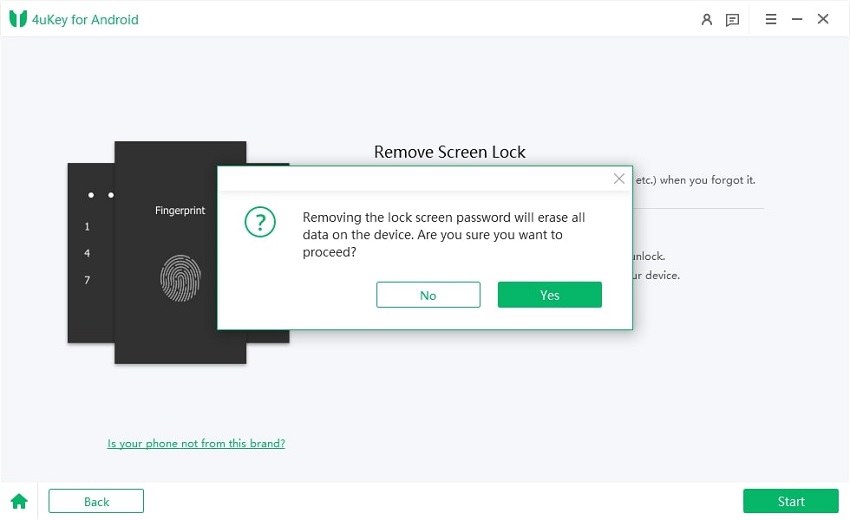 Step 5 Please kindly wait for a few minutes, the software will unlock your device soon.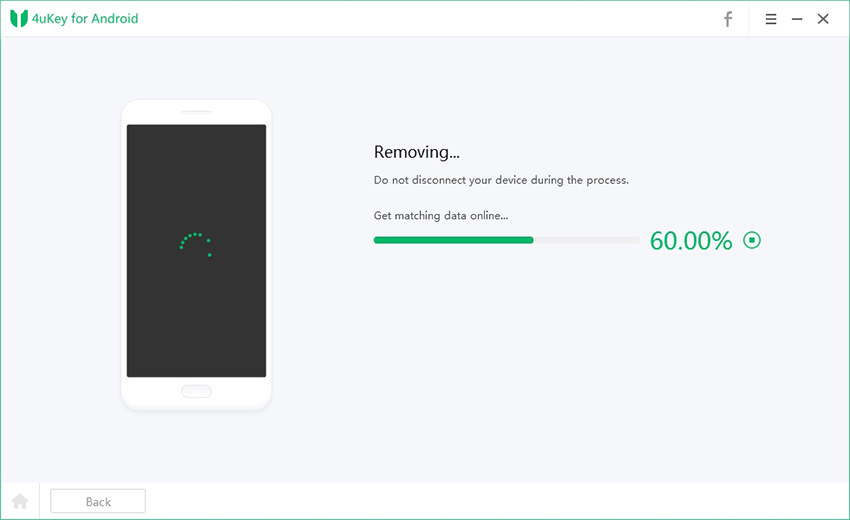 Step 6 Restart your Android device after this.
The Passcode will be removed successfully and you can start using your phone. To retrieve all your lost data, you can try the other products of Tenorshare as well. Highly recommended!
Remove Android Screen Lock & Bypass Samsung FRP Lock
Bypass Google account verification on Samsung devices (Android 6-11)
Remove Android password, pattern, PIN, and fingerprint lock just one click away
Support removing screen lock and FRP on both Win & Mac