How to Check and Remove Viruses from iPhone
by Jenefey Aaron Updated on 2019-07-25 / Update for iPhone Tips
Devices running on iOS rarely get viruses; however, you should still beware of viruses that can intrude your iPhone from emails or other access to the Internet. Aside from these, malicious hackers can target individual accounts and get your information through your email and online passwords if your device is virus infected. This is a more serious concern together with data loss as it can lead to fraud and identity theft. iPhone users should be vigilant and check for viruses to protect their data. Here are a few ways to detect a virus on iPhone X/8/8P/7/6s/6/SE/5 and other devices.
Part 1: How to Check Your iPhone for Viruses
It is a misconception that iPhones cannot get virus. Although third-party apps cannot be installed, apps are still vulnerable to malicious attacks. These days smartphones are loaded with personal information including bank account numbers, passwords, and email addresses, which also means you may suffer great losses if it is virus infected. Here are some telltale signs that show you ought to check your iphone for viruses.
Increased data usage: If your data quickly runs out, it might be a sign of viruses. The virus works in the background and uses your data plan to communicate with other devices. If you aren't on an unlimited plan, your might be forced to fork out more money.
Pop-up alerts: Although many websites use pop-up ads, viruses are known to cause pop-up ads that install more malicious software and infect the iPhone. If you start noticing incessant pop-ups for shady products, do not click the links and scan iPhone for virus.
Apps keep crashing: When apps start crashing, and they didn't use to, you have reason to suspect malware. Viruses tamper with the phone's operation and can cause apps to crash. Update apps regularly to protect iPhone from virus. Another common scenario is when unfamiliar apps have been installed, or a Trojan app is used to resemble another app.
Battery drains quickly: Malware working in the background take up a lot of juice and you might notice your battery drains faster. The longer the exposure, the more damage your iPhone suffers.
Unexpected charges: Scammers and hackers use malware to collect bank information, and you might get unknown expenses billed to your bank account. You can also get unusually high phone bills if the malware sends SMS messages to the scammer's phone.
Part 2: How to Remove Viruses on iPhone
Generally, installing applications from third-party sources is discouraged since they can have a virus or worm attached. Some respectable apps have also been the victims of such malware. These malicious programs and code should be detected at the app approval stage on the App Store. People who have done an iPhone jailbreak can install third-party apps but run the risk of getting viruses. Here is how to remove viruses on iPhone.
1. Clear cookies and browser history
If you are being redirected to other pages on your Safari browser, it might be a case of malware or a misbehaving app. You can clear browser data and history to solve this problem. To do this, on your iPhone open Settings > Safari > Clear History and Website Data and then choose Clear History and Data to confirm the deletion.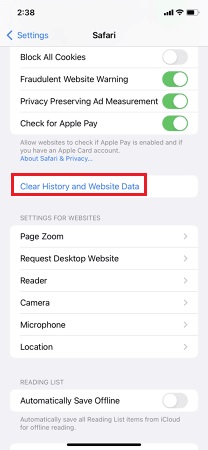 2. Restore previous iPhone backups
If the two methods haven't assisted you with how to detect a virus on iPhone, you can restore backups which haven't been infected. This is on the assumption that you regularly make backups. Restore backups from iCloud and iTunes on your computer using Tenorshare products for faster restore and backup functions. In case you restore a backup, and the problem doesn't go away, restore the second most recent backup.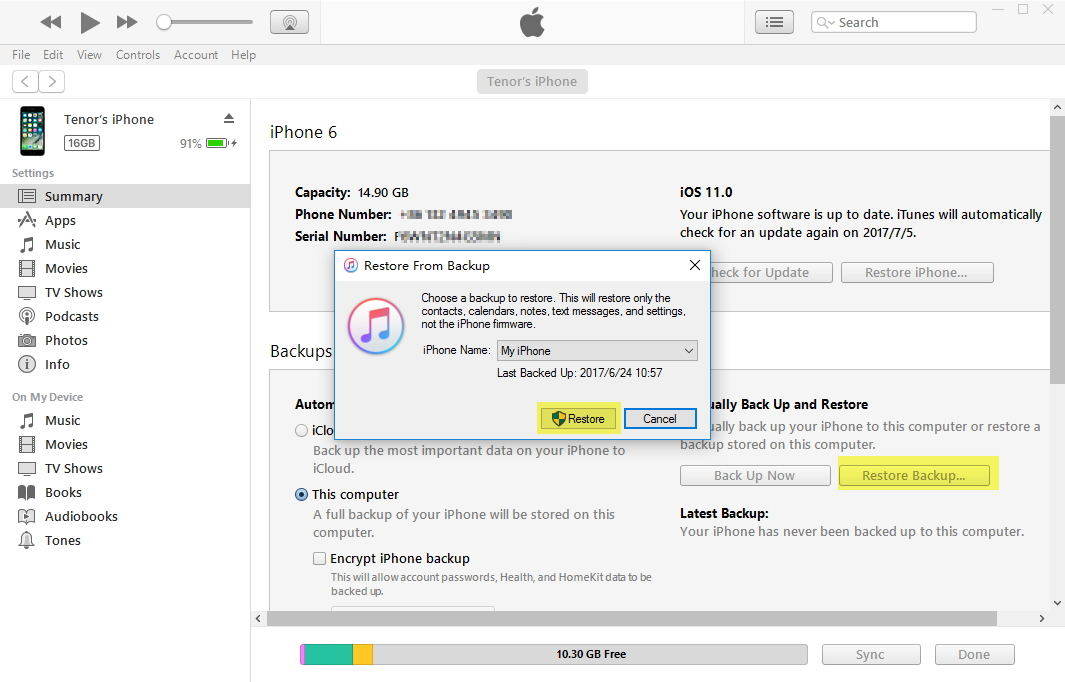 3. Wipe data and reset your iPhone to default settings
When all these fail, you can wipe the data and delete virus from iPhone in one swoop. This is the last resort when all backups are corrupted or unusable. It is quite easy to do actually. Navigate to Settings > General > Reset > Erase All Contents and Settings and input your passcode to confirm the data wipe.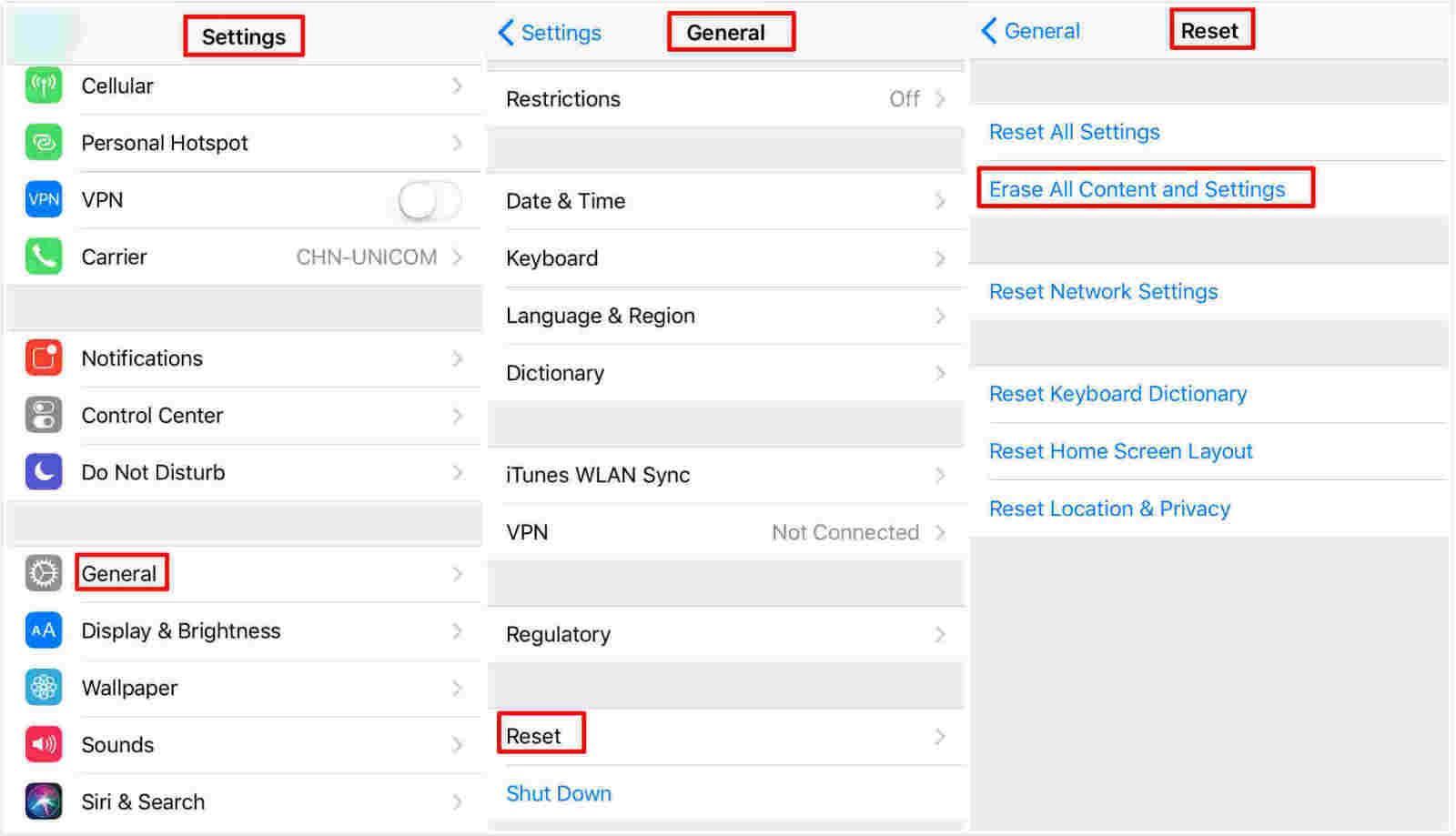 After it finishes erasing, the iPhone will be stripped and looks like a new one. Reinstall apps and repopulate your storage space with digital media.
Bottom Line
As the proverb goes, prevention is better than cure. Regularly cleaning up your device can help prevent future malware attacks. You can use iCareFone from Tenorshare to clear cookies and junk files, kill background apps and safeguard your device regularly with its Clean & Speedup feature.