According to Apple, Location service allows Apple and third-party apps and websites to gather and use information based on the current location of your iPhone to provide a variety of location services. Although, Apple have announced that these saved locations are never sent to Apple's servers and are not available to third-party apps, but those private info can still be accessed if you hand someone your iPhone. In this article, we will show you how to disable iPhone location tracking in 4 ways.
Way 1. Stop iPhone from Tracking Location You Frequently Visit
Want to stop your iPhone from tracking your every move? Your iPhone use Significant Locations in iOS 11 (Frequent Locations in iOS 10 and before) to monitor the places you visit most frequently to keep track of traffic in these areas and give you better location-based data and suggestions. Luckily, you can easily disable this feature.
To Turn off Significant Locations:
Simply go to Settings > Privacy > Location Services > System Services > Scroll down to Significant Locations and disable it.
To Delete My frequent Location History:
Go to Settings > Privacy > Location Services > System Services > Significant Locations > Tap Clear History.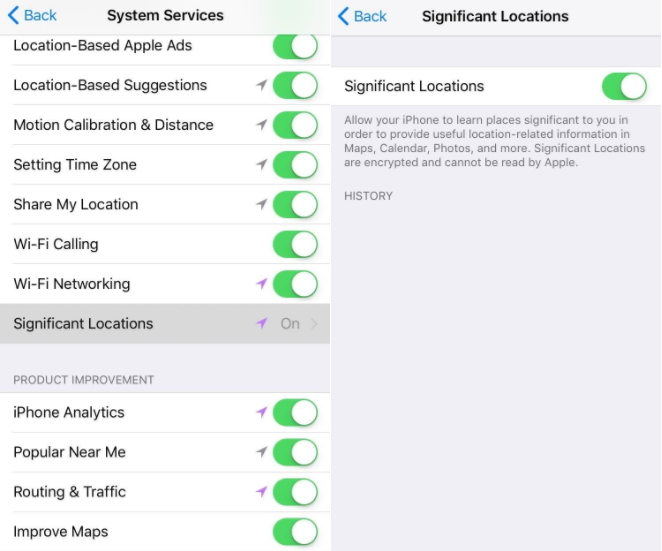 Way 2. Disable iPhone from Tracking Where You Last Parked
Many users may do not know that iPhone now knows where you last parked. Sound unbelievable? But it is true. iPhone tracks and records your parked location to notify you where you can find your care when you get back. But if you are more care about your privacy and want to disable it, follow steps below:
Go to Settings > Map > Scroll down to Show Parked Location and turn off it.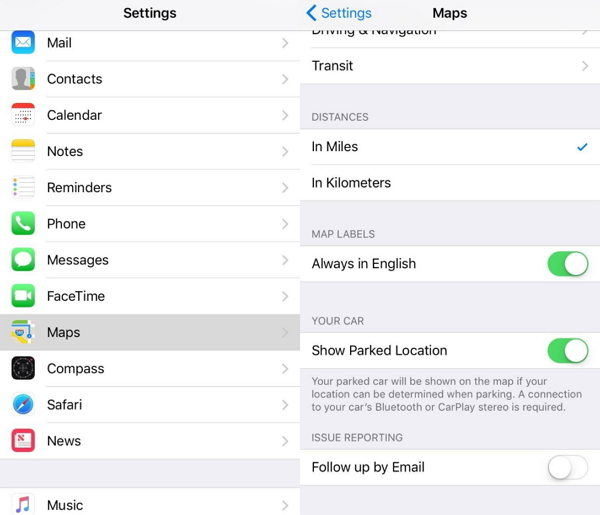 Way 3. Turn off Share My Location
"Share My Location" features can share your location with family and friends in Messages and Find My Friends. It is a great feature to keep track with your loved ones but also will track your locations. If you don't need this feature or worry about someone track your iPhone location without your knowing, you can stop sharing location on iPhone by:
Heading to Settings -> Privacy -> Share My Location, and then disable it.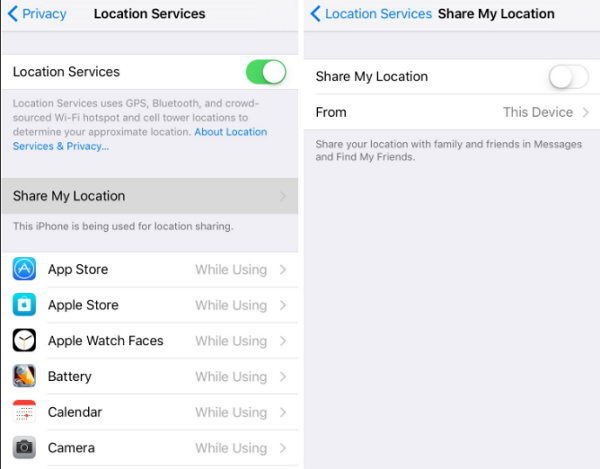 Way 4. Disable Location-Based Alerts, Apple Ads & Suggestions
There are three location based service on iPhone named Location-Based Alerts, Location-Based Apple Ads, Location-Based Suggestions, which will  give your notifications based on your location, provide you with iAds relevant to your geographical location, and recommend apps you might want to use based on where your phone is.
If you're concerned about your privacy, you can easily disable them from System service. In addition, you can see a list of location services such as Cell Network Search, Find My iPhone, which will track your phone location as well. So look at those options here and disable those you do not need.
Go to Settings > Privacy > Location Services > System Services > Turn off the Locations Service according to your need.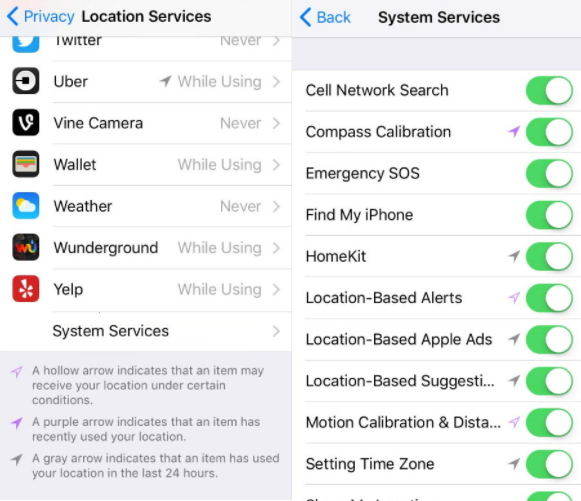 Way 5. Disable iPhone Location Tracking for Individual Apps
Many apps such as Facebook, Google Maps need to keep track of our location in order to provide their services or the best experience. However, it is not necessary to let all of them to know exactly where you are. You can set the app always monitor your location, only track it when the app is in use, or you can set it never tracks your location.
Go to Settings > Privacy > Location Services > Tap an app's name to adjust its Location Services setting.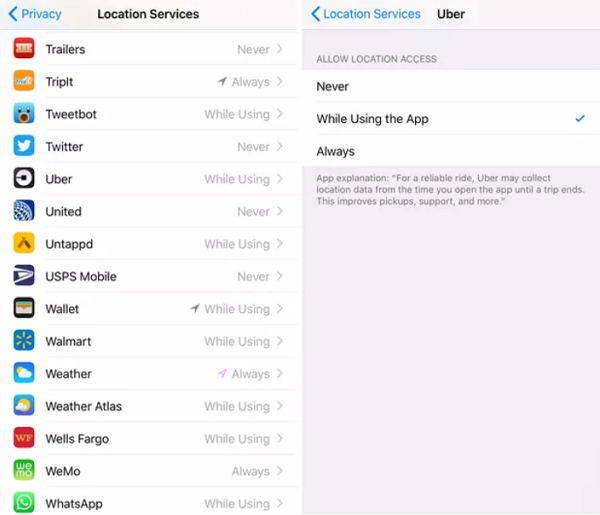 Way 6. Completely Prevent iPhone Tracking Location
Want to entirely disable iPhone from tracking your locations? You can easily do it by turning off Location service. But notice that no app or feature on your iPhone can use your location after that. For example, Maps won't be able to locate your position on the map and provide you services, Find My iPhone and Find My Friends will become useless.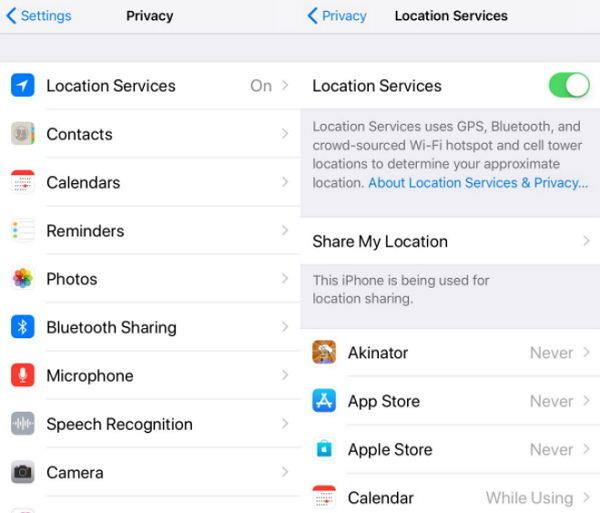 That's all about how to stop iPhone X/8/8 PlUS/7/6s/6/5s from being tracked location. To keep your private data security, please backup your iPhone data and regularly clear your iPhone with software like Tenorshare iCareFone. Let us know in the comments if you have any other suggestions on protecting iPhone privacy.
Free Download
For Win 10/8.1/8/7/XP
Secure Download
Free Download
For macOS 10.13 and below
Secure Download
Related Articles
comments powered by