Top 5 Methods to Transfer Files from iPhone to PC (30K Users Tried)
by Jenefey Aaron Updated on 2020-05-20 / Update for iOS File Transfer
Windows users may come to this question, "Can i transfer files from iPhone to PC?". The answer, of course, is Yes. In this article, we will share 5 methods to transfer files from iPhone to PC including iTunes and iCloud. For more detail, please read on!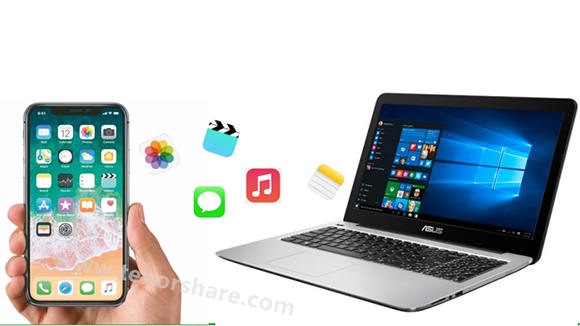 Method 1. One click to Transfer Files from iPhone to PC with Tenorshare iCareFone (Recommended)
Tenorshare iCareFone is one of the best iOS file manager, which is compatible with Mac and Windows 7/8/10. It supports to transfer more than 20 types of files, including music, photos, large video files, contacts, WhatsApp, etc. No matter how large the file is, iCareFone can handle it without any effort. In addition, iCareFone has other useful function, for example.
Follow these simple steps to transfer files from iPhone to PC without iTunes: (You need to download the program on your computer and connect your iPhone to it.)
After the connection is established, switch to Manager option on the main interface.

select manager option on iCareFone

On the left hand menu, select the file you want to transfer,such as photos. After that, click on the "Export" button and then select a location to save on your computer.

click export on iCareFone
Video Tutorial on How to Transfer Files to iPhone from PC with iCareFone
Method 2: Transfer Files from iPhone to PC Using USB
Yes, you can simply use USB to transfer files! Just connect your iPhone to the Windows PC through a USB cable. (Note: it's better to install iTunes on your computer.)
The Windows Explorer will be launched after recognizing the device, if it does not you have to do it manually by going to the "Start Menu" or you can go to the "Taskbar"
Now, go to "This PC" and you will find your iDevice as a "Portable Device".

Enter the "Portable Device" and go to "Internal Storage" to find "DCIM", this is the place where all of your photos and videos are stored.

Select the ones you want to transfer and copy them to your computer.
Cons:
This technique can only be applied to transfer photos and videos. If you have any other kind of data on your transfer list, then you have to look for other ways to do it. It is indeed a major con!
Method 3: Get Files from iPhone to PC using iCloud
iCloud will regularly store back up your device whenever you are connected to steady Wi-Fi. You can access the data in iCloud Drive and iCloud Photos under the File Explorer tab on your PC.
On your iPhone, go to "Settings", then enter Apple ID and click "iCloud". Now enable iCloud Backup. For 10.2 or earlier devices, go to Settings and then click on iCloud to get Backup option.

Download the iCloud on your Windows PC, and login the iCloud account.

Select the options and content you want from the interface and click "Apply"
Cons:
iCloud only provides 5GB free storage space, so it will overwrite backup data every time.
Method 4. Copy Files from iPhone to PC via iTunes
iTunes can also be used to transfer data but the method is very unconventional, because you need to create a backup and then store it in your computer. The method is described below.
Download and install the latest version of iTunes on your PC. Launch it and connect your device with a USB cable.

On the left side of the panel under Summary, navigate to Backup and select "Back Up Now" option.
Cons:
There is a chance of data loss and the backup file is heavily encrypted, so unless you restore the backup file it would be no use to you as it won't be readable and accessible.
Method 5. Transfer Large Files from iPhone to PC through OneDrive/DropBox
You need to download OneDrive or DropBox on your iPhone and computer.
Launch OneDrive on your computer and connect your iPhone.

Click the "Setting" icon and select the files you want to sync to this PC.

Last, click "Ok" button, then your files will be transferred to pc a few minutes later.
If you want to use DropBox instead of OneDrive, please follow the steps below. (Most people use it to transfer photos from iPhone to PC.)
Download and install Dropbox Desktop Sync on your computer.
Click "Setting" > Dropbox Preferences > Account, then click the "Selective Sync"button.

Select the folder which contains the file you want to transfer. After that, it will sync your photos automatically.
Cons:
Although it may be convenient to use cloud services to transfer photos, this is not the most effective way to transfer data, and it may take a long time due to the speed of the Internet.
Frequently Asked Questions about Transferring from iPhone to PC
Q1. Can I Airdrop from iPhone to pc?
No, AirDrop only works on Apple devices, which allows users to wireless transfer photos, document, videos and more to a nearby Mac or iOS devices.
Q2. How Do I Transfer Files from iPhone to PC without iTunes
Apart from iTunes, you can transfer files to iPhone from PC using USB, iCloud, OneDrive, Dropbox, WhatsApp, Wechat and other social apps.
Conclusion
To sum it up, there are numerous ways to transfer data from iPhone to computer Windows 7/8/10. Among of these methods we mentioned above, Tenorshare iCareFone is the fastest way to transfer files from iphone to pc without itunes. If you like this article, don't forget to share and comment!!