Best 4 Options to Transfer Files from iPhone to PC
"I can't transfer some files from iPhone to my Windows 10 PC. Is there any way to make it happen? Please help!"
This is a very common issue for iOS and Windows users alike. Due to storage issues or several other reasons, many users try to store or backup their data on their personal computer. Unfortunately, for several users, their home computer may not be iOS operated. So, when it comes to a Windows-operated computer, iPhone users face many problems to transfer files from iPhone to PC. This article is regarding that particular matter, and we are here to inform you that there are several easy ways to do this without compromising quality of your data or data loss. The methods are elaborated below…
1-click to Transfer Files from iPhone to PC with Tenorshare iCareFone
Poor performance and bug issues of Apple certified apps are the main reasons why more and more users are leaning towards third-party apps for support. Transferring data from iPhone to a Windows PC is a very important job and when your usual app is losing important data during the transfer process you should get help from other places. Tenorshare iCareFone is one of the best apps available for iPhones or any iDevices.
This third-party app provides numerous advantages over conventional apps. First of all, it is compatible with Windows as well as Mac. So, the first compatibility issue has been positively ticked off. Also, this particular app transfer data both ways-the kind of service that is not provided by many apps. It is also fast, efficient and it provides all-in-one functions which are able to repair your iOS system, fix iOS stuck issues, backup and restore device etc. The steps to use this app for file transfer are mentioned below:
1. First of all, download and install Tenorshare iCareFone from the official website. Choose the Windows version.
2. Connect your Apple device to your Windows PC via a USB cable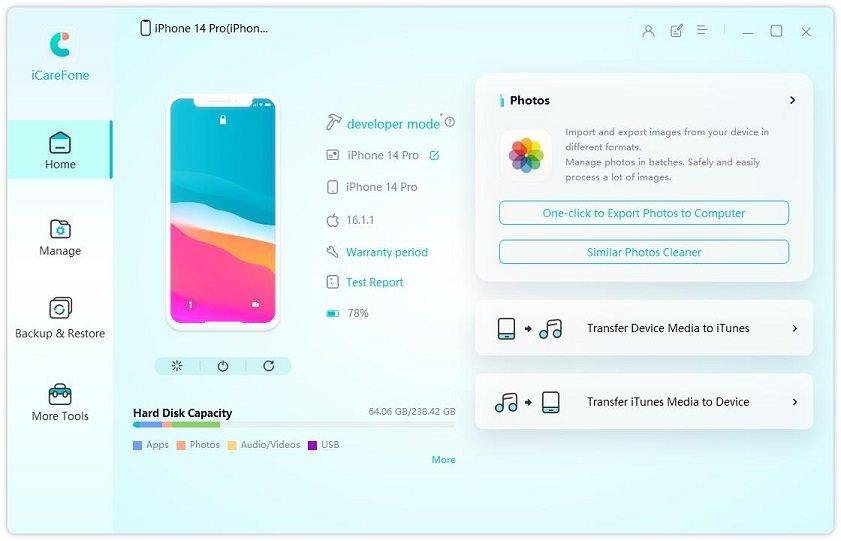 3. After the connection is established, look for "File Manager" from the main interface.
4. Now, you can select the type of data you are going to transfer, Photos, Videos, and Music etc.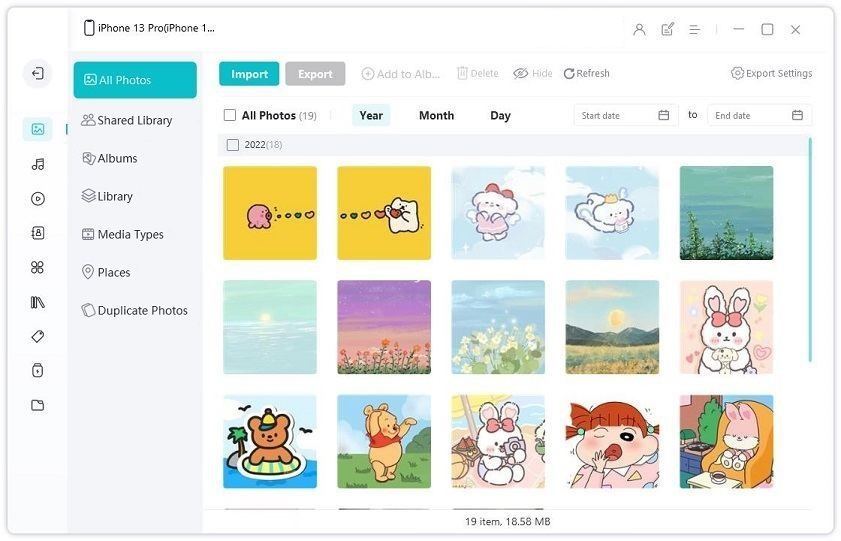 5. After choosing the data type click on the "Export" button below to transfer the file. It also gives you the option to selectively choose and preview data.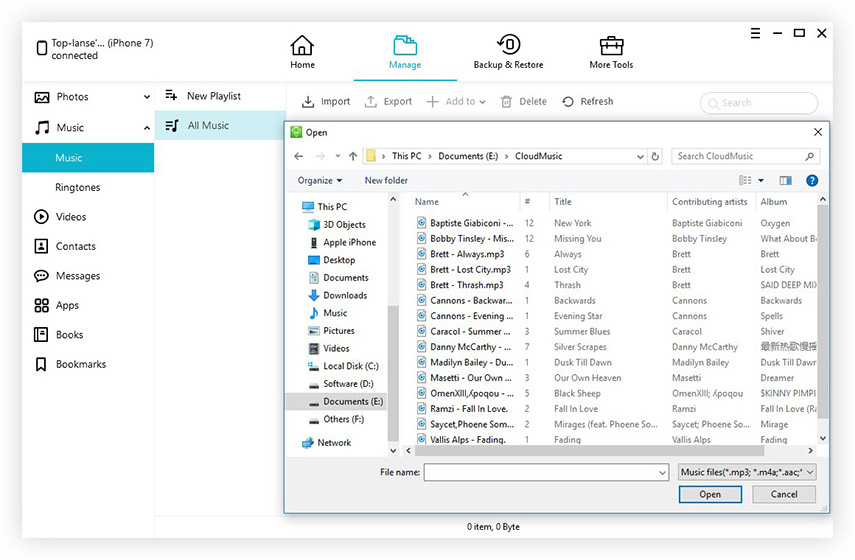 So, here's how to transfer files from iPhone to PC using Tenorshare iCareFone. The users of this amazing program are growing day by day and the app has impressed many with its professional file management system and overall effectiveness.
Option 2: Copy Files from iPhone to PC with USB Connection
There are a lot of ways to copy files from iPhone to PC Windows, but the most underrated method is to use a USB cable to complete the deed. Yes, you can simply use USB to transfer files! When you are transferring data through a USB cable you can use the AutoPlay function or you can simply use File Explorer, both of which does the same job. Here, we are focusing on File Explorer to transfer data to a Windows 10/8/7 PC. The process is elaborated below…
Even though you are using a USB cable for data transfer, you have to install iTunes for PC on your Windows computer; otherwise, your PC wouldn't be able to recognize the connected device. This is recommended by Apple. You don't need to launch iTunes though!
1. So, after installing the latest version of iTunes, connect your iPhone X/8/7/7Plus/6/6S/5/5S/SE etc to your Windows PC through a USB cable.
2. The Windows Explorer will be launched after recognizing the device, if it does not you have to do it manually by going to the "Start Menu" or you can go to the "Taskbar"
3. Now, go to "This PC" and you will find your iDevice as a "Portable Device".
4. Enter the "Portable Device" and go to "Internal Storage".
5. Now, find "DCIM". This is the place where all of your photos and videos are stored.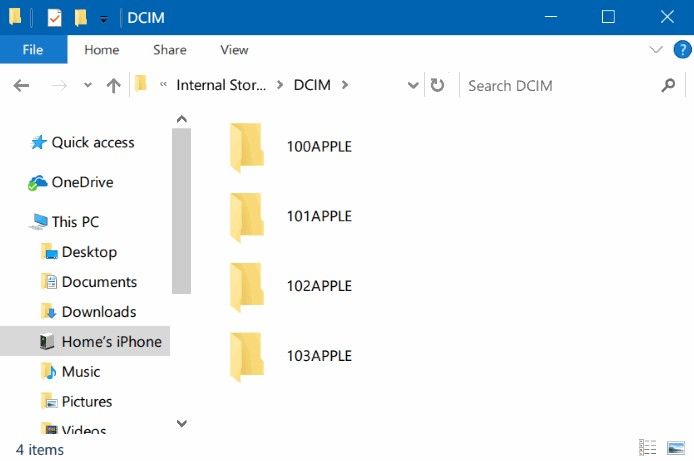 6. Select the ones you want to transfer and copy them to your computer.
Here's how to transfer files from iPhone to computer by simply using USB connection.
The File Explorer method is very efficient for data transfer, unfortunately, this technique can only be applied if you are transferring only photos and videos to your computer. If you have any other kind of data on your transfer list, then you have to look for other ways to do it. It is indeed a major con!
Option 3: Get Files from iPhone to PC using iCloud
iCloud is one of the useful apps provided by Apple. Unlike iTunes, this app provides better performance and there is a less chance of data loss. iCloud provides various ways to backup data like when it comes to music you can use iCloud Media Library and iCloud Photo Library when it comes to pictures. But if you are going to transfer all of your data then your only option is to create a backup, just like in iTunes. But iCloud provides "Back Up Now" or "Automatic Backup", with the help of which iCloud backs up your device regularly under Wi-Fi connectivity. Here are the steps to use it:
1. On your iPhone, go to "Settings", then enter Apple ID and click "iCloud". Now enable iCloud Backup. For 10.2 or earlier devices, go to Settings and then click on iCloud to get Backup option.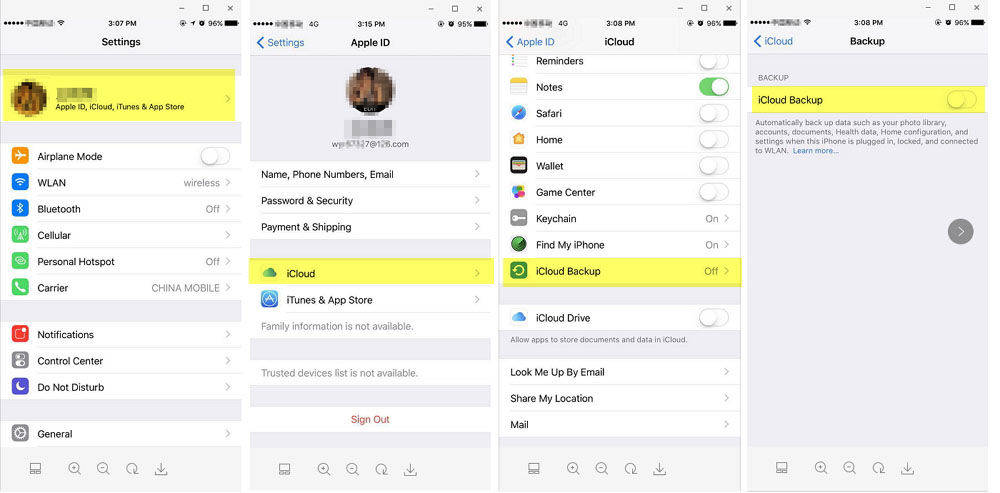 2. Now, on your Windows PC, download and install the latest version of iCloud for Windows app.
3. Run it on your PC and enter Apple ID and password.
4. Now, select the options and content you want from the interface and click "Apply"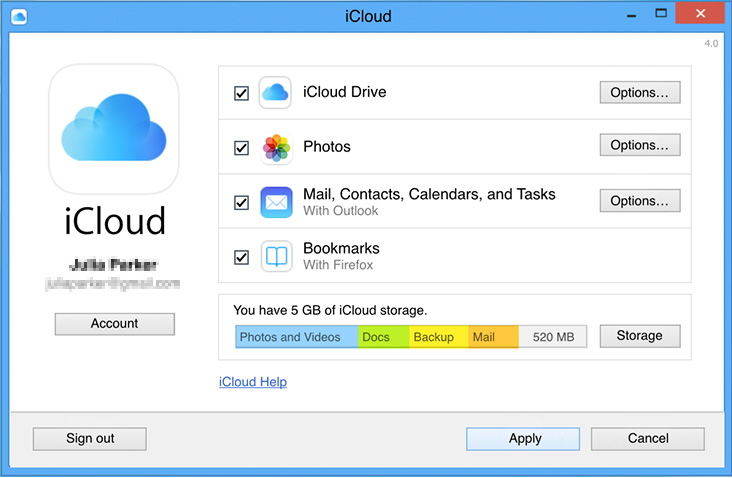 And you are done. Now, iCloud will be regularly storing backups of your device whenever you are connected to steady Wi-Fi. You can access the data in iCloud Drive and iCloud Photos under the File Explorer tab on your PC and this how to transfer files from iPhone to PC with iCloud.
iCloud provides a 5GB storage space to all of its users, so by default backup will be stored there and it will overwrite data every time. And going by today's file sizes it is very limited. Keep in mind iCloud also charges for more storage.
Option 4: Move Files from iPhone to PC via iTunes
Similarly, iTunes is also one of the most important apps for Apple users. Apparently, the app was designed to support the user to use iPhone to its fullest capability. Unfortunately, over the years the importance of the app has lowered due to its poor performance. Still, a few users register to iTunes and use it to move files from iPhone to PC. Data transfer is one of the many services provided by iTunes but the method is very unconventional, and the only way to transfer data with iTunes is to create a backup and store it in your computer. The method is described below…
1. Download and install the latest version of iTunes for Windows on your PC.
2. Now, open the app on your computer and connect your device with a USB cable.
3. Unlock your iPhone as a message will appear asking you to "Trust This Computer". Say "Yes".
4. After that, an iPhone icon will appear on the iTunes panel, which means that the app has recognized your device.
5. There will be various options available on the left side of the panel under Summary, navigate to Backup and select "Back Up Now" option.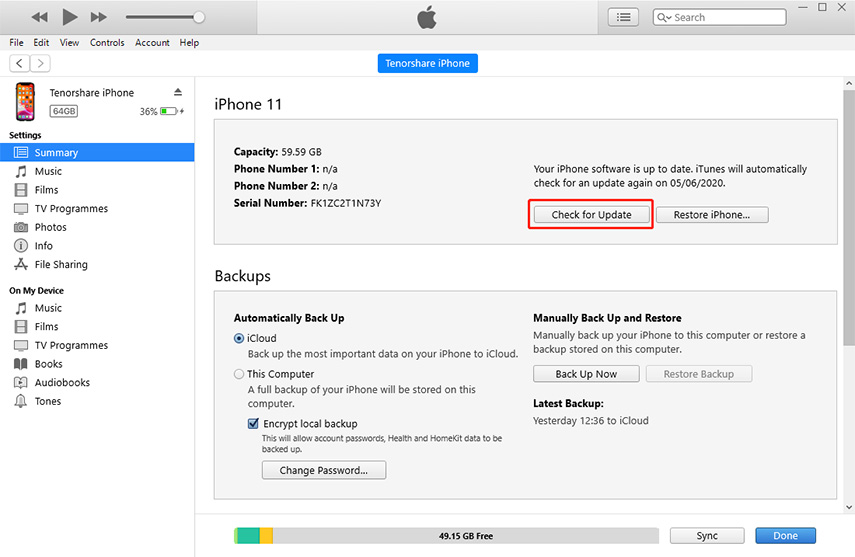 The process will start immediately and after it is finished look for the latest backup on your computer. Now you know , how to copy files from iPhone to PC with iTunes.
Actually, most people stay away from iTunes when it comes to data transfer. The download speed of Windows version of the app is extremely slow, there is a chance of data loss and the backup file is heavily encrypted, so unless you restore the backup file it would be no use to you as it won't be readable and accessible. And also, the Windows version of the app has been prone to crashes from many user reports.
Comparison table between iCareFone, iCloud and iTunes:
| FEATURES | Tenorshare iCareFone | iCloud | iTunes |
| --- | --- | --- | --- |
| 2 Way Transfer | | | |
| Chance of data loss | | | |
| Readable data after transfer | | | |
| Fast data transfer | | | |
| Wi-Fi or Internet needed | | | |
| Data Limitation | | | |
| Apple ID limitation | | | |
Finally, to sum it up there are numerous ways on how to transfer data from iPhone to computer Windows, you can use old yet still viable apps like iCloud and iTunes or you can just use a USB cable to connect the device and let Windows handle the rest. All of these come with limitations of their own. Thus, the best suitable option according to us is provided by none other than Tenorshare iCareFone. It is not only an easy and justifiable process to transfer your data with maximum security but also the most effective and hassle-free method to go for. Highly recommended!!
If you like this article, don't forget to share and comment!!