How to Clone Phone
by Jenefey Aaron Updated on 2020-07-15 / Update for iOS File Transfer
Hi I'm Shane, I recently switched my old Android Phone with the newer and better iPhone 8 but I'm confused as to how to clone an iPhone with my old Android device. Can anyone please help?
hank you for reaching out Shane, we would love to help you with the aforementioned query of yours. Considering your dilemma, we have tailored this post offering you different ways with which you can easily phone clone iphone with your old Android device. Read the article further and discover the tutorials on how to clone a cellphone all by yourself.
Part1: How to clone contents among iOS devices
When you are busy discovering how to clone phone, how could you skip Tenorshare iTransGo (Phone to Phone Transfer)! This app has an intuitive design and with a single click can transfer all contents from the source device to any target device. This is an ultimate software that can clone everything to a new phone as well as copies and migrates files among iOS devices selectively.
Step 1: Get the Tenorshare iTransGo (Phone to Phone Transfer) software downloaded, installed, and launched on your computer. With genuine USB devices connect both the devices to the computer.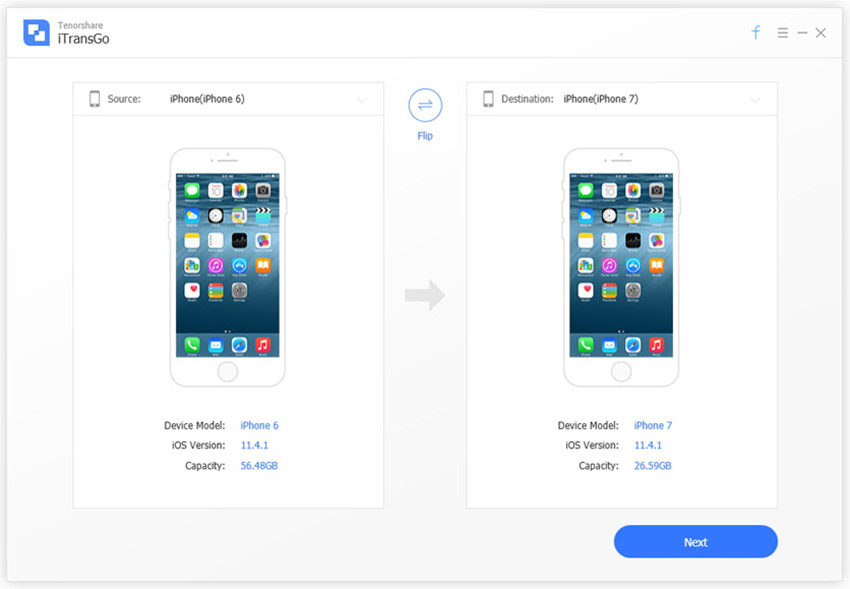 Step 2: Click 'Next' once the devices are connected. Specify the target and source device in the Tenorshare iTransGo software interface. The software will analyze the content after that within sometime.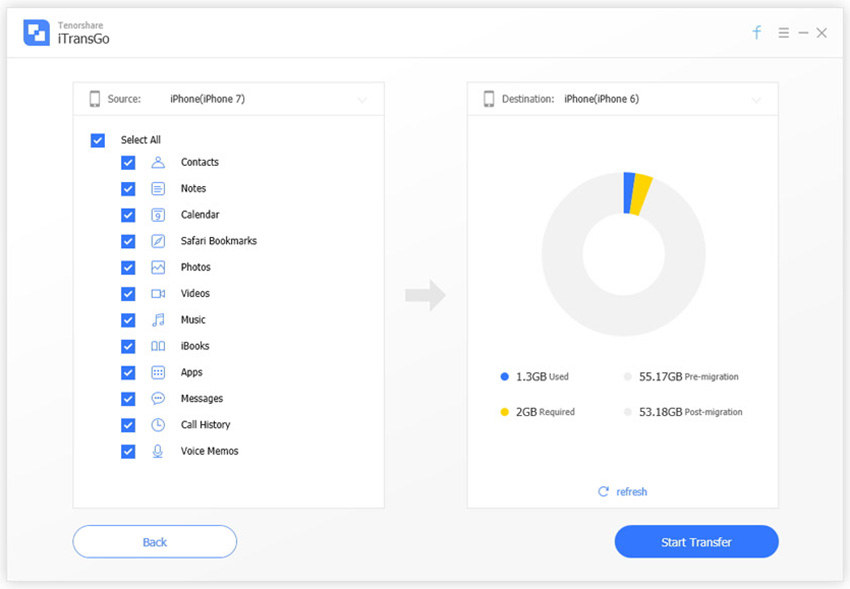 Step 3: You can pick selectively or the entire data from the source phone. Here we will consider taking all files into consideration. So, hit the 'Select All' checkbox and then click on the 'Start Transfer' button. It will wipe out the information from the target phone completely. It will take some time for the software to finish cloning the data.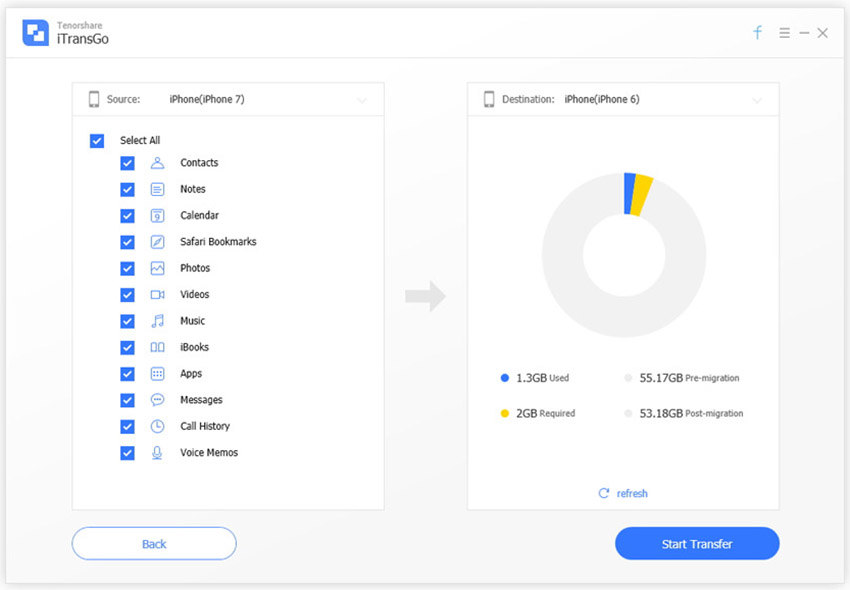 Part 2:How to clone a phone remotely using Bluetooth
If you are curious to learn about phone cloning through Bluetooth, it's essential to get a third-party tool. This tool will exploit the vulnerability of the target phone. You can access the target device remotely with ease, if it hasn't been updated recently. It is prone to Bluetooth security attacks.
Here is how to clone a cell phone –
1. Install a Bluetooth hacking tool such as Super Bluetooth Hack 1.08 on your device. You can also install the APK version on any Android phone. You might need a passcode while installing the app on mobile.
2. Enable Bluetooth on your phone and connect with the target device. Keep them within the Bluetooth range.
3. Successful establishment of connection between the devices would allow you to explore the target device. You will be able to know the crucial information such as messages, call logs, keystrokes etc.
Part3: How to spy on a phone remotely using Spyzie
You can remotely spy on a phone using an app like Spyzie. Spyzie is an effective app for Android and iOS devices for tracking the vital information about the target device without raising an alarm. This web based app can track contacts, call logs, notes, voice memos etc.
Let's see the detailed guide –
1. Visit Spyzie's official website and create an account over there. key in your email ID and set up a secure password while buying the desired subscription. Mention whether you are going to track an iOS or Android device. User details is also required here.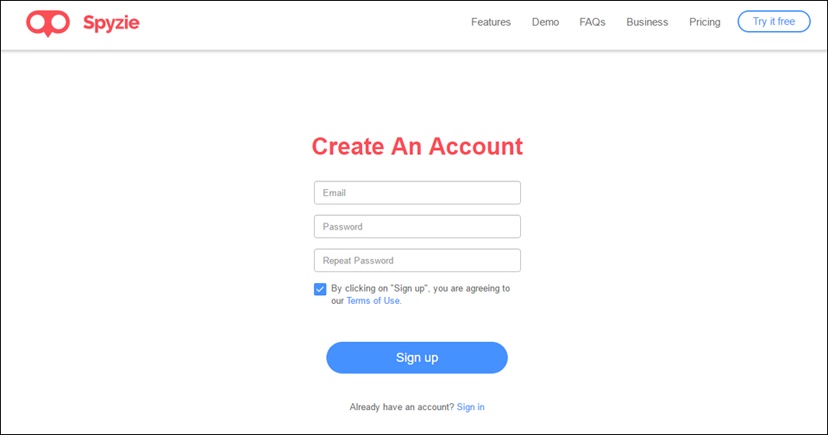 2. For an iPhone/iOS device
For understanding how to clone an iPhone, first enter the iCloud ID and password of the iPhone you want to spy. This iCloud account needs to be synced with the iPhone already.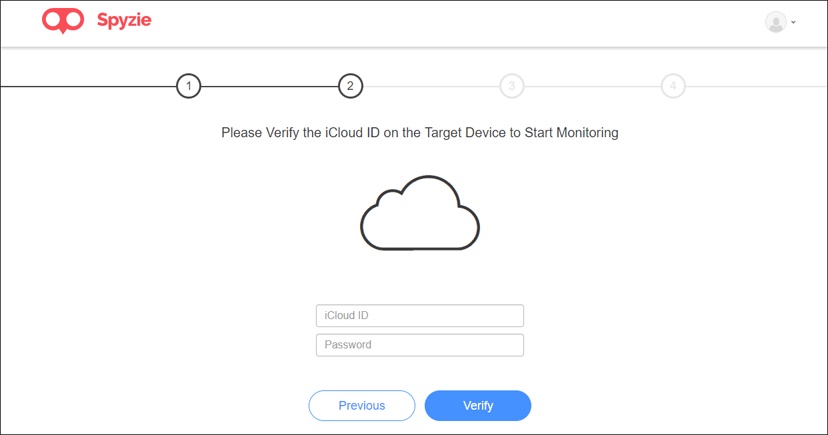 3. On an Android phone
After setting up iPhone for cloning, we will do the same for an Android phone. Get the target device and browse 'Settings' > 'Security' > enable 'download from unknown sources'. Now, download the APK file and install it.
Once you have installed the app on iOS/Android device, login to your account and allow the app to start monitoring. Delete the icon from the target phone.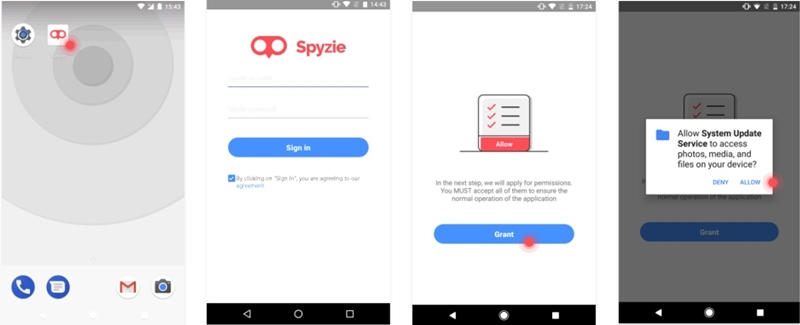 4. Browse the Spyzie web-based dashboard and start monitoring the Android or iOS device you have installed the app on.
Part4: How to clone a phone without touching it using mSpy
How to clone an iPhone, shouldn't trouble you anymore. You can clone a cell phone remotely without physically accessing it. mSpy is such an app to make your job simple. This tool roots (Android) or jailbreaks (iOS) the target device which you want to clone. A onetime access is necessary for setting up the spying app.
Here is the guide to know, how to clone a cell phone –
1. Visit mSpy's official website and register to buy a subscription. The onscreen guide will help you create your mSpy account.
2. Install mSpy app on the target device. Login using your mSpy credentials.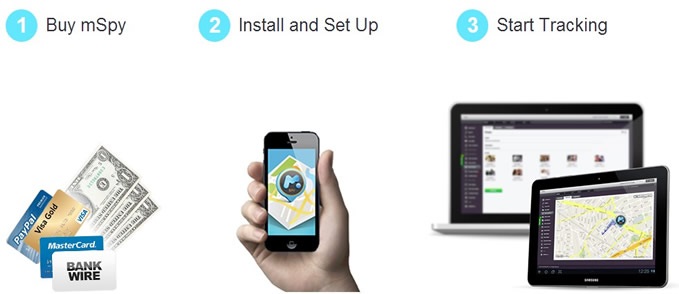 3. Allow the required authorization and leave it to run in stealth mode.
4. Go to the web-based dashboard and access the crucial information from the target device easily.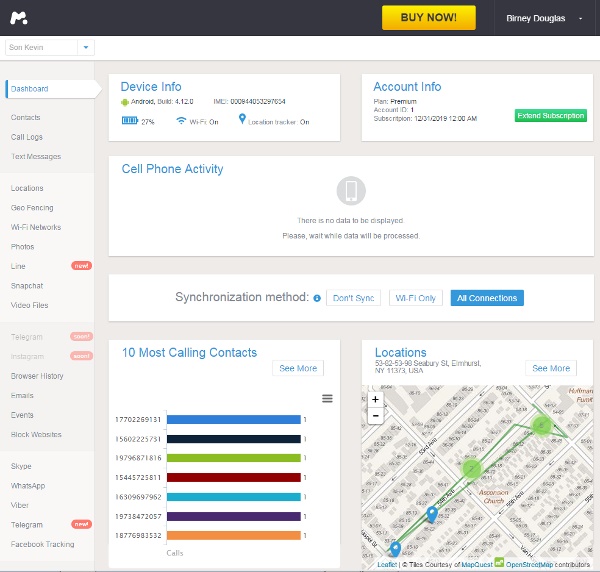 Conlusion
Thank you for reading the post and we now hope that you have got your solution for the question "how to clone iPhone". Out of the all the ways mentioned above, the easiest and the fastest way was found to be the Tenorshare's iTransGo. It is worth giving a shot if you do not wish to lose any of your data while cloning an iPhone.
Warm tips: Above the last 2 ways may have the risk in information security, we just introduce the methods but not recommend them. But Tenorshare iTransGo can clone your full contents from iPhone to iPhone safely or between any iOS Devices.