iOS 17 Release Date Updated: iOS 17 Released Now!
by Anna Sherry Updated on 2023-09-19 / Update for iOS 17
Latest: The iOS 17 version was released on September 18, 2023. Check out the latest video:
Part 1: Is iOS 17 Release Date Announced Yet?
Unfortunately, the official release date of iOS 17 has not been announced by Apple as of now. The release date of iOS 17 is the around a week after the announcement date of iPhone 15. iOS 17 will be released to the public after the iPhone 15 is conducted. So, you should see iOS 17 on your iPhone the same week of the iPhone 15 event. Since iPhone 15 announcement day hasn't been released yet, we don't yet know when the update will roll out.
But, we can still offer an estimation that should be quite accurate.
Part 2: iOS 17 Expected Announcement Date
If we take a look at Apple's event record, we can make a pretty robust guess about the Apple iOS 17 release date. Apple announces new iPhones every year in September, and the new iOS update is released shortly after, mostly within a week. For example, iPhone 14 event was conducted on September 7, 2022, and the iOS 16 update was rolled out to the public on September 12.
Apple hasn't announced the iPhone 15 event date yet, but they will do it soon. It's expected to be anywhere from September 7 to 15, 2023. So, iOS 17 release date should be around September 12-20.
Another thing to note is, Apple usually releases the RC version of the new iOS update right after the Apple event for iPhones. The RC version is the final beta version that Apple expects to roll out to the public.
If you'd like to download the RC update, you will have to sign up for the Apple Beta program on Apple's website.
Part 3: Will Your iPhone Get iOS 17? Find Out Here
If you're using an older iPhone model, you must be wondering whether you will get the new update or not. Well, in that case, this section will help you out.
Apple is removing some older iPhone models from the list that supports iOS 17. Here's the list of all the iPhones that will get iOS 17.
iPhone SE 2020
iPhone SE 2022
iPhone XS, XS Max, and XR
iPhone 11 Series
iPhone 12 Series
iPhone 13 Series
iPhone 14 Series
iPhone 15 Series (this series will come pre-installed with iOS 17 out of the box)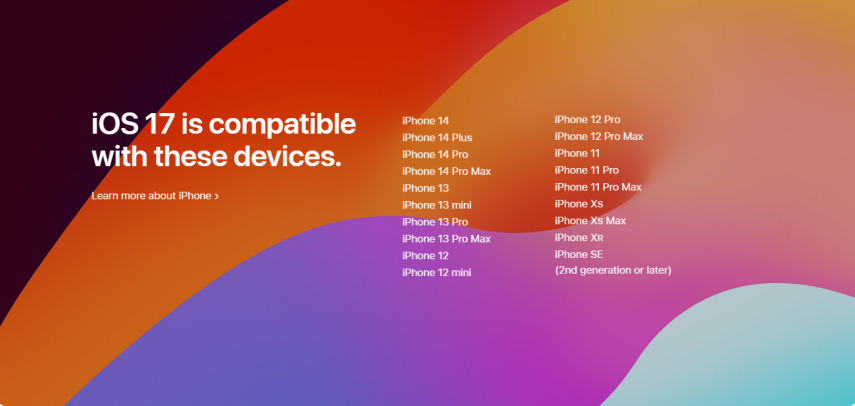 Part 4: What's New in iOS 17?
iOS 17 has a lot of new features included for your iPhone. Here are the top ones.
Contact Posters: Now you can customize how the call screen looks when you call someone
Improved keyboard: iOS 17 has better keyboard autocorrection and predictive text
NameDrop: Now you can instantly share your contact details with someone by bringing your iPhone close to theirs
iMessage: iMessage has a new modern layout and some additional features, like the ability to swipe right on a message to reply
Journal: iOS 17 has a new Journal app, which is like a personal digital diary
Check-In: When you reach your destination, you can let your friends and family know about that automatically using this feature
Related read New Features in iOS 17 Beta.
Part 5: How to Install iOS 17 Beta or RC Version
If you'd like to install iOS 17 beta right now or install the RC when it's released after the Apple Event, this section has got you covered.
To install the public beta or RC, you have to sign up for the Apple Beta program. To do this, follow the steps below.
Navigate to the Apple Beta site on your browser: https://beta.apple.com
Click "Sign In" in the top-right corner.
Enter your Apple ID credentials and log in.
After you've signed in to the beta program site, you're ready to receive beta updates on your iPhone. To do that, follow the steps below.
Open the Settings app on your iPhone.
Go to General > Software Update.
Select "Beta Updates".
Finally, tap "iOS 17 Public Beta".
Go back and check for updates.
You will see the latest beta version or RC of iOS 17 ready to download.

Tap "Download and Install" to download the update. Enter your passcode if asked.
If you're using iOS 16.3 or earlier, you will have to download and install the beta profile before you could update. To do that, head over to Apple Beta page and Sign In, select iOS 17, and tap to download the profile. Once it's downloaded, head over to settings and install it. Now you can download the beta updates on your iPhone.
The update may take anywhere from 30 minutes to a few hours depending on your internet speed.
Bonus: How to Downgrade from iOS 17 Beta/RC to iOS 16
If you've downloaded the iOS 17 beta or RC version, and would you like to move back to the stable update, Tenorshare ReiBoot has got you covered.
With ReiBoot, you can effortlessly downgrade your iOS version with just a few clicks. No jailbreak! You don't need any sort of technical know-how to make it work. The process is super simple.
But before we begin, make sure that you have backed up all of your data to a computer or cloud. That's because downgrading your iOS version erases your device.
Download ReiBoot on your computer (Windows or Mac), then install it. When the installation is complete, open ReiBoot. Connect your iPhone to the computer using a genuine USB cable. Click "Upgrade/Downgrade".

Now you can choose to either upgrade or downgrade your iOS version. Since you want to downgrade, hit "Downgrade".

Click "Download". Wait for the download to complete. It may take some time depending on your internet speed.

Click to initiate downgrade.

Wait for around 20 minutes, and your device will downgrade to the iOS 16 from iOS 17!
Here's the iOS 17 downgrade video guide
The Bottom Line
Official iOS 17 release date hasn't been announced yet. However, it's expected to be anywhere from September 7 to 15.
If you're on iOS 17 beta and want to move back to the stable channel, consider checking out Tenorshare ReiBoot.