[2023] Top 3 Ways to Fix the iPhone/iTunes Error 2009
by Jenefey Aaron Updated on 2023-06-20 / Update for iPhone Fix
The error number iTunes 2009 is a common issue faced by iPhone users and can be caused by various factors. Using a non-Apple USB cable is one of the main causes of this error, so it is recommended to use the official cable provided by Apple. If you still encounter the error with an original cable, try disconnecting all other peripherals from your computer, leaving only your iPhone connected. If the error persists, you can follow additional methods below to resolve the issue.
Part 1: What is iTunes Error Code 2009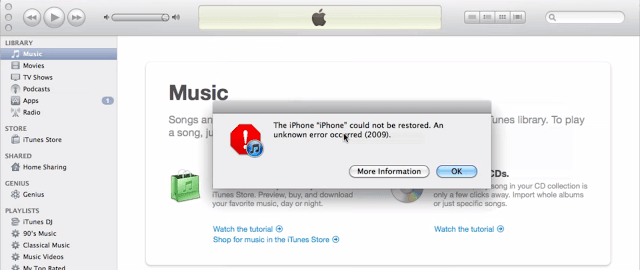 iTunes Error 2009 is an error code that iPhone users may encounter while using iTunes. It is typically caused by USB connection failures.
It can occur due to several factors, including the use of non-Apple USB cables, issues with USB ports or connections, and problems with the computer or iTunes software.
Part 2: How to Fix iTunes Error 2009
You can use the following tips to see if the issue is with your USB cable, USB port, or computer. Try again after each step:
Method 1: Restoring the iPhone to Fix Error 2009
Factory restoring iPhone is an easy way to solve many iOS errors on iPhone but will cause data loss. Make sure have backed up your device andtry to restore your iPhone using the following steps:
1. Connect your iPhone to your computer using a USB cable.
2. Launch iTunes by clicking on Launchpad in the Dock and searching for and clicking on iTunes. The app will open.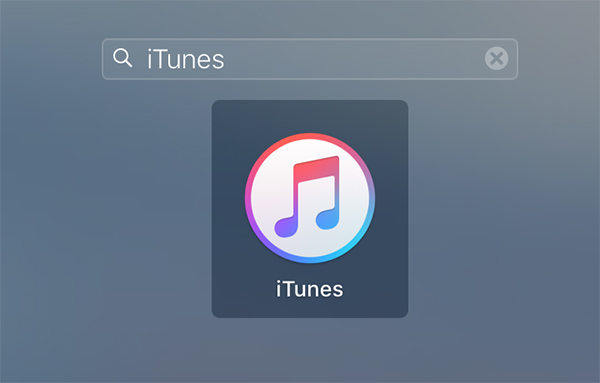 3. When iTunes launches, click on your device icon on the top to see the summary of your iPhone.
4. On the summary page you will find a button that says Restore iPhone. Click on it to restore your iPhone and to solve the error.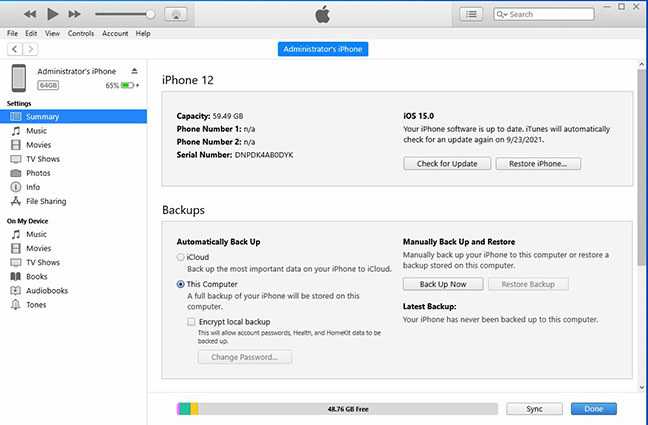 Method 2: Disabling the iTunes Helper to Solve iTunes Error 2009
While the above method should solve the issue for you, in case the error is still there, you can use the following fix on your computer:
1. Click on the Apple logo in the top-left corner of your screen and select System Preferences. It will open the system settings panel on your Mac.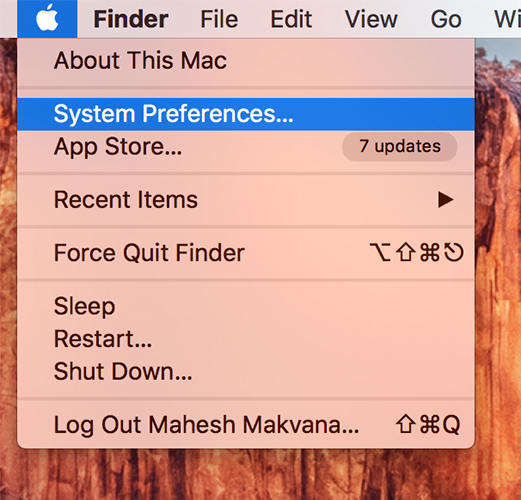 2. When the settings panel opens, click on the option that says Users & Groups. It will open the panel from where you can modify users and groups settings on your Mac.

3. On the following screen, click on your username in the left panel. Then, click on the Login Items tab in the right-panel to see all of the items that launch when you reboot your Mac.
From the available items, click on iTunesHelper and then click on the minus sign on that panel to remove iTunes Helper from the list.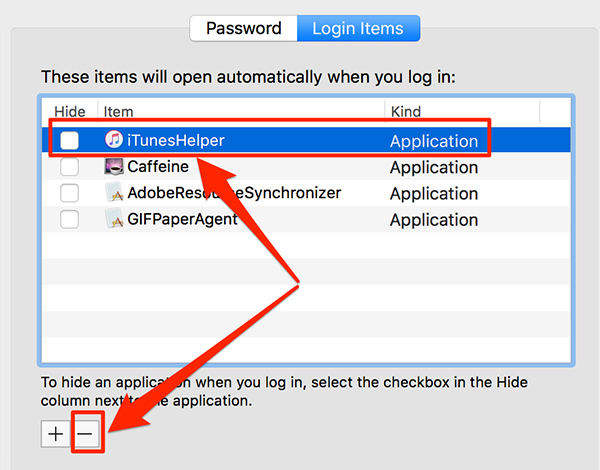 It should solve the error 2009 on your device.
Method 3: Fix iPhone Error 2009 by Repairing iOS (No Data Loss)
If these errors often happen on your devices, then you should consider getting an iOS System Repair Tool ReiBoot that helps you remove tons of errors from your device and it also helps you quickly get into the recovery mode for you to solve any errors there.
Run Tenorshare ReiBoot and connect your iOS device with the computer. Select "Fix All iOS Stuck" on the main interface. Click "Repair Now". Once the software detects your device, click "Start".

Choose Standard Repair to proceed. It will fix your iTunes error 2009 without any data loss.

Click "Download" button to start downloading the firmware package online.

After the firmware package is downloaded completed and successfully. Click "Start Standard Repair" to start system recovery.

After repairing, the iPhone error 2009 should be resolved completely. Get Tenorshare ReiBoot now and never worry about any kinds of iPhone error, iTunes error and iOS system issues.
Method 4: Use an Official Apple USB Cable
It is crucial to verify that the USB cable being used is an authentic Apple cable. Counterfeit or third-party cables, although seemingly similar, often lack the necessary quality standards and may not provide a reliable and stable connection between your iPhone and computer. These inferior cables can be prone to intermittent connectivity issues, signal interference, or inadequate power delivery, leading to various errors, including Error 2009. Thus, it is highly recommended to rely on original Apple cables, as they are designed and certified to meet the stringent requirements set by Apple, ensuring optimal performance, data transfer, and compatibility with iTunes.
Method 5: Disconnect All Other Peripherals
In certain instances, iPhone error 2009 may arise due to conflicts with peripheral devices connected to your computer. To address this, it is important to disconnect any supplementary devices like external hard drives, printers, or USB hubs. Once disconnected, ensure that only your iPhone is connected directly to a USB port on your computer. By eliminating other devices and establishing a direct connection, you can determine if the error persists. This step-by-step approach allows for the identification of potential conflicts and provides a focused troubleshooting process. By isolating the iPhone as the sole connected device, you can determine whether peripheral conflicts are contributing to the occurrence of Error 2009.
FAQs about iPhone/iTunes Error 2009
Q1: Will I lose my data when fixing iTunes Error 2009?
Restoring the iPhone through iTunes (Method 1) can result in data loss, so it's important to back up your device beforehand. However, methods like disabling iTunes Helper (Method 2) and repairing iOS with Tenorshare ReiBoot (Method 3) do not cause data loss.
Q2: How do I prevent iTunes Error 2009 in the future?
To prevent iTunes Error 2009, make sure to use an official Apple USB cable, keep your USB ports clean and free from debris, and regularly update your iTunes software and iOS to the latest versions. Additionally, avoiding software conflicts by disconnecting unnecessary peripherals during iPhone synchronization can also help prevent this error.
Conclusion
In conclusion, iTunes Error 2009 is a common issue faced by iPhone users and is often caused by USB connection failures. The error can be resolved through various methods, especially using specialized software like Tenorshare ReiBoot. By following these methods, you can effectively troubleshoot and resolve the iTunes Error 2009.
Fix iPhone Stuck and Update Issues without Data Loss