How to Fix iTunes Error 2 (Windows Error 2) with Workable Solutions
by Jenefey Aaron Updated on 2019-07-25 / Update for iTunes Tips
"I have tried installing iTunes many times, the installation shows error 2 after completion as shown in the picture below. My devices are iPhone 7 and laptop having Windows 10 with 64 bit. Any help on how to overcome error 2 please?"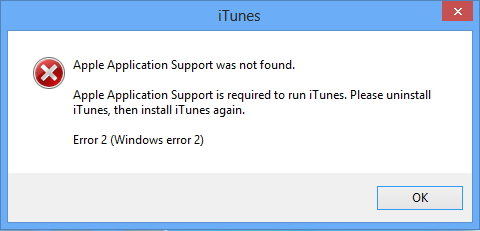 Some Windows users and reports may encounter and complaint such issue related to iTunes error 2 when installing/updating iTunes. From the description we figure out that there is something wrong with iTunes. However, don't worry about it too much. Following are the detailed analysis and available fixes to iTunes error 2 Apple Application Support not found.
Part 1: Symptoms of iTunes Error 2 (Windows Error 2)
This error could come out during iTunes application installation, while an Apple software such as iTunes is running, during Windows boot up or shut down, or even during the installation of Windows operating system. It shows the prompt like the below window:
"Apple Application Support was not found.
Apple Application Support is required to run iTunes. Please uninstall iTunes, then install iTunes again.
Error 2(Windows error 2)"
Once you suffer from this error 2, your Windows OS is about to crash frequently, run slowly and respond largo, even though you click mouse or type keyboard quickly.
Part 2: Causes of iTunes Error 2 (Windows Error 2)
The iTunes error 2 is commonly related to Apple Application Support failing to install while installing iTunes. The iTunes installation could be failing due to multiple issues:
1. Interrupted download or partial installation of iTunes software.
2. Malware or virus infection that corrupt Windows system files or iTunes-related software files.
3. An iTunes-related application corrupts or deletes Windows registry by mistake.
4. Other unknown reasons.
Part 3: Solutions of iTunes Error 2 for Windows 10/8.1/8/7
It seems that iTunes error 2 is taken place in Windows system, not Mac platform. Therefore, it is not only an iTunes error 2, but also Windows error 2. Here is the list of the workable approaches.
Approach 1. Update iTunes Version
It is determined that this disaster could be resolved by downloading iTunesSetup.exe and installing the latest version of iTunes from official Apple website https://www.apple.com/itunes/download/ and then check if that helps.
Note: Apple iTunes supports Windows 7 or later and 64-bit editions of Windows require the iTunes 64-bit installer.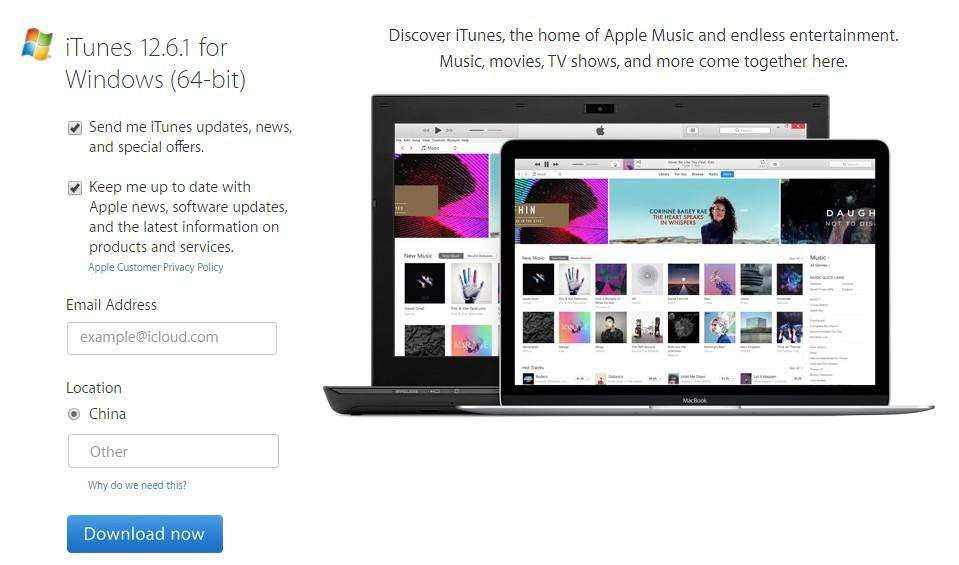 Approach 2. Run as Administrator
Make sure you are login Windows OS as administrator. If you're not sure whether you have administrator permissions or not on the computer, you might as well check it by the following steps: "Control Panel > User Accounts > Change account type".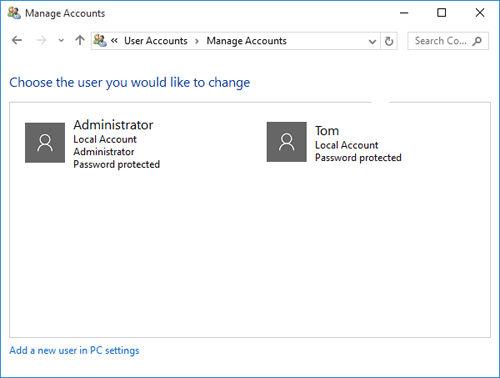 Approach 3. Install Windows Update
To download the latest Windows update, please visit the Microsoft Windows Update webpage. If your system is Windows 7 or later, then the iTunes running environment should be with the latest Service Pack installed. Accordingly, check out the computer's help system, talk with your IT department or go to support.microsoft.com for additional assistance.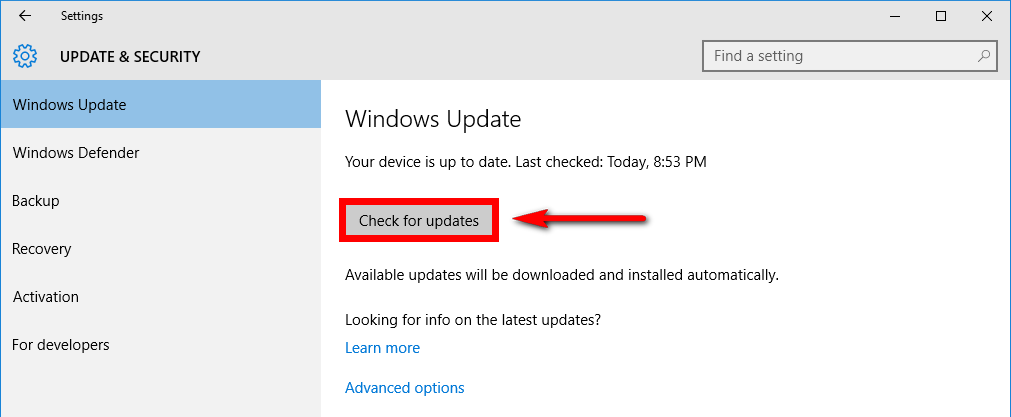 Approach 4. Contact Apple Support
Another solution is to contact with Apple Support from https://support.apple.com/itunes if that error still persists. You are able to get help from other iTunes users on iTunes community or get service from Apple Support Team. The good news is that you can even call Official Apple Support totally free for rapid resolution. However, remember that the support telephone number, 1-8 8 8 (817) (5612) is for America and Canada users only.

Approach 5. Fix iTunes Issue with Tenorshare TunesCare
To be honest, Tenorshare TunesCare is a professional free program, which is designed to fix all iTunes install errors, sync errors, upgrade errors, restore errors, slow performance and sync issues. That is to say, once your iTunes is abnormal, you are about to think of this freeware for the first time.
Now let's see how this miraculous program works:
1. Download, install and launch Tenorshare TunesCare to your desktop or laptop. Then click "Fix All iTunes Issues" in the dotted box.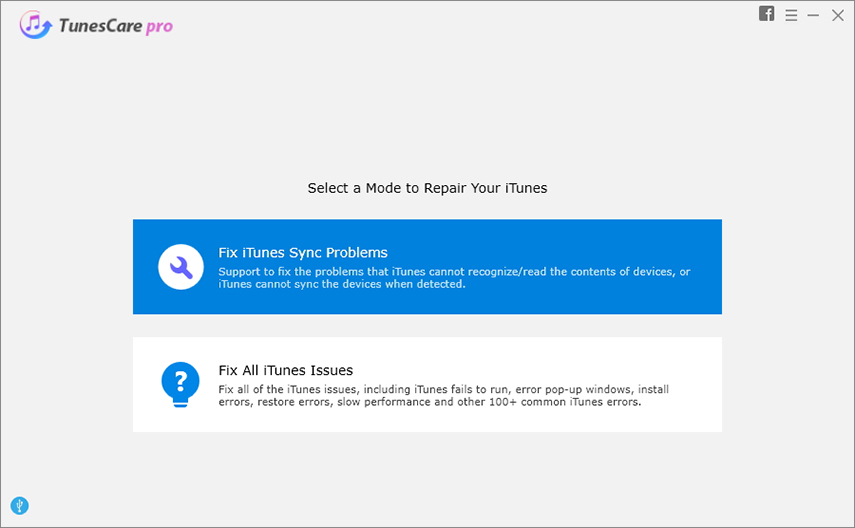 2. The software will detect your iTunes and estimate whether it performs abnormally or not. Here you need to click "Repair iTunes" button. It will download the iTunes drivers and then begin to fix iTunes error.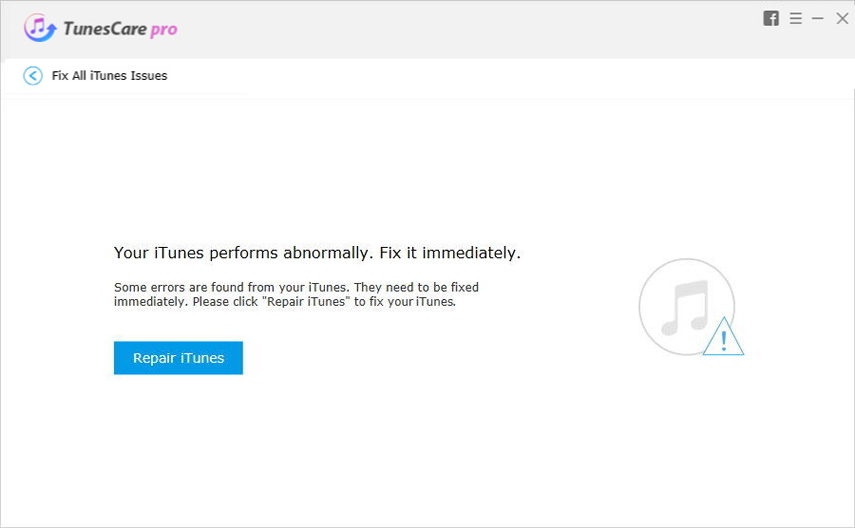 3. Wait for a moment, iTunes will be repaired successfully. Then click "Restart Tenorshare TunesCare" button to check iTunes runs normally again.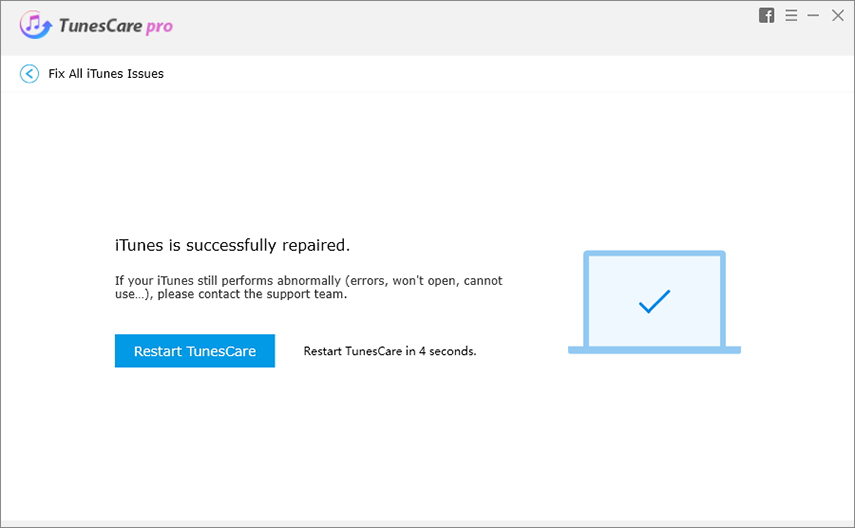 Done! Have you mastered the multiple methods and get ready to fix iTunes Error 2 at present? I hope so. In addition, if you feel like reading further tips about iTunes installation errors, check out this solution mentioned at: iTunes Won't Install or Update - How to Fix iTunes Installation Error. Last but not least, if you are tired of using iTunes, Tenorshare iCareFone is a genius iTunes alternative. Thanks for reading.