My iPhone 5s Contacts Lost? Learn How to Recover Lost Contacts Now!
by Jenefey Aaron Updated on 2022-11-18 / Update for iPhone Data
"Oops! All of a sudden all my iPhone 5s contacts disappeared!"
Various configurations of the phrase "lost iPhone contacts" have been widely discussed online which arouses broad concern from iPhone users: Who moved my contacts?
Read on as we try to set the issue straight. Here are the ways to prevent and fundamentally tackle the problem with lost iPhone 5s contacts.
Who moved my iPhone 5s contacts: Reasons for iPhone 5s contacts lost
There is no single reason for iPhone 5s to lose contact list. This can be caused by one or the combination of the following situations.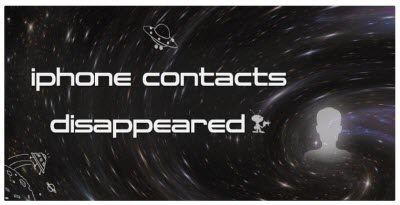 1. iPhone jailbreak
2. Factory reset
3. iOS 9/8/7.1/7 upgrade
4. Black screen of death
5. Misoperation on iPhone
6. Virus attack
7. Replace a new iPhone battery
8. iPhone gets physically-damaged
...
How to recover lost contacts on iPhone 5s
Before playing the trump card, I'd like to introduce two tricks to recover lost contacts on iPhone 5s.
Trick 1: Save lost contacts through iPhone messages app
Within this trick, you can recover some lost contacts you frequently use in daily life.
a. Run the iPhone message app and create a new message. Type the name of the contact you wish to save and the name will appear as a drop-down suggestion as long as you contacted the person before. Then tap the "i" symbol to the right of the auto-suggested entry.
b. At the arrowhead you can see the phone number of the person you wish to recover. Therefore, you can create a new contact entry based on this number.
Tips: Auto-suggestion records are separate from the iPhone contacts database and are still available even if the contacts are long gone.
Trick 2: Quickly fix lost iPhone 5s contacts after iOS upgrade
If you lost the contacts after iOS upgrade, you can try the following quick solution to bring back the iPhone contacts.
a. Simply turn off and then back on iCloud contact sync. Then navigate to Settings > iCloud and toggle the Contracts switch from ON to OFF and then back to ON in your iPhone 5s.
b. Open the Contacts app and tap the Reinstate button on the top left.
Trick 3(Trump Card): Recover lost iPhone 5s contacts through third party software
What if you iPhone 5s contacts are gone for good and you can't recover enough contacts with the above tricks? The trump card is to turn to iPhone Data Recovery for Mac. It is a useful tool which provides you three modes to recover lost iPhone contacts: directly recover from your iPhone which is extremely straightforward and convenient; recover from iTunes backup or iCloud backup provided that your iPhone is lost or physically damaged, etc. (For more details which are all supported by iPhone Data Recovery for Mac.)
If you run Windows 8.1/8/7/XP/Vista, you can turn to iPhone Data Recovery to recover lost iPhone contacts.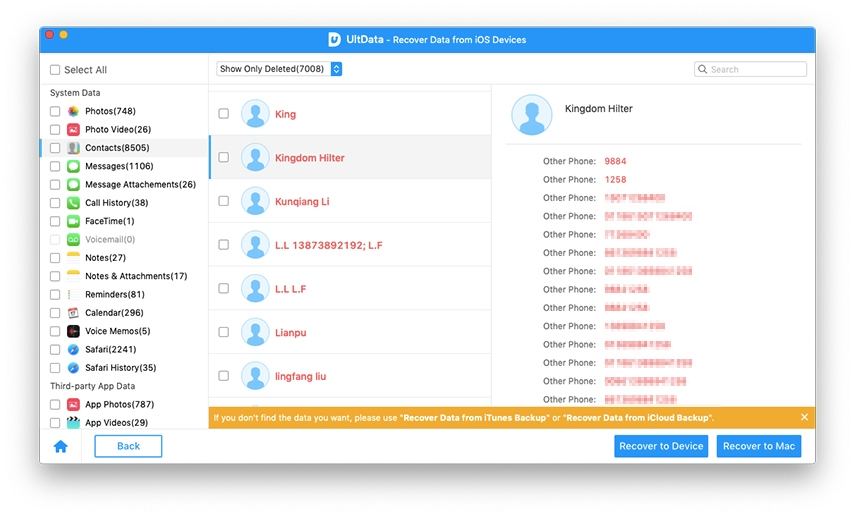 How to avoid losing iPhone contacts
Before iPhone contacts unexpectedly lost pushes you to an anxious circumstance, it is necessary to take preventive measures as follows:
1. Back up with iTunes regularly.
2. Turn on iCloud sync.