[Top Guide] How to Retrieve Deleted Contacts on iPhone without Backup
by Sophie Green Updated on 2023-03-08 / Update for iPhone Recovery
It can be upsetting if you lose key contacts on your iPhone, particularly if you do not have a backup from which you can recover them. But don't panic, since even if you haven't backed up your iPhone, you can still restore lost contacts using one of the several options available. In this post, we will walk you through the process step-by-step of how to retrieve deleted contacts on iPhone without backup.
Part 1: Can I Retrieve Deleted Contacts on iPhone without Backup
With an iPhone, deleting a contact doesn't immediately result in its permanent removal. As opposed to doing this, it instead travels to the Recently Deleted folder, where it remains for 30 days before being permanently destroyed. You may quickly retrieve it at this time by following the instructions below.
There is a potential that the contact can be restored even if it has been permanently erased. With an iPhone, deleting a file does not remove it from the device's memory. Instead, it is noted as "removed," making room for new information in the location it formerly occupied. The erased file may be retrieved using specialized software up until fresh data overwrites it.
First Check the Recently Deleted Folder:
Checking the Recently Deleted folder should be your first step if you unintentionally remove a contact. All of the deleted contacts are kept in this folder for 30 days before being completely erased. Here is how to retrieve deleted contacts on iPhone without backup by using recently deleted file:
Go to the Browse menu.

Click "Recently Deleted" after scrolling down.

Locate and touch on the contact you wish to retrieve.
To add the contact back to your contacts list, tap "Recover".
Part 2: How to Retrieve Deleted Contacts on iPhone without Backup
Tenorshare UltData program known as is both strong and extremely effective. Not only can it help you recover lost data, but it can also restore any damage done to your iOS system.
So, how to use Tenorshaer UltData to retrieve deleted contacts on iPhone without backup?
Please open UltData on your computer and choose the option to "Recover Data from iOS Devices." First, ensure that your iPhone, iPad, or iPod is turned on, and then use the USB cord to connect it to either your PC or your Mac. After recognition is successful, your device will be authenticated.

The following screen will appear for you to go through after the program has identified your device. To continue, please click contacts or other you would want to scan and recover, either individually or all at once, and then hit the "Scan" button.

At this point, the application has categorized and displayed all of the files that it has scanned. To recover, you have the option of selecting "Show All" or "Show only Deleted." Mark the contacts you need to retrieve, and then click the "Recover" button. It is only possible to immediately retrieve contacts and messages to your mobile devices.
Part 3: How to Retrieve Deleted Contacts on iPhone Using iCloud Backup
If you had a backup of your iPhone before you deleted your contacts, you can easily retrieve them by restoring the backup using iCloud.
Before you go ahead and apply this strategy, there are a few important details that you need to keep in mind.
To begin, if the backup was produced after you deleted the contacts, you will not be able to retrieve them even if the backup exists.
In addition to this, the data that you have recently added to your iPhone but which was not included in the backup will be deleted.
Step 1: You may reset your iPhone by going to Settings on your iPhone, selecting General, and then tapping the Reset button at the bottom. After that, choose the option labeled Erase All Content and Settings.
Step 2: Follow the directions that are shown on the screen. When you get to the area for Apps & Data, choose the option to Restore from an iCloud Backup when prompted.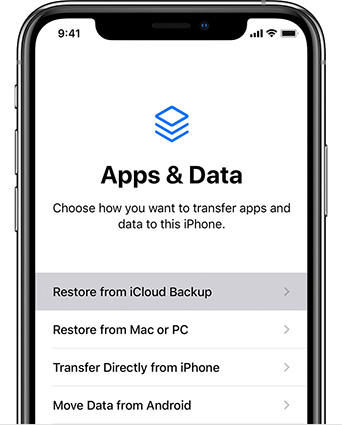 Step 3: After entering your Apple ID and password to log in to iCloud, choose the backup that you want to restore and then wait a few minutes.
Part 4: How to Retrieve Deleted Contacts on iPhone Using iTunes Backup
If you have previously used iTunes to create a backup of your contacts, then you will also be able to restore deleted contacts from this iTunes backup on your iPhone.
Tips:Keep in mind that the backup will overwrite all of the data that is currently stored on your device, which means that you face the chance of losing some of the files that were created more recently.
1. Plug your iPhone into the computer where you keep your backups using a cable that is designed for USB connections. As soon as your iOS device is recognized, iTunes will begin loading automatically.
2. Just choose the symbol for your device. Next, navigate the menu until you find the item labeled Summary, and then click on that.
3. After that, choose the backup you want to restore by clicking the option that says "Restore Backup" in the area under "Backups."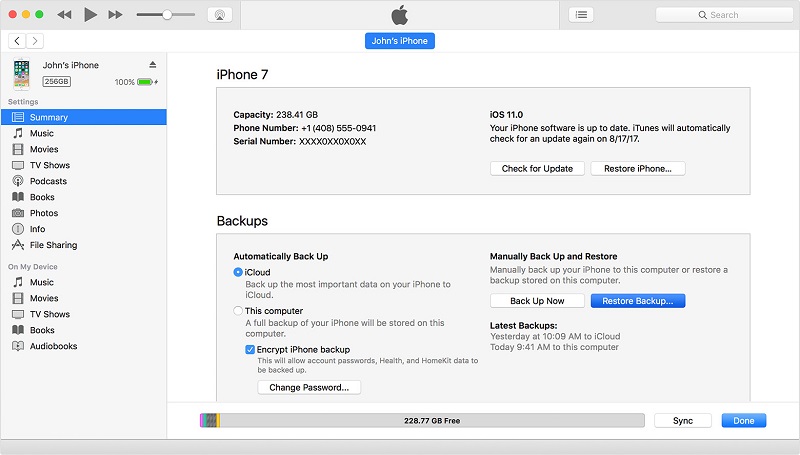 4. Choose a backup that has the best chance of containing your lost contacts, and then click the Restore button to get the restoration process started.
Conclusion
It is upsetting to discover that some of your contacts have been deleted from your iPhone. Even if you don't have access to a computer or have a backup of your information, you should still be able to retrieve deleted contacts on iPhone without backup.
Tenorshare UltData is an essential piece of software that gives you the ability to recover any sort of material, including lost contacts and other data. Moreover, you are not required to keep a backup. With its simple interface, you may now download your previously deleted contacts and restore them to your iPhone in just a few clicks.
Your Reliable iPhone 15 Data Recovery Software
Recover data directly from iOS devices, iTunes & iCloud backup;
Support the scanning and reading of encrypted iTunes backup files;
Support 35+ file types (WhatsApp, SMS, contacts, photos, etc.);
Support WhatsApp, LINE, Kik, Viber, Wechat Backup & Restore(Mac Only);
Compatible with latest iOS 17 and iPhone 15/Plus/Pro/Pro Max;