"I deleted some messages on my iPhone and I realize now that I need some of them back. What do I do?"

"I've lost all my iPhone data, including my messages. Any suggestions on how to recover them?"
The loss of stored messages is a pretty common problem that iPhone users face. Whether you deleted them deliberately to free up storage space or lost them when you had to restore your iPhone to factory settings, you often end up desperately needing those precious messages back. And here are some free, easy ways for free iPhone messages recovery.
Method 1: Recover Deleted iPhone Messages through Free iCloud
The first of two ways for the recovery of iPhone messages that are very common, and do not involve the use of an external software, is through iCloud. It is very easy to recover iPhone messages from iCloud, but only if you ever backed up your phone data to iCloud. Follow the steps below to get your messages back from iCloud:
1. Log on to iCloud.
2. Click your user name and select "iCloud Settings".
3. Click "Restore Files" under "Advanced" tab and click on the backup file that contains your messages to restore messages to your iPhone.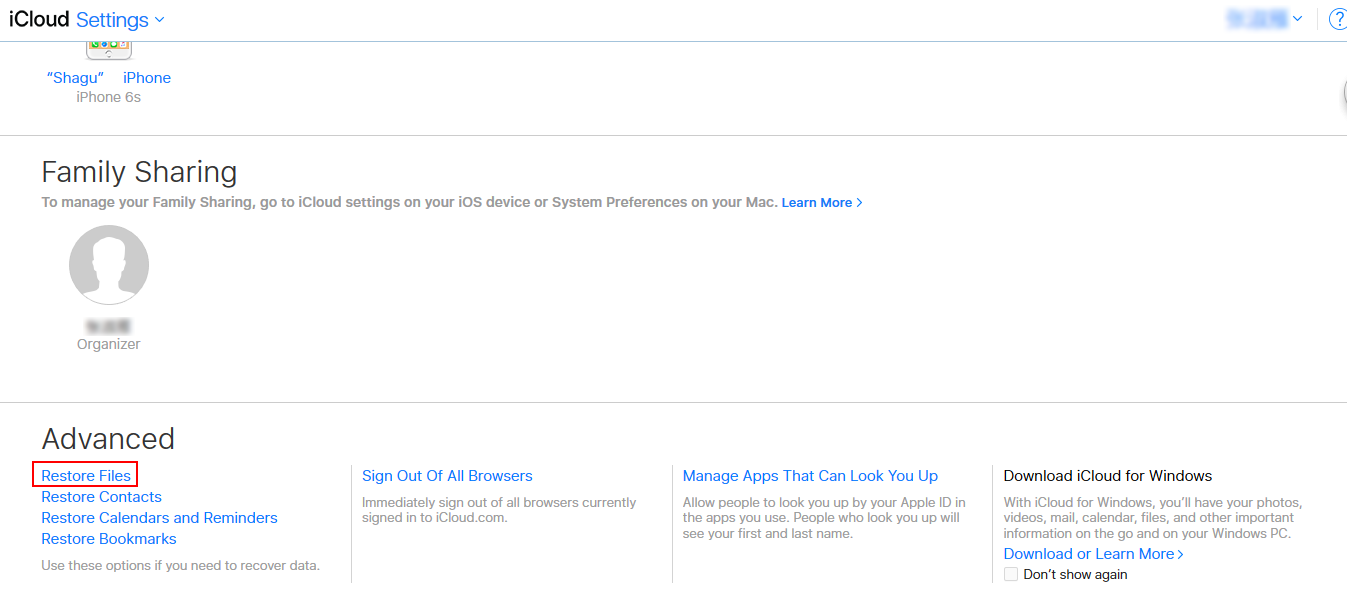 Note: If there is no file to restore, that means that you have not ever backed up your messages to iCloud, and need to refer to the second method below.
Method 2: Recover Lost iPhone Messages with Free iTunes
The second method is to use iTunes. Since there is automatic sync function whenever you connect your phone to your PC (unless you disabled that function), there are a lot more chances of being able to recover iPhone messages free in iTunes. The following steps will thus easily restore your messages:
1. Connect your phone to the PC or Mac that you usually sync it with.
2. Open iTunes and select your device when it pops up.
3. Now simply click on the 'Restore Backup' option, and wait while the program restores your backed up data back to your phone.

4. Go to messages on your iPhone to look at all the restored messages.
However, if you still haven't been able to recover messages, go to part two which explains how an alternative method called Tenorshare iPhone Data Recovery can be used for free deleted iPhone messages recovery.
Method 3: Use iPhone Data Recovery
Tenorshare iPhone Data Recovery is a program that is compatible with both Windows and Mac, and specializes in recovering lost data from your iPhone, including text messages, and also photos, videos, notes, contacts, and so on.
Free Download
For Win 10/8.1/8/7/XP
Secure Download
Free Download
For macOS 10.13 and below
Secure Download
Once you have downloaded a free trial version of iPhone Data Recovery and it is ready for use, follow the steps given below to recover your messages.
1. First you need to choose a recovery mode. Connect your phone to the computer using a USB cable and choose the 'Recover data from iOS device' option, and then click 'Start Scan'. The program will now search for the lost messages.

2. When the scan has completed, the program will create a list of all the data that was found. Go through this to find the messages you need. The messages that were deleted will show up in red colour.

3.You now have the option of restoring these messages to your phone, or to your computer.
Bottom Line
This article explains 3 simple ways through which lost iPhone messages can be recovered. Two are common ways involving iTunes and iCloud, and the third is a new alternative. Please share this post with your friends if you found it of use.
Free Download
For Win 10/8.1/8/7/XP
Secure Download
Free Download
For macOS 10.13 and below
Secure Download
Related Articles
comments powered by