How to Transfer Data from Android to a New iPhone 7/7Plus
by Jenefey Aaron Updated on 2019-07-25 / Update for iOS File Transfer
Apple fans who had been eagerly waiting to get their hands on the latest iPhone 7 or iPhone 7 Plus have already got their hands on this amazing device from Apple. The iPhone 7 and 7 Plus is now available for you to get, and if you have already got it, it's time to set it up so that it works with your data.
If you are coming from an older iPhone, you would not have an issue migrating your data from the older device over to the new one. However, if you come from a different OS, such as Android, the transition would not be as smooth as it is with iOS.
While you can always manually transfer the data from your Android device over to your new iPhone 7, it is a time consuming process and it may take forever if you have got a huge amount of data that needs to be migrated from the older device.
In such situations, what you can do is use an app that can help make your transition process easier and smoother for you. The following guide shows how to move data from Android phone to new iPhone 7/7 Plus.
Step to Transfer Data from Android to a New iPhone 7 or 7 Plus:
1.Launch Play Store on your older Android device and search for and tap on Move to iOS. You need to install this app called Move to iOS to be able to move your data from your Android device to your newly bought iPhone 7.

2. When the app is installed on your phone, launch it from one of your homescreens or the app drawer.
3. Boot-up your iPhone for the first time and tap on the option that says Move from the Android device. This tells the device you wish to move data from an Android device over to the iPhone.
4. Follow the on-screen instructions on your Android device for transferring the data. Also, keep an eye on your iPhone's screen to see if you get any prompts.
5. The data should now be finished migrating and you can see all of your contacts, bookmarks, and such other data on your new iPhone 7.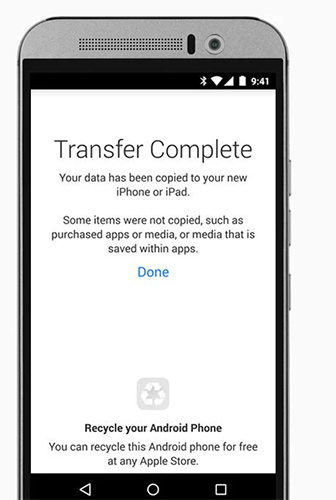 When you export your data from an Android device to iPhone 7/7Plus, sometimes files get duplicated or corrupted nd you have no idea about it as they are hidden behind your system (and there's even no file explorer on your iPhone to see what files you can get rid of).
Fortunately though, you have a tool called Tenorshare iCareFone from Tenorshare that helps you make a complete clean for your iPhone. This comes really handy if you find your iPhone to be full on memory space and you wonder what those files are that are taking up a huge chunk of memory space on your device. The tool should help you find such files and delete them from your device.