Quickly Fix iOS 17 Messages App Force Closing
by Anna Sherry Updated on 2023-08-30 / Update for iOS 17
The Messages App got many updates in the latest iOS 17 version. However, users are experiencing a few problems while using this app, such as messages failing to send and Messages App force closing in iOS 17. But do not worry too much. You can take matters into your own hands and fix iOS 17 Messages app force close issue here.
Part 1: Why Does iOS 17 Messages App Keep Force Closing
The Messages App on iOS 17 keeps crashing because of a variety of reasons and you need to know them. There could be a glitch in the Message app that causes it to crash and close. Secondly, your iPhone might be running low on storage. When the iPhone's storage is cluttered, it can cause apps to crash. And the most obvious reason is the iOS 17 software itself. Many iOS 17 bugs have been reported by iPhone users and the Messages App is not force closed until updating to iOS 17.
Part 2: How to Fix iOS 17 Messages App Force Closing
Now there are 7 tips and tricks you can use to fix this iOS 17 Messages app force closing problem.
1. Force Restart Messages App
The first fix we have is to force restart the Messages App itself. This will cause the app to restart all its process, and in doing so, hopefully fix iOS 17 Message App force closing. Swipe up from the bottom of the screen to open recently used apps. Locate the Messages app and swipe it up force close it. Then open the Messages app again.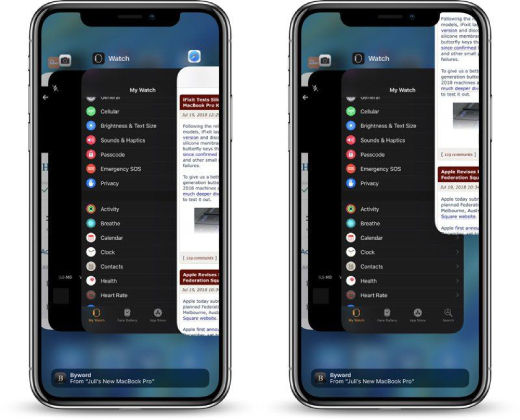 2. Force Restart iPhone
Besides restarting the problematic Messages app, you can also force restart your iPhone to fix this problem. For iOS 17 devices, press and release the volume up and down buttons in quick succession. Then press and hold the power button until you see the screen turn off and the Apple logo appears.
3. Delete Messages
There could be hundreds of unread and unnecessary messages in Messages app, which clutter the app and cause it force closing. In this case, you can manually delete the messages in the app, or go to Settings and delete older messages completely. If you do not want to delete important messages accidentally in the process, you shall backup your messages at first.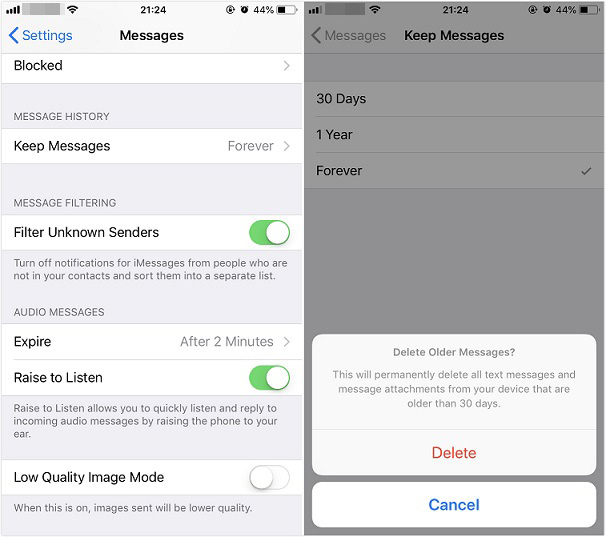 4. Reset All Settings
The next thing that has worked for users and might work for you too is to reset all settings on your iPhone. After resetting all settings, your Messages app will not force close and act normally.
Open Settings on your iPhone and go to General. Scroll down to the bottom to locate Transfer or Reset iPhone.
Tap on that and then tap on Reset. Next, select reset all settings.

Enter your passcode and confirm your action.
5. Re-enable iMessage
Sometimes iOS 17 Message App force closing is caused by iMessage. So you can also try disable and re-enable iMessage in Settings > Messages.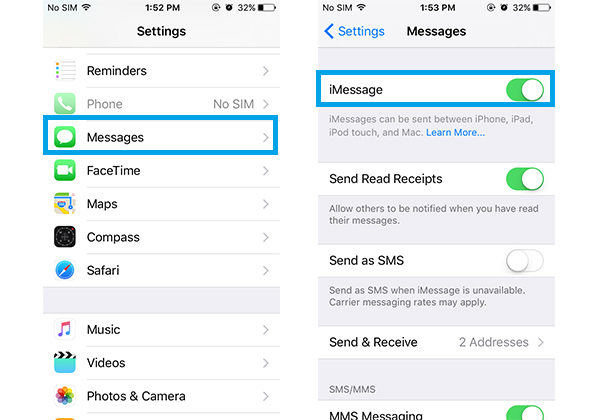 6. Update iOS System
If there is any pending iOS 17 update, it is advised to install it because the problem will most likely be fixed by Apple with new updates. Go to Settings > tap on General > Tap on Software Update and install any latest iOS 17 software.
7. Repair iOS Software Issues
The last method, also the most reliable one, to fix iOS 17 messages problem is the iOS system repair tool - Tenorshare ReiBoot. It can fix all sorts of bugs and glitches in the iOS system. Not only Messages app force closing, but also any iPhone app keeps crashing issue after updating to iOS 17 can be fixed by ReiBoot.
Download and install ReiBoot on your computer. Run the software and then connect your iPhone to your computer using the lightning-fast cable.

Click on Fix Now. On the next screen, from the two options you have, select Standard Repair.

After that, you will need to download the firmware package.

Once the firmware package is ready, click on Start Standard Repair.

Wait until the process completes. After completion, your iPhone will restart. This will fix iOS 17 Message App force closing for sure.
Conclusion
iOS 17 Messages App force closing is a problem that needs to be fixed right away. We can try some methods above by ourselves to end the issue. And the most recommended choice is ReiBoot because it helps fix any iOS 17 bugs and problems in a few clicks.