How To Disable App Library iOS 17/16/15
by Sophie Green Updated on 2023-07-13 / Update for iOS 14
With the new release of the latest iOS 17, Apple again goes for some exciting home screen features, including the App library. The App library sits on the last home page and has every app installed on your mobile. This feature causes many discussions. Many people ask frequently for how to disable App Library iOS 15/16. In this article, we provide you some of robust and straightforward methods, along with step-by-step details of how to turn off the App library.
Part 1: How Can You Disable App Library iOS 17/16/15
Most of the time, we can delete an app that we don't like on our mobile phone. But unfortunately, this is not the case with the App library. It is a built-in feature, so there is no way you can delete it off permanently. However, a couple of settings can hide your app library. In this article, we bring some methods to help you use it less, though you cannot disable App Library at present.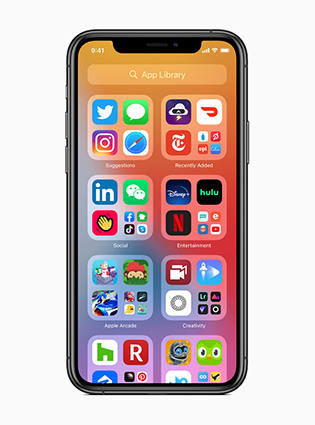 Don't Add New Apps To App Library
If you don't want to use App Library, you could stop adding any new app to your library. This setting is linked to where new apps get downloaded. This is how you can change the settings.
Navigate to Settings on your mobile. Click Home screen.

Select the option Add to Home Screen.

Every time you install the app, you can get it simply on your home screen instead of the App library.
Make Apps displayed On Home Pages
App library is designed to hold all of your apps in a single folder. However, you can find all the apps on your home page too. So if you don't want to use the App library, you should not hide any home page.
Press and hold on to an empty area of your home screen. And click the dots that appear on the bottom of the screen.

Click on the circles of your hidden home pages. Then Done.
Use Search On your iPhone
If you want to turn off app library on iphone, you can use the search option on your device to find anything from your mobile quickly instead. The search bar also provides you with suggestions and results while you type your query.
Swipe down from the center of your home screen.

You will get a research bar field at the top of the screen. Enter what you are looking for.
Part 2: How To Fix App Library Not Working in iOS 17/16/15
App library is a new exciting feature introduced in the version of iOS 15. Sometimes you get into some problems, and your App library does not work rightly on your mobile devices when upgrading to latest iOS 15. We bring you the simple methods that can help you fix your App library effectively. If you can't open the app library all of a sudden, first check the newest update, then:
Restart device
Sometimes you were navigating in your App library with quite ease, and then all of a sudden, it stops working. The problem can be fixed by restarting your iPhone. Press and hold the Volume down button and the side button, and then slide to power off your iPhone. After a few seconds, turn you iPhone on.
Reset All Settings
Even after restarting your device, you cannot get proper access issues with your App library; then, you can reset all settings. This might be helpful to repair any corrupt settings that cause issues in the proper functioning of the App library.
Go to Settings on your phone. Tap to General > Reset.

Click on Reset All Settings.
Fix Your iOS System with Reiboot
You can always fix your iOS system, including App library yourself, with quite ease using professional software. Tenorshare ReiBoot is a great iOS recovery software and perfectly applicable for various models and versions of Apple.
Download and install Tenorshare ReiBoot software on your Windows or Mac. Run the software and connect it with your iPhone.

Click Start > Standard Repair to use the iOS system recovery tool. Then download the latest firmware package.

After it finishes, click Start Standard Repair, which starts recovery. Within a few minutes, your iOS device will reboot automatically without data loss.
Learn more: How to fix common iOS 17/16 problems
Summary
App Library is an exciting feature for some people while others want to disable the App library iOS 15. At the end of this article, we are sure that you can now avoid the app library if you do not like it. With our fixing solutions, you can also now fix your App library not working with quite ease. Tenorshare Reiboot provides you a complete solution of your all kind of iOS recovery problems.
FAQ
Q1: How To Remove An App From App Library
Go to App Library and hold the app icon you want to delete. Then select Delete App.
Q2: How To Show Notification Badges in App Library
Go to Settings and tap on Home screen. Turn the Show in App Library On.
Fix iPhone Stuck and Update Issues without Data Loss