Why iOS 16/15 Stuck on Preparing Update, How to Fix
by Sophie Green Updated on 2023-06-20 / Update for iPhone Fix
If you are trying to install the latest version of iOS and iOS 16/15 stuck on preparing update, there might be an issue either with the update or with your iOS device. Issues related to iOS updates are fairly common on iPhone and iPad devices, and there are methods to fix these issues on your device.
This guide tells you why iPhone stuck on preparing update and then it walks you through the steps to get rid of the problem. You are going to learn several methods to fix this device on your device and get the latest update installed.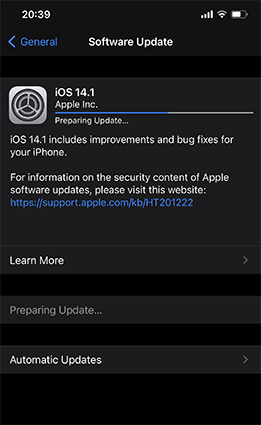 Part 1. Why iPhone Stuck iOS 16/15 on Preparing Update?
There are various reasons why an iOS update stuck on preparing update on your Apple device. The following are some of the possible causes of the issue.
Insufficient Storage on iPhone/iPad
Wi-Fi connection is Not Stable
Apple Servers are Down
Software Crash that Froze iPhone
Part 2. How to Fix iOS 16/15 Stuck on Preparing Update?
Now that you know why the issue occurs, you will want to know how to fix it when an iPhone stuck on preparing update. The following are some of the methods that you can try out. You can also watch the video guide firstly.
Video Guide on How to Fix iPhone Stuck on Preparing Update iOS 16/15
1. Check Apple Servers Status
Apple pushes iOS updates from a certain server of theirs. If that server faces an outage for some reason, your iOS device will get stuck on the update screen as it cannot further proceed with it. So, one of the first things you should do is to check if the Apple update server is experiencing downtime.
Apple has a web page that tells you the status of all its servers. Open a new tab in your browser and visit the Apple server status page. You will then get to know if your update server is an outage.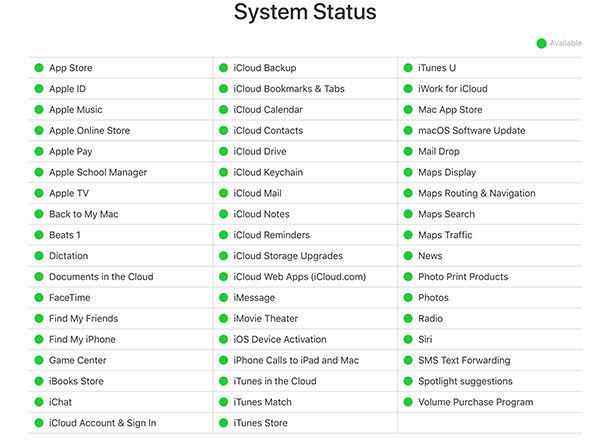 2. Make Sure WiFi connection Is Stable
Your device downloads iOS updates over your WiFi connection. If your connection is not stable and is dropping every now and then, that could be the reason why iOS 16/15 update is failing on your phone.
You need to make sure that your WiFi is connected to the Internet and that the Internet is available on your iOS device.
One of the ways to confirm that is to open a browser on your device and visit any website. If the site loads, your WiFi is working just fine. If the site does not load, you have an issue with your WiFi connection. You will either need to contact your ISP or try resetting your router to see if that fixes the problem.
3. Check Your iPhone Storage
Downloading and installing an update requires a certain storage space to be free on your iOS device. If your device is running out of space, that may be why you have an issue installing the latest iOS version. If you are not sure how much space is available on your phone, the following steps will help you check that.
Head to Settings > General on your iOS device and tap on iPhone Storage.

You will see how much space is available on your device.

You can delete your unwanted files to free-up storage space.
4. Reset Networking Settings
Network settings tell your device how to connect to various networks. If these settings have an issue in them or if they are not properly configured, your iPhone could get stuck on the preparing an update screen. You can reset the network settings to fix this issue.
Head to Settings > General > Reset on your device.

Tap on Reset Network Settings.

Reboot your device.
5. Delete iOS 16/15 Update File and Redownload It
Sometimes, the issue lies with the software update that you have downloaded on your device. In that case, you can try deleting the update and then redownloading it on your iOS device. You can do this as follows.
Go to Settings > General > iPhone Storage and tap on the update file.
Select the Delete Update option to delete the file.

Go to Settings > General > Software Update to redownload the update to your device.
Your update should install now.
6. Refresh iOS to Fix iPhone Stuck on Preparing Update
If your iPhone keeps stuck on preparing and installing update, it could be that your iOS device's software has crashed and so your device has frozen-up on the update screen. You need to choose a system repair tool that fixes the problem from the very core of the system.
One such tool is Tenorshare ReiBoot that helps you fix the operating system of your iOS device. It fixes everything on your device by refreshing and updating the firmware on the device. This is a nuclear option to get rid of all the problems at once from your iPhone or iPad device. You can use this tool as follows on your machine.
Download the latest version of the software and install it on your machine.

Connect your iPhone to your computer, launch the software, and click on Repair Operating System.

Click on Fix Now on the following screen to fix the update issues on your device.

Download the iOS firmware by clicking on the Download button.

The tool will start fixing iOS update issues on your device once the firmware is downloaded. You will see the following when your device is fixed.
After repairing, you should now be able to install iOS 16/15 without any issues on your device.
Part 3. People Also Asked about iOS 16/15 Update
If you have questions about the issue with the iOS 16/15 update, the following will answer the questions for you.
1. How long does the iOS 16/15 update take?
The iOS 16/15 update should not take too long. On a stable Wi-Fi connection, it should download within 30 minutes. If it takes longer than this, you need to change your Internet connection.
2. How long does it take for iPhone to prepare update?
It takes about 5 minutes for the iPhone to prepare an update. If your device gets stuck on this screen for too long, there is probably an issue and the process has come to a halt.
3. What iPhones will get iOS 16/15?
The following iPhones will get iOS 16/15: iPhone 11, iPhone 11 Pro, iPhone 11 Pro Max, iPhone XS, iPhone XS Max, iPhone XR, iPhone X, iPhone 8, iPhone 8 Plus, iPhone 7, iPhone 7 Plus, iPhone 6s, iPhone 6s Plus, iPhone SE (1st generation), and iPhone SE (2nd generation).
4. Is iOS 16/15 stable?
Yes, iOS 16/15 should be a stable operating system when it becomes available on your iOS devices.