How to Effectively Fix iOS 15 Install Stuck on Terms and Conditions?
by Jenefey Aaron Updated on 2021-09-18 / Update for iOS 14
Is anyone getting stalled out at the Terms & Conditions screen when updating to #iOS15?"

-- From Twitter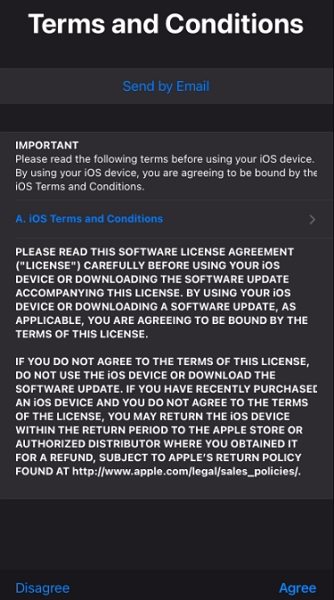 iOS 15 install stuck on terms and conditions is a common issue. It can cost you several days to resolve it. If you're someone who won't want to do factory reset, or even restore your device using iTunes, you need this guide.
When you read it, you will know the major cause of the issue. Also, you will easily be able to apply the best technique.
Question: Why Would iOS 15 Install Stuck on Termss and Conditions?
This is because Apple releases several beta updates throughout the preview period. Those releases contain updates that can make an app malfunction. This better version of iOS 15 has a series of bugs and hence the reason for experiencing such a stuck screen. Don't worry about the procedures required to resolve this issue. Below are the necessary actions you can take to get past this issue.
Fix #1. Tap Disagree and Log in iCloud
This is one out of the several options you have to fix iOS 15 install stuck on terms and Conditions. The procedures below are the necessary steps you need to take in disagreeing with Apple's termss and condition.
Step 1: Firstly, you can Tap "disagree" to cancle the iOS 15 installation.
Step 2 : Tap Settings > Mail, Contacts, Calendars, and then tap on the first iCloud account. After you've taken that action, you will see a Termss and Conditions link near the top in blue.
Step 3 : Now you can tap that Termss and Conditions link. Thereafter, scroll to the bottom and tap the reject button.
Step 4: Login into your iCloud account.
Step 5: Now, go to Settings > General > Software Update.
So, you can check it out whether your iOS 15 update still stuck on Terms and Conditions. If not working, you can go to next way.
Fix #2. Force Restart Your iPhone
Then you will need to consider restarting your iPhone so you can fix iOS stuck on Termss and Conditions. Below are the steps to follow: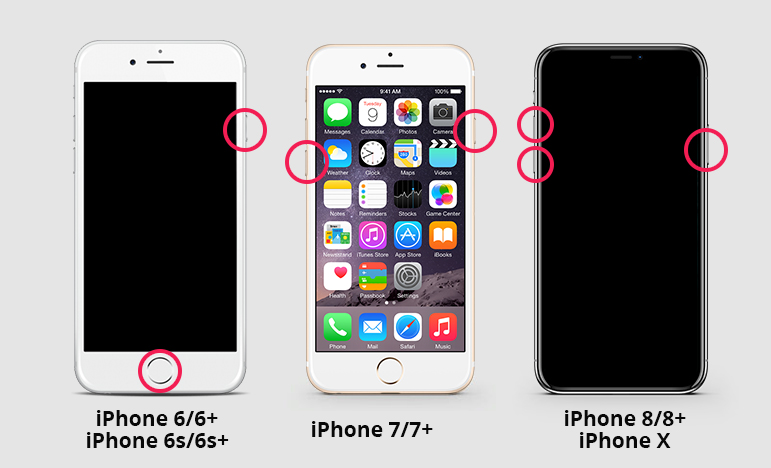 Step 1 : Press and hold the power button for a few seconds.
Step 2 : Wait for a few seconds for the Power Off option to appear on your screen.
Step 3 : Swipe the Slide to access the Power Off slider.
Step 4 : Press and hold the power button again and wait for your device to turn on.
Step 5 : At this stage, you will need to enter your passcode at start up, even if you usually use a fingerprint for ID.
Then perform the over-the-air update on your iPhone or iPad, If it still not working, don't worry, try the next one.
Fix #3. Update iOS Using iTunes
Here is another technique you can try to fix this issue. It involves you updating your iPhone with iTunes. Before you start, just remember to have a backup in case any data loss. Backup your device through iTunes or iCloud. Then you can find the steps to take below:
Step 1 : Launch iTunes and connect your device to it.
Step 2 : Tap the iPhone icon(which shows your device is completely connected) and then click"Summary".
Step 3 : Go to the right panel and select "check for updates".

Step 4 : Now you'll find there would be notification saying that a newer version is available now.

Step 5: Then click "Update".
Step 6: Wait for a while and you'll update your device again. It is unfortunate that your iPhone stuck on termss and Conditions, then downgrade is the ultimate way for you.
If Still Not Working, Dowgrade to iOS 15 with ReiBoot
Perhaps you've tried all the available options and the screen still gets stuck, there is an effective option for you. Since the latest operating system have some bugs , downgrading to iOS 14.7 will be better. This version of iOS is what many people use. It's simply the best option for you at this moment.
If you're resolved to make such downgrade, you will need a tool called Tenorshare ReiBoot. This soft is highly functioned for installing the latest iOS version. When you use it, you won't have any fear of data loss. Also, you will be able to fix other stuck issues.
The following are the essential steps you need to follow:
Download and launch ReiBoot on your computer and you'll see the image below. Then select "Repair Operating System". This is where you will start downgrading your iOS.

Then you come to the next interface, before you click "Fix Now", please make sure that your iPhone is full of charge.

Next, you start to download the firmware.

Then the downgrade process is initiated and after a while, the procedure is complete.
Now your iPhone will reboot normally and you can freely use your iPhone as a new one.
Conclusion
So far, we've discussed in details the procedures to fix iOS 15 installation stuck on Terms and Conditions.You will enjoy the entire process when you use Tenorshare ReiBoot. The software is safer to use and reliable.
FAQs about Terms and Conditions
1. What happens if you disagree to Apple Terms and Conditions?
When you disagree to Apple Termss and conditions, you're technically rejecting the option of installing a newer operating system. That will save you from the issue of stuck screen.
2. What do you do when your iPhone won't finish updating?
When your iPhone fails to complete its update, you will need to check your Wi-Fi connection. And more, you can choose to update your iPhone using iTunes or use Tenorshare reiboot for fix such issue.
3. Why won't my iPhone let me agree to Terms and Conditions?
It's because of the bugs associated with your operating system or the network connection issue.