How to Solve iTunes Error 2005
by Jenefey Aaron Updated on 2020-03-10 / Update for Fix iTunes
The iTunes error 2005 can be encountered in iTunes if one tries restoring their iPad's iOS firmware. This iTunes error 2005 is usually seen as "the iPad cannot be restored: Unknown error occurred (2005)." Well, though the message reads simple, the problem is not that simple specifically when you are not aware at the first place why it is occurring. Normally the iTunes error 2005 is witnessed when the iPhone is not restoring persistently. The error can be seen when the IPSW file is downloaded for the update of iOS firmware and then this file is tried to be restored in iTunes.
Well, the reason behind this issue are numerous as the problem can lie anywhere—issue with the PC your device is connected to, issue with the USB cable used for connecting your PC and device, a software or hardware failure, and so on. So, let us have a look at the best iPhone error 2005 solutions in the below article and help you solve the issue.
1. Restart iPhone
The first solution for your "Apple iTunes error 2005" issue is a simple restart of your iPhone. Frankly speaking, restarting your device is a child's play. It's that easy. You can in fact restart your device in just few steps. Follow below guideline to restart your device and solve your iTunes error 2005 issue.
Step 1: Long the Power key till the slider "Slide to turn off" is seen.
Step 2: Simply to switch off your iPhone slide the slider.
Step 3: Now you need to restart your device again. For this, long press the Power key once again. Let it go when the Apple logo is seen.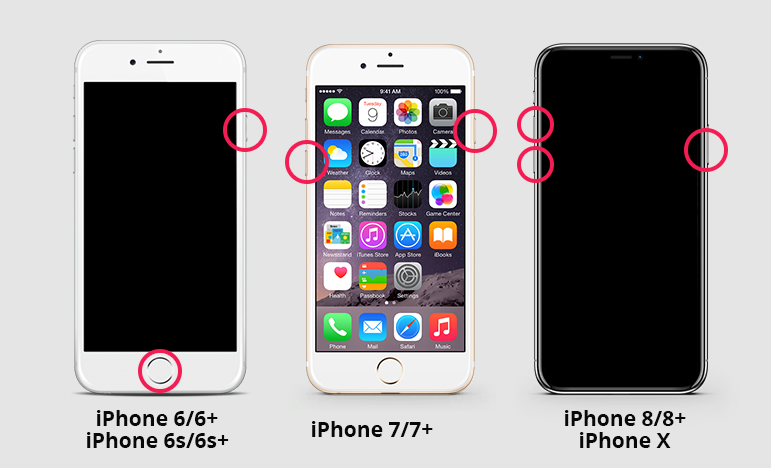 2. Restart iTunes and Computer
Sometimes, it may happen that the issue is not lying within your device. There are chances that your computer and the iTunes itself are dealing with some kind of problem. As we know a restart gives a fresh start to your device, let us try the same with iTunes and your computer. Simply quit iTunes on your computer. Now, shut down your computer. Restarting your iTunes as well as computer will eliminate the chances of any bug causing the problem. Once your computer is shutdown, restart it again. Check if the iTunes error 2005 issue still persist.
3. Check USB Connection
Another major problem, but can be unseen, is the USB cable. As USB cable connects your iOS device with your computer, it is very important to have a good and a working USB cable for the entire process. In case you are using a faulty USB cable, problems will be caused for establishing the connection itself. And hence, we highly recommend to first check the USB cable. If the cable is your problem, simply try to use a new USB cable and check if the problem is solved.
4. Fix iTunes Error 2005 without Data Loss
If the above discussed solutions does not work and you are still dealing with "error 2005 iTunes restore fix" issue, you will now require a third party help. And this help is given by Tenorshare ReiBoot. The software has a very crucial role to play in such difficult situations. The tool is a professional in solving all iOS issues. It can solve any of your iOS problem with its excellent features. 100% problem solver and with easy-to-understand user interface is what Tenorshare ReiBoot is all about. Follow below guide to use the tool solve iTunes error 2005.
Step 1: Install the software and run it on your PC. Open the tool and connect your iOS device to it using USB cable. Open the tool's main interface and select Repair Operating System option.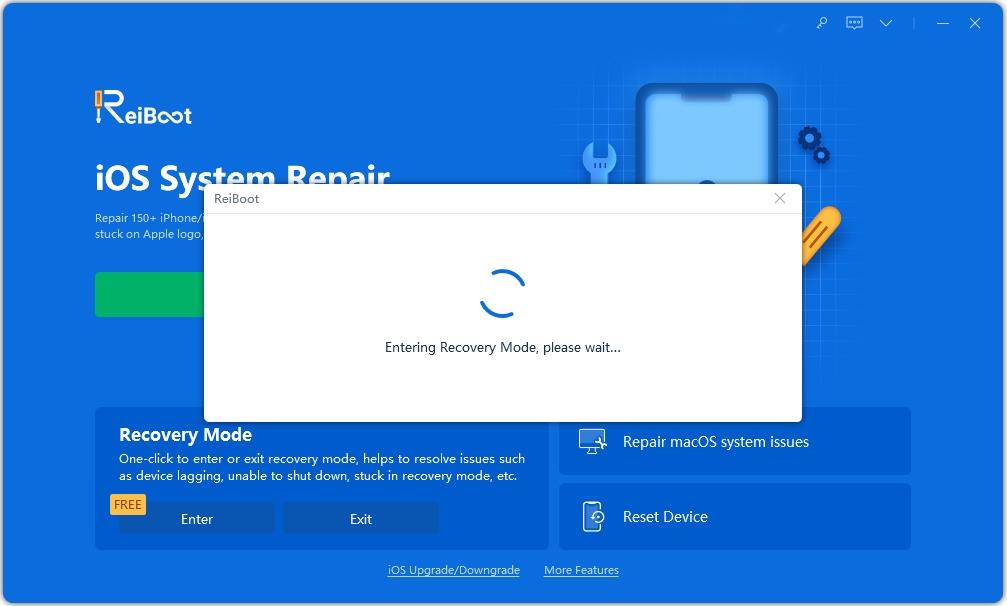 Step 2: Download the latest firmware package required with Download option.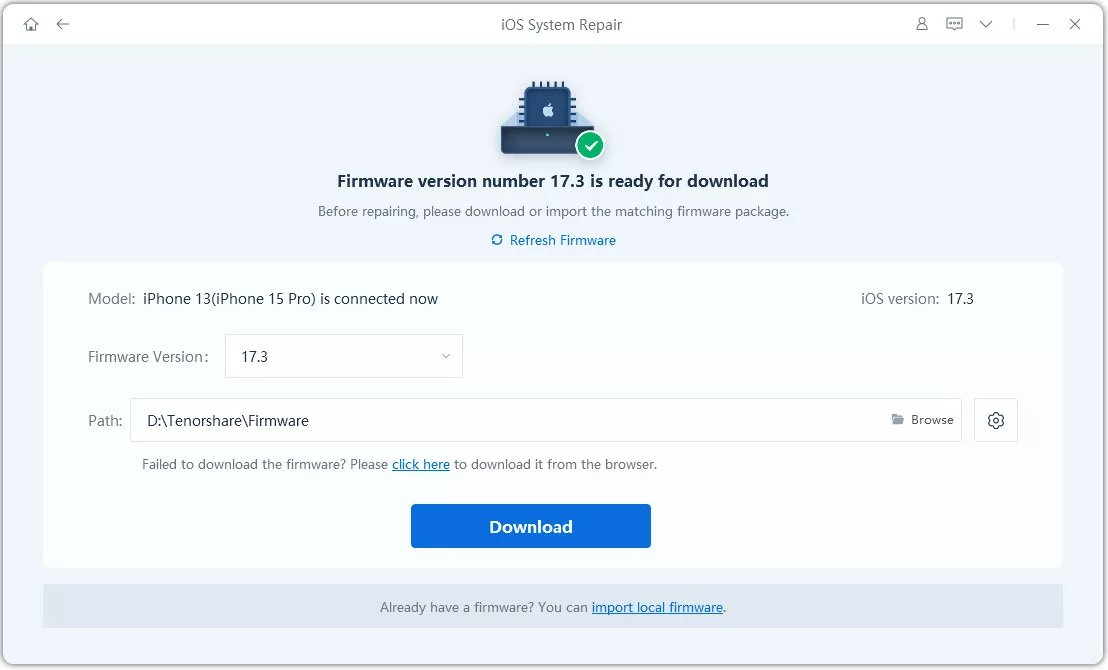 Step 3: Click the button "Start Repair." This will start restoring your iOS device in no time.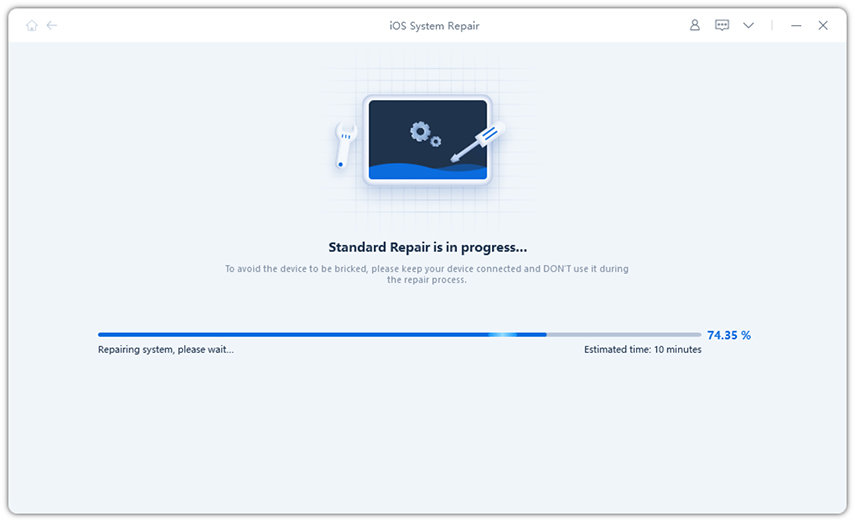 Editor's Pick:
5. Repair iTunes to Fix this Issue
If the above tool also does not help you solve your iTunes error 2005, then there are high chances that your iTunes is dealing with some issue. In such scenario, TunesCare is the best option to go for. The tool repairs any type of iTunes syncing issues along with other such problems such iTunes failed to read iPhone contents, iOD device can't connect to iTunes, non-working iTunes, uninstllable iTunes, iTunes update failure, any error during installation of iTunes or updates, and so on. Follow below guide to solve your issue.
Step 1: Install and open Tenorshare TunesCare. Now tap the option "Fix All iTunes Issues" from the main interface.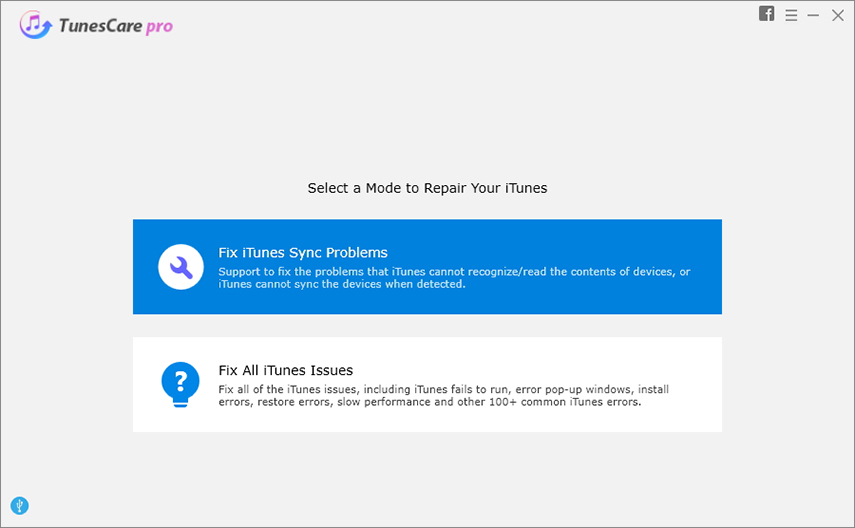 Step 2: Now tap the option "Repair iTunes" in order to get any of the issue bothering your iTunes and making it perform abnormal.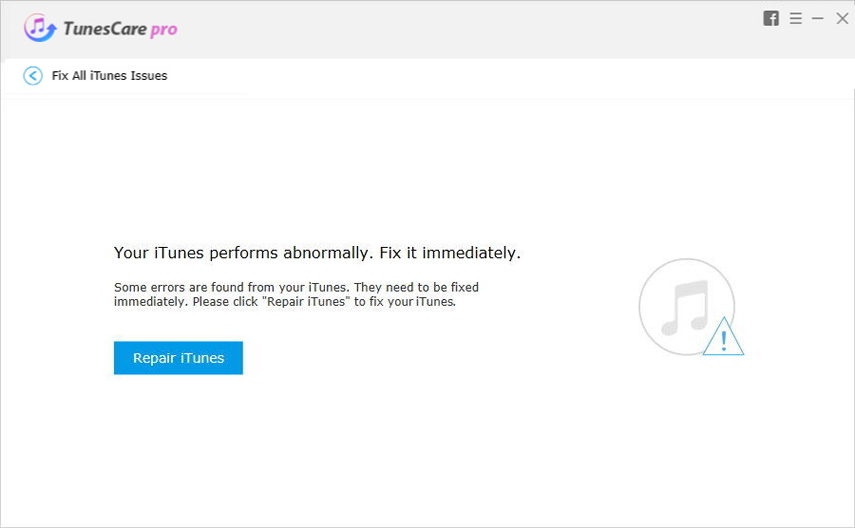 Step 3: The tool will now start the process of repairing iTunes automatically once it downloads all the required components.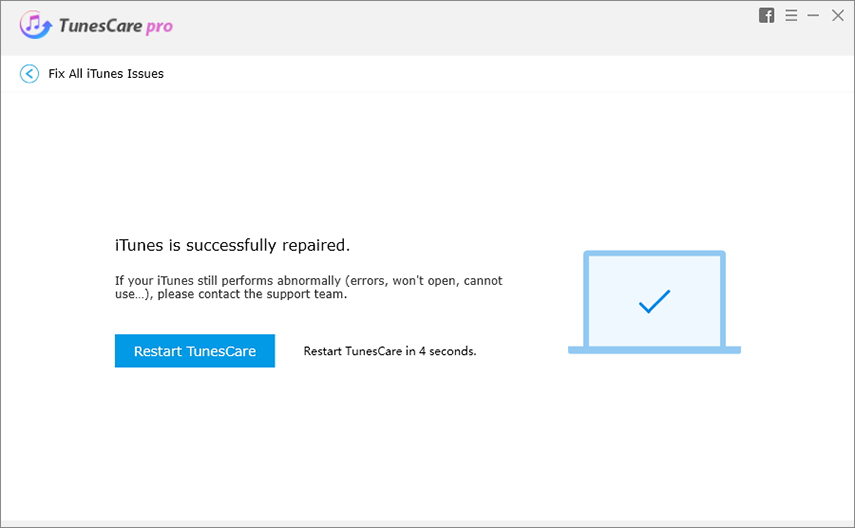 The above articles has discussed the various yet simple ways to solve "error code 2005 iTunes" issue with ease. It has also shown that Tenorshare ReiBoot is the best to solve any type of iOS issues. Also, if you are dealing with any iTunes issue, Tenorshare TunesCare is always there for your help. Let us know which solution was the best for you and helped you solve the problem in below comments.