How to Improve and Boost Finder Performance on Mac
by Jenefey Aaron Updated on 2020-01-11 / Update for OS X
How Can I Improve Mac Finder Performance?
"I bought the brand new MacBook Pro Retina that came with Mavericks. When working with the Macbook, the slow loading Finder on Mac is so annoying: When attaching documents to emails and other files, it takes a long time for finder to load the contents of the directory I am trying to access. It is rather rustrating because I have to use Finder a lot every day."
The slow loading Finder could cause you a lot of trouble especially when you are busy working with your Mac but the Finder just not respond. To improve Mac Finder performance, we should first figure out what slows the Finder.
Why Finder Loads Slowly on Mac
On Mac, new windows in the file system default to opening into the "All My Files" view. Every time you open the Finder on Mac, "All My Files" will load every personal file into this folder. Finder can actively search the file system for every document, picture, and media file owned by the active user account. Sometimes, the number of files in this folder can easily reach to 50,000+ items shown within a single folder which is updating live upon every modification of the file system. If you have a lot of space for these files, this will have little impact on system performance. Usually those with fewer available resources are the ones to notice the CPU spiking and slow refreshing of Finder windows and folders in OS X.
How to Improve Finder Performance on Mac
Once you find a sluggish Mac Finder, there are 3 you could do to improve the Finder performance.
Solution 1: Quit Defaulting to Opening New Windows into "All My Files"
As OS X default to openning new Finder windows into "All My Files" since Mountain Lion, you need to change this and launch a new window into anything else. This can be done from the Home directory, which was the default in OS X for ages, the Desktop, or a folder that you chosed.
1. From the Finder, drag down the "Finder" window and choose "Finder Preferences".
2. Under the "General" tab pull down the menu under "new Finder windows show:" and select the new default window destination.
This will speed up your Mac as your Mac will not need to refresh every user file all the time. The window now only shows what's in the User Home directory, or elsewhere.
Solution 2: Use All My Files Selectively
This means that you use "All My Files" only when it's needed. The simplest way to do this by selecting it from the Finder window sidebar, suppose when you want to get to your recently opened files. By doing this you'll only experience the (potentially) sluggish All My Files searching and redrawing when you want to, not every time you're in the file system.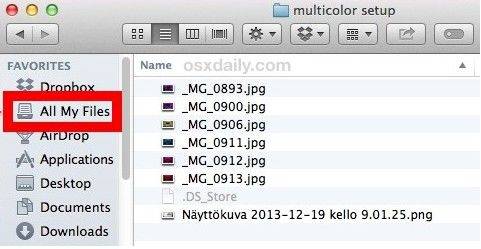 Solution 3: Close All My Files Windows When Not Use
After using Finder, remember to close the folder. This is because All My Files is not your average static folder, leaving it open could make contents redraw every time a user owned file is modified, copied, downloaded, or created, and that can cause CPU spikes and create substantial performance reduction if it's just sitting there refreshing itself in the background while you doing other stuff on your Mac.
Besides the above tips for improving Finder performance on Mac, you can also check best Macbook Pro Ttips and tricks to take better care of your Mac. Just in case, if you deleted some files from Mac and not knowing what to do, you can give Tenorshare Any Data Recovery for Mac a trial!
Recover Unlimited Mac Data for You
Recover data deleted, formatted or lost on Mac;
Restore files from hard drive and external storage devices;
Recover data from failed/crashed/dead MacBook;
Fully supported latest macOS 10.15 Catalina;