What Is APFS in Mac? Is APFS Better Than HFS+?
by Jenefey Aaron Updated on 2021-06-08 / Update for Mac OS
In a computer, a file system is a system for naming files, placing logical storage, and restoring files. Each operating system like DOS、Windows、OS/2、Macintosh and UNIX-based has a different set of file systems.
Whenever you try to partition your hard drive, you are required to choose its file system. Although the choice of file system was limited in the early days, there are now many options to choose from, such as APFS, HFS+, ExFAT, etc. In this article, we are going to introduce the mac file system - APFS.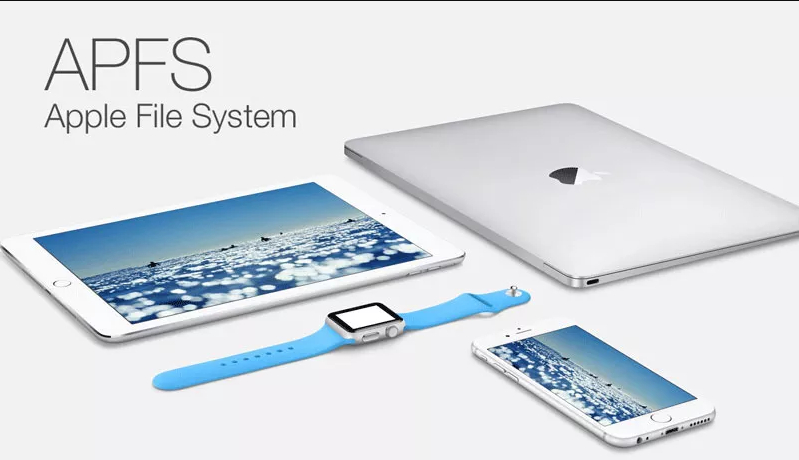 What Is APFS Format
APFS, short for Apple File System, is a new file system released by Apple to replace the HFS+ file system currently in use. The core of the system is encryption, which will provide a unified encryption method for each device of Apple. The system includes multi-key encryption with a built-in key for each file, which also has a separate key for sensitive metadata. Although this file system is designed and optimized for flash drives and SSDs (Solid State Drives), it can be used for hybrid or mechanical drives without much trouble.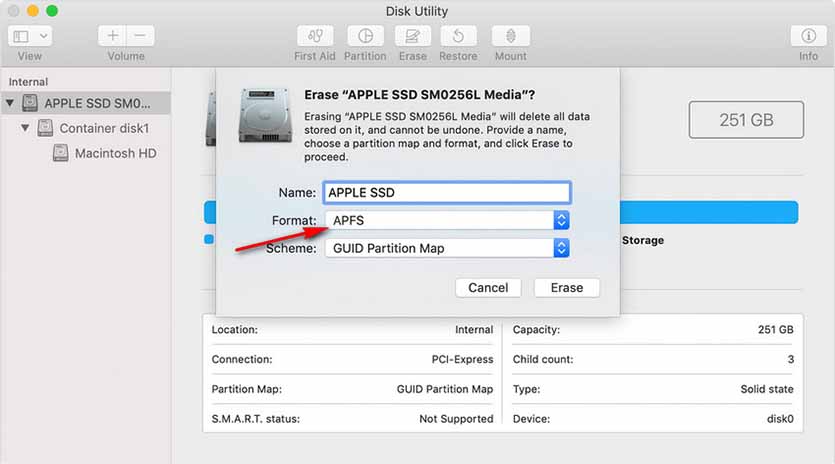 Which Operating System Use APFS?
macOS High Sierra and later
iOS 10.3 and later
watchOS 3.2 and later
tvOS 10.2 and later
Note:
There is another file system called as "ExFAT" which is compatible with Mac and Windows. Therefore, it is a cross-platform file system that can be used on a Windows PC or Mac. However, AFPS and Mac OS Extended (HFS+) are only available for Mac and cannot be used in other operating systems.
What Is The Difference between APFS And Mac OS Extended (HFS+)?
Mac OS Extended (HFS+) was released in 1998. This file system is too old to withstand the tremendous changes and innovations in the storage field. It does not have some basic functions that most enterprises need today, such as verification, snapshots, sparse files, etc. Therefore, APFS is created to replace HFS +.
Compared with HFS+, APFS not only supports the full functionality of HFS+, but also has made outstanding improvements in the following areas.
Strong Encryption
The core of the APFS is encryption, which will provide a unified encryption method for each device of Apple. Users can use a single key to encrypt all data, or use multiple encryption keys to lock individual files and folders. Of course, you can choose not to encrypt.
Snapshots And Backup
The snapshot technology is designed for backup, which can record the status of the file at a certain moment. This technique can only record new or changed data blocks, so you can create multiple snapshots of your file system without worrying about taking up a lot of storage space. Backup tools, such as Time Machine, typically use this feature to record changes to the file system since the last backup and can be used to make more efficient backups of data without interrupting user operations.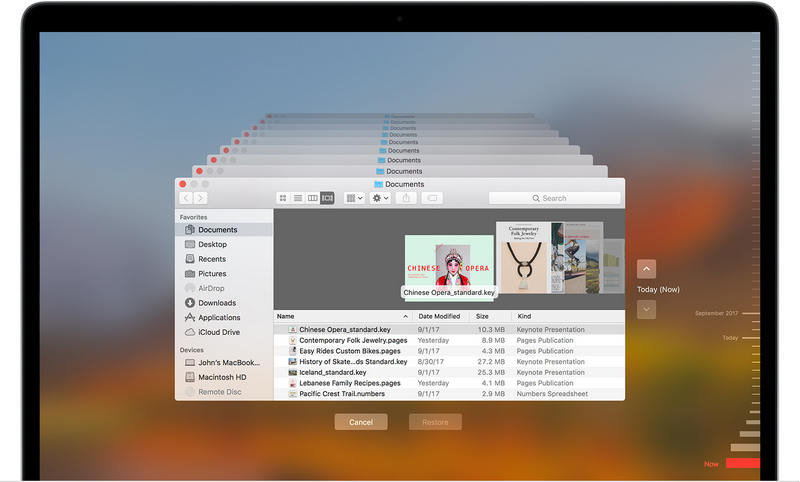 Space Sharing
Insufficient storage of one partition is a problem that many people encounter. In view of the defect, APFS's new Space Sharing technology changes traditional partitions into Containers, which supports other volumes to share their free space. As long as several containers are under one APFS disk, each can be freely enlarged and reduced.

Crash Protection
If the electricity is suddenly cut off while you are writing a document, will the document disappear? The answer is it won't happen in APFS. The system introduces the Copy-on-Write mechanism. When editing a file, the original data will not be modified immediately. The modification will be completed in a new location. The old data will be deleted only after the new data has been edited completely.
Bonus Tip: How to Recover Lost Files from APFS Hard Drive on Mac
Although the latest Apple File System has made a series of improvement, there is a bug in this system. That is, it is easy to cause data loss when writing to disk image and updating to a higher version. If you didn't make a backup before updating and write to disk image, you will find it difficult to recover lost data. But don't worry, you just need to find a professional Mac data recovery tool to help you solve the problem. Here, we recommend a reliable tool which is 4DDiG for Mac Data Recovery. This software is designed to recover any type of data from Mac hard drive, included the deleted files from APFS. Here's a step-by-step procedure to use this tool for APFS recovery files;
Step 1Launch the program and choose a hard drive to start to scan.
Step 2Next, click on the "scan" button and the program will start scanning the deleted files.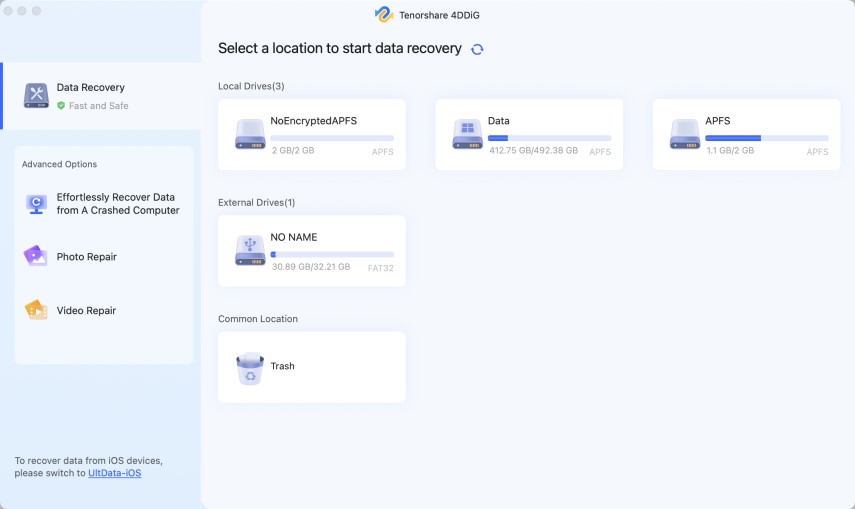 Step 3 When the scan is over, you can preview the files you need to recover.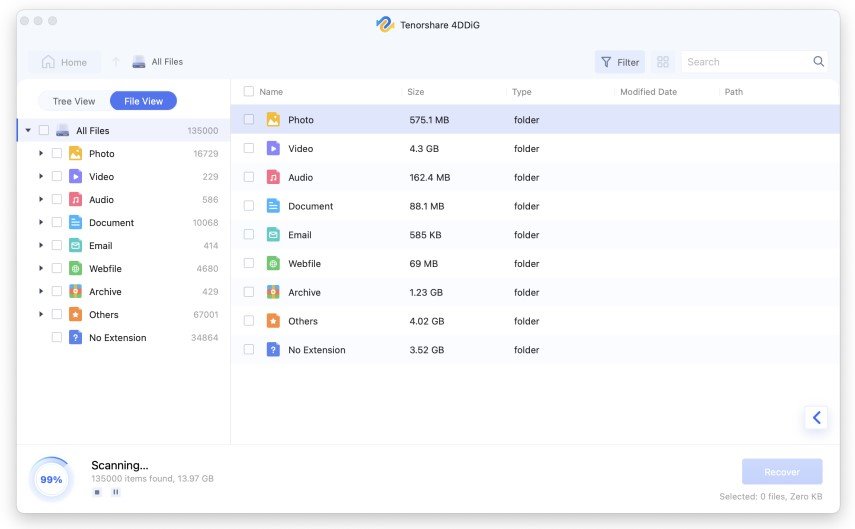 Step 4At this time, you can select the files from the result and click on "Recover" button. Then, just choose a location for the recovered to be saved. In this way, you can restore data from APFS.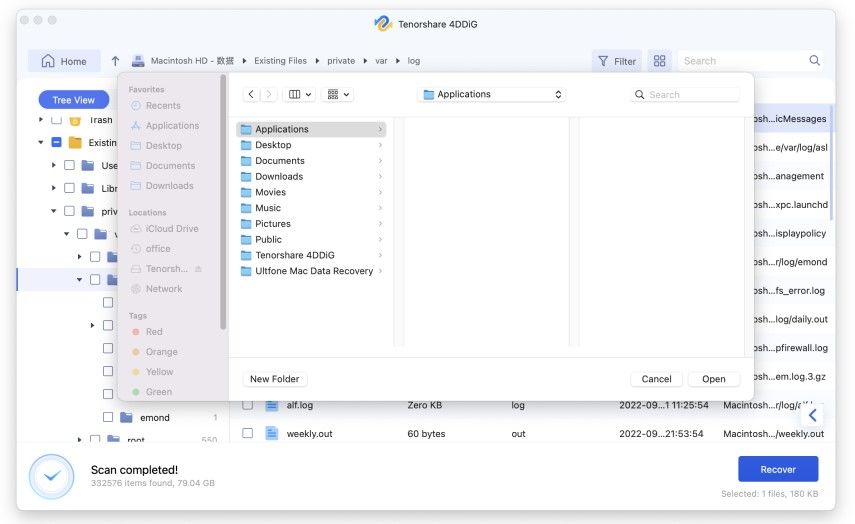 Very simple, right? To be honest, it's the easiest way to recover deleted files from APFS hard drive. Please remember that you must save the restored files in other partition instead of the same partition where you lost the file. Otherwise, it may overwrite the file so that it will lead to the permanent loss of files.
You may also like: How to Recover Files from Encrypted APFS Hard Drive
Conclusion:
To sum up, Apple File System (APFS) is a new file storage system, which features strong encryption, snapshots, space sharing, and improved performance. The purpose of using APFS is to solve the core problems of the HFS+ file system and improve performance. When you get data loss on APFS drive, try to use 4DDiG for Mac Data Recovery, it will help you recover the deleted or loss files.