Is it Possible for iPhone to Get a Virus
Secure as Apple iPhone is, it still has chance to get viruses from Internet or email, though the possibility is very low. If your iPhone are getting unexpected pop ups and always shuts down automatically, be careful, these are signs that your device might have got a virus. In this article, we will discuss in detail can iPhone be infected with virus and how to remove viruses.
Part 1: Does iPhone Get Viruses
It's hard to disagree that iOS is reliable, at least more secure than Android system, so the good news is, as long as you didn't jailbreak your device or open suspicious links on Safari, you can take it easy as your device is safe from viruses. After all, Apple has very strict limitations with third party apps and their communication. There are even no anti-virus programs can be found in App Store. Compared with Android users, iOS users have fewer privileges to manage system files, making it less likely to have access to emails or images attached with viruses and worms.
However, this doesn't mean iOS is totally immune to viruses and malware, especially for those users who had their device jailbroken before. Early in 2015, a malicious code called XcodeGhost had infected over 100+ apps, even the non-jailbroken device suffered. It's also reported that QR code bug in iOS 11 could trick users to open unsecure sites.
Nowadays, with so much sensitive personal information stored on an iPhone, it's no wonder people will concern if bad hackers can break into the system and steal info like account passwords, financial status and so on, therefore it makes sense to know how to tell if your iPhone has a virus.
Part 2: How to Know if iPhone is Infected with Virus
Basically, when your iPhone is infected with virus, you will receive a pop up message asking to take immediate action like contacting hackers or downloading extra apps, otherwise the system will crash and all the data will be deleted. Don't worry, most of the pop-ups look scary but won't cause severe impact. In the next part, you can find some tips to work around.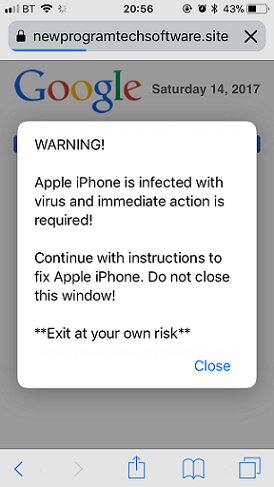 Besides, you should also take it cautious if there are any misbehaviors occurring on your iPhone. Common symptoms of virus infection include increased cellular data usage, strange pop ups, unexpected apps, files loss, battery drains insanely, system crash, etc. If you noticed these weird changes, don't hesitate to take below suggestions into consideration.
Part 3: How to Remove Viruses from iPhone
Once your iPhone get virus, all your information is nearly exposed to bad guys. Learning how to protect iPhone from virus becomes necessary. Underneath are several tips to remove malware and virus from your device.
Restart Your iPhone

Hold down the power button and drag the slider to shut down your device. If you are using iPhone X, press and hold Side button and either Volume button till you see "slide to power off".

Clear Safari History and Website Data

Go to Settings > Safari > Clear History and Website Data to delete all browser history and cookies.

Enable Safari Private Browsing

Similarly in Safari settings, don't forget to turn on Block Pop-ups and Fraudulent Website Warning options. After that, open Safari and tap on the square icon. Tap Private and then done. This will turn on private browsing on your iPhone.

Reset from Last Backup

Connect your iPhone with iTunes and go to Summary > Restore Backup and select a backup file made when your iPhone was still normal.

Reset iPhone as New

In some cases, you might need to erase all content from your iPhone and set it up as new device. To do this, go to Settings > General > Reset > Erase All Content and Settings.
Related Read: How Do I Stop Someone from Tracking My Phone
Conclusion
There you have learned how to detect viruses on iPhone as well as how to remove it. Share it if this article helps. Just to let you know, Tenorshare iCareFone can help clean up all useless junk files on your iPhone that may lead to virus infection. It's recommend you regularly clean up system with this handy tool. You can also get iCareFone app in the App Store to block in-app ads and Safari ads.