Verified Solutions to Fix Error Code 43 Mac
by Sophie Green Updated on 2019-12-21 / Update for Mac OS
Error code - 43 Can't to throw a file into the trash. getting the following error message - The operation can't be completed because one or more required items can't be found.(Error code -43)"

When you are facing this problem, first, you need to know what causes this error code and next how to fix error code – 43 mac. In this article, we will concisely figure out the reasons and work the problem out.
Part 1: The Reasons For Error Code-43 Mac
Usually, the error code 43 appears on mac OS X EI Capitan and mac OS X 10.2 the most, following the actions like deleting a file and move it to trash bin. Here are six major reasons why your mac will show error code 43 mac trash.
Missing File & Corrupt File
There is a possible reasons of files being lost or corrupted in your MacBook Air that you may forget when you have cleaned up them. So in the wake of the system delay, sometimes, you still see the icon on the desktop. In order to avoid this scenario, restart mac.
Incompletely Download
The file hasn't been downloaded fully generating the error. It's recommend to check if the file was downloaded fully when it done.
The File Currently Using
If you are using the file currently, you cannot do other operations of it. The file is on to use and it's impossible to deal with the file at the same time, that's paradox.
The File Without Shared Point
Shared Point is a channel that mac can find the location of it. If the file does not have shared point, the Mac Finder will not get access the selected file you're planning to move.
The File Is Locked
When the file you're attempting to delete is locked, the MacBook error code 43 may occur. The things you should do are that unlock the file first and then remove it to recycle bin.
Hard Disk Issue
The last reason is the worst when error code 43 on mac occurs. That is hard disk issue, in this case, you are supposed to format the disk.
Part 2: The Particular Solutions For Mac Error Code 43
After we drew the reasons, you may experience the error which is not caused by reason listed.
The problem still remains, how to fix mac code 43 when coping files? To make you quickly fix mac error code 43. The below particular solutions that you shouldn't miss it.
Solution 1: Fixing Error 43 Mac Through PRAM and NVRAM Reset
Try to use PRAM (Parameter Random Access Memory) or NVRAM (Non-volatile Random Access Memory). PRAM or NVRAM is an internal small amount of memory for Mac to store and access information.
The whole steps will give rise to complicated operations, you should read them completely before you deal with error 43 mac.
Shut down your Mac first.
Locate your fingers on Command, Option (alt), P and R keys, don't press.

Once the mac boots, quickly hold Command, Option (alt), P and R keys simultaneously.

While you are pressing four keys, the gray startup screen appears.
Don't release four keys unless you hear the Mac startup sound three times.
Solution 2: Using Disk Utility To Solve Error 43 Mac Cannot Delete File
As we mentioned, mac error code 43 is associated with missing files or corrupt files. It is suggested that the files permission or directory corruption should be checked.Thanks to built-in tool Disk Utility, the error becomes easy to solve. Follow the next steps!
Restart your mac. Go to Apple Menu > tap Restart
Press and hold the Command + R keys at the same time while the mac is booting. Then, the Apple logo will appear.
Hit "Disk Utility" option and then tap "Continue".

Choose the disk you would like to repair (on the left side panel) > click First-Aid button > tap Run.
Note
When you choose the disk, the disk is the place where the file you are trying to move is in.
After you click Run, the process will take a while, and meanwhile some windows will pop up, just choose accordingly.
Solution 3: Delete Locked Files
For those locked files, you can unlock these files or delete them. If you tend to unlock them, you should rely on third-party software. To delete them, the below steps for you.
Perform "chflags- R nouchg" command in Terminal.
Go to Trash, press "Command + A", then drag all items into Terminal windows.
Hit "Enter" keys on keyboard to empty your Trash.
Solution 4: Force Quit Finder
Mac supports a useful method to fix this issue easily. Just like the panel said: If an application doesn't respond for a while, select its name and click Force Quit. Here we will show you how to fix error code 43 mac using Force Quit.
Go to Apple Menu > select Force Quit option > locate Finder > hit Relaunch.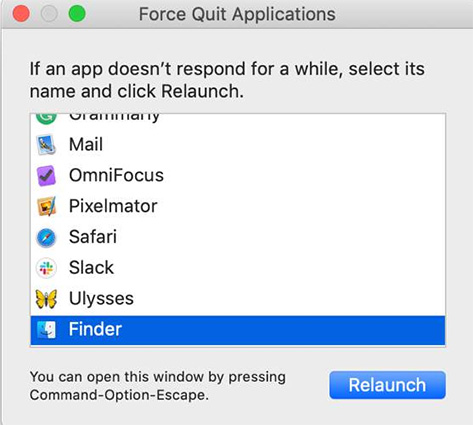 It's convenient for people to fix files problem.
A Useful Tip: What to Do When Error Code 43 On Mac Caused Data Loss
The solutions we just talked about can fix error code 43 on mac. Here, we focus on another angle: what to do when error code 43 on mac caused data loss? Don't doubt it, you never know what will happen. Fortunately, we are going to recommend you the useful tool — that is Tenorshare 4DDiG for Mac Data Recovery. The data recovery tool supports all kinds of files, such as photos, documents, webfiles and more. You don't need to worry data loss any more. Let's see how to recover data loss on mac.
Download and launch the program.

Select a location to start data recovery.

While the scan done, select the deleted files to preview.

Once the deleted files chosen, click "Recover" button, and select a location to save the files.
Note
Saving the recovered files to the partition where you lost them is prohibited. Such operation will lose files permanently.
Conclusion
In this article, you have learned how to fix error code -43 mac with four solutions given here. And at the end of the passage a professional mac data recovery tool presents to you about how to recover data when data loss. The tool guarantees 100% to recover all deleted data. So, you no longer have to upset by such small issue and Tenorshare 4DDiG for Mac Data Recovery is always here for you!