What is iTunes Gift Card and How to Use it
by Jenefey Aaron Updated on 2019-07-25 / Update for iTunes Tips
You come across your pal's birthday in the Facebook notification! And in such a moment of hurry, you cannot even rush to buy a good present but, here is a golden solution! Break the conventional modes of presents by gifting them an iTunes gift card. It can prove to be of a great use to them. So, now your friend gets the leverage to redeem the iTunes gift card at the nearest apple store or use it for the iTunes store or App Store. Stay tuned to know about the iTunes gift card!
What is iTunes Gift Card, Where to use it
You must be wondering what an iTunes Gift card is and how to make use of it? No problem, we will clear out your queries regarding the same. Read the outline below to surface an idea about the iTunes Gift card.
First of all, it is a gift card that contains a special code at the back of the card, which can be transferred to the account of the one who is currently using it. It can benefit them with a balance in the Apple Store and facilitate in making any purchases in it. A person may get confused by its name stating 'iTunes Gift Card' but in fact, it can be redeemed in various other apple stores. An iTunes gift card, can also be added in your Apple ID as a 'redeemable credit', which is compatible enough with the purchases be in the App store, iBooks store etc. Thus, you have a good range of options to redeem, by your end.
Where to Get the iTunes Gift Card
Now you must be wondering where can I get this mighty iTunes card from? Well, there are various means of obtaining this card- online or offline. It all depends upon your convenience of purchase. However, to gift your pal a trusted card, you must cart it from the official Apple Website. Even if you can't purchase the item from there, no worries! You can even choose.
Online Mode:
If you are looking to buy the Giftcard from online, you can easily purchase the iTunes Gift card from the Official Apple Website, Paypal and Ebay and other trusted online web stores.
Offline Mode:
If you prefer it the other way, you can visit the nearest authorized Apple store to grab the iTunes Gift card.
Second most trusted option would be going to the nearest Walmart store. There too, you would find the gifts card section, from where you can get a deal in the itunes gift card sale.
Even if Walmart is not in your route, you can hop on the card from Bestbuy stores or the Gas stations.
How to Use/Redeem iTunes Gift Card
Now that we are well versed with the how's and about's of the iTunes Gift Card, We will now understand how to use the iTunes gift card and redeem iTunes gift card balance
In iOS Device:
Visit any of the Apple stores ( iTunes, App Store, iBooks Store) from your iPhone.
Scroll down and navigate for 'Redeem' and tap on it.
Select 'Use Camera' to scan your iTunes gift card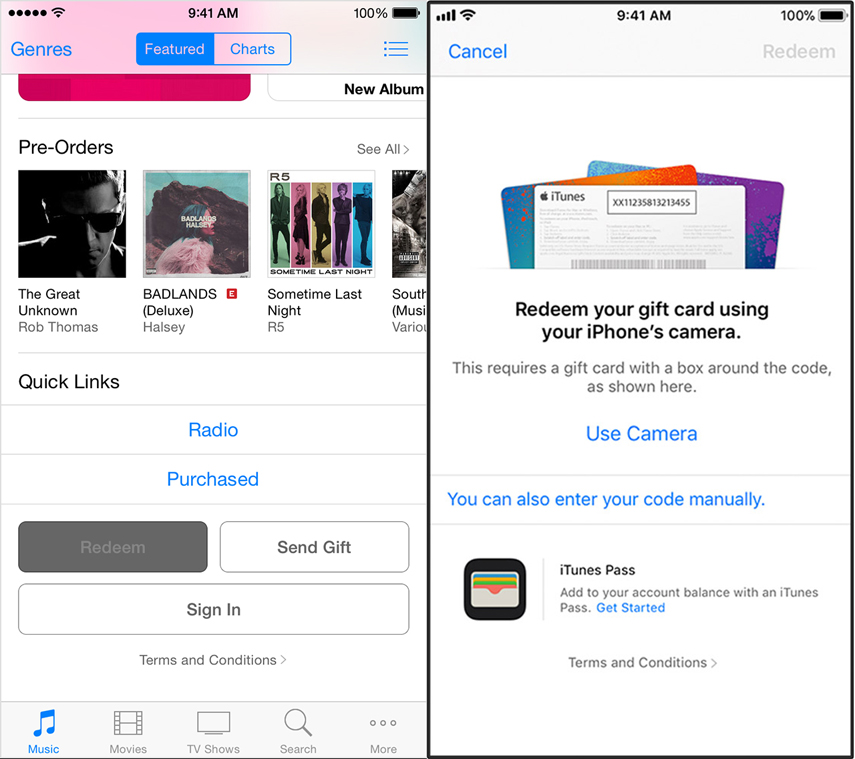 You can even type the code by tapping 'You can also enter the code manually.
iTunes gift card balance will then be credited in your Apple ID account and appear in the Wallet through the iTunes pass.
On a Mac/PC:
Visit iTunes and see if you are signed in. If not, then sign in with your current apple ID.
Now, select 'Account' from the menu bar and choose 'Redeem' from the drop-down menu.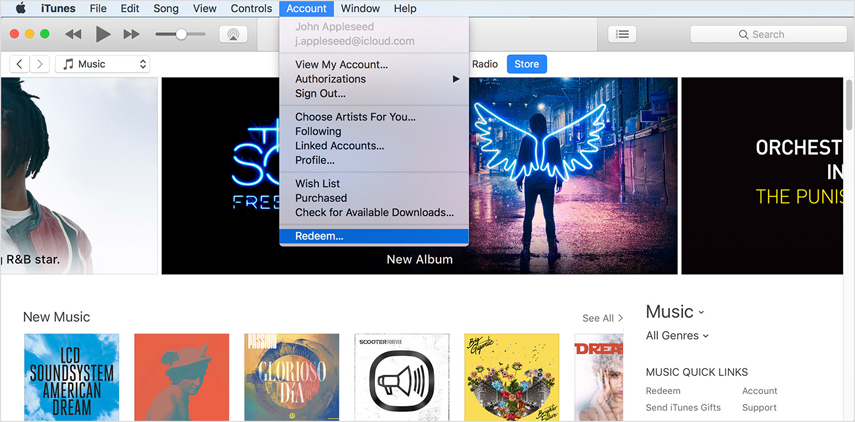 Type-in the code mentioned at the back of the gift card, in the 'You can also enter your code manually' section
Tap on 'Redeem' and proceed with the instructions.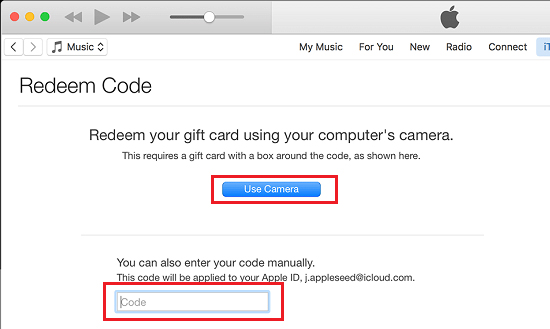 Note: One you have decided to make a desired purchase, the amount will automatically deduct from your iTunes balance. The additional amount will be charged to the registered credit card in your Apple ID.
Extra Tips: Free Tenorshare TunesCare to Fix All iTunes Issues
Are you tired of facing the irksome iOS related issues? Do you often witness the frozen, white or black screen? Your line of worries ends with the Tenorshare's TunesCare – a reliable tool that will unwind all the iOS related problems. TenorShare's TunesCare is Windows/Mac compatible software that ensures to fix an array of errors with its simple steps. Thus, your phone will automatically work smoothly and the performance of your iPhone will increase. You must be wondering how it all works? You can simply experience it by upgrading to a free trial and then come upon a decision. Below is the step by step guide that will undo all sorts of iOS related issues.
How to fix all iTunes issues via TenorshareTunesCare
Step 1- First and foremost, force installation of the program on your PC/Mac. After the installation, click on 'Fix All iTunes issues' tab from the main screen.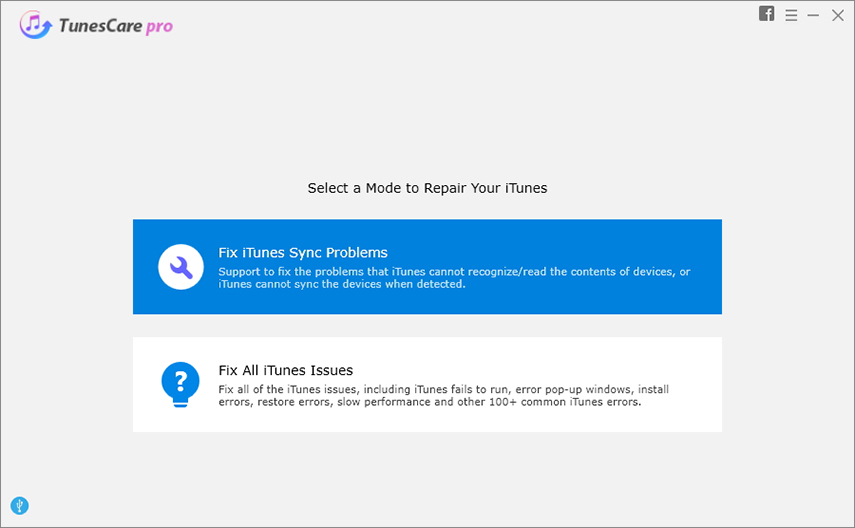 Step2- Fromthe following screen, tab on the 'Repair iTunes' button and the software will automatically begin to resolve the issue and upgrade the iTunes performance. Now, any of the crashes will be resolved in a fraction of seconds.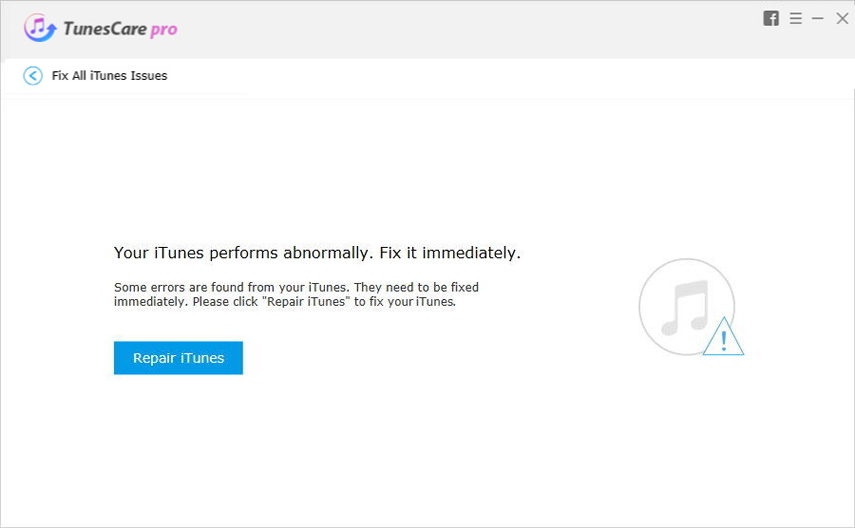 Verdict
Now that we are acquainted with the whereabouts of the iTunes Gift Card, it's time for you to grab one for your pal! These mini gift cards are discreet enough to carry and be presented as a gift. A free iTunes Gift card for your friend will do wonders for him/her to purchase anything they fancy! It all depends on where you buy it from. You may even save extra bucks at iTunes gift card sale, which are usually available in some of the stores. The iTunes gift card is not limited in redeeming in the iTunes section, but can also be of a great use in other stores as well. What are you thinking for? Go and hop on one!