How to Restore Custom IPSW with iTunes for iPhone/iPad/iPod
by Jenefey Aaron Updated on 2021-02-02 / Update for iTunes Tips
Restoring your iOS 13 device to firmware released at an earlier date is as common as upgrading to new releases. Reason being a new release may come with under the hood issues which have, in the past, affected normal phone use. Examples include problems with performance, battery life among other functionality issues. Most of which take days for Apple to resolve. You can easily solve such by downgrading to previous iOS versions or, as this article highlights, can select and restore custom IPSW with iTunes for iPhone, iPad and iPod on Windows/Mac. Downgrading is an option achievable by simple clicking the Restore button in iTunes. But some users would rather install custom firmware. Read on.
Also Read: How to Download And Install iOS 13 Beta Profile On iPhone/iPad
What is an IPSW file?
An IPSW file is one used by Apple Inc. to add new features, restore software on a device to its default factory settings and, at times, address security loopholes in iOS devices - iPhones, iPods and iPads- compatible with the release. With it, users of iOS devices can install the firmware, which is released in an archived, compressed format, through iTunes on either Windows or Mac. When decompressed, the files hold PLISTs, BBFWs, DMGs, IM4Ps files among others. All of which are encrypted.
The IPSW is an archived file format and can, therefore, be converted easily by using any unzip software. Other than for tinkering or educational purposes, there shouldn't be any reason to decompress an IPSW file. Unless you know what you are doing, decompressing it renders the package unfunctional since it loses the communication link between your iOS device and iTunes. You can't blame a human for trying though.
How to Restore Custom IPSW on iTunes?
Custom IPSWs are bundled with features not present in default IPSW files. Features such as a preserved baseband. Take note that Find My iPhone must be turned off before restoring and restoring is possible on both Macs and Windows PCs.
The software is made accessible to the public on iTunes but since some people love us much more than we think you can download IPSW files from some trusted websites. IPSW downloads (https://ipsw.me/) being one.
How to use IPSW file to restore iPhone with iTunes? Or iPad and iPod? Here is the instruction:
For most iPhone users and regular jailbreakers, selecting a specific IPSW file is a routine task.

For those new to this, launch iTunes, select your phone on the left sidebar hold down the Alt/Option key and click on restore.

For Windows users, hold down the Shift key and click "Restore" to force iTunes restore custom IPSW file. This displays the IPSW browse menu which you can use to select your choice IPSW file after which iTunes will restore your device to the firmware you desire.
Extra Tips: Restore Custom IPSW Using Third-Party Software for iPhone/iPad/iPod
Users may want to avoid the trouble of searching for a custom IPSW file and installing it on their phone. Since the standard restore option through iTunes deletes data, use third-party software is necessary. None comes close to Tenorshare ReiBoot. Besides restoring your iOS device, it deals with issues encountered after an unsuccessful jailbreak. They include bricked iPhones, unresponsive screens, repetitive boot, blue screen of death, iOS crashes, failure by iTunes to detect the device and other iTunes errors plus 50 types of iOS issues. It has a simple user interface and a straight-forward recovery process.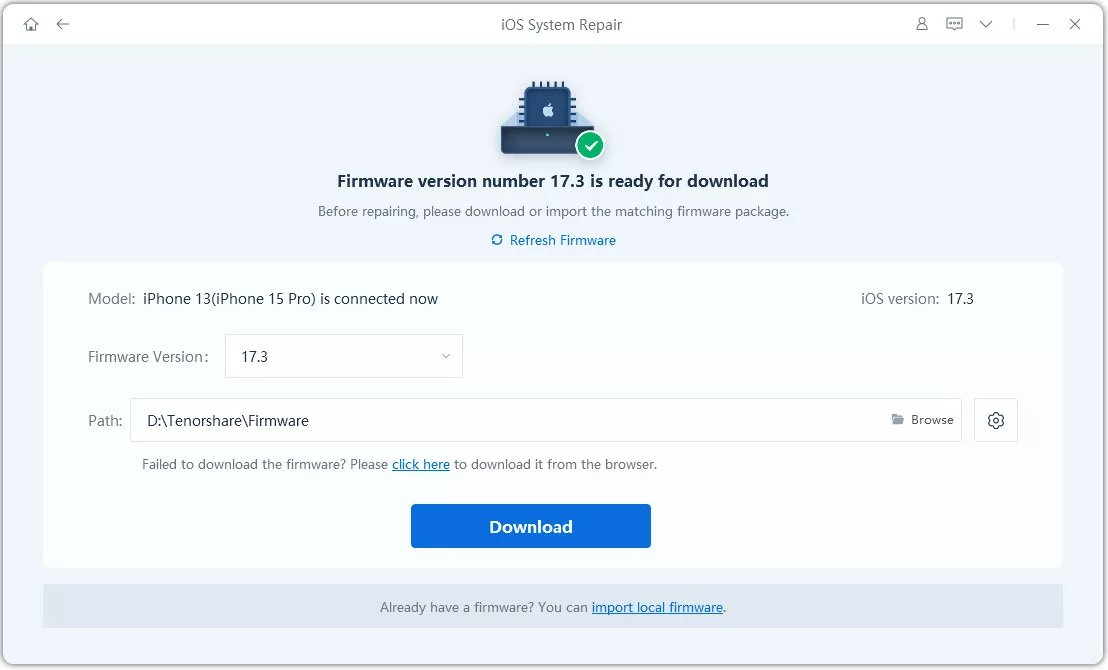 Conclusion
After unsuccessful attempts to restore custom IPSW using iTunes, try checking the file extensions of firmware you are trying to install. All firmware should have a. ipsw extension. Newbies often take. ips and .psw to mean .ipsw. These are three different extensions whose files are used for entirely different purposes. PSWs are Windows password reset disk files while IPSs system patch files.
Restoring custom IPSW using iTunes should be a breeze for those just venturing into toying around with their iOS devices.