How to Fix iTunes 12.7.4.76 Bugs
by Jenefey Aaron Updated on 2019-07-25 / Update for iTunes Tips
With the advancement of the features in every latest iTunes version, there comes some bug/error too. So is with the latest version of iTunes 12.7.4.76. Reportedly, a lot of iTunes 12.7.4.76 bug problems were recorded recently by the users. Though these aren't major but certainly the iTunes 12.7.4.76 bugs will annoy you when you try to update or restore or also if you wish to delete tracks from your library or movie trailers not playing or laggy/slow performance. Now, if you are looking for solution to fix iTunes 12.7.4.76 bugs/errors, then you have fallen to the right place. We have specifically tailored this article to guide you about various ways to fix iTunes 12.7.4.76 errors/bugs. Keep reading!
Part1: Errors When Updating to iTunes 12.7.4.76
While there is a huge list of iTunes 12.7.4.76 error codes that may flash up on your screen when you opt to use iTunes 12.7.4.76, we have collated few of the common iTunes update errors that may annoy you by cropping up on your screen. For your convenience, we have also mentioned the corresponding reasons behind their occurrence.
Here are the few common iTunes 12.7.4.76 bugs and the reason behind their occurrences:
Error -54, Error 5000, Error 50, Error 35, Error 1030, Error 1050 etc. are few of the common iTunes errors which may annoy you a lot cause you may not have why these errors flash up on your screen and prevent you from doing certain activities.
Why do iTunes 12.7.4.76 bugs crop up?
Well, the answer is quite simple. All these error codes have a certain meaning. For instance, if you tend to face Error 54 that means there are some admin permissions missing you'll then not be able to update/sync iTunes or the Error 5000 crops up if you try to install iTunes and some of its files weren't able to get saved properly due to permission issues. Or, you may tend to receive errors when iTunes isn't able to establish a secure connection with the Apple server or there is some firewall/antivirus stopping iTunes to get connected to Apple servers.
Part2: Ways to Fix iTunes Update Errors
Well, the wait is over now. Here in this section we have brought to you the recommended solutions for fixing iTunes 12.7.4.76 bugs effortlessly. Let's discover them.
Way1: Using Tenorshare TunesCare – Easiest Way
Well, if you are looking for a one stop solution to help you fixing all iTunes 12.7.4.76 bugs in one go then we have brought something for you. Introducing Tenorshare TunesCare, this mighty tool can certainly help you to get rid of all iTunes 12.7.4.76 bugs with just a matter of one click. With Tenorshare TunesCare you not only can fix iTunes sync/update/backup/restore or any other iTunes issues but also can give a boost iTunes speed of executing the tasks by optimizing its performance. Moreover, the software works smoothly on both Mac and Windows computers.
One-click to Fix All iTunes Issues
Step1: Download Tenorshare TunesCare and click 'Fix All iTunes Issues' to fix your iTunes on computer.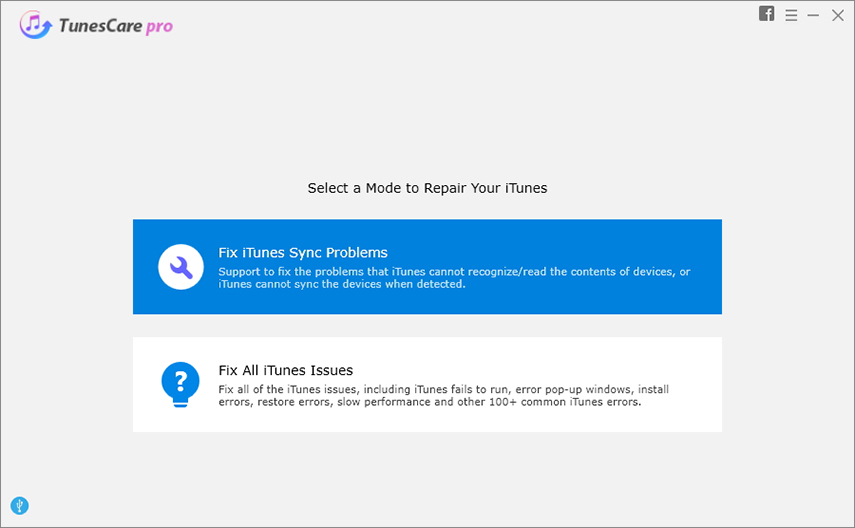 Step2: Click 'Repair iTunes'to start downloading iTunes drives for repairing.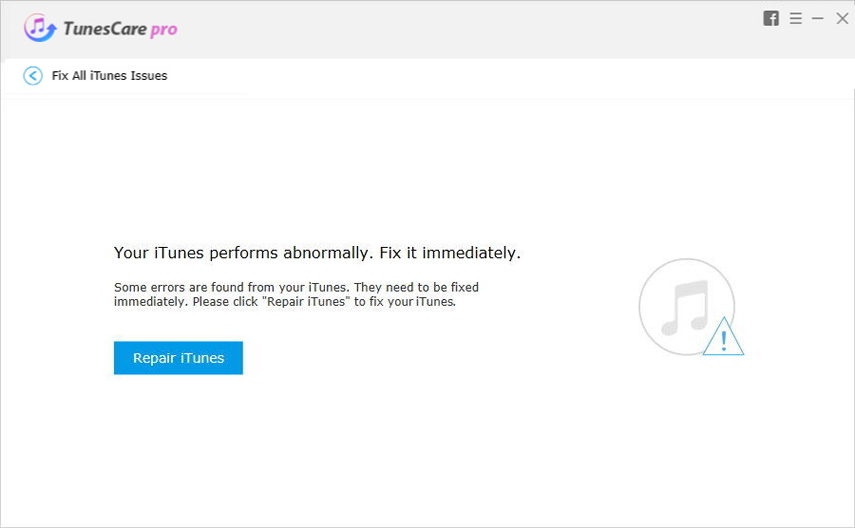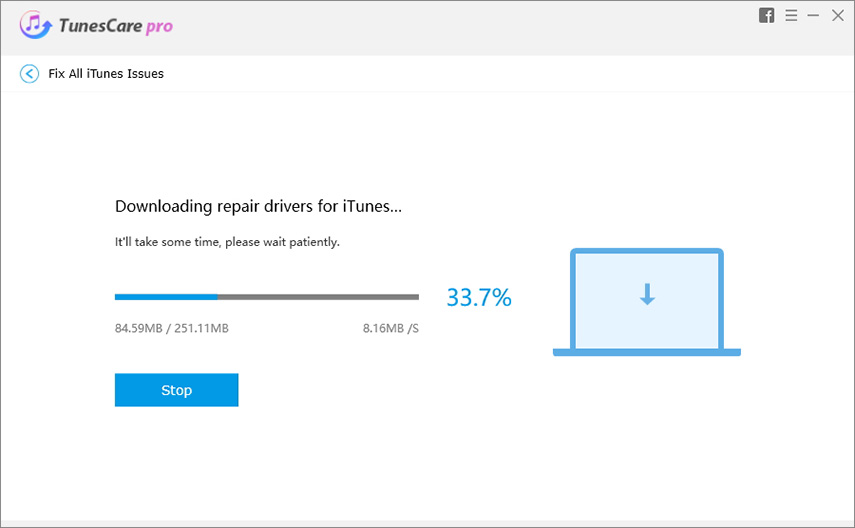 Step 3: Repair iTunes Drives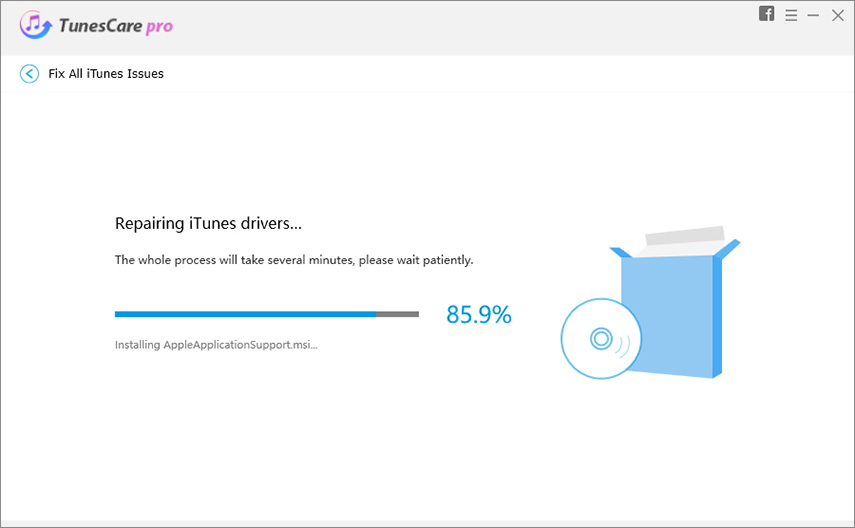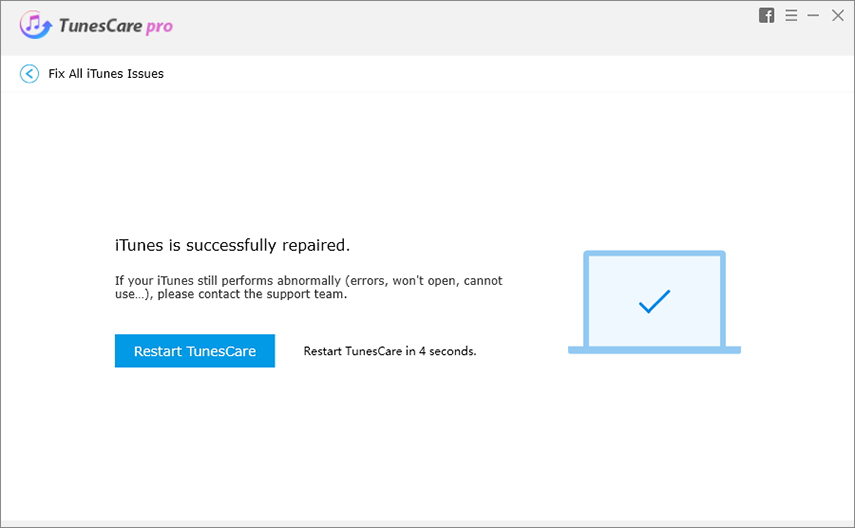 Way2: Update to the Latest iTunes Version
Generally, major of the iOS issues arise due to an outdated or obsolete version of iTunes which is running on your computer. In such cases, an older version of iTunes isn't able to connect, sync, update, restore properly. Therefore, you must periodically (without fail) update your iTunes version in order to avoid any such situation where an iTunes error pops up due to an older iTunes version. Here is how you can get your iTunes version updated.
Windows:
First, you need to launch the already installed iTunes on your computer and then hit on 'Help' button available in the 'Menu' bar at the top. Now, from the appearing drop down menu, hit the 'Check of Updates' option. If an update is available, you'll get an onscreen prompt, follow them and within a short while your iTunes will get updated to the latest version.
Mac:
Launch the preinstalled iTunes application on your Mac computer and look for the 'iTunes' tab from the Menu bar at the top of the screen. Now, hit the 'Check for Updates' option from the drop down menu appearing on your screen. You device will now look for the latest version available for iTunes and will the throw a pop up window on your screen. If the update is available for your iTunes, you'll get to see it under the 'Updates' section of the window besides the 'iTunes' entry. Hit 'Update/Download and Install' button and you're done.
Way3: Update Apple Software Update App
Sometimes an outdated Apple Software Update app could also be a reason when you are not able to update your iTunes to the latest version and eventually, you get experience iTunes 12.7.4.76 bugs on your computer. So make sure to get the Apple Software Update app updated too. Here's how to do it:
For this, hit on the 'Windows' button on your keyboard and punch in 'Apple Software Update' in the search box. Now, hit on 'Apple Software Update' option from the results section.
Next, you need to check the box available besides the updates that you wish to install. Lastly, hit the 'Install' button at the bottom of the window and you're done.
Way4: Use Troubleshooter
Using troubleshooter is yet another way to easily resolve iTunes 12.7.4.76 bugs but this solution doesn't always fixes up all sorts of iTunes issues. You can still give it a try, who knows you might be lucky enough that problem gets resolved. For this, you need to launch the troubleshooter for iTunes and follow the onscreen prompts to allow it to diagnose and suggest available solutions for the issue you're experiencing.
Final Verdict
We're now positive that your iTunes 12.7.4.76 bugs would have been fixed by now using the aforementioned solutions. While the other 3 solutions, i.e. updating iTunes version/Apple Software Update app or using troubleshooter, doesn't really offers full support for all sort of iTunes errors and also, doesn't ensures that the problems will get fixed after opting them. The recommended solution to fix all iTunes error problems is Tenorshare TunesCare. With the use of this mighty tool, you have the assurance that all your iTunes issues will get resolved with just a matter of one click. Moreover, you can also optimize the performance of your iTunes to boost its speed.