How to Fix 'Enter the Password to Unlock Your iPhone Backup'
by Jenefey Aaron Updated on 2019-11-30 / Update for iTunes Backup
Many situations arise when iTunes asks enter password to unlock iPhone backup on iPhone. This occurs when you try to reset password of iPhone backup file, restore the backup, and extract the backup with the support & assistance of third-party software. But, few of the end users are not even aware as to why iTunes ask for a password to access iPhone backup. Even, they do not know which password to use for unlocking iPhone backup file. Whether an iTunes password, iPhone password, or an Apple ID password? Suppose you are not aware of this, then let us figure it out step by step.
Part 1: What is the Password to Unlock iPhone Backup
First let us see what does enter the password to unlock your iPhone backup mean. Your backup file is in encrypted and hence iTunes asking for backup password and access it. It means that the manufacturer used iTunes backup password for encoding and protecting your iPhone backup.
So, when you are trying to use encoded iPhone backup, you are required to enter this password to have access to the iPhone backup file. You cannot access your iPhone backup without having this iTunes backup password. Hence, it is not the Apple ID password or neither iPhone password nor iTunes store password, but the encoded iTunes backup password that can unlock iPhone backup.
Part 2: 5 Ways to Fix "Enter the Password to Unlock your iPhone Backup" Issue
If you are dealing with "enter the password to unlock your iPhone backup forgot" issue for accessing the iPhone backup and hence entered wrong password, the iTunes will inform you that the password that you typed to unlock your iPhone backup is incorrect. It will further ask you to try again through a pop up.

Method 1: Try All The Possible Passwords That You Can
If you have no clue regarding the iTunes backup password or you are still facing "enter the password to unlock your iPhone backup never set" issue, then you can try permutations & combinations of all the possible passwords that come to your mind. For instance, you can try Apple ID password, admin password, iTunes store password, iPhone password, special numbers related to events such as anniversaries or birthdays, and few common passwords such as 1111, 123456, 0000, etc.
Method 2: Ask Your Friends and Family Members
Suppose, you do not have any information or clue about what iTunes is asking for "enter password to unlock iphone backup", then it may be possible that you have not encoded the backup. It can happen that you may have encrypted the backup and your family members or friends might have remembered the password for you. So, you can enquire with your friends or family members for the password in case you have forgotten it and if "enter the password to unlock your iphone backup" not working.
Method 3: Retrieve iPhone Backup Password to Fix "Enter Password to Unlock Your iPhone Backup"
If all the above methods don't give you success, go for 4uKey - iTunes Backup. It is the ultimate iTunes backup password recovery software available for Windows as well as Mac OS. The tool gives efficient solutions to find the unknown iTunes backup password. It then gives you access to the iTunes backup. Let's see how to use the tool for dealing with the "enter your password to unlock your iphone backup" pop-up.
Step 1: First download and then install the Tenorshare 4uKey - iTunes Backup on the PC. Then choose Retrieve iTunes backup password option to proceed..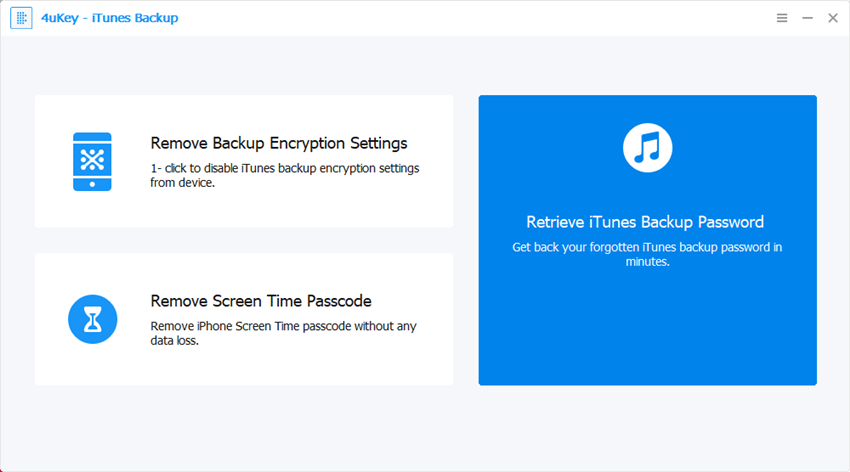 Step 2. Then all iTunes backups on this computer will be listed. Choose one you want to remove its password and click on the Next button.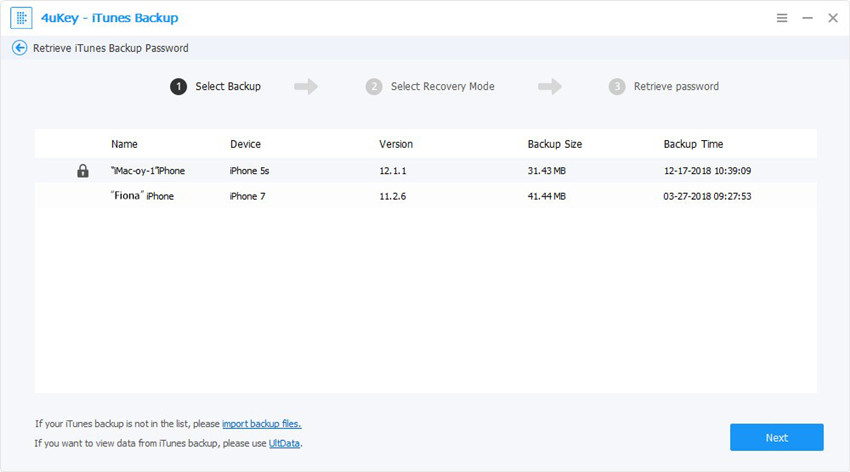 Step 3: Select the type of password attack from the 3 provided options: 1. Dictionary Attack, 2. Brute-force with Mask Attack, and 3.Brute Force Attack.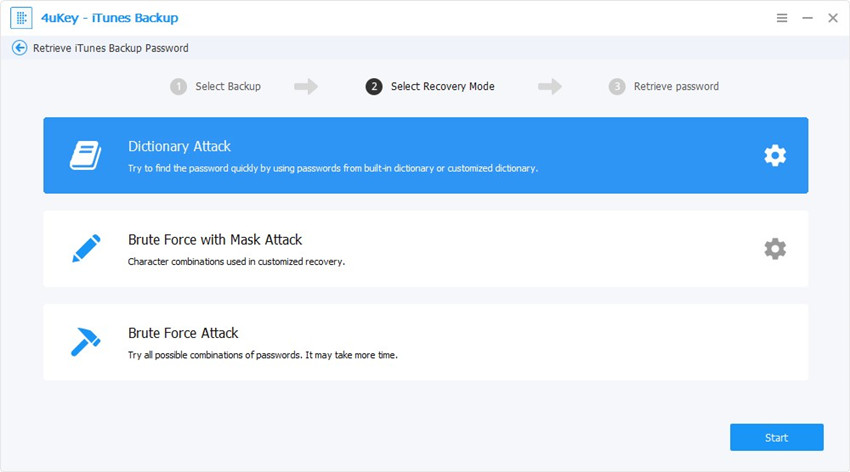 Step 4: Once you are done with all these steps, tap on Start button. The password finding process will be initiated. While the process of decryption, you can also pause the process in case of emergency and further resume the process.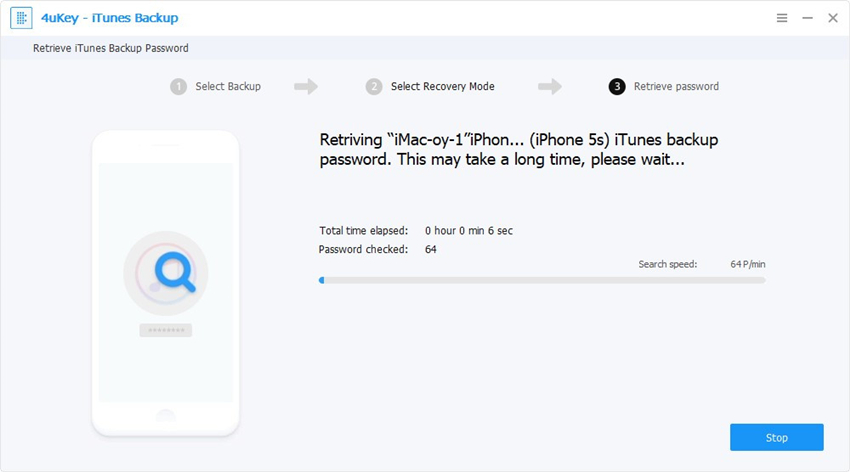 Step 5: Usually, passwords of length less than 4 digits are found quickly. The longer ones take time. When the password is found, a window will display your password for iTunes backup.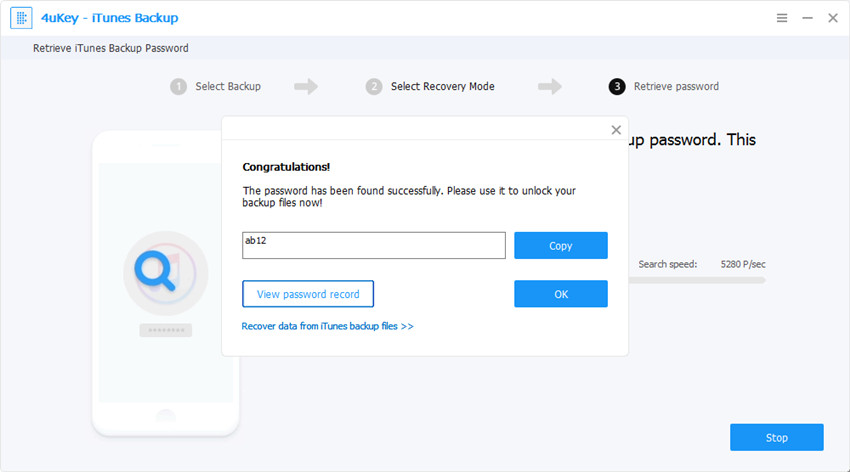 The time for recover the backup password is depends on the complexity of the password.
Method 4: You Can Use iCloud Backup as Another Option
If you also have an iCloud backup that comprises of the information vital for you, then you can use iCloud backup without searching for your iTunes backup password. Things will be easy for you.
Method 5: Go For Some Recovery Techniques for iPhone Backup Password
If all the aforementioned methods and strategies fail to resolve the issue of "enter the password to unlock your iPhone backup in iTunes", then you can explore other options such as iPhone backup unlockers for easily & conveniently retrieving iPhone backup password or removing the iTunes backup password.
Summary
In the above article we have discussed all the possible ways to solve the "enter the password to unlock your iPhone backup" issue. Along with the solutions, we have seen why exactly this issue occurs. We highly recommend 4uKey - iTunes Backup for your problem as it can easily help you find the right password to unlock iPhone backup as well as disable iTunes backup encryption settings if you do not need backup encryption feature. Do let us know which of the above solutions worked for you in below comments.