Latest Push Tip: How to Delete Messages from iPad
by Jenefey Aaron Updated on 2020-09-27 / Update for iPad
iPad messaging provides you unique features on 'Messages' app. You can send not only text messages but also photos, videos and audio clips through it. Most of iPhone users have queries related to how do you delete messages on iPad. You may have to delete messages on iPad due to many reasons like to safeguard privacy, to remove unnecessary chats and old messages to free up some space.
This article is specially written to answer all your questions related to iPad messages, and will also suggest a perfect third-party tool to customize your messages on iPad.
Part 1: Can You Delete Messages from iPad Only
Many iPad users ask that when they delete messages from iPads, then messages are automatically deleted from their iPhones. Such situation is true if you are using the same Apple ID for your two or more Apple devices. You can delete messages from iPad only if you have a separate ID for it. Having made a separate ID, your iPad delete all messages while they won't be deleted from other Apple devices.
Part 2: Simple 3 Ways for You to Delete All Messages on iPad
Deleting messages from iPad is almost similar to that of iPhone. It doesn't require any complications or extra efforts. I will explain you the three very common ways in the following paragraphs to delete messages on iPad to save up extra space in your iPad.
Way 1: Stop "Text Message Forwarding" to iPad Delete All Messages
When 'Text Message Forwarding' feature of IOS is enabled, all messages that you send from your iPhone also appear on your iPad, thereby consuming a lot of space. It is not only annoying but also risks your privacy. So, you have to disable this feature by following below mentioned steps;
Go to Settings and then open Messages. Click on 'Text Message Forwarding'. A screen will show all your devices sync with account. Simply disable your iPad to stop text message forwarding.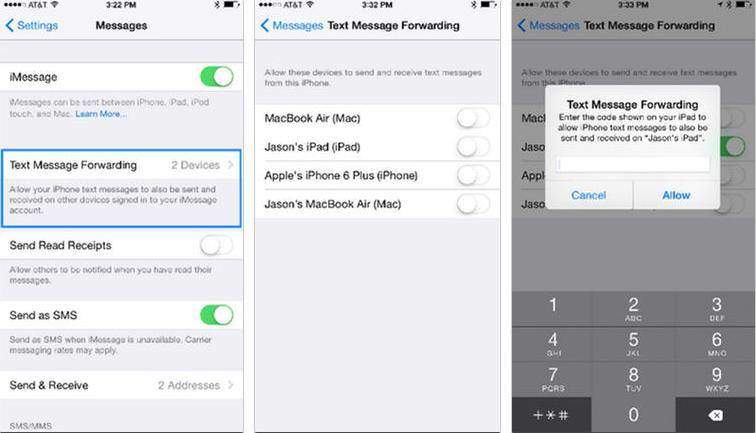 So, this will answer your query about how do you delete messages on iPad using Text Message Forwarding.
Way 2: Automatically Not Keep Messages to Delete All Messages on iPad
iOS gives you an option to delete old conversations that you no longer need to free up some space on your iOS device. 'Auto delete Old Messages' is the feature that allows you to remove all unnecessary messages from your iPad. So, if you are wondering how to delete all messages on iPad at once, follow the below guidelines;
Go to 'Settings' of your iPad and tap on 'General'. Now open iPad storage and select 'Messages'. Finally, 'Enable' the 'Auto Delete Old Conversation' and all the messages sent or received over one year ago will be deleted automatically.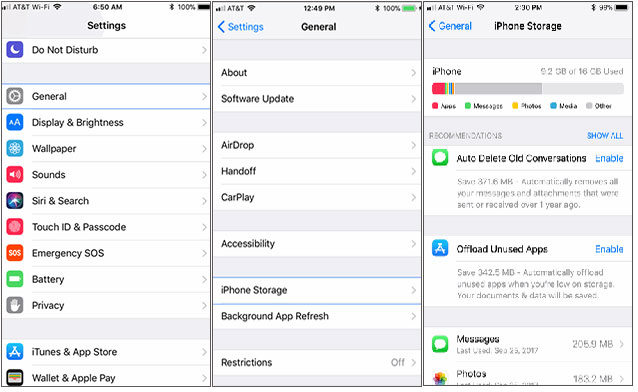 Way 3: Select All Chats to Delete Messages from iPad
Like iPhone, you can also select chats in iPad to delete messages to free up space. To do that;
Open your message app on the iPad and tap on 'Edit' option present at upper left corner.
Now 'check' all the chats you want to remove and tap on 'delete' at the bottom of your screen and all your chats will be deleted.
So, you don't need to worry about how do you delete messages on messenger on iPad.
More FAQs for iPad Delete All Messages
Does iPad Delete All Messages Permanently?
Sometimes you wonder can you permanently delete messages from iPad. The answer in NO. Your messages are not permanently deleted after you delete them from the Message app; rather they go to an 'unattended place' and remain there until they are over-written. Thus, you find answer to how do you delete messages on messenger on iPad permanently i.e., you cannot.
Can You Recover Deleted Messages on iPad after Deleting?
Many iPod-users ask if one ever accidently or deliberately delete important messages from iPad and wants them back, is it possible? The answer is Yes. You can recover messages on iPad after deleting but you cannot do it directly. You will require a third-party software to retrieve deleted messages. While there are many such tools available online, nothing works better than Tenorshare UltData. It is the best software to recover all your deleted messages from iPad in just a few minutes.
Recovering Messages using Special Feature- Recover from iOS Device
'Recover from iOS Device' is the special feature of Tenorshare UltData that enables iPad users to recover deleted messages within minutes. It performs in-depth scan of iPad and retrieve all the messages that you have deleted. To perform recovering process, follow the below mention guidelines;
Install Tenorshare UltData on your computer and launch it. Now, connect your iPad with the system and the software will automatically detect your device.

Step 1: UltData will recover deleted messages for iPad

If your iPad is not recognized by the software, simply follow the guidelines shown on the screen to fix the issue.

Step 2: UltData guides you following the guidelines

Once your iOS device is recognized by the software, it will display the interface shown in figure below. By default, all applications will be selected. You have to check only the 'Messages' app.

Step 3: UltData provide "Messages" app recovery

The software will scan all the messages and will show you all the deleted messages. Now you can select which messages you want to retrieve.

Step 4: UltData offers preview feature for messages

Finally, the software will give you choice to recover the messages to either the device or the computer. Select your preference and your deleted messages will be retrieved.

Step 5: UltData will retrieve deleted messages for iPad
So, this guideline had discussed how to delete all messages on iPad at one time and also how to retrieve deleted messages with just few clicks using this powerful software.
Conclusion
Simply put, this article has delineated all the queries pertaining to messages in iPad We elaborated some of the most common queries iPad users face like how do you delete messages on iPad by providing various ways to delete them. We also answered some FAQs and provided guidelines to retrieve deleted messages from iPad using Tenorshare UltData which is the most credible and popular software to recover lost data from all Apple devices including iPad.