How to Exit Recovery Mode Using TinyUmbrella on iPhone and iPad
by Sophie Green Updated on 2020-04-15 / Update for iPhone Fix
Both iPhone and iPad come with a mode called recovery mode that lets you restore your device when it does not work properly. You can connect your device while it is in recovery mode to your computer, and iTunes will prompt you to restore it. Sometimes, though, you may want to exit the recovery mode and not proceed with it. In those cases, you can exit recovery mode TinyUmbrella.
TinyUmbrella is a small application that allows you to get your iPhone or iPad out of recovery mode in a few easy clicks. You can use it to exit recovery mode iPhone 4 TinyUmbrella without much hassle and the app works on both Windows and Mac platforms.
The following shows how to use TinyUmbrella to get out of recovery mode on your iPhone and iPad devices.
Part 1. How to Use TinyUmbrella to Exit iPhone/iPad Recovery Mode?
TinyUmbrella does not only help you fix the recovery mode issue on your iPhone and iPad, but it can fix many other errors related to iTunes as well. It is a free app that can be downloaded from its website, and then you can use it to get things fixed on your iOS devices.
If you are looking to learn how to get iPhone 5 out of recovery mode using TinyUmbrella, the following shows how you can use the app on your computer to bring your devices out of recovery mode.
The first thing you are going to need to do is download and install the TinyUmbrella on your PC or Mac and install it. Note that you will need to have iTunes as well as Java. 32-bit version of Java will be required no matter what the OS architecture is.
Connect your iPhone or iPad to your computer. Quit the iTunes app if it is open on your computer.
Launch the TinyUmbrella app and it will recognize your iOS device.

On the main interface, you will find several buttons to click. You need to find the one that says Exit Recovery and click on it.

Pic. exit recovery mode tinyUmbrella

Your iPhone or iPad should now be out of recovery mode.
TinyUmbrella is an useful app as it allows you to easily and quickly bring your iOS devices out of recovery mode but the latest version of Java need on your computer, thus you can run and use the app.
Part 2. Pros and Cons of Using TinyUmbrella Exit Recovery Mode
With an app this good, it is normally assumed it has no cons and it works just perfectly fine. However, there are a few things you would like to know before you go ahead and use the app on your computer. Like other apps, there are both advantages and disadvantages of using TinyUmbrella on your machine.
Advantages:
Exit recovery mode with a single-click.
No need to restore with iTunes, No data loss.
Works on both Windows and Mac.
Disadvantages:
Not 100% guaranteed that it will work for your phone.
Requires Java to function and Java can be easily used to spread virus.
It does not always detect your device.
Get errors like "TinyUmbrella.app is Damaged", "Unable to Validate Reticulating Spines" when using TinyUmbrella
That was how to use TinyUmbrella to exit recovery mode and its pros and cons.
Part 3. Alternative to TinyUmbrella to Get iPhone Out of Recovery Mode
If you cannot get TinyUmbrella to work or if it does not detect your device, then you are going to have to use an alternate method to exit the recovery mode on your devices. Tenorshare ReiBoot is one of the software you can use to enter and exit recovery mode on iOS based devices. The software allows you to put your iPhone or iPad into recovery mode with a single-click. Similarly, there is a single-click procedure to bring your device out of recovery mode.
Get the latest version of the software and install it on your computer. Plug-in your iPhone to your computer and open the software.

Pic.Connect iPhone

On the main interface, select Exit Recovery Mode option and proceed.

Pic. Exit Recovery Mode

Wait for a while. Your device will get out of the Recovery Mode automatically and reboot to normal state.

Pic. Exit Recovery Mode successfully
There you go. Your iPhone or iPad should now be fixed and it will not be stuck in recovery mode any longer.If your device will not exit the recovery mode no matter what you do, there is probably an issue with its system. You can use Repair Operating System feature of ReiBoot to give a full restore and repair to your iPhone thus to fix iPhone stuck on recovery mode screen effiiciently.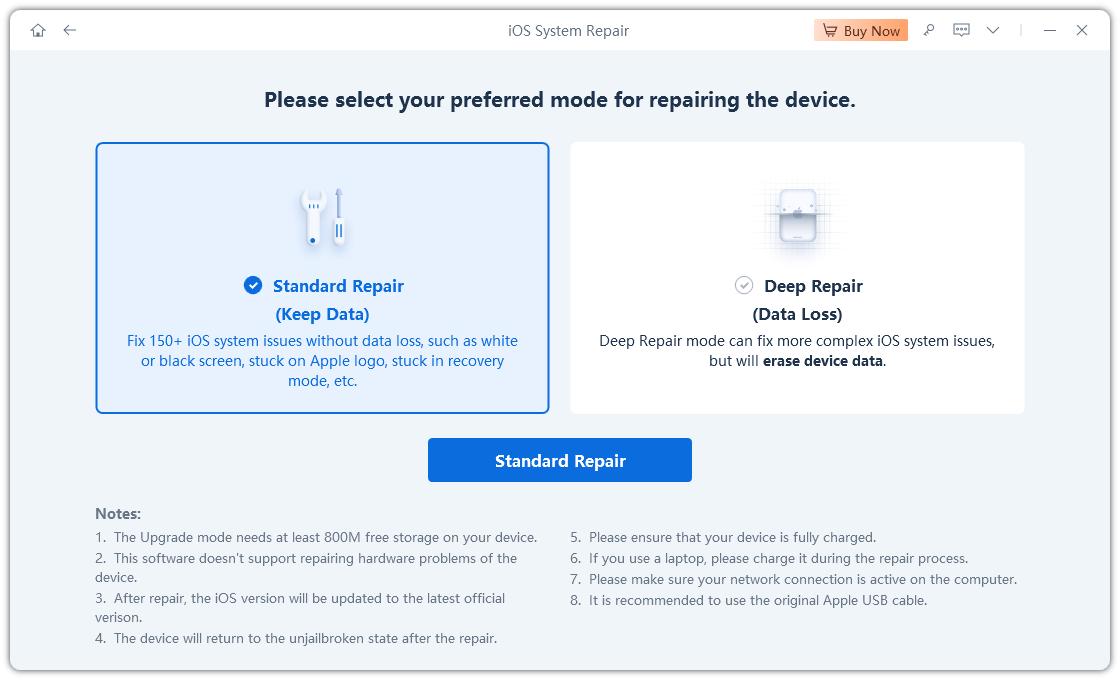 Conclusion
It is pretty easy to exit recovery mode using TinyUmbrella but you need to keep in mind that it requires a certain environment to properly work. In the case of ReiBoot, it can fix various iOS issues like recovery mode loop, apple logo keeps flashing, etc. and works on most computers without much requirements and gets the job equally done.