How to Fix the Issue of iPad Won't Restore
by Jenefey Aaron Updated on 2021-01-29 / Update for iPad
iPad is a popular Apple device which is used by several people since it has a set of pretty interesting features. However, some functionalities of an iPad may be compromised due to technical glitches in the device. Restoring iPad using iTunes is one of the most effective ways in which you can fix almost all the minor and major technical snags on the device. But what happens when your iPad won't restore with iTunes?
Well, this is definitely not an uncommon issue on iPad since several iPad users have reported this issue in the past. If you are one of them, this article will surely be of great help to you. With the help of the solutions listed below, you can easily fix the issue of your iPad not being restored with iTunes.
Part 1: Why You Can't Restore Your iPad
The situations and reasons why your iPad won't restore in Recovery Mode may be many, some of them are listed below.
iTunes error such as "iPad could not be restored. An unknown error occurred", can be the cause of such an issue on iPad.
Your iPad may not be updating due to the unstable OS which may be a result of an update or jailbreak.
The backup of iPad which you created may be incompatible since you performed the backup using some other device.
The issue may arise due to a corrupt iPad backup.
Many people reported this error after updating their iPad to the latest software update.
If you are attempting to restore your iPad in Recovery Mode, it may be getting stuck in Recovery Mode due to which the iPad restore issue occurs.
Part 2: Full Fixes to Solve iPad Won't Restore Issues
Now that you know the reasons behind why the iPad won't restore, here are effective solutions to tackle the problem of disabled iPad won't restore.
Way 1: Put Your iPad into Recovery Mode
If the problem of iTunes won't restore iPad is occurring under normal circumstances, you can try putting your iPad into Recovery Mode by using the steps below.
Step 1: Launch iTunes.
Step 2: Press the Power along with the Volume Down button and hold them both until the Power Off slider appears on the screen. Slide the slider to turn off the iPad and after that press the Power button and hold it while connecting the iPad to the computer till you can see the Recovery Mode screen.
Step 3: When the option to restore pops up on the computer screen, choose the option to restore.

Wait for a few minutes while the restore process completes.
Way 2: Using DFU to Restore iPad
You can also try using DFU Mode to restore your iPad. If in case your iPad is experiencing software glitches, DFU Mode is the best way to fix it. Here is how you can use DFU Mode to solve the problem of iPad won't update or restore.
Step 1: Connect your iPhone to a laptop or a computer and launch iTunes.
Step 2: Press the Home and Power buttons at the same time.
Step 3: After 8 seconds, let the Home button go while still holding the Power button until you see that your iPad is in Recovery Mode.
Step 4: Now, let go off the Home button and once the screen goes black, your iPad would have entered DFU Mode.
Step 5: Restore your iPad now through iTunes.
Once done, check if the problem of iPad won't restore from Recovery Mode persists.
Way 3: Check The iTunes Version Whether it is Newest
The problem of iPad Air won't restore through iTunes may be due to the fact that the iTunes version you are using is outdated. In order to eliminate this cause, you can follow the steps below to update iTunes to the latest version on your laptop or computer.
For Mac users:
Launch iTunes and click on the "iTunes" option available at the top menu.
From the drop-down menu, click on "Check for Updates…" and if in case there are any latest iTunes update, the iTunes update process will automatically start.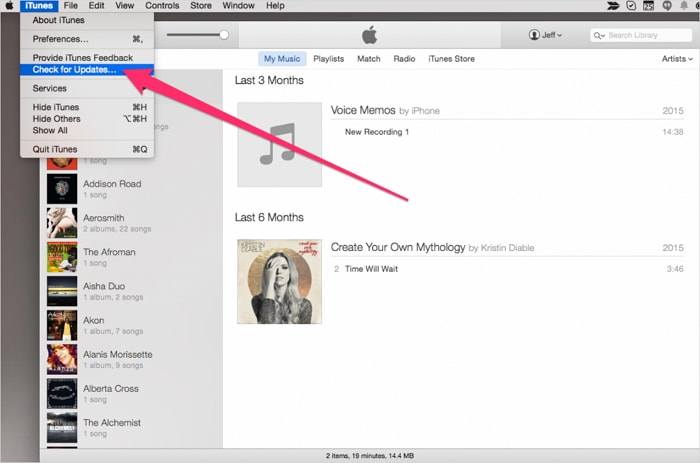 For Windows users:
Launch iTunes and from the Menu bar, click on the "Help" option.
From the dropdown menu, click on "Check for Updates" option and iTunes will get automatically updated.
After this, launch iTunes again on your Mac or Windows system, connect your iPad to the system and check if the problem of iPad Air 2 stuck in Recovery Mode and won't restore persists.
Way 4: Restart your Computer Or Mac
At times, the problem of iPad Mini 2 frozen won't let iTunes download restore may be due to a persistent issue on your Windows or Mac system. In order to eliminate this possibility, restart your Mac or Windows system which you are using for restoring iPad and try restoring your iPad once again after the restart.
Way 5: Repair Your iPad without Data When iPad Won't Restore
Instead of trying all the above methods, which are nor sure shot ways to solve iPad won't restore from iTunes backup because the iPad doesn't have enough space, you can directly take the help of an effective repair tool like Tenorshare ReiBoot to fix all the technical issues with your iPad. This is a highly reliable tool which can fix all the technical issues on your iPad or any other iOS device in a secure way. You can use this tool to fix the iPad 2 stuck in Recovery Mode and won't restore problem in the following way.
Step 1Install and launch the tool on your computer and then connect your iPad to it.
Step 2From the main interface, click on "Start".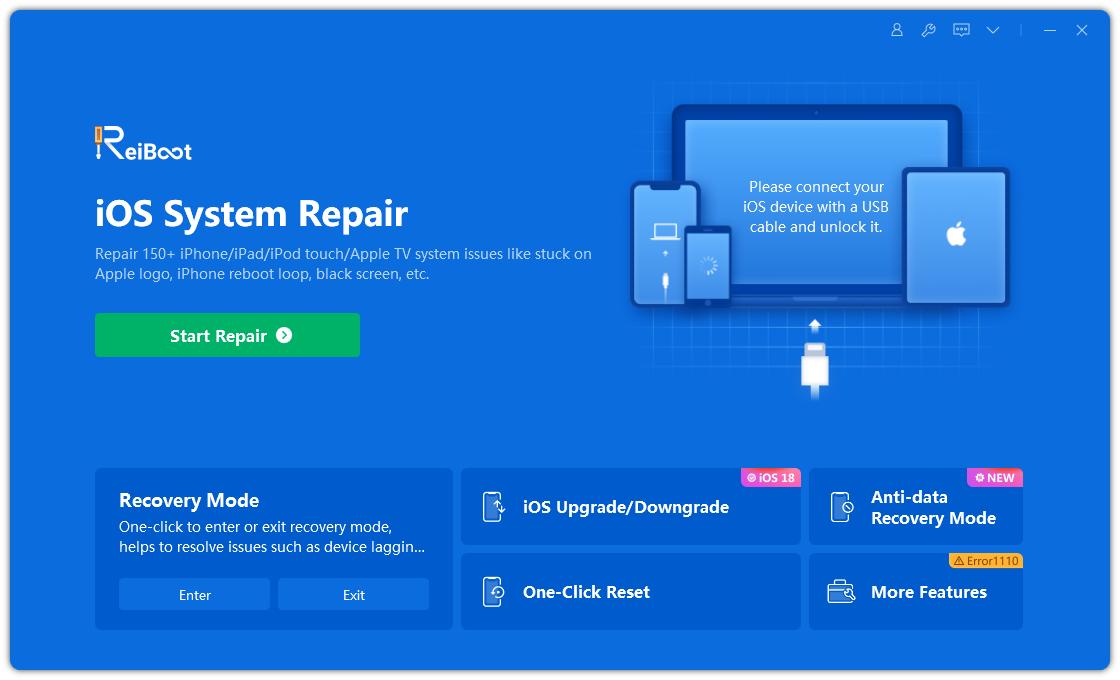 Step 3Select"Standard Repair" mode and click on "Standard Repair".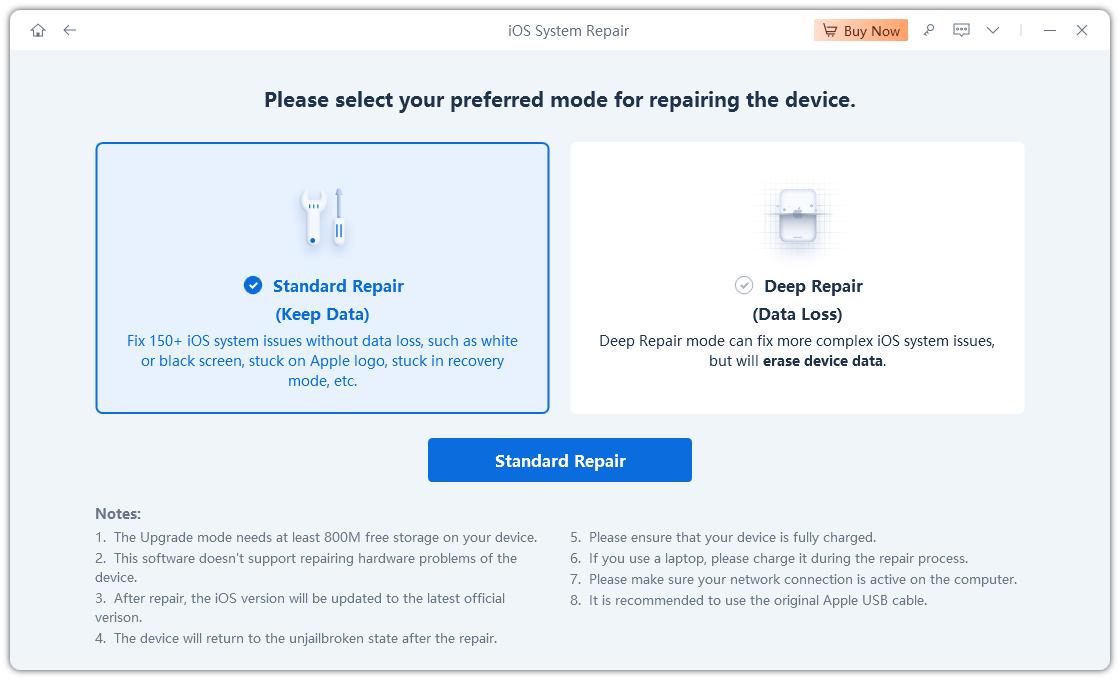 Step 4 Download the latest firmware package after specifying the location where you want it.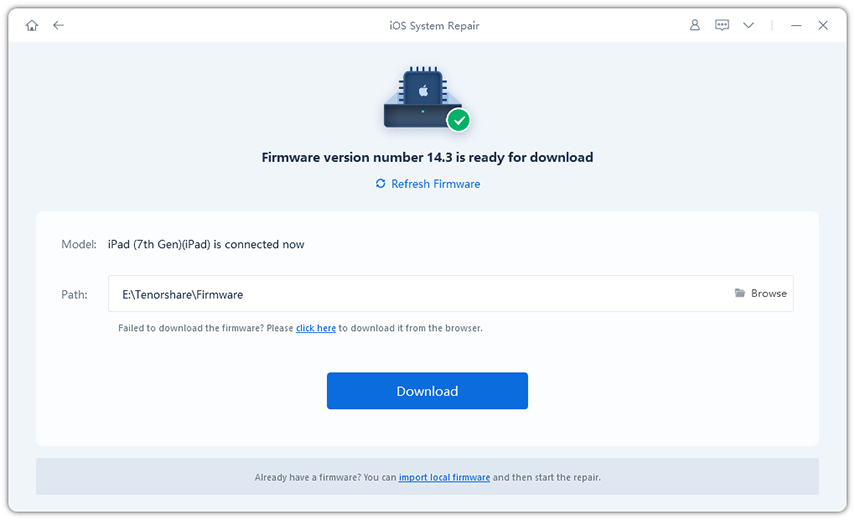 Step 5 Click on "Start Standard Repair" option and the repair process will commence.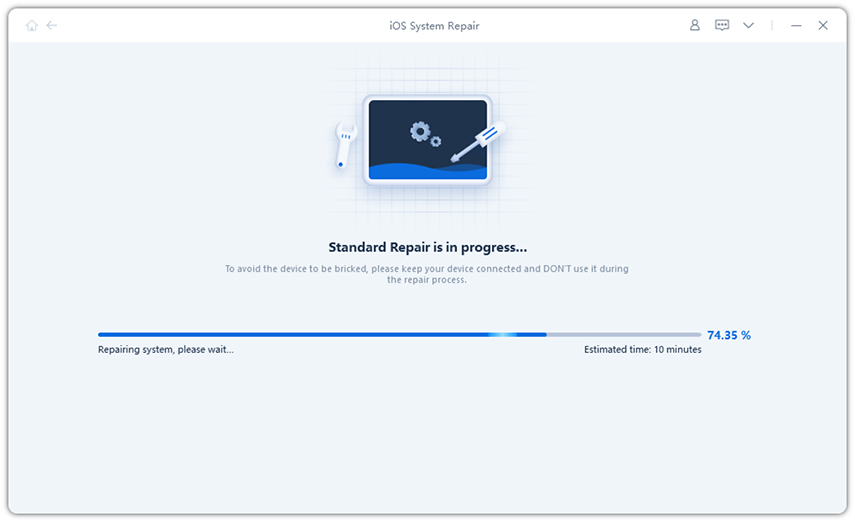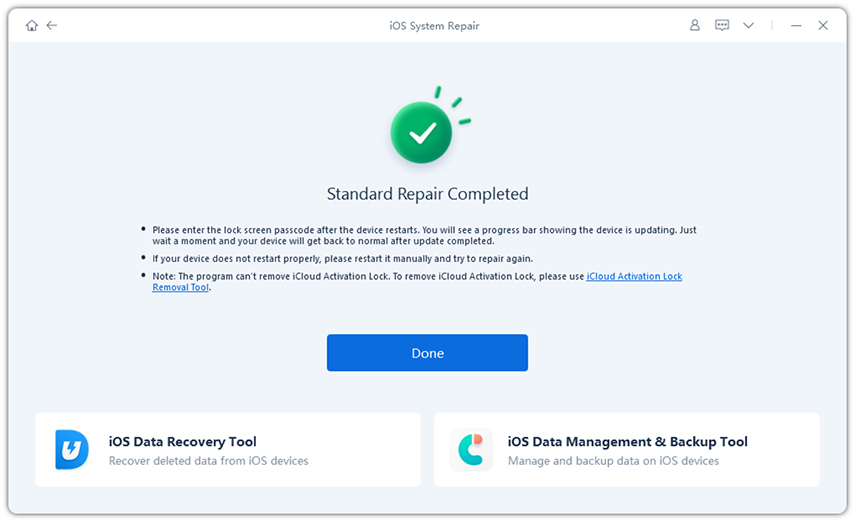 This is the easiest and the quickest way to solve all the technical issues on your iPad including the iPad restore problem.
Conclusion
iPad not being able to get restored is a very common issue which is faced by several iPad users due to plenty of reasons, some of which are mentioned clearly in the article above. The solutions detailed above can easily solve this problem of verifying iPad restore but it won't restore. However, the best method to repair this issue is by using Tenorshare ReiBoot which is a highly recommended tool for repairing any iOS device and get it functioning normally again.