Easy Steps to Export Safari Passwords on iPhone, iPad & Mac
by Anna Sherry Updated on 2019-08-24 / Update for Password Manage
"I'd like to export my Safari passwords to a file, the same way I do from Firefox (where I can easily export them all to a csv-file). I read some old posts, and found the 'Go to Keychain Access...'-approach. Supposedly, I'm to select the passwords I want in the Keychain manager, and choose 'Export' in the menu. The Support page has this funny little addendum – "if Export is greyed out, some of the items can't be exported". Now, for whatever reason, "Export" is ALWAYS greyed out. Any help?"
Safari is a wonderful browser and it lets you do a number of things on your Apple devices. One of the useful features it provides is password manager which saves and auto-fills your passwords for you. While the feature works great, the main drawback is that it does not work outside of Safari. And in order to use your Safari passwords in other browsers, you will need to first export Safari passwords.
If you are a Chrome, Firefox, or any other browser user, you may want to have access to your Safari passwords in your browsers. Fortunately, Safari lets you export your passwords on your iPhone, iPad, and Mac for you to then import these passwords into your favorite password managers.
Part 1. One Click to Export Safari Password to CSV File for 1Password/LastPass/Chrome/Dashlane/Keeper
One of the best ways to export passwords from Safari is to use a dedicated software to do the task. While you may have a built-in option to export the passwords, nothing beats the convenience that a dedicated software can provide you.
Enter Tenorshare 4uKey - Password Manager, a software that helps you export all of your passwords from the Safari browser on your iPhone and iPad. All the software requires you to do is connect your device to your computer and it takes care of the rest for you. Here is how you use it to export the Safari passwords from your iPhone and iPad:
Step 1 Download and install the software on your computer. Plug-in your iPhone or iPad to your computer and launch the software.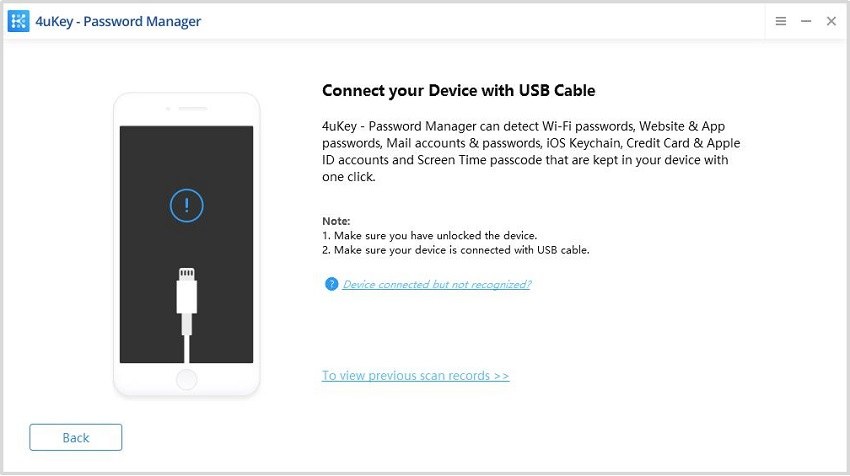 Step 2 Your iOS device will prompt you to either trust or distrust your computer. Tap on Trust in the prompt on your device. Your computer will now show the main interface of the software. You will find a button saying Start Scan on this screen. Click on it to begin scanning your device for Safari passwords.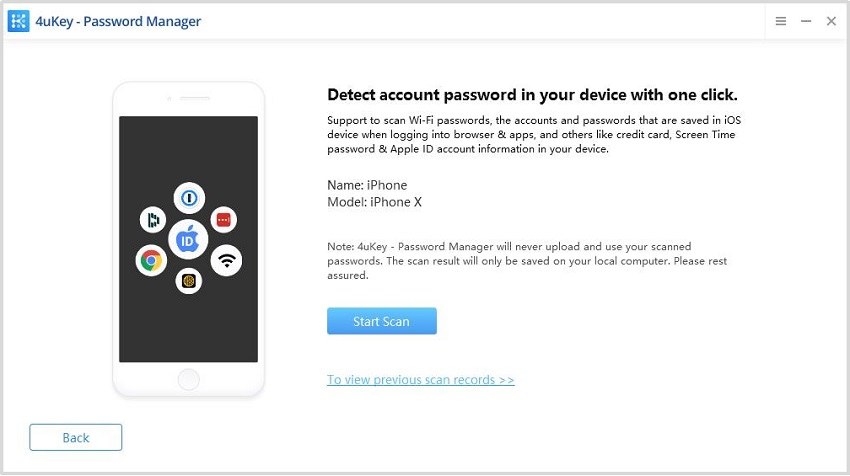 Step 3 The software will immediately start scanning your device to find saved Safari passwords. Wait for it to finish. When the scan is finished, click on Websites & App Password in the left sidebar. It will reveal all of the passwords Safari has saved on your device.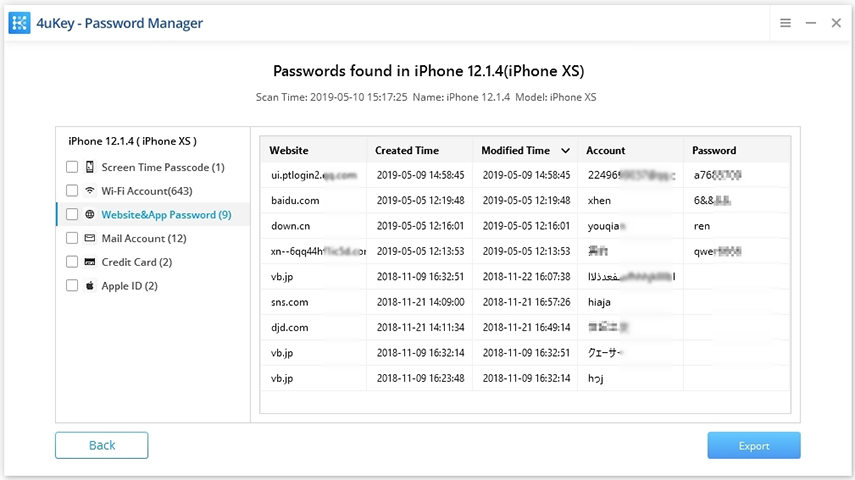 Step 4 To export the Safari passwords, click on the Export button at the bottom-right corner and select the app you will be importing your passwords into.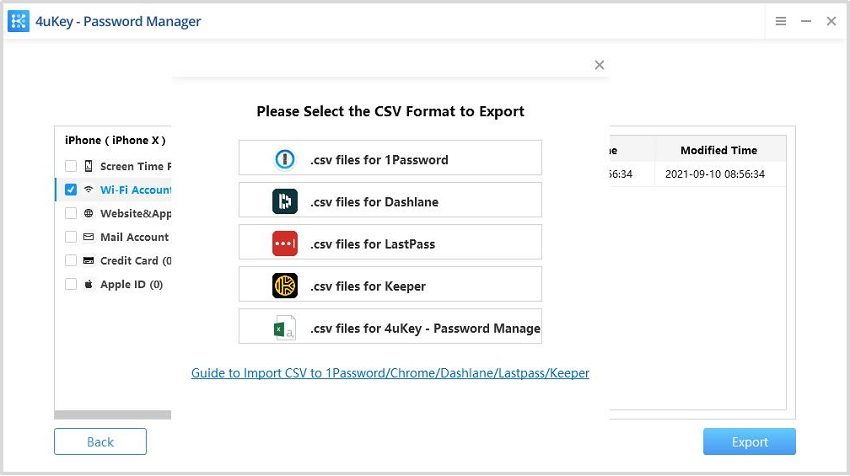 The software will generate an export file that is compatible with your chosen password manager. You may now launch your password manager and import the passwords file. You may also import passwords from Safari to Chrome using this way.
Part 2. Export Safari Password Using Keychain Access on Mac
If you use Safari on your Mac and you wish to export your passwords, you may use the built-in Keychain Access utility on your machine to do it.
Step 1. Click on Launchpad in the Dock and search for and click on Keychain Access. It will launch the utility on your Mac.
Step 2. When the utility opens, click on Passwords in the left sidebar to view a list of your passwords. Then, select the ones you want to export and click on File followed by Export Items to export the passwords.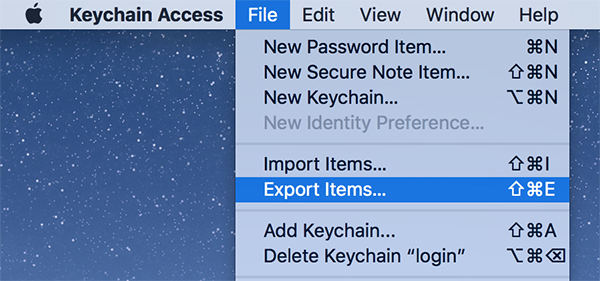 You should get a file with all of your selected passwords in it.
Extra Tip: How to Import CSV Files to Chrome/1Password/LastPass/Dashlane
Password managers like Dashlane and Lastpass work across several browsers and it is recommended you use them if Safari does not happen to be your default browser. Below we will show you how to import CSV files to Chrome/1Password/LastPass/Dashlane.
1. How to Import CSV Files to Chrome
Now that you have successfully exported your passwords, you may want to learn how to import passwords from Safari to Chrome. Doing so is fairly easy and here is how you do it.
Step 1. Launch Chrome and type in chrome://flags and hit Enter. Find and enable the flag that says Password import.

Step 2. Access the Chrome settings menu and click on Passwords. Click on the three-dots at the top of your passwords and select Import. Import your CSV passwords file.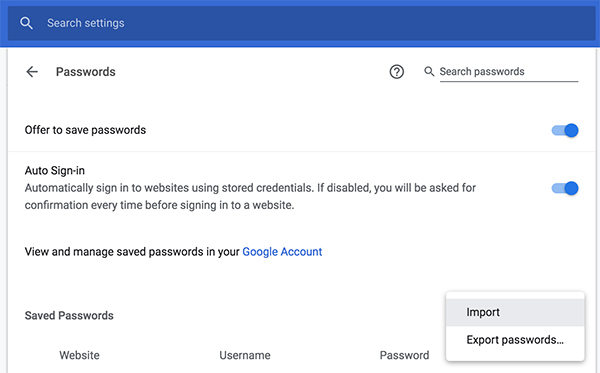 Chrome will import and add your passwords to your browser. And that is how you import Safari passwords to Chrome by enabling a flag in the Chrome browser.
2. How to Import CSV File to 1Password
Below we will show you how to import CSV file to 1Password for better password manager.
Step 1. Sign in to your account on 1Password.com and click your account name in the top right and choose Import.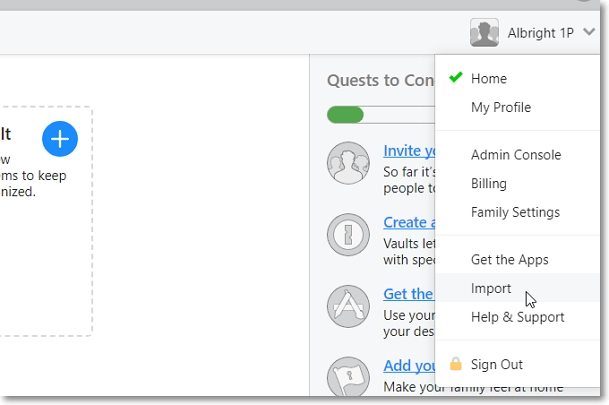 Step 2. 1Password will give you the option of importing 1Password, LastPass, Dashlane, etc. To import CSV file, click "Other".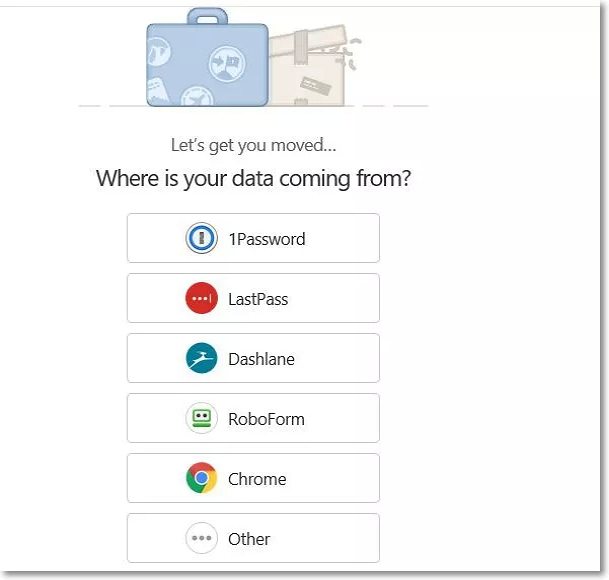 Step 3. Now drag and drop the CSV file you want to import in the required box to import your data.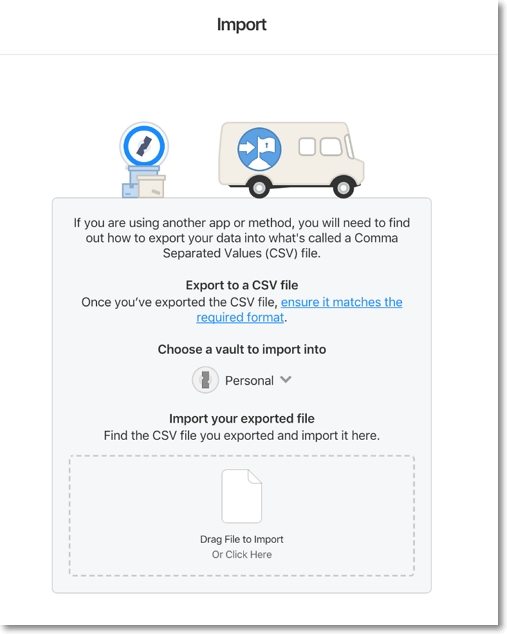 3. How to Import CSV File to LastPass
Below we will show you how to import passwords from CSV file to LastPass.
Step 1. Sign in to LastPass and click "More Options" in the left sidebar menu and then click on "Advanced" > "Import".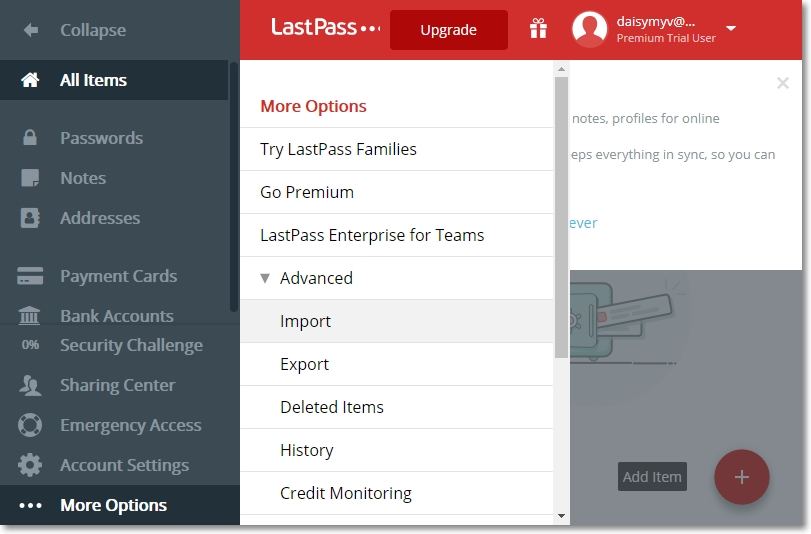 Step 2. A new windows will open up and from the "Source" filed, select "Generic CSV File".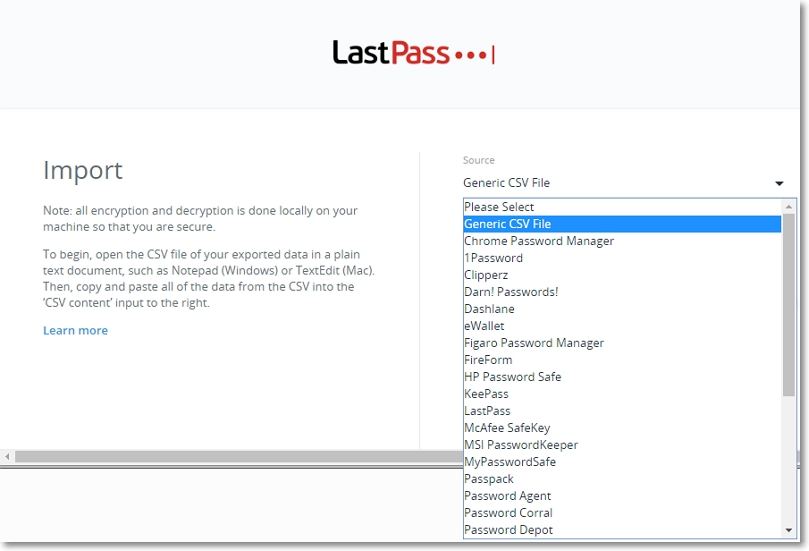 Step 3. In the "Content" field, paste the entire contents of the CSV file that holds your password and click on "Upload" button to import them.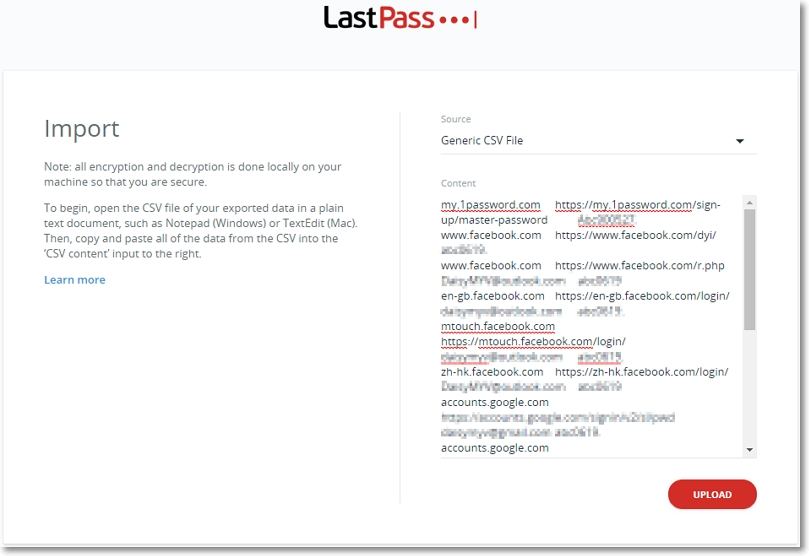 4. How to Import CSV File to Dashlane
Below we will show you how to import passwords from CSV file to Dashlane.
Step 1. Open the Dashlane app and click "File" > "Import passwords" > "Custom CSV file".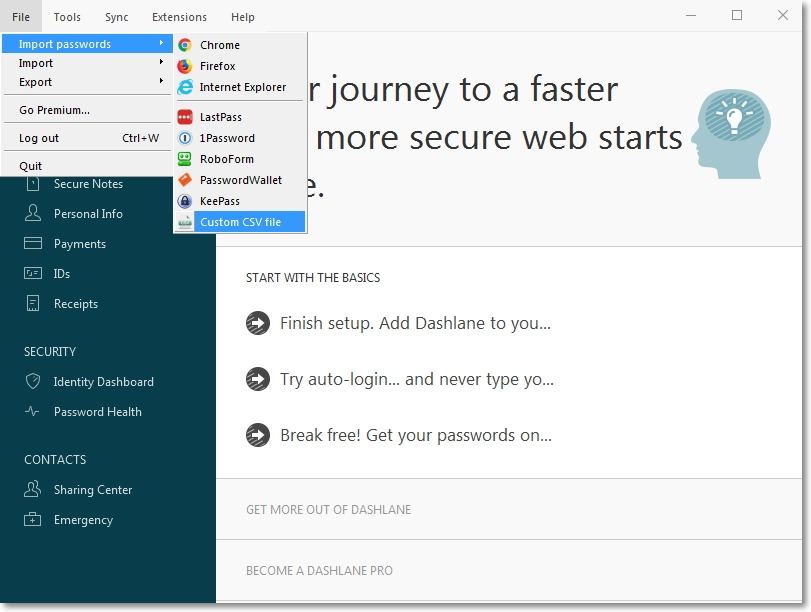 Step 2. Click "Next" and select your saved CSV file to import the password into your Dashlane account.
Conclusion
Transferring passwords from Safari to Chrome or any other browser is a bit hectic but with the methods above, you should be able to do it without much hassle. We hope it helps you out.