How to Fix iPad Slow Issue
by Jenefey Aaron Updated on 2019-12-27 / Update for iPad
Upgraded from iPadOS 13.2.3 to 13.3. Performance is horrible. Especially slow right after I wake the device up. Sometimes an app will take 10 or more seconds to load. Did complete erase and restore, helped a little. Anyone else seeing this?

-- discussions.apple.com
It is a true fact that older gets slow and so is the case with gadgets too. In case you own an older model of iPad, may it be iPad Air 1, iPad 4, or iPad mini 2, no doubt it will br running slow which will be annoying you. Though iOS is very recent OS requiring very less maintenance, it overtime slows down. And is your iPad slowing down, though a new one or a latest iPadOS 13.3? Well, even though you have a brand new iPad with the newest system version, may be it has got full and is running slow. Below are few tricks to get your "iPad slow and laggy" issue solved.
1. Delete Unnecessary Apps Not in Use
The very first step is clear-out the software for various good reasons. Simply delete the apps that are not in use. Truth to be told, apps consume good amount of space, and simply deleting not-in-use apps will free up space making it simpler for the iOS to function. Well, by deleting we mean removing the apps completely from your iPad and not just shutting them down. Freeing up space by deleting few unwanted apps will no doubt have a positive impact on the iOS functioning, specifically if your iPad has a limited storage.
To delete the apps, long press the app icon till it starts to woggle. Once the "X" sign appears, click on it to delete the app. In case you wish to delete more than one app simultaneously, go to Settings > General > Storage & iCloud Usage.
Next go to Manage Storage (present under Storage) and find apps you wish to delete. Click on Delete it remove the app.
2. Restart iPad
When you are done deleting the unwanted apps, it is good to restart your iPad. Giving a fresh start after all the deleting process will have a good impact on the iOS, as this process refreshes the memory as well as allows the device to start from scrape and will also solve your "iPad mini slow" issue.
In order to restart your device, long press the Sleep/Wake button present at the top till the Slide To Power Off option is displayed. Now swipe to shut down the iPad. After few seconds, again long press the Sleep/Wake button to start the iPad.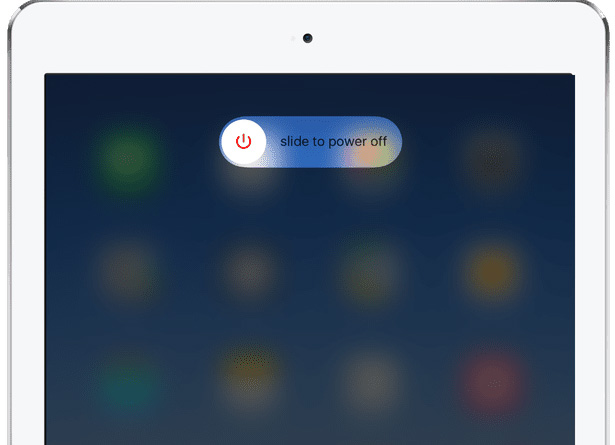 3. Stop Background App Refresh
Is your iPad slow? Well, freeing up space and restarting should probably solve your "iPad slow to respond" issue. But if they have not then you have to try turning off few of the features that won't harm you with their absence.
Firstly, start with the Background App Refresh. Stop this in case you've this service chosen in your iPad Settings; due to this service your device will be running in background to check for updates for all the apps. And if your iPad has numerous apps such as Facebook, Twitter, Instagram and so on, fellas these app take the processing power of iPad without the app haven open by yourself.
To stop this, go to Settings > General > Background App Refresh and set this service to Off.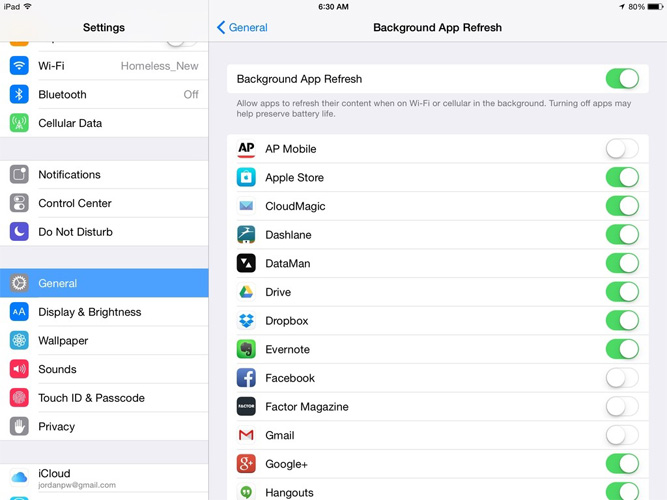 4. Update to the Latest iOS Version
Generally, updating your iPad's iOS most of the times solve many issues including the one bothering you right now, i.e., "iPad running slow" issue. The new iOS version will be introducing more efficient and new code, and a patch that will be aware of problems.
And iOS 12 is sure to boost your iPad and solve your "ipad 2 slow" issue.
To update your iPad to the newest version of iOS, go to Settings > General > Software Update. Here simply check if any new iOS version is available for update. Hopefully, your "my iPad is slow" will be solved.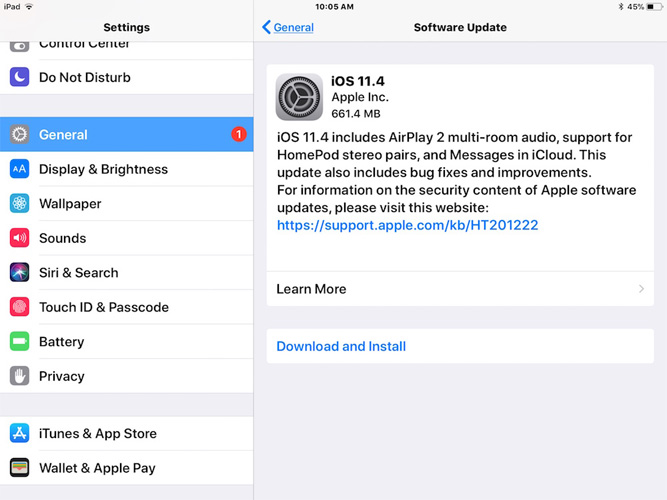 5. Clear Cache of Safari
Safari is among the apps wherein you will experience a slowdown more often. The reason behind this can be an overflowing cache, through which Safari needs to search.
To clear up Safari's cache, go to Settings > General > Clear History and Website Data. This will no doubt speed up the interface of Safari.
6. Check for Your Web Connection
If your Safari is yet very slow, may be the problem is with the iPad and not with safari. So instead of fixing Safari, check for your Internet connection. Toc heck your Internet speed, simply download any app for checking the speed for example Ookla's Speedtest and just run the test. If the Internet speed is slow, simple move towards and closer to the Wi-Fi router.
7. Stop Notifications on iPad
Though Notifications help us know when a message arrives on our iPad, but they are really not needed sometimes—e.g., comments on any Facebook post or updates of any game apps, and so on—and hence, may result in "iPad very slow" issue.
Similar to Background App Refresh, scanning notifications and providing them will no doubt slow your iPad. To turn off Notifications, go to Settings > Notifications. Now for every app, set Off the Notifications.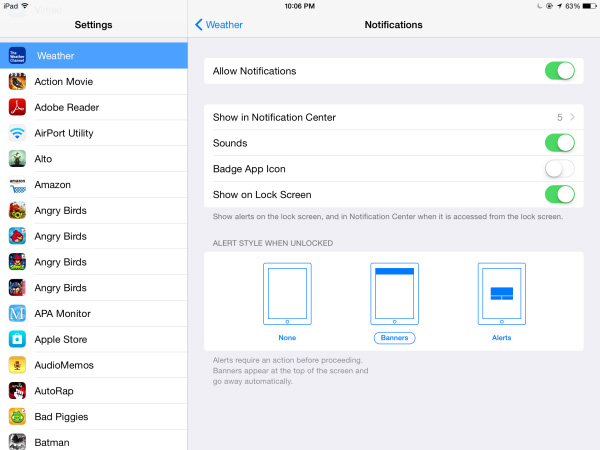 8. Turn Off Location Services
Well, providing your location to apps such as Facebook and Maps is fine, but what Location Services do is run in the background and eat up all the battery power and reduce the iPad's performance, thus resulting in "why is my iPad slow" issue. To turn off Location Services, go to Settings > Privacy > Location Services. Now simply set off Location Services by clicking on Turn Off.
9. Turn Off Spotlight
Spotlight helps to perform a power search, and makes it quiet easy and fast to find anything on your iPad. Well, for this, it has to index everything on your device. And can slow down your iPad occasionally. To turn off Spotlight, go to Settings > General > Spotlight Search. Now set all the option Search Results items to Off. Hope, your "iPad 2 running slow" will be solved.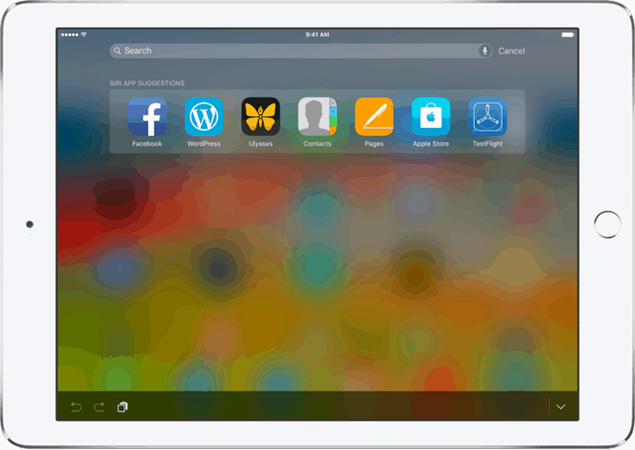 10. Enable Reduce Motion
In case you have turned everything else off and wish to enjoy more speed, turn off few visual effects and it will give a slight speed. For this, go to Settings > General > Accessibility > Reduce Motion. Now set On the Reduce Motion.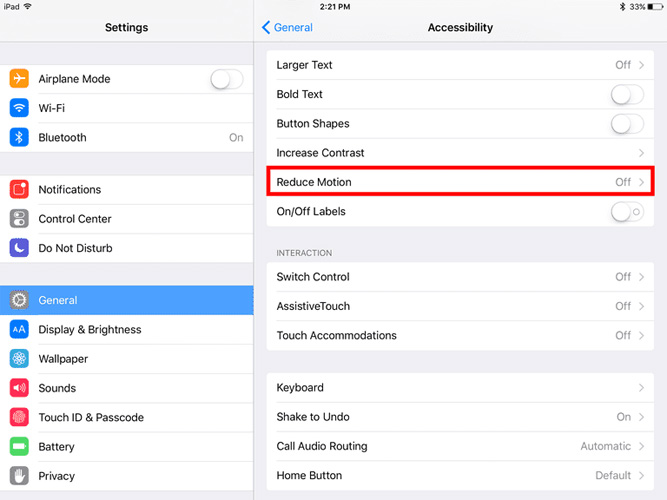 When none of the solutions work, just go forward and use Tenorshare ReiBoot. The tool will surely help you solve your why is "my ipad so slow and laggy" issue. The software can be used for any type of issues related to iOS devices including your faulty iPad. The tool gives one-click solution for each problem related to Apple device.
Download and run the Tenorshare ReiBoot tool on your computer. As soon as you have installed the software, link your device to the computer employing a USB cable. Click on "Repair Operating System" alternative.

If your iPad is free of any issue, you will see below screen. In spite of this, you can select "Start Repair" to enhance the performance of your iOS.

Get the firmware package online. The tool will show the related firmware package for your device. It will show the newest firmware package for the current iOS that your device is operating on.

Start the procedure of fixing the problem that your device is facing. Soon after the package is downloaded completely, select "Start Repair" to start the recovery of your device. The procedure may take hardly 10 minutes.
In the above article, we have discussed how to solve "why is my iPad so slow" issue. If nothing works for you, we highly recommend Tenorshare ReiBoot for your problem. Share with us your valuable feedback in below comments. Also let us know which solution worked for you and which the best one was.