Get Started to Solve "Apple Pencil Not Working" on iOS 14/13
by Sophie Green Updated on 2020-09-04 / Update for iPad
Apple Pencil not working with iPad (2020, iOS 14/13)"
Of course, there're some other complaints "my Apple Pencil 1st gen can't be paired with the iPad after updating it to iPadOS 14 beta". Apple pencil is a very remarkable and useful feature of iPad. You can write notes, draw a picture, and markup documents on iPad using Apple Pencil. You may face a lot of trouble if Apple Pencil Not Connecting After iPadOS 14 Beta/13.6.1 Update, disappearing from the notification tab or it is connected to iPad but not charging. So, we are here to help you out.
This piece of writing will address all the issues related to Apple pencil and provide simple methods to help you troubleshoot them.
Part 1: You May Wonder Why Apple Pencil Not Working on iPad?
There could be a plethora of reasons behind why Apple pencil is not working on iPad as expected. Some of the most common issues are;
iPad pencil is not sufficiently charged. You should check its battery status and confirm if it is charged or not.
Also check Pencil's compatibility with your iPad. Apple pencils with 1st and 2nd generation run on different versions of iPads. So, make sure you are using the right generation of Apple pencil corresponding to your iPad.
Part 2: Troubleshoot Apple Pencil Not Working with 5 Ways
If you are facing the same issue that my apple pencil is not working, then you are lucky as below paragraphs will elaborate 5 simple methods to fix your problem.
1. Check Why Apple Pencil Not Charging via Recharging
Sometimes, we come across the problem that apple pencil not charging. In such scenario;
For 2nd generation Apple pencil
Attach the pencil to the right side of your iPad and it will automatically pair and charge. Just make sure that Bluetooth is turned on.
For 1st generation Apple Pencil
Go to Settings and tap on Bluetooth. Then unpair Apple pencil from the device.
Now, insert the pencil again in the lightning port; Bluetooth will show a notification; pair it again with the iPad.
Normally, it takes stylus 10-15 minutes to properly charge and appear in the notification center. So, be patient.
2. Reboot iPad to Fix Apple Pencil 2 Not Working
More often than not, you have to reboot your iPad if Apple Pencil is not working. This method is applicable for both 1st and 2nd generation Apple pencils. To do that;
Press and hold 'Home' and 'Power' buttons until the logo appears and then release them.
Many iPad users have maintained that rebooting their iPads has solved the issue of Apple Pencil not pairing.
3. Test Why Apple Pencil Not Working by Fasten the Nib
If you have been using Apple Pencil for a considerable time and then its nip might require fastening or need a replacement. So, if apple pencil not responding then you should fix it either by;
If Apple Pencil tip has come loose over time and you need to tighten the tip of Apple Pencil by applying little pressure. Don't press it too hard.
If you need to replace Apple Pencil tip then twist it counter clockwise, it will come off, then take out new Apple Pencil tip and twist it clockwise into the Apple Pencil.
4. Check Bluetooth Settings
Apple Pencil connects with your iPad through Bluetooth. Sometimes apple pencil not connecting to iPad, so you have to make sure that it is properly connected to your device. You can check by;
Go to Settings  Bluetooth  My Devices and check if it appears in the Devices list.
If not then, insert it into the lightening port for few seconds and then hopefully it will be shown in the Devices list.
5. Update iPad OS to Get Supported with Apple Pencil
As we know that each generation of Apple Pencil is compatible with a particular iPad models. Thus, if there is any latest iPad OS update available, you should update to fix the issue of apple pencil not charging on iPad once and for all.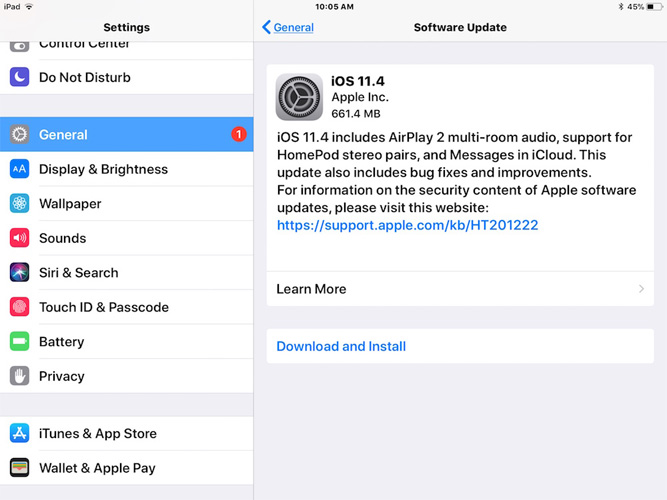 Part 3: What If Apple Pencil Stopped Working after Updating to iPad OS 13.4
Many iPad users have complained that Apple Pencil hasn't been working since they have updated their iPads to iOS 14 Beta/13.6. That is why we are presenting Tenorshare ReiBoot to fix the problem of Apple pencil connected but not working on your iPad. It is very user-friendly and you can fix 50+ issues of your iPad including Apple Pencil problem.
Its 'repair operating system' feature helps you to repair your iPad by rebooting your device. To fix working of Apple Pencil;
Download and install Tenorshare ReiBoot on your computer and launch it. Now connect your iPad with it and click on 'Repair Operating System' from the interface.

Then, click on 'Fix Now' to start the repair process of your iOS device.ng System' from the interface.

After that, the software will ask you to download Firmware Package on a location in your computer. Click on 'Download' to start downloading the package.

Finally, click on 'Repair Now' after the firmware package is downloaded. The software will complete the repairing process in a while.
In All
In this tutorial, we discussed various aspects of why apple pencil not working on your iPad and also outlined 5 different yet easy methods to resolve your issue. We also analyzed that Tenorshare ReiBoot is the best software to fix this issue. It is user-friendly and you can fix many issues of your iPhone in just few minutes by using this powerful software.
You May Ask: Questions Related to Apple Pencil
How do I connect my Apple Pencil to my iPad?
To connect 1st generation Apple Pencil with iPad, remove its cap and insert it into the lightening connector of your iPad. Then simply click on the pair button on notification tab to pair it with the iPad.
While the 2nd generation Apple Pencil attaches magnetically to the side of your iPad and automatically pairs and charges on the go.
How do I fix my Apple Pencil not charging?
For 2nd generation Apple Pencil:

Unpair the Pencil from the Bluetooth settings and then attach it again magnetic connector at the center of the top of your iPad. After some time, you will see the charge status at the top of the screen.

For 1st generation Apple Pencil:

Go to Settings > Bluetooth and unpair your Pencil. Then connect it again and charge it for 15-20 minutes and it will be shown in the notification center.
Do you use proper Apple Pencil for your iPad?
Apple Pencil comes in 1st and 2nd generation and are compatible with different version of the iPad. So, you have to buy an Apple Pencil corresponding to your iPad model. From the list given below, you can check whether you need a 1st or 2nd generation Apple Pencil.