How to Solved iTunes Error 0xe8000003
by Anna Sherry Updated on 2019-11-06 / Update for Fix iTunes
Normally, iOS users use Apple official iTunes to sync their iOS devices to a computer, especially Windows PC. But, using iTunes to sync, update or restore iOS devices is not a reliable way because it causes many problems and errors during the process. One such error is 0xe8000003, and moreover, the error mostly occurs on Windows 10 PC.
Part 1: What is Error 0xe8000003 on Windows 10?
The error shows that the connection between your Windows PC and Apple device is lost. The complete error message is "iTunes could not connect to this iphone 0xe8000003" on Windows 10 PC. Here, you get only one option and it is to click on the "OK" button. The error generally occurs when your iPhone can't connect with the iTunes software. Sometimes, a simple rebooting iPhone and computer probably fix the error. But, it is a very rare case and that's why we come up with much more powerful methods you can try to resolve this error with ease.

Part 2: How to Fix Error 0xe8000003 When Connecting iPhone to iTunes?
Here, we are going to mention all probable methods that can help you to come out of this error with ease. So, give a look at them….
Method 1: Clear the Temporary Files in the Lockdown Folder
The first method you can try to fix iTunes 0xe8000003 is clearing the temporary files in the Lockdown folder. However, you might be wondering what is Lockdown folder? Well, it is protected and hidden folder, which is created when you install iTunes on your computer. The content of the folder is temporary data, and files iTunes produces while syncing or updating your iOS device. In general, the folder contains the Cache for the software iTunes.
By clearing temporary files in the Lockdown folder, you might be able to solve the problem. So, follow the below steps to do it:
Step 1: To start with, hit the "WINKEY + R" button to open the "Run" box.
Step 2: After that, enter "%ProgramData%" in the text field and press Enter. This will launch the "Windows Explorer" that points on the location inside of the "Program Data" folder.
Step 3: Here, find the folder "Apple", and once you are able to locate that folder, open it. Next, find the folder "Lockdown", and open it. And hit "Shift + Delete" on keyboard.
Step 4: Now, you will get a confirmation message whether you want to delete the folder. So, tap on "Yes", and restart your computer.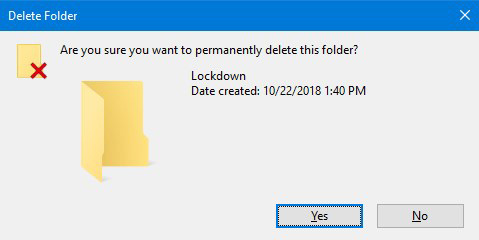 Method 2: Repair iTunes to Fix Error
If the above method fails to fix the error "iTunes could not connect to this iphone 0xe8000003", then it's time to try a better solution, and it is Tenorshare TunesCare. With the help of this reliable software, you can fix iTunes errors effectively. You can first try its free feature "Fix iTunes Sync Problems". If the error still persists, then you can use "Fix All iTunes Issues" to thoroughly repair iTunes.
This feature will ensure 100% success because it will remove all iTunes conflicting components from your computer, and reinstall latest version iTunes, and its related components to make sure that you don't have any confection and corruption again.
Step 1 Download and launch Tenorshare TunesCare
Step 2 Pleas click "Trust" shown on your device while connecting to PC or Mac with USB cable.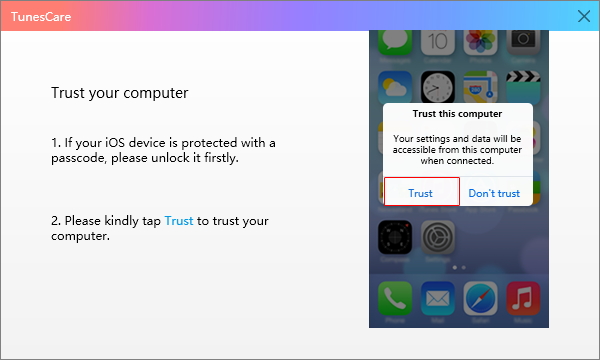 Step 3 Click free feature "Fix iTunes Sync Problems" to tackle iTunes errors first.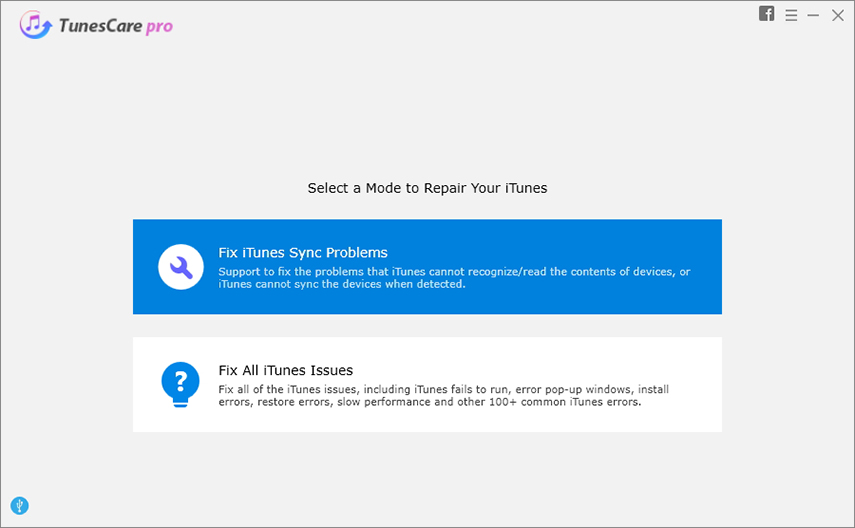 Step 4 The process will take your some time to repair your iTunes library.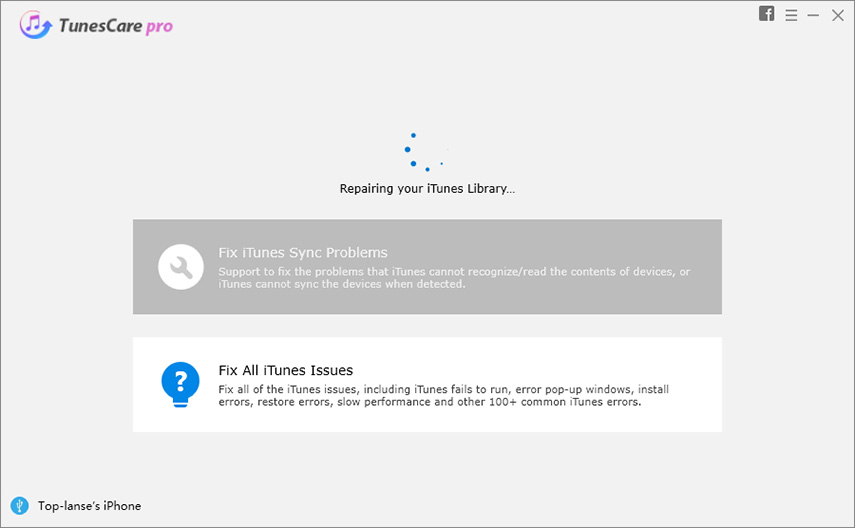 Step 5 After the repairing process, open iTunes again, your device can connect to iTunes successfully.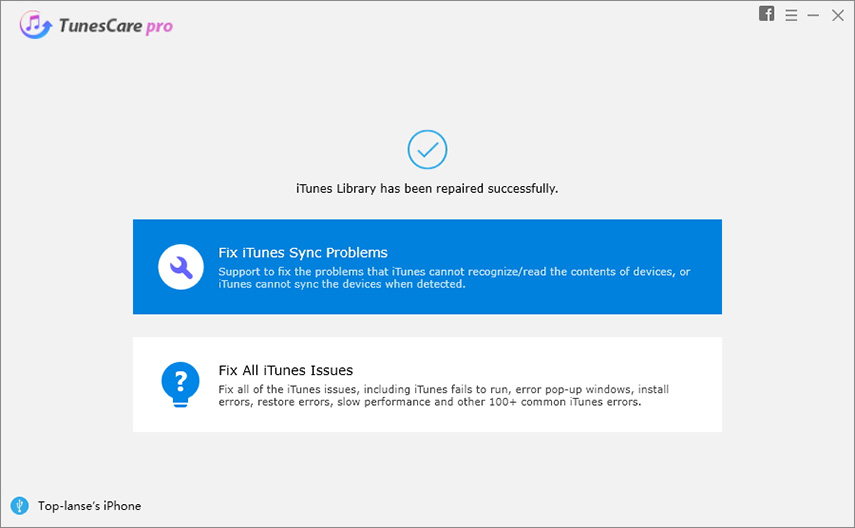 Method 3: Manually Uninstall iTunes or the Conflicting Components(Complex)
Those who don't want to use software to fix the error; they can manually uninstall iTunes or its conflicting components. With this method, there are chances that your problem gets solved. So, you can give a try to it. But, this method is quite complex and lengthy too as compared to Tenorshare TunesCare. If you've no problem, then try it.
To do this, you need to type "appwiz.cpl" in the Start Search Box and press Enter to launch the "Uninstall a program Control Panel applet". If your iTunes software is installed correctly, then you will end up finding the following tools installed in your Control Panel Applet:
iTunes
Apple Software Update
Apple Mobile Device Support
Bonjour
Apple Application Support 32-bit
Apple Application Support 64-bit
iCloud
All the above tools are installed with iTunes, and you need to uninstall them to fix "iTunes 0xe8000003" error. After you reboot your computer, you need to delete remaining folders and file of the software.
This will navigate to the Program Files folder, and here find the following folders:
If you are able to locate any of above folder, then open it and press "Shift + Delete".
After that, you need to find the folder "Common Files". Once you locate it, open it, and look for the "Apple" folder. Next, open it, and find the following folders:
Mobile Device Support
CoreFP
Apple Application Support
If you're able to locate any of above folder, then open it and press "Shift + Delete". Finally, restart your computer, and iTunes is successfully uninstalled from your system.
Now, you can download iTunes latest version on your computer and install it to check if the problem has been fixed or not.
Conclusion:
So, you need to uninstall iTunes or the conflicting components to resolve the problem "iTunes 0xe8000003". You can do it either manually or using the Tenorshare TunesCare software. If you're looking for an easy solution, then TunesCare is the right one, which overcomes all the complexity of uninstalling iTunes or its conflicting components manually.