Solved: FaceTime Waiting for Activation Error on iPhone
by Anna Sherry Updated on 2019-09-17 / Update for Fix iPhone
If you want to use FaceTime, then you have to activate it on your iPhone. The moment you try to activate FaceTime on your device, you may encounter Facetime activation unsuccessful problem. It is quite a common error in FaceTime as well as iMessage that many users faced. So, if you're also going through this error, then don't be panic as you aren't alone.
You will be glad to know that there are various methods available that can help you to fix iMessage and FaceTime waiting for activation error without much trouble.
Part 1: About FaceTime Waiting for Activation Error on iPhone
Why Facetime says waiting for activation? Generally, a user with new iPhone experiences this error while setting up the device. However, even existing iDevices may face this unexpected error after updating the device to the latest iOS version or if they change carrier. Thus, while activating FaceTime, you might experience one of the following error messages on your iPhone.
Waiting for activation
An error occurred during activation
Activation unsuccessful
Couldn't sign in, please check your network connection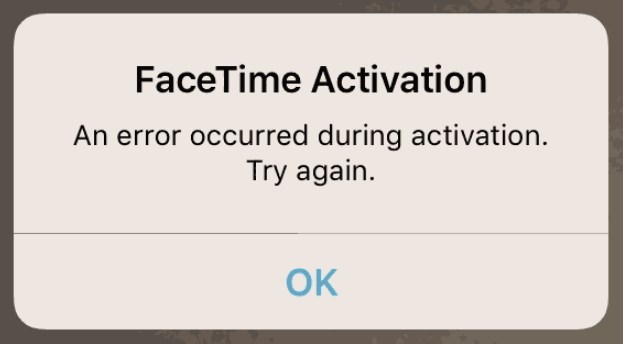 There could be a number of reasons behind this problem. Sometimes, it's just of matter of minor fix and everything starts running smoothly. But, there are situations when a minor issue causes a big problem during the setup.
Part 2: Basic Fixes for Facetime Stuck on Waiting for Activation
No matter for whatever reasons you're going through "Facetime stuck on waiting for activation" error, below we have covered all possible methods you can try to fix it.
1. Check Network Connection
The first thing you should do is to make sure that your device is connected to reliable and strong Wi-Fi or cellular data. Mostly, the reason for the problem is due to a poor internet connection.
Once ensuring that there is no problem with network connection and error doesn't go away, you can try to reset your device network settings. If the error you're facing is due to any network issue, then resetting network settings will probably fix the problem for you. To do that: Go to the "Settings">" General">" Reset">" Reset Network Settings".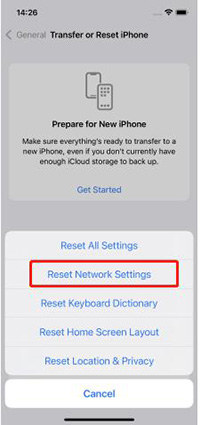 2. Turn Airplane Mode On and Off
You can try to turn on and off Airplane mode. In this way, you can provide your network connection a fresh start. On the iPhone, you can enable and disable Airplane mode either from Settings or control center. From the control center, just click the "Airplane mode" icon. From settings, click Airplane mode and next, click the slider next to it to turn it on and off.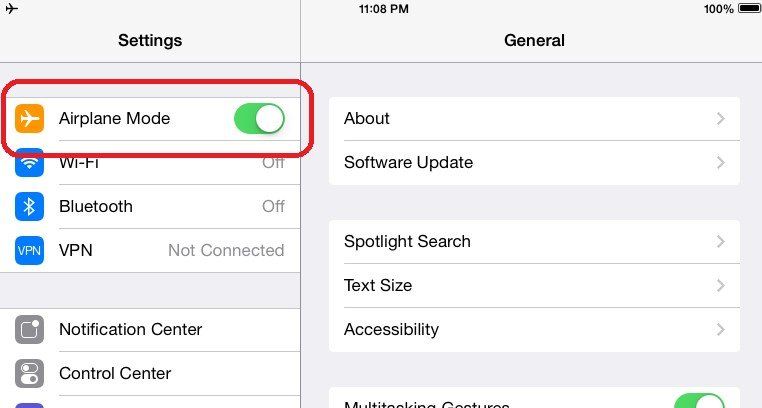 3. Check the Time
There might be time and data issues on your device that lead to Facetime waiting for an activation problem. Thus, make sure that time and date on your device are set to automatic.
Here's how you can set date and time to automatic on the iPhone:
Step 1: Open "Settings">" General".
Step 2: Now, go to "Date & Time" and here, enable the "Set Automatically" option.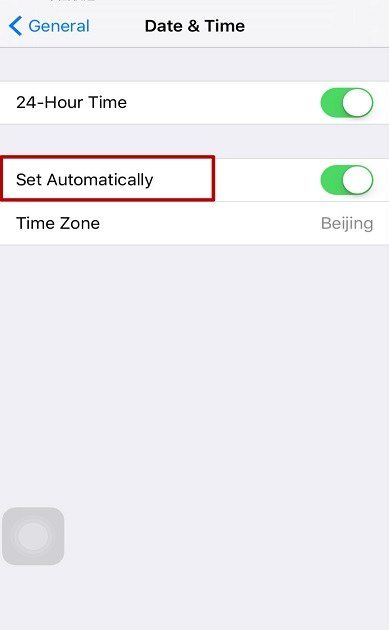 4. Turn off and on FaceTime
You can give a fresh start to FaceTime on your iPhone. With this little trick, many users have fixed this error without much trouble. So, it may also help you to resolve the problem.
Here's how to turn off and on FaceTime on iPhone:
Step 1: Open the "Settings".
Step 2: Now, click "FaceTime">" Turn off FaceTime".
Step 3: Next, reboot your device and turn FaceTime back on.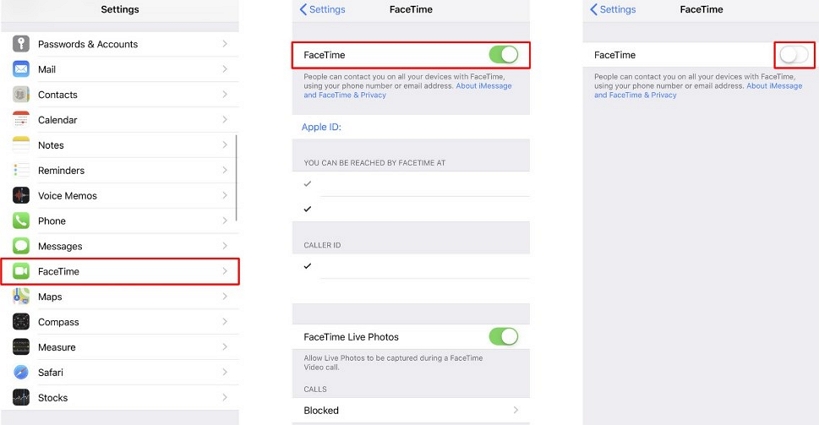 5. Check FaceTime is Not Blocked in Restrictions
If Facetime waiting for activation no sim error doesn't go away with the above methods, then you need to ensure FaceTime isn't blocked in restrictions. Here's how you can do so.
Step 1: Go to the "Settings">" Screen Time">" Content & Privacy Restrictions".
Step 2: Here, you need to disable "Content & Privacy Restrictions" if it is enabled. Also, you need to make sure that FaceTime is enabled in the list of Allowed Apps.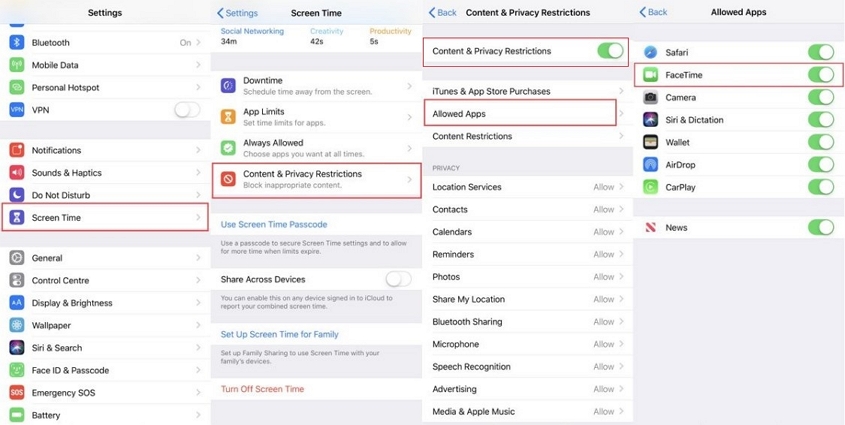 6. Sign Out and Sign Back In
Another simple trick to fix Facetime waiting for activation iphone 6 is simply sign out and sign back into your Apple ID. This method works for many users and so, it may also work for you. Here's what you need to do for sign out and sign back in.
Step 1: Open the "Settings" app and go to the "FaceTime".
Step 2: Here, click on your Apple ID and select "Sign Out" option from the pop-up menu.
Step 3: Next, re-click Apple ID to sign back in.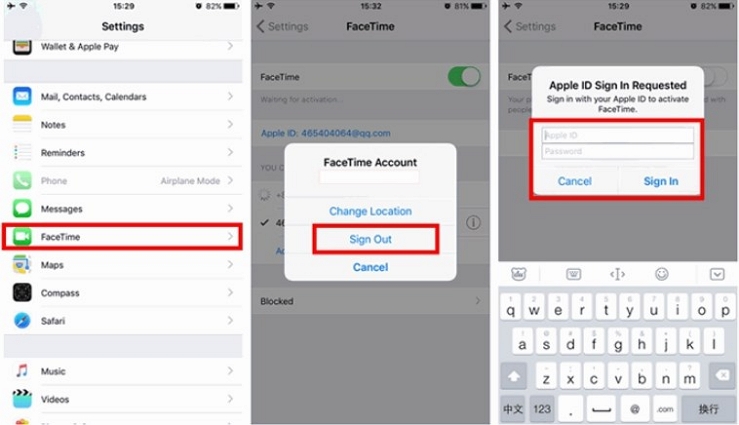 7. Restart Your iPhone
If all the above solutions fail to fix "FaceTime waiting for activation on iPhone 6/7/8/X", the next thing you can try is to reboot your iPhone. By simply restarting the device, you can fix minor software issues that might be reasons for the problem you're experiencing now.
Here's how to restart on different iPhone models.
On iPhone X or above
Press and hold down either Volume up or down button and Side button until you see the power-off slider.
Next, drag the slider to turn off your device.
Now, press and hold down the Side button until the Apple logo appears on your screen.
On iPhone 8 or earlier
Press and hold down the Top/Side button until you see the power-off slider.
Next, drag the slider to turn off your device.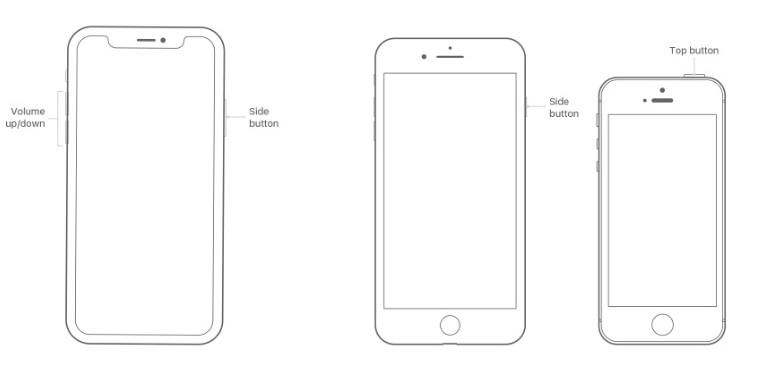 8. Update iOS
Sometimes, Facetime/iMessage waiting for activation error could be due to an outdated iOS version on your iPhone. In such cases, all you have to do is to make sure that you've updated your device to latest iOS version. Here's how you can check update for latest iOS version on iPhone:
Step 1: Open "Settings" app and then, move to "General".
Step 2: Here, click "Software Update". And if any updates are available, then click the "Download and install" button for update the iOS on the device.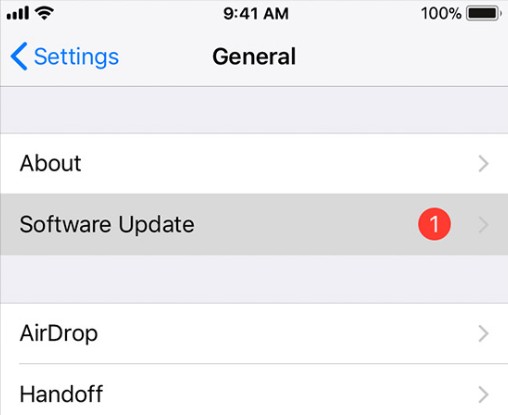 9. Factory Reset iPhone (Data Loss)
If nothing helps to fix the problem for you, then it's time to reset the device to its factory settings and set it up as a new device. This method will erase all of your device data and settings. That's why it is important to take a backup before you proceed with factory reset on your iPhone.
Here's how you can perform a factory reset on iPhone.
Step 1: Go to "Settings">" General">" Reset".
Step 2: Here, click the "Erase All Content and Settings" option.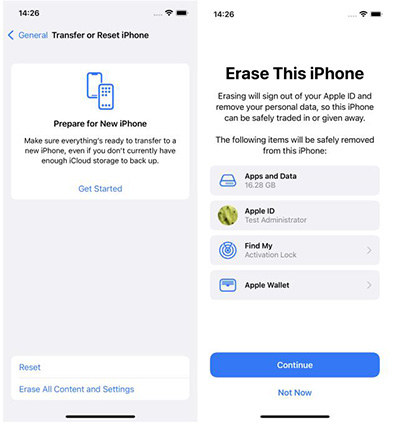 If your device is password-protected, then you may have to enter the passcode to factory reset the device. Once the process completes, you can set up your device as new and try again to activate FaceTime.
Part 3: Final Fix for Facetime Waiting for Activation iOS 13/12 Stuck
If all the common methods fail to fix "Facetime waiting for activation stuck" error, then Reiboot is the last resort for you to come out of this problem. It might be the case that the activation error you're facing in your FaceTime is due to some issue within your iOS system. And this software can repair your device system and fix the FaceTime activation error. The reasons why Reiboot is the most recommended method is because it will fix the various common iOS issues without any data loss. Plus, it works on different iPhone, iPad and iPod models.
Get Reiboot from its official site, download it on your system and then, follow the below steps to start fixing the FaceTime activation error on your iPhone.
Step 1 After installing the software, run it and connect your iPhone to the computer using a cable. Next, click "Repair Operating System" feature from its main window.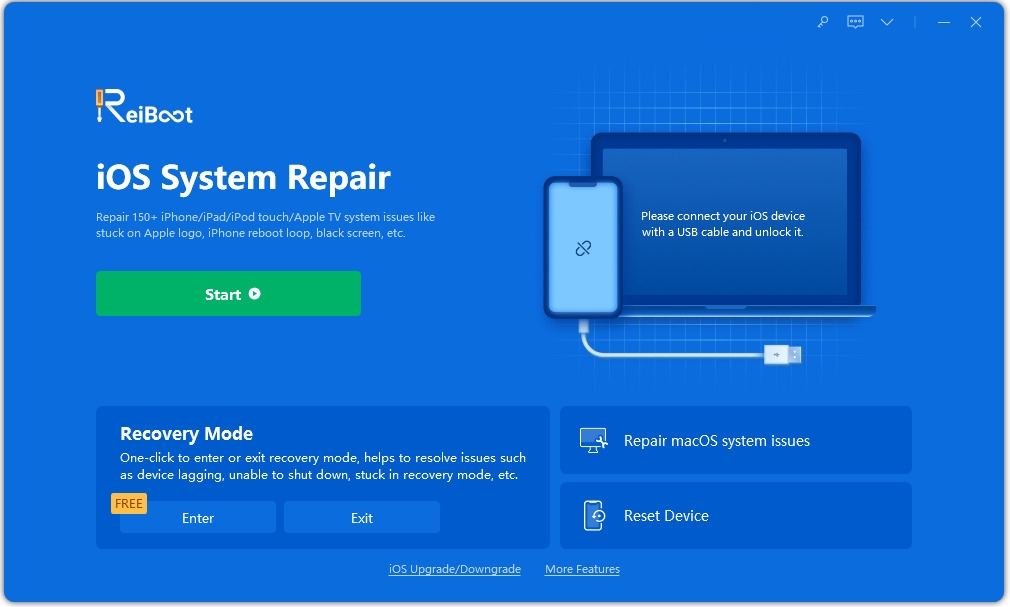 Step 2 After you click "Fix Now" button, you will ask to download the firmware package for your device and thus, click on the "Download" button.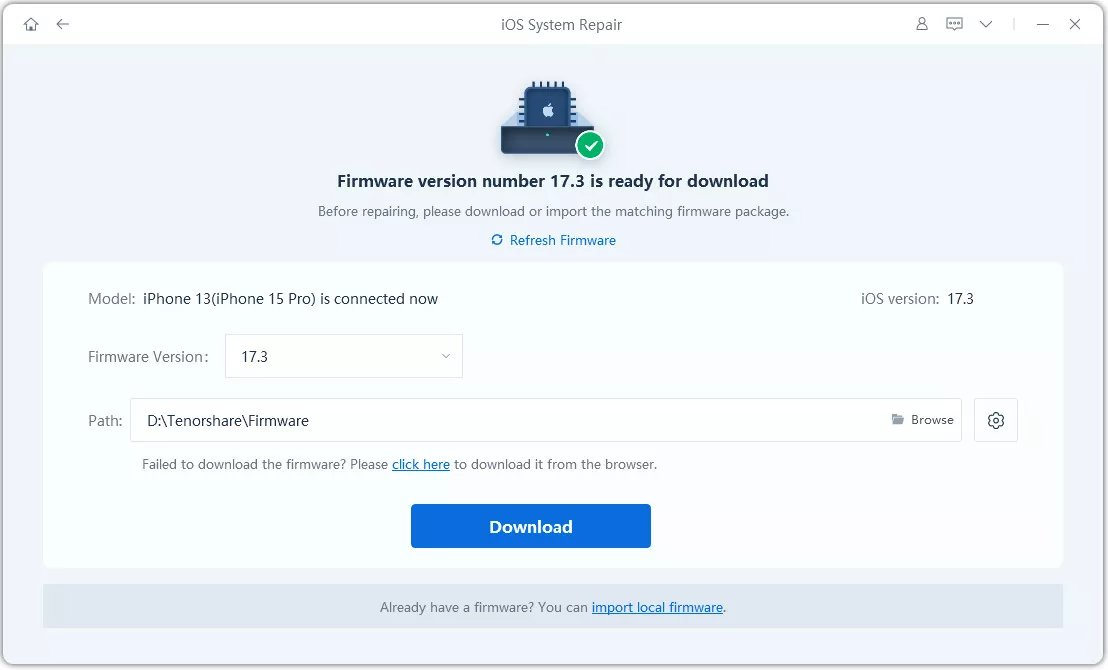 Step 3 Once the firmware package is downloaded, click "Repair Now" button. In a while, the software will repair your iOS system to fix your problem.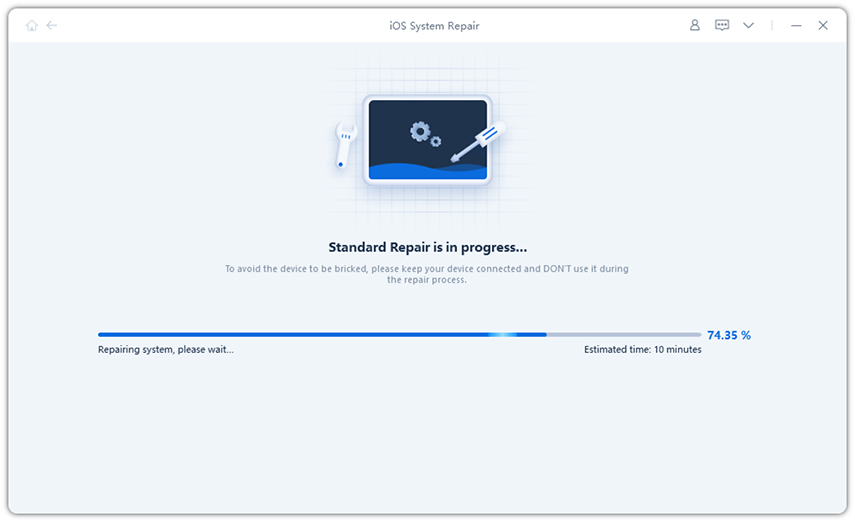 The Bottom Line
As you can now see that there are several solutions available to fix Facetime error message waiting for activation. Thus, all you need is patience and try to above-mentioned solutions to come out of this annoying problem. Even though there are various common methods available to fix FaceTime/iMessage activation error, Reiboot is the safest one as it won't wipe out any data from the device.