How to Fix FaceTime Not Working or Unavailable on iOS 16/15
by Jenefey Aaron Updated on 2023-06-20 / Update for iOS 12
I updat my phone to iOS 13.2 but FaceTime wasn't there. ---- From Apple Discussions.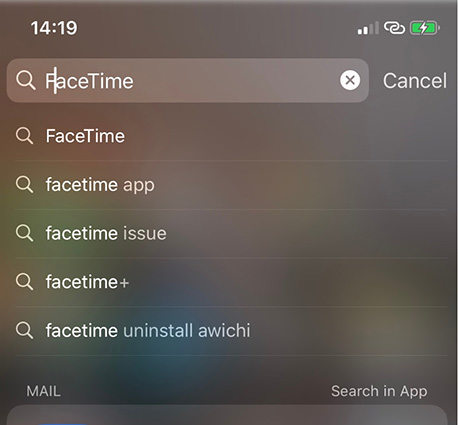 FaceTime has become very popular after Apple announced some new features for the FaceTime app. Specifically, the new Group FaceTime which will allow you to connect with 32 people at a time. I was also eager to use the new FaceTime app but unfortunately for me, I faced a FaceTime not working error, mainly the Group feature of the app. When I tried to use the app, it said "FaceTime Waiting for Activation"; I was surprised and had no idea what to do. It was clear that there were a few bugs that were interrupting the services, for example, Facetime no longer working between 13.4 and iOS 9 devices. So, a few common iOS 16/15 FaceTime fixes are mentioned below and I hope they improve your situation as well if you are facing one.
Solution 1: Check Network Connection
If you are not currently making or receiving any FaceTime calls then you need to make sure that you are connected to the Internet. It is impossible to make FaceTime calls if you are not connected to the Internet. The poor network or interrupted network might also be the reason why you are facing the FaceTime error. So, if FaceTime unavailable on iOS 1 then simply disconnect and then re-connect the Wi-Fi or cellular network, by troubleshooting the AirPlane mode. So, basically, you have to activate and then deactivate the AirPlane mode on your iPhone.
On the home screen, simply swipe up from the bottom to bring up Control Center. If you are using iPhone X, then swipe down from the top right corner.
You will see the Airplane icon.

Enable Airplane mode for a while and then turn off it to see whether it will help.
Solution 2: Hard reset your iOS Devices
If FaceTime is not working on iPhone, then you need to hard reset your iOS device to fix them. The hard reset often fixes many system errors and bugs and that's why it is a viable option to go for. The hard reset method is different for different versions of iPhones. Here's how to do it:
For iPhone 8/8 Plus and XS/X:
Tap the Volume Up button.
Then tap the Volume Down button.
Lastly, tap and hold the side key until your iPhone turns off and you see Apple logo.
Then after a few seconds turn it on again.
iPhone 7 and 7 Plus:
Tap and hold the Volume down key.
Also, tap and hold the Power button along with the Volume down button.
Hold them until the phone turns off.
All the other versions of iPhone:
Tap and hold the Home button along with the Power button.
Release them when the phone turns off.
Solution 3: Sign out Apple ID and Sign in Back Again
Another way to fix FaceTime if your group FaceTime not working is to sign out of your Apple account and sign in again! Be sure to check all the FaceTime accounts you have accessed with the same Apple ID.
Go to Settings and tap FaceTime on your iPhone.
Tap your Apple ID and then tap the "Sign Out" option.
After you have logged out, enter FaceTime again.

Provide your Apple ID and password and enter the account.
This may solve the issue right away.
Solution 4: Disable iMessage Settings
You can also try to fix the FaceTime problem by disabling the iMessage app. But if you disable the iMessage app on your iOS, you have to rely on the old SMS and MMs service for your needs. The following process will completely deactivate the messaging service on your device.
Open your iPhone and go to the Settings.

Uncheck the Message option with the help of the available toggle switch.
This will completely deactivate the iMessage service and you may get the problem solved. If not, try the next step.
Solution 5: Check Screen Time Apps Limit
The new iOS 16/15 has a brand new feature called ScreenTime. This feature lets the users set app limits for any apps including FaceTime. So, you need to check if you have used ScreenTime on FaceTime. If you have, you need to do the following:
Open your iPhone and go to Settings.
Select ScreenTime and choose Content and Privacy Restrictions.

Now, select Allowed apps and make sure FaceTime is not listed there.
If you do this, the restriction on the FaceTime app will be lifted and you will be able to use the app again.
Solution 6: Repair iOS to Fix FaceTime Not Working
Finally, if all of the above have failed to solve the FaceTime issue, you can either update your iOS or just repair the iOS system.If you want to repair iOS system, then you can just use iOS repair software - ReiBoot. It is a third-party app which has the ability to eliminate all your iOS bug problems and can also troubleshoot your iOS instantly without losing data. It is by far the best choice to fix the FaceTime error on iOS 16/152. Here's how to do it:
Download and install Tenorshare ReiBoot on your computer.
Launch the program and then plug-in iPhone to your computer using a lightning cord.

Now, select the "Repair Operating System" option from the list.

Tap the "Download" button to get the repair firmware package downloaded to your computer.

Hit "Start Repair" to start repairing, and your device will be restored back to normal. Now you can use WhatsApp without having any problems.
This is how to use Tenorshare ReiBoot to troubleshoot your iOS system on your iPhone and fix all iOS issues such as iPhone crash, iPhone black screen, iPhone recovery mode loop,etc. You should consider using this app as it is simple, easy to use, and also performs all of the features you desire.
Conclusion
The new FaceTime in iOS 16/15 has become a big problem for the users. The app is buggy and there is no way around it. So, the simple option is to ignore the problems and stop using FaceTime for the moment. But this is something which is not feasible for everyone. So, you can go through the common solutions mentioned above in the article or simply download and install Tenorshare ReiBoot to solve the group FaceTime video call in iOS 16/15 error or every other problem in a single sweep. It is a great software and effective too. Highly recommended!