Why is LINE Messages Delayed and How to Fix the Problem
by Anna Sherry Updated on 2022-05-18 / Update for LINE Tips
LINE is one of the more popular instant messaging apps, which is super popular for cross-platform communication.
However, like every other piece of software, LINE may also experience bugs and glitches. One of the recent issues plaguing the experience is the LINE messages delayed issue. But what, exactly, is this issue about? Why does it happen in the first place? How to solve it? This article has all the answers.
Part 1: What does the LINE Messages Delayed Mean
Unfortunately, the LINE messages delayed issue may take different forms for different people. One person may experience one kind of delay, while others may face a different one.
1. LINE messages delayed sending
One of the common complaints people have is the LINE app not sending messages. In this kind of delay, your messages won't be delivered to the receiver instantly. You may have typed and sent the message from your end, but it won't be delivered until later.

>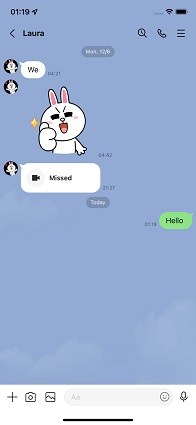 2. Messages delayed receiving on LINE
The second form of this issue is the LINE app not receiving messages. In this type of delay, you won't receive the incoming messages on time. The sender may have sent the message early on, but you may receive it after a few hours.
3. LINE notification delayed
Last but not least, you may face a LINE notification delay. In this type of delay, you may not receive a notification for incoming messages. Hence, you won't be able to receive new messages until you have opened the app. When people face this type of delay, they may keep scratching their heads while asking the question, "Why do I only receive messages once I open the app?"
Part 2: Why is LINE Messages Delayed
You may face the LINE messages delayed issue due to one of the several possible reasons. Here are some of the most common ones.
You may have a slow or unstable internet connection.
You may have turned on your phone's battery saver, which might be stopping LINE from running in the background.
You may have turned off notifications for the LINE app.
You have turned off Background App Refresh for LINE on your iPhone.
Part 3: How to Fix LINE Messages Delayed
With the causes out of the way, let's talk about some possible fixes to the LINE messages delayed issue.
1. Turn on LINE Notifications
One of the most common reasons for the LINE messages delayed issue is that you may have turned off its notifications accidentally. You see, you won't receive notifications if you have turned them off.
Here's how you can confirm whether your LINE notifications are turned on.
Open the LINE app on your phone. Go to the home tab and tap Settings.

Then select Notification Settings.

Make sure the toggle for "Notifications" is turned on. Check if the message type you need to receive is toggled on.
2. Change Network Connection
You may face the LINE messages delayed issue if you have a slow or unstable internet connection. That's because the application uses your device's active internet connection to sync with the server to send and receive your messages. If you have a slow or laggy internet connection, the app may not be able to contact its servers effectively.
To troubleshoot the cause of the issue, try a different network connection. If the issue doesn't go away even after you've changed your network connection, proceed to the next section.
3. Offload and Reinstall LINE
Offloading is a nice feature on iOS that lets you keep an app's data while reinstalling it. If you're facing the LINE messages delayed issue even when your device has a stable internet connection and notifications turned on, try offloading and reinstalling the app.
To do that, go to your iPhone's Settings > General > iPhone Storage > LINE > Offload App. After you've offloaded the app, simply uninstall it and reinstall it from the App Store.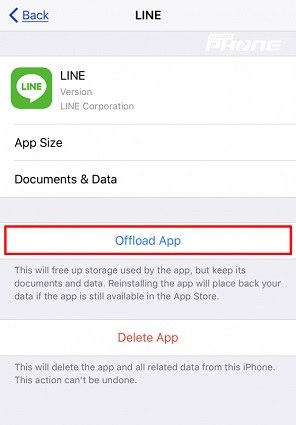 4. Clear App's and Device's Storage
The last resort to solving the LINE messages delayed issue is to clear the device storage.
To do that on your Android phone, go to Settings > Apps > LINE > Clear Storage. Or you can also delete some photos, apps or videos to free more device storage space.
Note: you will lose your chat history if you haven't backed it up using the cloud.
If you're on an iPhone, there's no simple way to clear an app's storage. Hence, you will have to uninstall the app and install it again from the App Store. But you can free up the device's storage by deleting files.
Extra Tip: How to Backup LINE Messages to PC in Case Phone Broke? Try iCareFone for LINE
You should always keep a backup of your important chat history in case something goes wrong. For instance, if your phone breaks or stops working for any other reason, you can restore the backed-up chats with ease.
Tenorshare iCareFone for LINE is a nice and easy-to-use tool you can use to backup your LINE chat. It lets you back up your chats to the PC and restore them whenever needed. You know you can't back up photos or emojis to Google Drive, but you can do this with iCareFone for LINE.
To use iCareFone for LINE to back up LINE chat history, follow the below-mentioned steps.
Download and install iCareFone Transfer by clicking the buttons above. On the main screen of the tool, click "Backup" and the process of backing up your LINE chat history will begin instantly.

Wait for the process to complete. When the process is done, your chats have been successfully backed up to the computer.

You can view the backup or restore the backup to your computer or device at any time
Conclusion
The LINE messages delayed is an annoying issue faced by many LINE users today. However, it can be fixed if you have the right pieces of information with you. This article explains everything you need to know about the issue, including the possible causes and fixes.
Last but not least, we should back up our important data regularly. To back up social media apps' data to PC, iCareFone for LINE is a good choice for you.