How to Unlock a Disabled iPhone 12/11 with 4 Easy Ways
by Anna Sherry Updated on 2021-12-16 / Update for iPhone 11
"Just a few days back, I bought a new iPhone 12/11 and set a password for it with the intent of securing the device. But I forgot the initially set password with all excitement. But I only forgot the password; so, why is my iPhone disabled?"
Asking why is my iPhone disabled is a very normal thing for the iOS users if they have forgotten the password for their device and enter the wrong one a few times. This is a protective mechanism implemented by the manufacturer. Fortunately, the security can be lifted but there are specific ways to do it. And 4 most effective ways are detailed in the article below.
Way 1. One-Click to Unlock iPhone is Disabled Connect to iTunes with 4uKey
Using the services of Tenorshare 4uKey will be especially useful for the users as they will be able to disable the lock on your iPhone 11 and get inside the device with just a single click.
Nonetheless, this professional iPhone unlocker software has proven significantly useful for the users due to its several advanced features:
Instantly bypass of iPhone or iPad screen passwords.
Fix a disabled iPhone without iTunes or iCloud
Be able to remove Apple ID on any iOS device without using the password.
It doesn't matter if the passcode is of 4 digits or 6 digit 4uKey will be able to unlock it, including the Touch ID and Face ID.
Fully Compatible with iPhone 12/12 mini/11/11 Pro/11 Pro Max/XS/XS Max/XR/X/8/7/6S, iPad/iPod.
Supports the latest iOS 15.2 and iPadOS 15 Beta.
So, download and install Tenorshare 4ukey on your computer; PC or Mac. After that, launch 4uKey and click on "Unlock Lock Screen Passcode" to proceed.

Now, connect the iPhone 11 to the computer. The program will detect the connected device automatically and after that, click "Start".

Download the latest iOS 15.2 firmware package before removing iPhone passcode. Choose the firmware and click "Download" to proceed.

After the firmware is downl0aded, click "Start Unlock" and the program will immediately start unlocking the device.

After the passcode has been removed successfully, you will be able to set a brand new password for your iPhone 11.
Video Guide: How to Unlock Disabled iPhone 11 with 4uKey
Way 2. How to Enable a Disabled iPhone 11 with iTunes
Wondering what do you do when your iPhone is disabled and won't connect to iTunes? We would always refer to the previous procedure as it is the most effective and convenient way of enabling the iPhone 11.
But you can also do it via iTunes. It is comparatively a slower method and iTunes is known for its glitches but it works. But there is always a possibility to get stuck during the procedure with iTunes. So, here's what to do when iPhone is disabled.
Step 1: Connect your iPhone 11 to a computer where iTunes is already installed. After establishing the connection, iTunes should get launched automatically. If it doesn't you have to do it manually.
Step 2: Inside the iTunes panel, click on the "Device" icon at the top; all the information regarding your iPhone 11 will be visible on the screen.
Step 3: Now, go to the "Summary" tab, visible at the left side of the panel. The "Restore" option will be visible at the right side of the panel, click on it.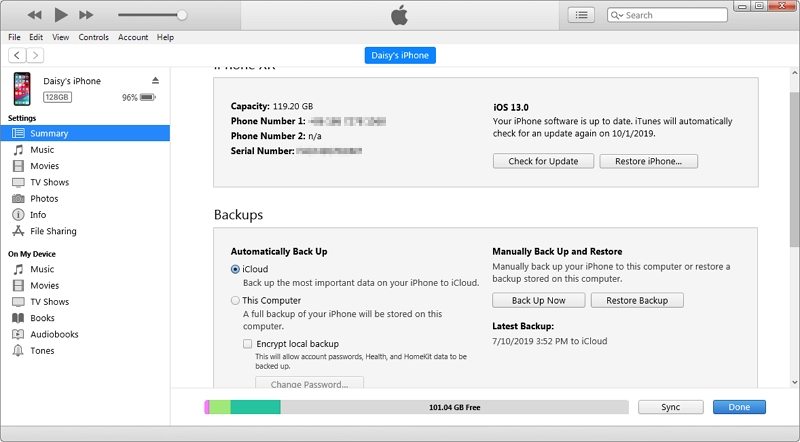 Step 4: Then, follow the on-screen instructions and your iPhone will be erased completely. After the device is restored, it will work similarly with a new iPhone.
The Limitations of Using iTunes
Overall, this is the official method of enabling a disabled iPhone. But there are several limitations to this procedure.
First of all, you will not be able to use this method if you haven't synced with iTunes before your iPhone 11 got disabled. Not suitable for the new iOS users.
Even if you were able to connect to iTunes, you may not be successful. As you, if you have "Find My iPhone" enabled on your iCloud, you will be asked to disable the said feature.
Lastly, your entire iPhone storage will get erased. So, if you haven't made a backup of the device beforehand, you will most definitely lose all your files.
Way 3. Unlock iPhone 12/11 with Recovery Mode when iTunes Could Connect Device
"My iPhone is disabled and won't connect to iTunes". There is a definite way of fixing this issue! As you have read in the earlier part of the article, the use of iTunes is effective but there is another method available and it is the preferred over iTunes. Keep in mind, this one also needs the help of iTunes at the last few steps.
This method requires you to put the device into Recovery Mode when iTunes is unable to connect to the said iPhone. So, here is what you need to do if you are getting iPhone is disabled connect to iTunes.
Step 1: Make sure that the locked iPhone 11 is not connected to anything.
Step 2: Now, turn off the device, by dragging the Power Slider.
Step 3: Then, make a quick tap on the "Volume Up" button and then make the same on the "Volume Down" button.
Step 4: After that, press and hold the "Side Button" until the device enters Recovery Mode.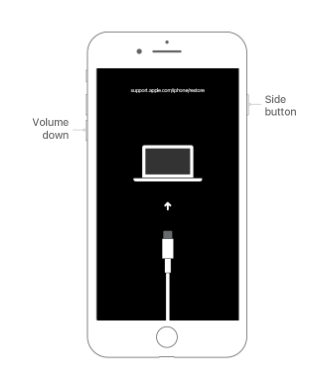 Step 5: Now, connect the device to the computer and launch iTunes app.
Step 6: iTunes will prompt that it has detected an iOS device in Recovery Mode.
Step 7: Then, you will be asked if you want to "Restore" or "Update your Device". Choose "Restore".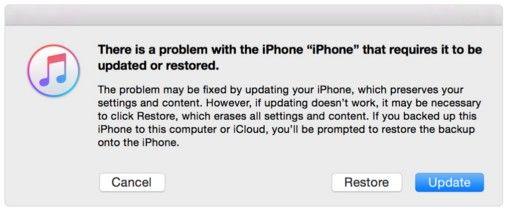 The Limitations of Using Recovery Mode Restore in iTunes
This method is effective and there was a time when this procedure was used extensively to fix disabled iPhones. But there are several limitations of this procedure.
First of all, iTunes is very slow and you will get various errors while restoring.
It is glitchy and can cause trouble such as brick your iPhone while fixing the iPhone.
Erase your iPhone's storage space.
Way 4. Unlock iPhone 12/11 by Erasing Device in the Lock Screen [iOS 15.2 Supported]
With the latest iOS 15.2 update, we can unlock our iOS device by Erasing [Device] in the device's Lock Screen. Before we start this method, make sure your device has meet these 3 requirements.
Your device must be using iOS 15.2 or iPadOS 15.2 or later.
Your device needs to be connected to a cellular or Wi-Fi.
You need to have Apple ID and password in the locked device that used to set up device.
If your device satisfy the conditions, you can start to reset your device with this method.
If you can not find the Erase iPhone button, try entering your passcode until your device asks you to try later. And then the Erase [Device] option will show up in the screen.
Continue to tap Erase [Deivce] and tap it again to confirm.
You will be required to enter your Apple ID password to sign out of your Apple ID on your device.
The final step is tapping Erase [Deivce] to delete all of your data and settings. (You can restore your data with iTunes if you have backup.)
Restart your device and follow the instructions to set up your device.
Summary
Nonetheless, don't panic if your iPhone is disabled. It can be enabled very easily. Although, Apple tells the users that iTunes would be most effective in this situation and the app really fixes the issue. But there are better options like Tenorshare 4uKey. This professional program would be most effective, enabling a disabled iPhone 12/11. Highly recommended iPhone unlock tool!