How to Bypass Lock Screen iPhone 14/11 in 2023
by Jenefey Aaron Updated on 2023-04-14 / Update for iPhone 11
We deeply feel you, when your brain goes blank all of sudden, and lock screen password on your new iPhone 11, 4-digit or 6-digit password, whatever, is totally forgotten. That is probably the most dramatic tragedy. Yes, it is just like forget to close door when leaving a house. Sounds stupid but it is true without doubt. Imagine another thing, maybe someone is holding your lost iPhone and try to figure out iPhone 12/11 bypass lock screen. We strongly do not approve of such illegal thing, for those who forget passwords, however, we still provide pragmatic approach about how to bypass lock screen on iPhone 14/12/11. Hope these methods do some favour to you guys.
Part 1: How to Bypass iPhone 14/12/11 Passcode (The Most Efficient Way)
How to bypass screen lock on iPhone 11 with the best solution? Have some faith in your device. Because we here provide you a very practical way to bypass iPhone 11 passcode lock screen. Tenorshare 4uKey really gets you to remove lock screen passcode instantly. No matter what digital code or Face ID on your iPhone 11/14, just quickly unlock screen with 3 steps, fabulous, isn't it? And thus, no more concern about locked iPhone or passcode forgotten thing again. Besides that, this handy tool also supports removing Apple ID from the activated iPhone.
Step 1Connect iPhone 11 to PC or Mac
After you launch this software successfully, choose Unlock Lock Screen Passcode.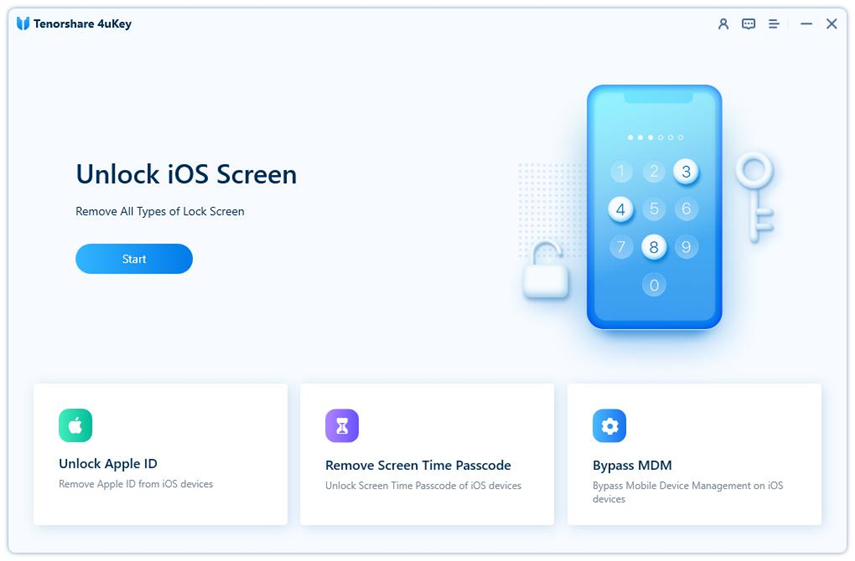 Then the preparing interface shows up. A warm-tip tells you to unlock from disabled iPhone or forgotten passcode.
NoteIf your iPhone 11 cannot be correctly recognized by 4uKey, please follow the prompt and it will remind your device to enter recovery mode or DFU mode for successfully connection.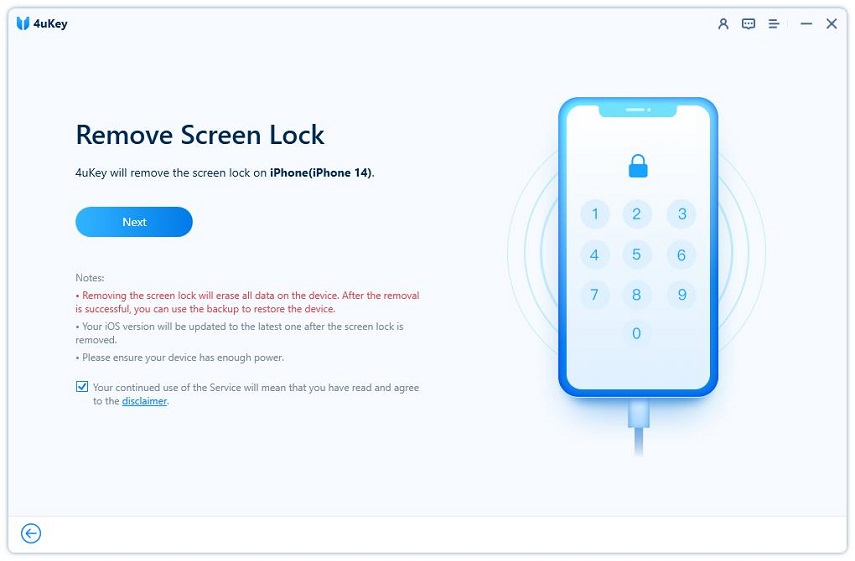 Step 2Starts to Download Firmware Package
When you complete the step above without any question, click Start and then a matched firmware package will be downloaded to your computer.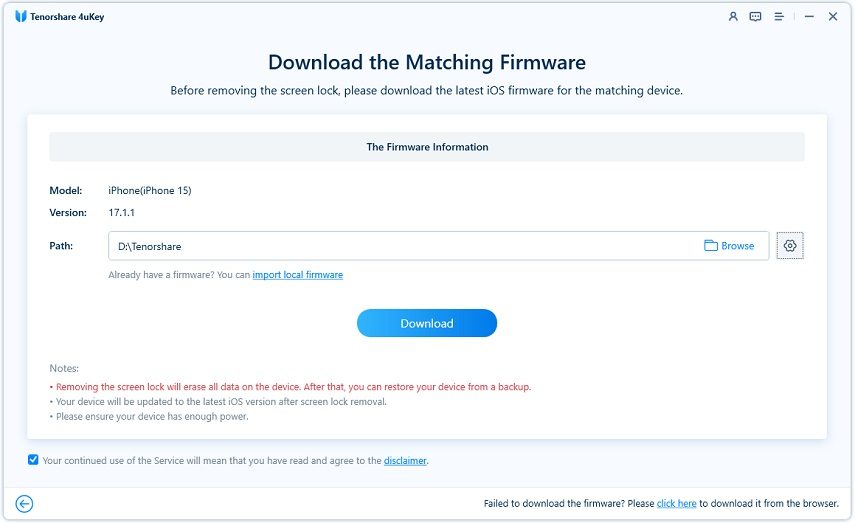 Now, you can see how much does this process completes.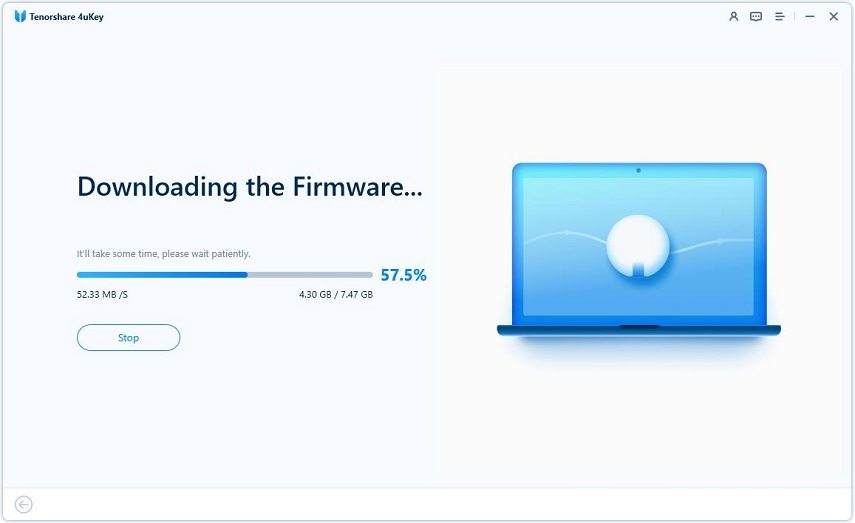 Step 3Unlock Your iPhone 12/11 to Remove Passcode
Click Start Unlock and begin to remove passcode on your device immediately.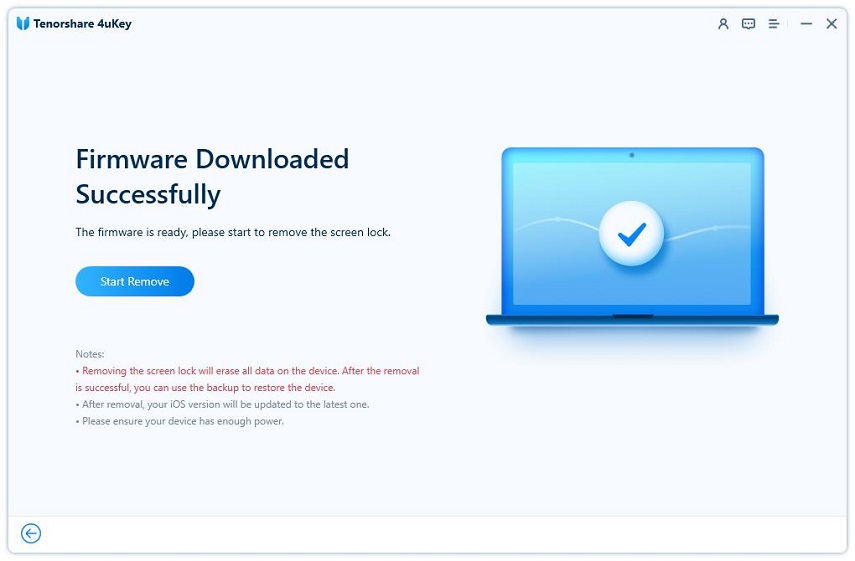 It usually takes you several minutes to finish the whole process.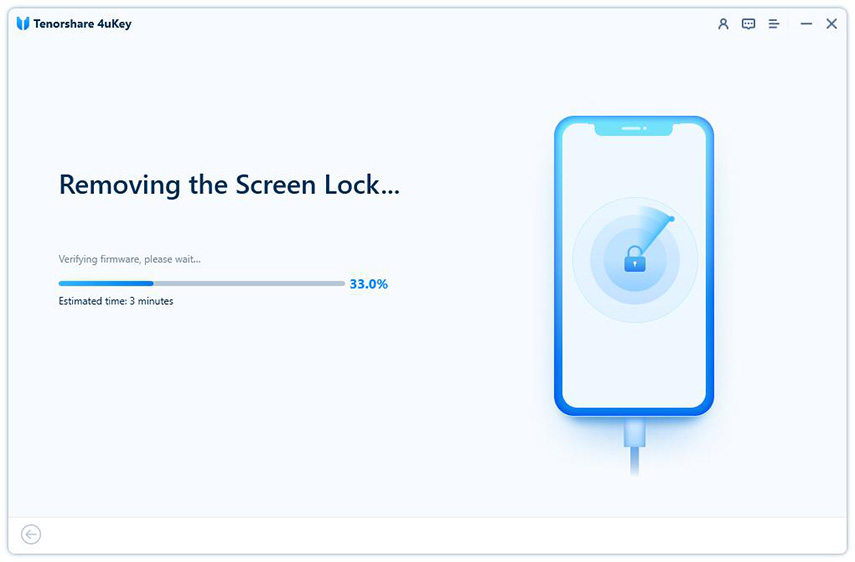 Here comes to the successful result interface, which enables you to set your iPhone 11 as a new one.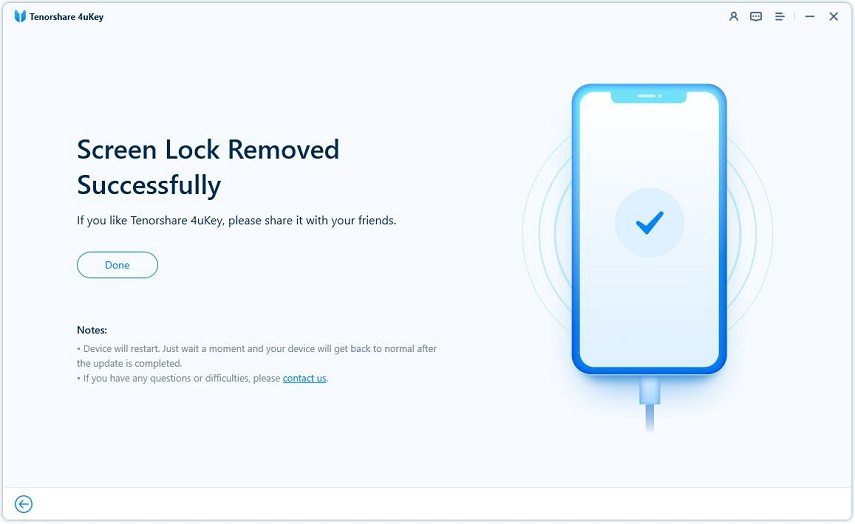 Part 2: How to Bypass iPhone 14/12/11 Lock Screen with iTunes? (Connect to iTunes without problem)
Fine. You may also wonder, any other useful way to tackle with how to bypass my screen lock code on iPhone 11? There is absolutely a way out there. It seems that using iTunes to restore iPhone is indeed an good idea. But that means all your personal information is removed, unless you have a backup before. Be sure to connect computer normally, the USB cable, port... are all available. Now let's your iPhone 11 enter into recovery mode. Firstly, connect your iPhone 11 to computer via USB cable, then follow steps to start:
Step 1: Press and hold, then release the volume up button
Step 2: Then press and release the volume down button
Step 3: Hold the power button to reboot, after a while, the Apple logo shows up
Step 4: Do not release unless you see the Connect to iTunes logo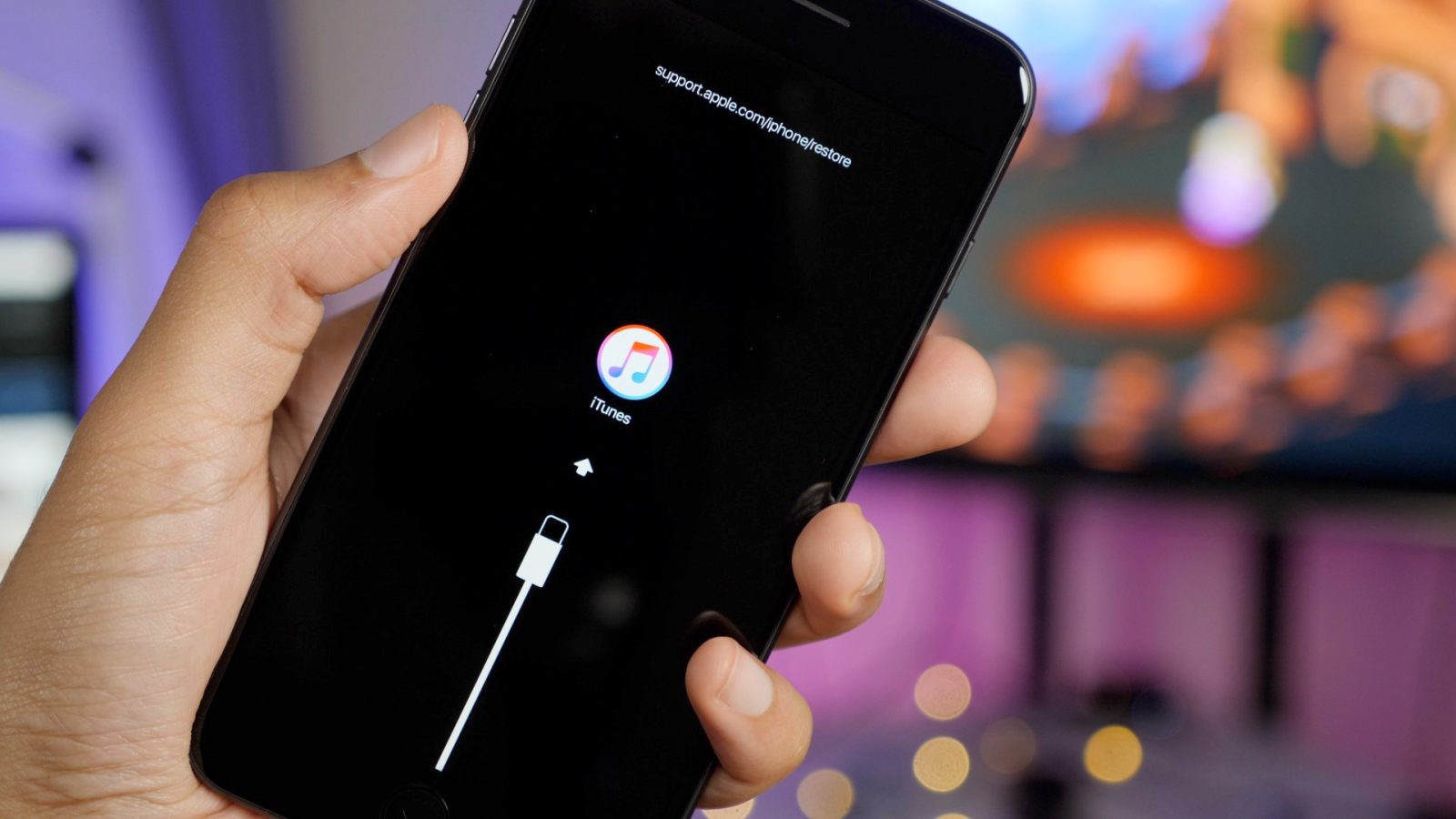 Step 5: Turn on iTunes and a pop-up reminds you to update or restore iPhone

Step 6: Click Restore and your iPhone will factory reset as a new one installed the latest iOS 14.1
Note: It sounds a practical method to solve passcode thing, but this doesn't work every time. Depending on what kind of real situation your device is in, just relax, if you're unable to remove passcode.
Part 3: Is There Any Way to Bypass Lock Screen on an iPhone 14/12/11 without Losing Data?
If you ask, is it possible to get past locked screen without losing any data? The answer is next to impossible, from the way mentioned before, there is a clear evidence that lock screen iPhone 11 bypass works based on restoring device. To be specific, lock screen passcode and all settings will be removed. It is practically impossible to bypass Apple security directly. In the year of 2016, iPhone passcode made itself breaking news for an FBI case and then patched iPhone to more superior security. You gotta know that there is no feasible technology at the moment to hack iPhone. But then again, in case of you accidentally forget passcode, please get used to back up all data in daily life. If you have backup in advance, then no risk of losing data.
Conclusion
It usually goes like set your nerves on edge when try many times but no correct passcode on screen. That happens hardly ever. If you want to find out a best way to solve, why not trying Tenorshare 4uKey, which helps you remove any type of iPhone 11 lock screen passcode in a fast way. The normal way of using iTunes to restore device sometimes prove effective. We hope this tutorial let you have some knowledge about how to bypass lock screen iPhone 14/12/11. Next time, don't forget passcode on your new iPhone again!