iPhone 15/14/13/12 Keeps Turning off, Here's the Fix
by Sophie Green Updated on 2023-09-14 / Update for iPhone 11
My iPhone 14 keeps switching off and on. What is wrong here? Is it a defective ios 16? How do I fix this? Anyway, I can fix this with losing data? Help!"
While iPhones are the most sophisticated devices on the planet, their use can't be designated as hassle-free — one of the most significant and disastrous issues, the continuous reboot of the device.
Unfortunately, the same problems have appeared with the latest iPhone 15/14/13. Although, Apple promises to fix any problem with the new device free of charge and as soon as possible, users are still a bit worried. It is not easy to let go of a new device.
So, we recommend using the easy and appropriate fixes provided by us in the article below if your iPhone 15/14/13 keeps turning off and on. These solutions are pretty simple and you will be able to execute them with ease, don't worry.
Part 1. Why Does My iPhone 15/14 Keep Turning off Randomly?
Why does my iPhone keep turning off? If your iPhone 15/14 keeps switching off randomly, then the origin of this troubling issue comes down to only 2 factors. Software issues and hardware issues. Although, we won't be able to tell exactly say what occurred in your iPhone 12/11. But we can push you in the general direction which may help you to fix the iPhone.
Software Issues:
Well, the software simply tells that whatever the reason your iPhone 15/14 is restarting must be related to the iOS.
Like if the iOS update wasn't done correctly which made the iPhone reboot randomly. It is also possible that the update was stopped midway making iPhone turn on and off by itself.
You could have insufficient storage, making the iOS unable to operate to its fullest extent.
inally an attack by malware. With iPhone 15/14's state of the art security a malware attack in unimaginable. But some users tend to jailbreak their iPhones to access the root programming. Doing so also makes the iOS security protocols void, providing safe passage for various viruses and malware.
Hardware Issues:
A hardware issue will be hard to imagine with the new iPhone 15/14. It is a new device with a terrific design. Still, as an electronic device, there is a possibility of such happening which may lead to the erratic reboot of the device.
Part 2. How to Fix iPhone 15/14 Keeps Turning Off Randomly?
While it is possible to simply take the iPhone 15/14 to the nearest Apple support center as the iPhone 12/11 keeps shutting down, it is a hassle for most of the users. Not all of them are prepared with a replacement device, and the center doesn't provide one.
So, users need to get the device fixed as soon as possible. Which means they require a few simple solutions that can be integrated with ease. Let's have a look;
Fix 1. Force Restart When iPhone 15/14 Keeps Turning off
As the iPhone 15/14 is rebooting automatically, the most direct solution would be to Force Reboot the device. If you are not acquainted with the Force Restart procedure of iPhone 15/14, then study the steps below;
Step 1: Quick tap on the Volume Up button and then make a quick tap on the Volume Down button.
Step 2: After that, long-press the Side/Power button until the Apple logo is visible on the screen.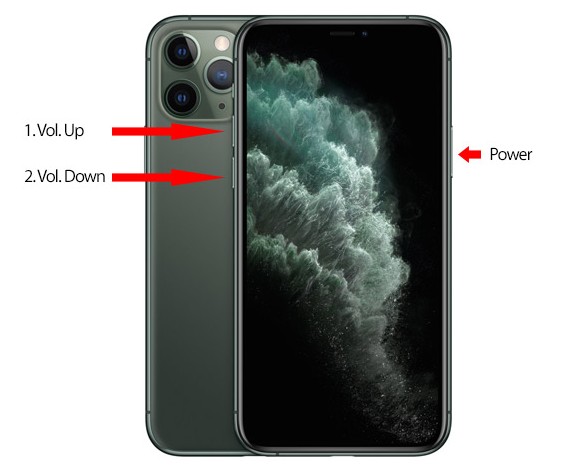 If it was a minor issue with the iOS, then Force Restart should work, otherwise move on to the next fix.
Fix 2. Completely Drain and Fully Recharge Your iPhone
Getting battery related issues on a brand new device is impossible, but we think otherwise. This continuous restart of your iPhone 12/11 could be a battery-related issue. But to make sure you have to drain the battery and then charge it again.
Step 1: So, stop charging the device. Let it restart, and after a while, it will run out of charge.
Step 2:Wait for that moment. This time the device will be turned off but won't be turning on.
Step 3:Now that the iPhone 12/11 battery is entirely exhausted, charge the device.
After the device is fully charged, turn on the device and check if the issue is fixed.
Fix 3. Back up & Restore Your iPhone as New
If iPhone 12/11 keeps shutting down even after the Force Restart, Factory Reset the device. Factory Reset is an excellent option for fixing different iOS issues. The procedure is simple but the only drawback is complete data loss.
So, if you already have a backup of your iPhone 15/14, then you can use the following steps as a guide to Factory Reset iPhone 12/11. But if you don't have a backup, then immediately back up the device and after that study the procedure below;
Step 1:Basically, navigate to the 'Settings' of your iPhone 15/14 and tap on 'General'.
Step 2:After that, tap on 'Reset' and then select 'Erase All Content and Settings'.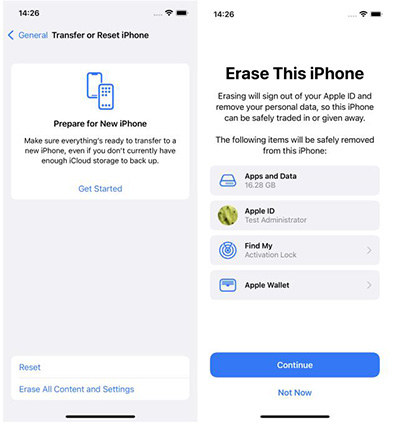 Step 3:You may be asked for a passcode, provide it. You will also be asked for the Apple ID, provide it and confirm the action.
After this, all the data from your iPhone 15/14 will be erased. It will turn into a completely new device.
Fix 4. Update iOS Version to Fix iPhone 15/14 Keeps Switching Off
If anything isn't working, then you can only update the iOS to its latest version. Well, this procedure will only work if there is an update available for iOS.
Step 1:Just navigate to the 'Settings' of your iPhone 12/11 and go to 'Software Update' via 'General'.
Step 2:if there is an update available, then you will get the 'Download & Install' option.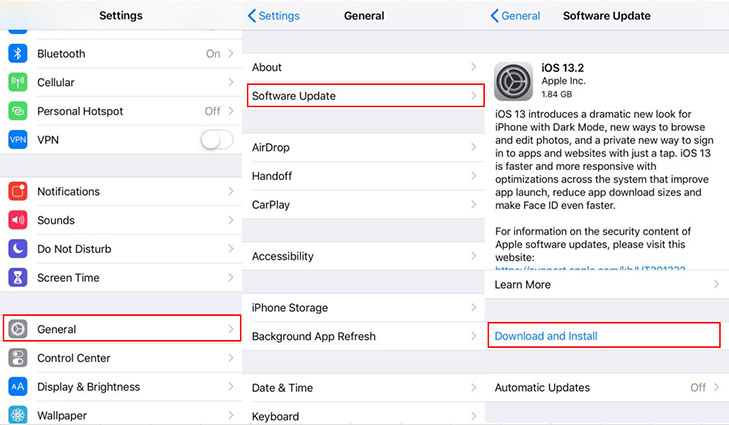 After the installation of the new iOS update, the issue may get fixed. But this solution depends on the availability of an iOS update
Fix 5. Repair Corrupted iOS to Fix iPhone 15/14 Keeps Turning off Randomly
If nothing works and your iPhone 15/14 is still restarting continuously restarting, you need a major fix that will completely repair the iOS from its core. So, you simply require a professional system repair software for iOS devices. Our recommendation is Tenorshare ReiBoot which is considered one of the best programs. This software is equipped with advanced features. Let's have a look;
Download and install the program and launch it. Then, connect the iPhone 15/14 and click on the 'Start' tab.

Then, you will enter another interface where you need to click on 'Standard Repair' to proceed.

After that, click 'Download' and get the associated firmware for your iPhone 15/14.

Upon successfully downloading the firmware, click 'Start Standard Repair' and proceed to fix the iOS system.
Now, just give it a few minutes, and ReiBoot will repair the iOS system successfully.
Fix 6. Contact Apple Support
Sadly, it is a possibility that iPhone 15/14 is continuously rebooting due to hardware defects. Since your phone still falls under Apple's one-year warranty program, your issue is covered and they should fix it for you for free. You can contact Apple Support and they will Repair your iPhone 15/14 or 11 Pro even if it means replacing the faulty hardware parts or give you a brand new phone if the parts cannot be replaced..