iPhone 14 Stuck on Charging Screen? 8 Troubleshooting Tips!
by Sophie Green Updated on 2022-09-20 / Update for iPhone 14
It is very frustrating when you leave your new iPhone 14 to charge for hours only to find your iPhone 14 stuck on charging screen and won't turn on. In case your search history includes "my iPhone is stuck on the charging screen", "iPhone stuck on red battery screen" or "why is my iPhone stuck on the charging screen", then you have come to the right place. This article will answer all of your questions regarding the iPhone charging issue and help you fix it by offering 8 tips. Read on to find out more about it.
Part 1: Why Is My iPhone Stuck on the Charging Screen?
Before you jump in finding solutions, you need to identify the root cause of iPhone being stuck on charging screen so that you can get specific fixes and prevent the issue from happening again. Below we've listed all the reasons that can cause the iPhone 14 stuck on charging screen issue to occur.
Your iPhone is not charging properly or not charging enough due to damaged or non-Apple cable and chargers.
You iPhone battery is overcharged. Many people may wake up to a charged iPhone but this bad charging habit can kill your iPhone's battery in the long run.
Many times, when the battery of your iPhone is too low, it can cause the phone to lag and get stuck on red battery screen.
Your iPhone battery is bad or damaged (poor performance).
Your iPhone is overheated due to charging.
Sometimes, software related issue with the phone can also casue the iOS device to get stuck on charging mode.
Part 2: 4 Simple Ways to Fix iPhone 14 Stuck on Charging Screen
What to do when iphone is stuck on charging screen? There are several ways to fix an iPhone stuck on charging screen. The easiest ones are listed below.
1. Warm the iPhone Battery before Charging
It may sound werid but using a hairdryer on your iPhone to heat up its battery proves to work when your iPhone gets stuck on charging screen/red battery screen.
First of all, you have to disconnect your iPhone 14 from charging.
Place your iPhone 14 screen face down

Use a hairdryer at medium heat and aim its heat to the phone's back right side (about 10 centimeters away from the phone) for about 45 to 60 seconds. This will increase the voltage, letting the battery to be actually charged.

Upon heating up, put the iPhone on charge.

That's it! wait for a while and this time the iPhone stuck on red battery screen issue should go away.
2. Connect iPhone to a Computer and then Disconnect
There's another trick you can try to fix an iPhone stuck on stuck on charging screen. Just use a charging cable to connect your iPhone to your Windows PC or Mac. Wait and see if the phone can be detected by the computer. If yes, you'll receive a prompt on your phone's screen, thus getting rid of being stuck on low battery screen. If your iPhone is unresponsive, then move to the next solution.
3. Force Restart iPhone 14
You can also force restart your iPhone 14 to get it out of the charging stuck issue. Here is how you can do it. Use your finger to hold down the volume up button on your phone and then let it go. After that, press the volume down button and release it. And lastly, press the side button until you see the Apple logo appear on the screen.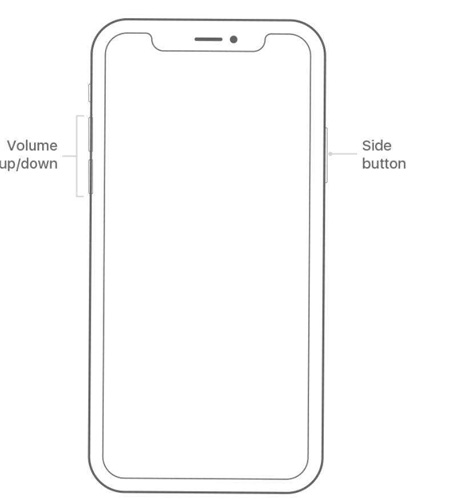 4. Drain iPhone Battery to Get off the Charging Screen
If you fail to force your iPhone 14 to restart, then you can let your Phone's battery get drained to get off the charging screen. When your iPhone battery dies completely and shows a black screen, charge your phone again with an Apple's own Lightning cable. Leave your phone harged for 10 to 20 minutes. Then perform a force restart on it while it's connected to the power sourc. If you can see the Apple logo on the screen instead of the battery screen, then congradulation, you've fixed the issue. If the iPhone is stuck on charging screen even after you force restart it, then try the sloutions mentioned in next part.
Part 3: 3 Effective Ways to Fix iPhone 14 Stuck on Charging Screen
In case the hacks that are listed above, do not worry. There are 3 easy and effective ways for everyone who is thinking about how to fix iPhone stuck on charging screen.
Way 1: Restore iPhone 14 via iTunes [Data Loss]
Whenever there is a stuck issue with your iPhone, you can always try restoring the device by putting it into recovery mode. Recovery mode allows you to erase the iPhone and give you access to set it up again, being a potential solution to the iPhone stuck on charging issue.
Note: Restoring iPhone via iTunes willerase all the contents and settings from your iPhone, so think carefully if you have not backed your device.
Firstly, connect your iPhone to your PC or Mac (It should be up to date) and open the latest version of iTunes or Finder.
Press and quickly release the Volume up button of your iPhone.
Immediately, press and release the Volume down button.

Now, press and hold the Side button and don't let go of it until you see the recovery mode screen (computer icon).

On iTunes or Finder, you will see a prompt asking to either update or restore your iPhone. Select Restore and follow the oncscreen instructions to proceed.

Wait for the restoration process to complete and your iPhone 14 should turn on and return to its factory settings.
Way 2: Fix iPhone 14 Stuck on Charging Screen with One-Click
If you are wondering whether you can fix iPhone stuck on low battery screen/charging screen without data lost- then Tenorshare ReiBoot is your answer. It's an effective and a professional software that can solve up to 150 iOS system-related problems within minutes. Whether your iPhone is stuck on Apple logo, boot loop or recovery mode, ReiBoot can effectively help you get out of this issue with causing any data loss.
Here are the steps to fix iPhone 14 stuck on the charging screen by repairing the software bug.
Download the reboot software and install it on your computer. As the application gets installed, connect your phone to the computer using a USB cable. If your iPhone cannot be detected by ReiBoot, you should put it into Recovery mode first.

Click on the green Start button to get started with the standard repair.

Click on Standard repair and proceed.

Once you are all ready, click on the Download option to download the 5GB firmware package.

Once the firmware package is downloaded, click on "Start Standard Repair" to start the recovery process.

It will take some time so please wait for a few minutes. Once the repair is done, your device will automatically reboot.
Way 3: Put iPhone into DFU mode and Charge It
You can also put your phone into DFU mode to fix your iPhone stuck on battery screen. Here is how you can do it.
Connect your iPhone 14 to your computer using a charging cable. Open the iTunes application.
Pick up your iPhone, press and hold the volume up button and release it. After that, hold the volume down button and let go.
Now, keep pressing and holding your iPhone's side button for about 10 seconds and wait for your phone screen to turn completely black.
As your finger is on the side button, use another one to hold down your volume down button for about 5 seconds.

Release only the Side button while keep holding the volume down button for an additional 10 seconds. The screen should now enter into DFU mode and remain black if performed correctly.

Open iTunes, you should get a promption that iTunes has detected an iPhone in recovery mode. Click "OK". If you want to restore the phone to its factory settings, select "Restore iPhone" to continue. Otherwise, force restart your iPhone and charge it.
Part 4: Is iPhone 14 Still Stuck on Charging Screen? Replace iPhone Battery
After trying all the methods that are listed above, if your iPhone is stuck on charging screen, then, the last resort is to replace your iPhone battery. However, it is a complicated process to do yourself. Therefore, you can take your iPhone to the Apple Store and get the job done.
Note: Do not take your phone to a repair shop. This is because the Apple store will do a better job at fixing your iPhone than any shop out there.
Conclusion
Though it's rare for an iPhone to have a charging stuck issue, it can happen sometimes and it is extremely galling when your iPhone stuck on charging screen. However, there are several ways to fix this occurrence. For example, you can put your phone into DFU mode (see above) and charge it. However, if you want a quick solution, then you can use Tenorshare ReiBoot to fix the problem within a few minutes.