Fix iPhone 13 Stuck on Charging Screen with 6 Simple Ways
by Anna Sherry Updated on 2021-10-11 / Update for iPhone 13
In case of extremely low battery or deficient battery, a red battery icon with a lightning cable or charging battery icon can be seen on the screen. Usually, this screen will go away after ten or more minutes but sometimes it does not happen. Sometimes the screen remains like this for many hours. This is referred to as iPhone stuck on charging screen. There are many causes like software problems, battery problems, etc. due to which your iPhone may stuck at the charging screen. Here are some useful ways by which you can address this problem of iPhone stuck on charging screen.
Fix 1: Heat iPhone 13 Battery
In this case of iPhone 13/13 mini/13 Pro(Max) stuck on battery screen, there is a very easy method that you can try to fix it. Too low a temperature can put the battery into automatic protection, which may cause iPhone to turn off automatically or stuck. Heat the iPhone battery by following the given instructions.
Remove or disconnect the phone from the charging cable.
Place the iPhone in such a way that its face is down.
Take a hairdryer and heat the right side of your iPhone where there is a battery. Heat it for two minutes.
Connect your iPhone with a charging cable. You will notice that the problem of iPhone 13 or iPhone 11 stuck on red battery screen is fixed and the red battery sign will be changed and replaced by the Apple logo.
Fix 2: Change the Charging Cable
If your iPhone stuck on red battery screen or charging screen, then the problem of USB cable should be taken into consideration. The charging cable may be broken or not original. This potential issue can be checked by allowing the phone battery to drain completely and then using another USB cable to charge the phone. Your iPhone will get rid of iPhone 13, iPhone 13 mini, Phone 13 Pro(Max), iPhone 12, iPhone 11 or iPhone 7 stuck on red battery screen or charging screen when a new USB cable is attached to the phone or the original iPhone cable is attached to the phone.
Fix 3: Enter Recovery Mode and then Exit with One-Click
Free iPhone recovery mode software ReiBoot is a free tool to help fix your iPhone problems. If your iPhone stuck on charging screen, then Tenorshare ReiBoot is the best option. It can put your phone in recovery mode and exit with only a click. You do not have to use iTunes or press buttons. Besides, it can also repair your iOS system problems without losing any data. This is the best choice for you to fix the problem.
Connect the device and select Enter Recovery Mode.

After several seconds, your iPhone will enter recovery mode successfully.

Then click Exit Recovery Mode. This will cause your phone to reboot and then iPhone stuck on charging screen might be fixed.
Fix 4: Recovery Mode Restore with iTunes
If iPhone stuck on dead battery screen and charging screen is the problem then, you should connect iPhone 13 to PC or MAC. Plug the charging cable into the computer after unplugging it from the adaptor. Normally the device will power on, but if it fails, the phone should remain connected to a PC or MAC for some time and enter recovery mode. Then try to switch it on after unplugging it from the computer. Follow these instructions (iPhone 8 or later):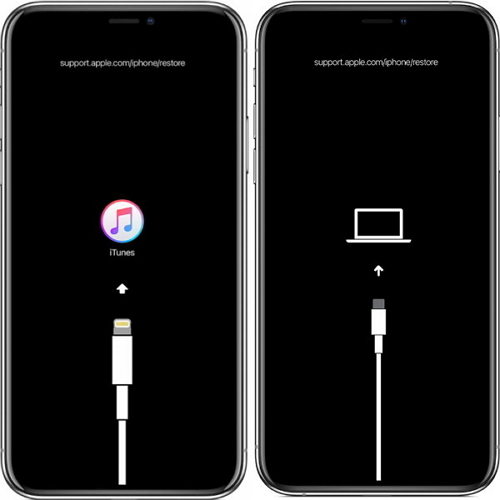 Use an authentic lightning cable to plug iPhone into your computer.
Then open iTunes on your computer and enter into recovery mode.
Press volume decease and slide without releasing it.
Press volume up and down quickly without releasing them.
Press and hold the side button until your iPhone is connected to iTunes as shown on your computer screen.
Now the iPhone can be unplugged after a while from the computer and then connect with a charging adaptor. The device will power on, if not so, press the power button until Apple logo appears.
If the charging problem was caused by a minor issue then, this troubleshooting method will fix it.
Fix 5: Use Tenorshare ReiBoot to Repair the System
Recovery mode sometimes is unable to fix the iPhone 13, iPhone 12, iPhone 11, or iPhone 6 stuck at red battery screen. This needs to fix the iOS system in order to solve the problem. When you use Tenorshare ReiBoot, the process is really fast and highly recommended. It will not result in data loss when under standard repair mode. It's a great iOS repair tool, which is compatible with the latest iOS 15 and iPhone 13 model. Follow these steps to fix the problem right now:
Launch ReiBoot and Connect the iPhone with computer. Choose the start and then select the standard repair option.

Download the firmware package before starting repair. Click Download to move further.

When the firmware is downloaded successfully, start the repairing process.

After completion of the process, the iPhone will reboot and get back to normal automatically.
Fix 6: Replace iPhone 13 Battery
If the iPhone stuck on low battery screen is still the problem, then you should consider replacing your iPhone battery. The battery may be faulty or broken, you should go to the Apple service center and check.
With the right tools and following the correct procedure, you can replace your iPhone batter yourself. It is a very easy process. You need some screws to take the battery out. You will need a plastic pry tool, a suction cup and a Philips 00 screwdriver. The main thing is the screwdriver for removing screws. With tools at hand, you can surely replace your battery and solve the problem of the iPhone stuck on low battery screen.
We still recommend you to go to Apple service center, for it's risky to replace iPhone 13/13 mini/13 Pro(Max) battery by yourself.
Conclusion
It is not a serious problem if your iPhone is stuck on the battery logo. In case if it happens it should be fixed quickly. If this situation is caused by some hardware issue, then you should consider fixing it in the Apple store. In case, if it is the result of some software issue that your iPhone stuck on battery screen red, then you can try many solutions to get rid of this problem. Changing USB cable, replacing the battery, trying recovery mode, using Tenorshare ReiBoot, connecting to MAC or PC, and heating the battery are some of the effective methods by which you can solve this problem. However, it is best to try Tenorshare ReiBoot to fix the battery problem without any data loss.