10 Ways to Fix iPhone 14 Says No Sim
by Jenefey Aaron Updated on 2023-09-14 / Update for iPhone 14
iPhone are getting bare expensive with each passing day. So, when you see any glitch in your iPhone - it can be bothersome. For example, when your new iPhone 14 says no sim. But there is no need to worry - as this guide will have all the hacks that you need to fix this issue.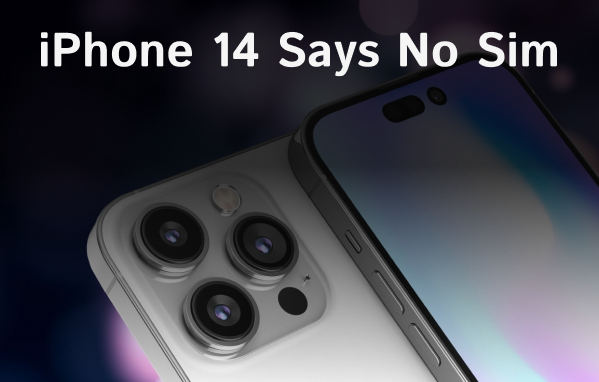 Also Read: How to Fix iPhone 15 Says No SIM
Why iPhone 14 Says No Sim 
There are multiple reasons why your iPhone 14 no sim problem appears. The main ones are listed below. 
- When you do not insert the sim card correctly.
- If your service provider has limited signals in your area.
- When you have not installed a sim card on your phone.
Way 1: Check Your Carrier Is Activated 
When your SIM carrier is not activated - it can lead to a no sim signal on your device as your phone can not catch any signals due to the blockage. So, you can check your call carrier to verify. Here is how you can do it. 
Hop onto your iPhone settings. 
Once you're in, go into general and then press about. 
Now look for "carrier lock". 
If you see "no sim restrictions" next to the carrier lock - it means that your carrier is activated and vice versa. 
Way 2: Turn Airplane Mode On and Off 
Airplane mode is built into every mobile phone which cuts off your phone's access to network signals. On top of this, airplane mode is an easy way to put off distractions when you are trying to focus on something. You can fix the no SIM issue by toggling the airplane mode on and then off. Here is how you can do it. 
Jump to your iPhone settings. 
Now look for "airplane mode." 

Click on the toggle twice to turn it on and off. 
Way 3: Update Carrier Settings 
Carrier settings on your iPhone contain data about your phone and your network settings. You can hop onto it to update the settings when there is an update due. Here is our you can do it. 
Before starting, ensure that your iPhone has access to Wi-Fi (Since your phone cannot access cellular data). 
Click on the settings icon and then hop onto General and then click on about. 
From General, look for "carrier". 
Now, if there are any updates due, you will see an option for it. 
Way 4: Reset Network Settings 
The network settings on your iPhone provide instructions for your device regarding your sim carrier. However, sometimes any mess-up in the settings can lead to several problems. But there is an easy way to fix them - just reset your network settings. Here is how you can do it.
From the Home Screen of your device, go into settings. 
Now, hop onto general then tap on transfer or reset the device. 
From there, go into "reset" and then press "reset network setting"

Tap in your passcode and wait for your iPhone to do the job. 
Way 5: Update iOS Version 
Apple, in pursuit of making things better for its consumers - releases tons of iOS updates. However, when people do not update their iPhones for a longer period, it can cause several lags. If you're facing any issues - update your iPhone by following the steps listed below. 
Make sure that your data is backed up before your begin. 
Connect your phone to power and ensure that you have a stable wifi connection. 
Now, go to settings then general and look for "software update"
And then, click on "install now".
Note: The update can take some time, especially if your wifi is slow. So wait patiently and do not unplug your device while the update is underway. 
Way 6: Restart iPhone 14 
Just how you feel "fixed" after taking a power nap - your phone may also need a small reboot to fix some issues. Therefore, to fix the "no sim" issue - try to reset your iPhone. Here is how you can go about it. 
Press the side button and volume up button simultaneously until a black screen comes now
You will see a slider on your screen that says "slide to power off" - just slide and wait for your device your shit down. 

Now, press the side button for a few seconds until the Apple logo appears. 
Way 7: Reinsert Your SIM Card 
Although it seems like an easy task - sometimes people do not insert their SIM cards properly into their mobile phones which can cause sim failure iPhone 14. So, try to reinsert your SIM card to see if things work out. 
You need a pin to get the job done. From the side of your phone, look for the sim tray. 
Now, insert the pin into the small hole and give it a little push. 

The sim tray will pop out, take the sim out, and put it back in correctly (see the back of the sim for instructions).
Way 8: Try Another SIM Card 
Sometimes, your network carrier may have some issues in your area. Therefore, you can try another SIM card on your phone to see if you can resolve the issue. Now, you can test out a spare SIM card on your phone. Or you can get a new SIM. When you have the alternative SIM card - just replace it with your current sim card.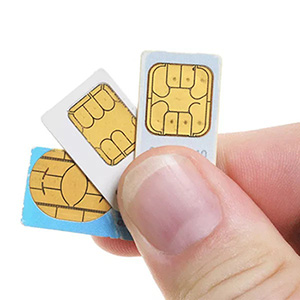 Way 9: Try ReiBoot to Fix iPhone 14 Says No Sim 
Saving the best for last, you can fix this problem using Tenorshare ReiBoot software. it can also troubleshoot the "no sim" issue that you are facing on your iPhone 14. The best thing about using Tenorshare ReiBoot for this task is the fact that the issue will get fixed within a few minutes. 
And if you are frustrated by trying different hacks to fix your problem, here is how you can perform a standard repair using Tenorshare ReiBoot.
First, download the ReiBoot software on your iPhone and install it using the instructions. Plug in your iPhone and once it gets recognized - click on the "start" button and get into the recovery tool. 

From the options, press on "standard repair" to start the repair process. 

Now, from the prompt on your screen - press "download firmware package". 

Once the package is downloaded, click on "start standard repair". 
without a jailbreakNote: The download and repair process can take some time. So, sit tight and do not unplug your device while the process is underway. 
Way 10: Contact Apple Tech Support 
Apple support is a network set up by Apple that provides people with an option to reach out to the company to seek help from the tech support team. So, if you are unable to solve the iPhone 14 invalid sim problem yourself - you can try to reach out to Apple tech support for further assistance. 
Final Words
For instance, if your iPhone 14 says no sim - it is crucial to rule out the reason why it's happening before looking for a solution. Once you know what's causing the sim card not working iphone 14 problems. You can try the above-discussed ways to fix the issue.