What to Do When You Encounter Apple TV App Content Unavailable
by Jenefey Aaron Updated on 2019-12-19 / Update for Apple TV Repair
In the age of the internet, streaming has become one of people's most reliable sources of content. In fact, almost everything can be accessed on-demand. Looking at a great radio show to listen to? We have podcasts. What about music? Forget FM radio and stream your favorite music instead. You can even watch high-quality movies and television shows through various video streaming sites and devices.
One popular service is the Apple TV app. You can use this on the dedicated Apple device or on compatible devices such as Samsung TVs, Roku streaming devices and Amazon Fire TV. While this platform is reliable most of the time, you might encounter errors such as Content Unavailable in Apple TV app message.
If you are having trouble accessing content through this platform, you are surely interested in finding the best solution for this issue. Read on to find out how to address this error.
When Will the Issue Content Unavailable in Apple TV App Message Appear
In talking about the ways to fix this issue, you want to make sure that you understand why it happens. This can give you a clearer picture of the issue and how you can address it. Here are some of the most common causes of this error.
1. Error in Apple's Servers
Apple's services are often solid. However, there are system processes that can lead to your account getting removed from Apple's servers. This might seem like such a bad thing, but it has an easy fix which will be discussed below.
2. Unreliable Internet Connection
One of the most notorious reasons why the platform has a hard time loading content is a weak internet connection. In fact, any platform will have difficulty giving you access to the content you are looking for if you are connected to an unreliable network.
3. Outdated Software
Developers support their software and its users by releasing updates. These are created to address known issues and to provide an improved experience to users. Sometimes, when there are updates, the old version may malfunction. So, if you are using outdated software, then this might be the reason you are experiencing Content Unavailable Apple TV.
The Most Recommended Fix to Apple TV Content Unavailable Issue
Now that you have an idea as to why you are getting a notification telling you that an error occurred loading this content Apple TV, you are ready to implement the most recommended fix for the issue. Check it out:
Use Tenorshare ReiBoot to Repair Apple TV System
Tenorshare ReiBoot is known as one of the easiest and quickest ways to get back access to the content you have been wanting to see. This free software allows you to repair your Apple device without hassle. In fact, it does the job in just one click. To use it, do the following:
Download and install Tenorshare ReiBoot on your computer.

Run Tenorshare ReiBoot. The program will detect your device if it is properly connected to the PC. Click the Repair Operating System option and Fix Now.

Make sure to download the latest firmware from Apple. Once this is done, click Start Repair. Wait for the process to finish and you are good to go.
The issue will be solved quick, if you want to know more details, you can check this video guide.
Other Normal Solutions for Apple TV App Content Unavailable
Now, ReiBoot is not a be-all, end-all solution to the Apple TV video unavailable issue. If it did not work for your device, then you might need to try other normal solutions. Here are some of them.
1. Restart Your System
Think back on your information technology support experience. You have probably been asked whether you have tried turning it off and on. This is because some problems can really just be fixed by restarting the system. So, before you do any drastic measures, make sure to restart your system first.
You can do this by going to Settings.
Then, select System and Restart (for ATV 4K or HD).
For 3rd generation or earlier, go to Settings, General and Restart.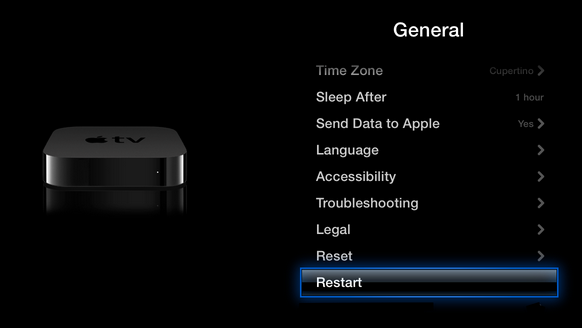 You can also restart the device using your remote by holding down the button with a monitor icon and the Menu Button. For the Apple Remote, the Menu and Down buttons will work. You can also unplug the device.
2. Log Out and Log Back In
As mentioned, this error sometimes occurs when your account has been removed from the server. You can fix this by:
Going to Settings.
Selecting Users & Accounts.
Picking your account and choosing the Remove User option.
Logging back in by adding your account again
3. Update the Firmware
Your device might be outdated, which causes the error loading content. Updating the software might be the best thing to do. Here's how to do it.
Go to Settings, System and Software Updates (for Apple 4K and HD). For 3rd gen and lower, go to Settings, General and Software Updates.
Select Update Software.
If there is an update, pick Download and Install. This will prompt the system to download the file. Just make sure to let the download finish and do not interrupt the process.
After downloading, the device will install the update. Wait for it to finish.

The system will restart automatically.
You can also set up automatic updates to avoid this issue. You can do this by going to Settings, System (General for 3rd gen and lower), Software Updates, then turn on Update Automatically.
4. Eliminate Things that Can Affect Your Internet Connection
Above, we discussed that the error can occur due to issues in your internet connection. If you think this is the problem, then do the following:
Subtitles consume bandwidth, so it can help to turn off subtitles. Go to Settings, Audio & Video, Subtitle Language and turn off subtitles.
The quality of the video will also affect the efficiency of your streaming. Because of this, you want to make decrease the quality of the video you are watching. Go to Settings, Audio & Video, TV Resolution and choose a lower resolution. Just remember that this can give less clear video compared to higher resolutions.
Turn off automatic data sending to Apple. Go to Settings, General, Send Data to Apple and turn the feature off.
Remove any device nearby that can interfere with your connection. It may be best to disconnect other devices.
If tinkering with the settings does not work, then check your internet connection or call your service provider.
Conclusion
Getting an error notification saying that content unavailable in Apple TV app can be stressful and frustrating especially if you are looking forward to watching that particular movie or show. With Tenorshare ReiBoot and other fixes, you can definitely take care of the issue and get back to enjoying your favorite video content.